This comprehensive resource has been designed to provide you with everything you need to know about the PNC Arena, one of the most exciting and modern sports and entertainment venues in the United States.
As the proud home of the Carolina Hurricanes, a National Hockey League (NHL) team that has been capturing the hearts and minds of fans since its inception in 1997, the PNC Arena is a destination that deserves to be experienced firsthand.
In this guide, we will delve into the rich history and unique features of the PNC Arena, as well as provide you with essential information to make your visit to a Carolina Hurricanes game, concert, or special event an unforgettable experience. From seating options and accessibility to dining and transportation, we've got you covered.
Join us as we explore this iconic venue, which has been a symbol of sportsmanship, entertainment, and community spirit in Raleigh, North Carolina, for over two decades. Whether you're a die-hard Hurricanes fan, a casual hockey enthusiast, or simply someone looking for a memorable night out, the PNC Arena and its incredible atmosphere are sure to leave a lasting impression.
PNC Arena: Key Facts
Location: Raleigh, North Carolina
Opened: October 29, 1999
Capacity: 18,680 (hockey)
Owner: Centennial Authority
Operator: Gale Force Sports & Entertainment
Architect: Odell Associates
Main Tenants: Carolina Hurricanes (NHL), NC State Wolfpack (NCAA)
Where is PNC Arena Located?
PNC Arena is located in Raleigh, North Carolina, at 1400 Edwards Mill Road. The arena is situated just west of downtown Raleigh, close to the North Carolina State University campus and the North Carolina State Fairgrounds.
The arena is easily accessible via major highways such as I-40, I-440, and Wade Avenue.
The Best Way to Get to PNC Arena
There are several options for getting to PNC Arena:
By car: PNC Arena is easily accessible by car from major highways. If you're coming from the west, take I-40 East to exit 289 for Wade Avenue. If you're coming from the east, take I-440 West to exit 4B for Wade Avenue. Follow the signs for PNC Arena.
By public transportation: GoRaleigh Transit provides bus service to PNC Arena with routes 4, 6, and 26. Visit the GoRaleigh website for schedules and more information.
By rideshare or taxi: Major rideshare services like Uber and Lyft operate in Raleigh, making it easy to get to PNC Arena without driving yourself. You can also find taxi services throughout the city.
Parking near PNC Arena
There are over 8,000 parking spaces available in the lots surrounding PNC Arena. Parking fees vary depending on the event, but for most Carolina Hurricanes games, general parking costs $20 per vehicle.
Accessible parking is available for patrons with disabilities, and there are also designated spaces for limousines and buses.
The Best Restaurants near PNC Arena
There are several great dining options near PNC Arena:
Backyard Bistro: Located just across the street from PNC Arena, this sports bar offers a diverse menu of American fare, including burgers, sandwiches, and salads, along with a full bar.
The Players' Retreat: A Raleigh institution since 1951, this restaurant and bar is popular with NC State students and offers classic pub fare like burgers and wings, plus an extensive beer selection.
Gonza Tacos y Tequila: This lively Mexican restaurant offers creative tacos, burritos, and other dishes, along with a variety of tequila-based cocktails.
The Cowfish: Located at nearby North Hills, this unique restaurant offers an innovative fusion of sushi and burgers, along with a full bar and outdoor seating.
The Best Bars near PNC Arena
There are several great bars near PNC Arena:
Backyard Bistro: As mentioned earlier, Backyard Bistro is a popular pre- and post-game hangout for Hurricanes fans, offering a full bar and a large outdoor patio.
The Players' Retreat: A beloved Raleigh staple, The Players' Retreat offers a wide selection of beer and a cozy atmosphere perfect for enjoying a drink before or after the game.
Lynnwood Brewing Concern: This local brewery offers a variety of craft beers in a relaxed, industrial-chic setting. It's a great spot for enjoying a pint with friends before heading to the arena.
Village Draft House: Located in nearby Cameron Village, this sports bar offers a large selection of draft beers and a casual atmosphere, making it a popular spot for fans to gather before and after games.
The Best Hotels near PNC Arena
If you're coming from out of town to catch a Carolina Hurricanes game, there are several hotels close to PNC Arena:
Four Points by Sheraton Raleigh Arena: This hotel is located just a short walk from PNC Arena and offers comfortable accommodations and an on-site restaurant.
Ramada by Wyndham Raleigh: Located near the North Carolina State Fairgrounds, this hotel offers budget-friendly accommodations and an outdoor pool.
Aloft Raleigh: This modern, boutique-style hotel is located near NC State University and offers a hip atmosphere, along with an on-site bar and outdoor pool.
Hyatt Place Raleigh West: This hotel is situated a short drive from PNC Arena and offers comfortable accommodations, an indoor pool, and a 24/7 market.
The History of PNC Arena
PNC Arena, originally known as the Raleigh Entertainment & Sports Arena, opened its doors on October 29, 1999. The arena was designed by Odell Associates and built by the Centennial Authority to serve as the new home for the Carolina Hurricanes, who had relocated from Hartford, Connecticut, in 1997.
Since its opening, PNC Arena has hosted not only Carolina Hurricanes games but also NC State Wolfpack basketball games, concerts, and various other events. Over the years, the arena has seen significant upgrades, including the installation of a state-of-the-art videoboard and improvements to the seating and concourse areas.
In 2002, the arena was renamed the RBC Center after the Royal Bank of Canada purchased the naming rights. The name changed again in 2012 when PNC Financial Services acquired the naming rights, resulting in the current name, PNC Arena.
Where to Get Tickets for PNC Arena
Tickets for Carolina Hurricanes games and other events at PNC Arena can be purchased through the following channels:
Online: The primary method for purchasing tickets is through the Carolina Hurricanes' official website or Ticketmaster, the arena's official ticketing partner.
In-person: Tickets can also be purchased in person at the PNC Arena Box Office, which is located at the East Priority Lounge entrance off of Edwards Mill Road.
Resale: If you're looking for tickets to a sold-out event or prefer specific seats, you can also explore the secondary market through reputable ticket resale websites such as StubHub or SeatGeek.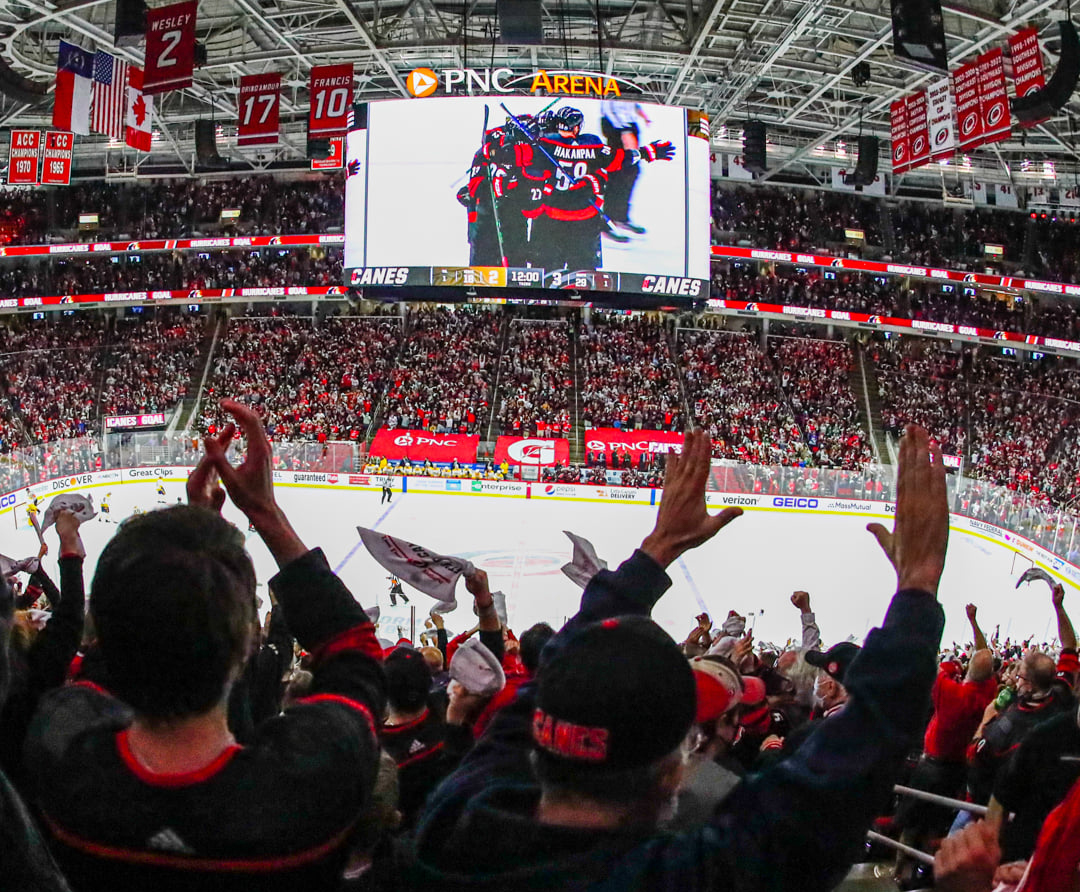 Family-Friendly Amenities at PNC Arena
PNC Arena is committed to providing a family-friendly atmosphere, offering several amenities to ensure a fun and enjoyable experience for fans of all ages:
Family restrooms: Throughout the arena, you'll find family restrooms, making it convenient for parents with young children.
Kids' meals: Concession stands at PNC Arena offer kid-friendly meal options, including smaller portions and familiar favorites like hot dogs, chicken tenders, and more.
Sensory-friendly spaces: PNC Arena has partnered with KultureCity to create a sensory-inclusive experience for guests with autism, dementia, PTSD, and other similar conditions. Sensory bags equipped with noise-canceling headphones, fidget tools, and more are available for checkout at the Guest Services Desk.
Special promotions and events: Throughout the season, the Carolina Hurricanes host various family-friendly events and promotions, including Kids' Day games and post-game skates, where fans can hit the ice after the game.
Does PNC Arena Offer Tours?
Yes, PNC Arena offers guided tours that provide an exclusive behind-the-scenes look at the arena, including the locker rooms, press box, and luxury suites. Tours are available on select weekdays, and reservations must be made in advance. Visit the PNC Arena website for more information on tour schedules and pricing.
In conclusion, PNC Arena offers a fantastic experience for Carolina Hurricanes fans and visitors alike. With convenient transportation options, an array of dining and entertainment choices nearby, and a rich history, this arena is a must-visit destination for any hockey enthusiast.
Events and Concerts at PNC Arena
In addition to being the home of the Carolina Hurricanes and the NC State Wolfpack, PNC Arena has also hosted a wide variety of events and concerts since its opening. Some notable events that have taken place at the arena include:
NCAA Men's Basketball Tournament: PNC Arena has hosted several rounds of the NCAA Men's Basketball Tournament, showcasing the best college basketball teams in the nation as they compete for the championship.
Professional Bull Riders: PNC Arena has also hosted exciting Professional Bull Riders events, providing thrilling entertainment for fans of the sport.
WWE Live: Wrestling fans have flocked to PNC Arena for WWE Live events, featuring some of the biggest names in professional wrestling.
Concerts: PNC Arena has welcomed numerous top-tier musical acts over the years, spanning various genres. Artists such as Bruce Springsteen, Taylor Swift, U2, and many others have performed to sold-out crowds at the arena.
James is a big time NBA Golden State follower, who makes sure to catch games when he's in the area. He likes to follow International Soccer, with an interest in small town soccer club, Blackburn Rovers located in the North on the UK.