As a Cleveland Browns fan, I know how important it is to plan ahead and have a smooth experience at FirstEnergy Stadium. Whether you're a first-timer or a seasoned attendee, this guide will help you navigate the ins and outs of the stadium gates and entrances, so you can enjoy the game without any hassle.
During my visits to FirstEnergy Stadium, I found it helpful to know the locations of the main gates and when they open. It's always useful to familiarize yourself with the essential information about stadium access and ease your entry to the venue. In this article, I'll share all the need-to-know details about the stadium gates and entrances so you can have a fantastic game-day experience.
I will also discuss some helpful tips and tricks for getting around the stadium, ensuring you make the most of your visit to FirstEnergy Stadium. So, join me on this journey as we explore everything you need to know about Cleveland Browns Stadium gates and entrances. And as always, let's go Browns!
Stadium History
As a Cleveland Browns fan, I always find it fascinating to learn about the history of our beloved stadium. The current FirstEnergy Stadium is located on the site of the former Cleveland Stadium, which was commonly called Cleveland Municipal Stadium. Built in 1931, Cleveland Stadium served as the home field for the Browns from their inception in 1946 until the end of the 1995 season.
In 2013, our managing and principal partner, Jimmy Haslam, and FirstEnergy President and CEO Tony Alexander announced a long-term naming rights partnership. This marked the beginning of a new era for the Cleveland Browns Stadium. Over the next two years, a $120 million renovation project took place, which occurred in two phases. This transformed the stadium into what we see and experience today – a modern, state-of-the-art facility that keeps the spirit and history of the Browns alive.
These renovations have not only improved the overall fan experience but have also ensured that our stadium continues to be a significant part of Cleveland's sports scene. It's truly heartwarming to know that the legacy of the original Cleveland Browns Stadium is being preserved and enhanced for future generations to enjoy.
As a fellow Browns fan, I hope this brief history of our stadium has given you a deeper appreciation for the iconic facility that we all share a love for. So next time you're at a game or event at FirstEnergy Stadium, take a moment to appreciate the rich history that has made it what it is today. Go Browns!
Arriving at the Stadium
As a fan of the Cleveland Browns, I always look forward to attending games at FirstEnergy Stadium. When arriving at the stadium, there are a few things to consider to ensure a smooth and enjoyable experience. Let me share with you some tips on public transit options and parking details.
Public Transit Options
The public transit system in Cleveland is pretty convenient for reaching FirstEnergy Stadium. The Greater Cleveland Regional Transit Authority (RTA) operates buses and trains (rapid transit) that can take you close to the stadium. In particular, the Waterfront Line is a popular choice, as it has a stop just a few minutes' walk away from the stadium entrance. If I'm not driving, I often use this option to get to the game with ease. Be sure to check the RTA website for schedules and fare information.
Parking Details
For those who prefer to drive, there are plenty of parking options around FirstEnergy Stadium. There are multiple lots and garages nearby, so it's usually not too difficult to find a spot. However, keep in mind that parking spaces do fill up quickly on game days, so I recommend arriving early. In addition, note that parking fees vary by location, so it's a good idea to have some cash on hand. Last but not least, always be aware of any parking restrictions posted on signs or gates to avoid any unexpected fines or towing.
Entrance Guidelines
Security Procedures
As a fan visiting FirstEnergy Stadium, I want to make sure you are well-prepared for a smooth entry to watch the Cleveland Browns play. First and foremost, keep in mind that the stadium has implemented security measures for the safety of all guests. These include metal detectors and a strict bag policy. Be prepared to go through a standard security screening, which may require removing items such as keys, cellphones, and wallets from your pockets.
The stadium has a clear bag policy, so make sure to bring a clear plastic, vinyl, or PVC bag that does not exceed 12″ x 6″ x 12″ in size. Alternatively, you can use a one-gallon resealable clear plastic freezer bag. Small clutch bags approximately the size of a hand are also allowed but must not exceed 4.5″ x 6.5″. Keep in mind that any other types of bags, such as backpacks, coolers, and large purses, are not permitted in the stadium.
Entry Times
Now that you know what to expect in terms of security, let's talk about when to arrive at the stadium. For weekend home games with a 1 p.m. start time, the gates usually open two hours prior, giving you ample time to find your seat, grab some snacks, and explore the stadium before the game begins.
One great option to consider for a quick and easy entry is Express Access, presented by Verizon. This free service uses facial authentication technology, allowing enrolled fans to enter FirstEnergy Stadium without needing to scan mobile tickets. After enrolling, the tablet at the gate will recognize your face, and you can proceed directly into the stadium.
Remember, it's always a good idea to arrive early, as lines can get long closer to kickoff. Enjoy your visit to FirstEnergy Stadium, and go Browns!
Gates Information
Gate Locations
At FirstEnergy Stadium, there are several gates and entrances to make it convenient for all attendees. Here are the key gates and their locations:
FirstEnergy Stadium Northwest Gate: Located on the northwest side of the stadium.
FirstEnergy Stadium Cree Gate: Found on the southeast side of the stadium, not far from the University Hospitals Gate.
FirstEnergy Stadium University Hospitals Gate: Positioned on the stadium's southeastern side.
FirstEnergy Stadium Meijer Gate: Situated on the northeast side of the stadium.
FirstEnergy Stadium Suite Entrances: These entrances are dedicated to suite ticket holders.
FirstEnergy Stadium 7up City Club Entrance: Access to the 7up City Club area.
FirstEnergy Stadium KeyBank Club Entrance: Access to the exclusive KeyBank Club area.
Accessibility Features
I would like to inform you about the accessibility features at FirstEnergy Stadium. The stadium is dedicated to providing an enjoyable experience to all fans, including those with disabilities.
ADA: The stadium is equipped with facilities to accommodate persons with disabilities. There are designated seating areas, restrooms, and concessions stands that cater to guests with special needs.
Closed Captioning: To make the game enjoyable for the hearing-impaired, the stadium provides closed-captioning services.
Designated Driver Program: A program is in place to help ensure the safety of fans who may have had a few drinks. This program encourages guests to have a designated driver or use rideshare services.
Drop-Off Areas: There are designated drop-off areas for guests with disabilities, ensuring they have easy access to the stadium.
Now that you have a better understanding of the gates and accessibility features at FirstEnergy Stadium, I hope your game day experience is better than ever. Enjoy the game!
Fan Services
Amenities
At FirstEnergy Stadium, home of the Cleveland Browns, I always appreciate the various amenities available for fans. My favorite services include the baby changing stations, family restrooms, and the Browns Buddy wristbands for ensuring my kids' safety.
FirstEnergy Stadium also offers ADA services, such as wheelchair-accessible seating and ADA drop-off areas for those in need. To further accommodate special needs, there are closed captioning services available for the hearing impaired and comfort kits for guests with autism and sensory processing disorders.
Another useful service is the Designated Driver Program, which helps promote responsible drinking and ensures fans have a safe and enjoyable experience.
Food and Beverage Options
What's a stadium experience without a variety of food and beverage options? At FirstEnergy Stadium, there's a wide range of offerings to satisfy my cravings. From classic stadium eats like hot dogs, hamburgers, and nachos, to more unique choices representing Cleveland's vibrant culinary scene, there's something for everyone. Some notable items include:
Dawg Pound Deli: Delicious deli sandwiches for that perfect game-day lunch
Great Lakes Cheesesteaks: Adding a local twist to the classic Philly cheesesteak
Sugardale Hot Dogs: Traditional stadium hot dogs that never disappoint
For those who enjoy adult beverages, I've found a good selection of draft beers, seltzers, cocktails, and more at various stands throughout the stadium. But of course, please remember to drink responsibly and adhere to the Cleveland Browns' Fan Code of Conduct.
Overall, my experience at FirstEnergy Stadium is always enhanced by the excellent fan services and diverse range of food and beverage options available. It's one of the many reasons why I love attending Cleveland Browns games.
Terms and Conditions
As a Cleveland Browns fan, I'd like to share some important terms and conditions that you should be aware of when attending a game at FirstEnergy Stadium. This would help make your experience smooth and enjoyable.
First and foremost, it's important to comply with the stadium's security protocols. Make sure you bring only the items allowed inside, as prohibited items will not be permitted through the gates. Check the Cleveland Browns' official website for a detailed list of what you can and cannot bring.
Parking is another crucial aspect to keep in mind when planning your visit. The Muni Lot opens at 7 a.m. for weekend home games with a 1 p.m. start time, and the price for a parking spot is $25. Remember that Cleveland Police do not allow cars and other vehicles to occupy more than one parking space, so be prepared to park efficiently.
One great option for a hassle-free entry into the stadium is by using Express Access, presented by Verizon. After enrolling in this program, you can benefit from facial authentication technology for a quick and easy entry. You won't even need to scan your mobile tickets at the gate.
To make your visit as enjoyable as possible, it's a good idea to familiarize yourself with the stadium entrance and gate locations. You can find this information in the FirstEnergy Stadium Gate & Entrance Guide.
By following these terms and conditions, I'm confident that your experience at the Cleveland Browns Stadium will be a blast. Enjoy the game!
Frequently Asked Questions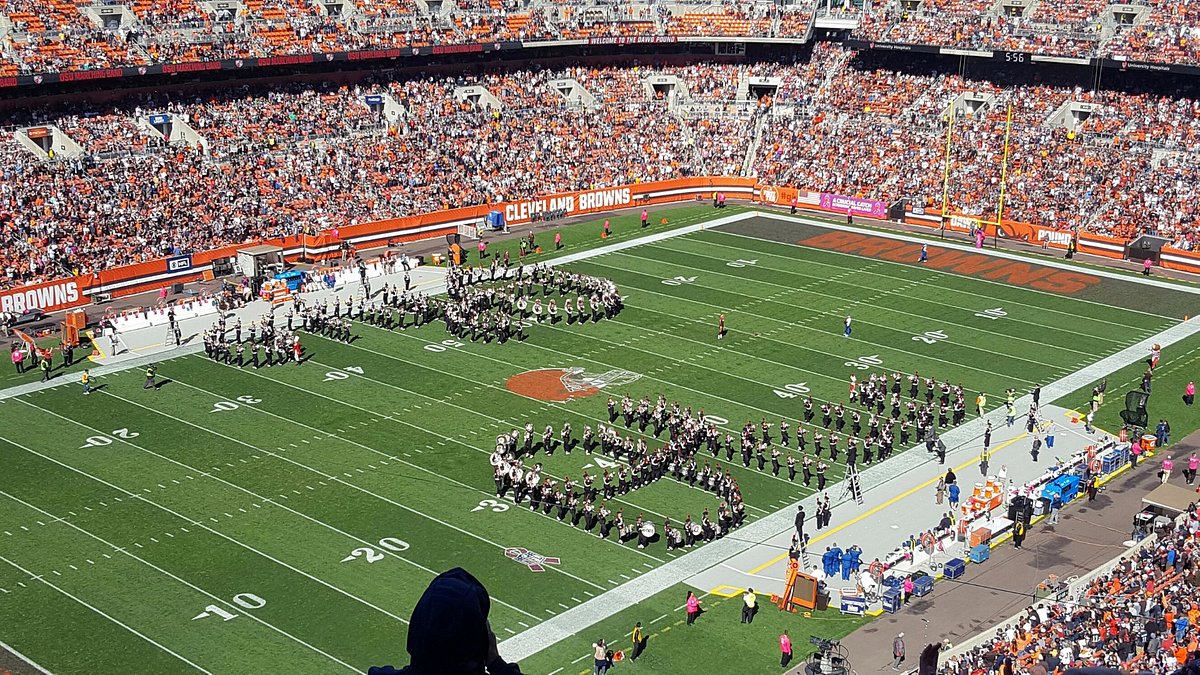 As a friendly and helpful guide, I thought it would be great to create a FAQ section that addresses some common questions about entering and navigating the Cleveland Browns Stadium. Let's begin!
Can I bring food inside Cleveland Browns Stadium? Unfortunately, no. You cannot bring any outside food or drinks into the stadium. However, the stadium offers a wide variety of food and drink options for you to enjoy during your visit.
What are the stadium entrance gates? There are several entrance gates at FirstEnergy Stadium which will help you access different sections of the stadium. Don't worry, there are plenty of signs and helpful staff to guide you through the correct gate.
Are diaper bags allowed inside Cleveland Browns Stadium? Yes, diaper bags are allowed. Just make sure to follow the stadium's bag policy, which typically requires that bags be clear and within a specific size limit.
Is there accessible parking close to Cleveland Browns Stadium? Yes, there are accessible parking options available for guests with disabilities. I would recommend arriving early to secure a convenient spot.
Are battery powered heated jackets allowed inside Cleveland Browns Stadium? That's a great question! While I couldn't find specific information on heated jackets, I'd recommend checking the stadium's official guidelines on what items are permitted or prohibited. You can also contact the stadium's customer service for any further information.
I hope this brief FAQ section helps answer some of your questions about the Cleveland Browns Stadium. Enjoy the game and have a great time!