If you are visiting FirstEnergy Stadium in Cleveland, the Home of the Cleveland Browns, it is good to know more about it. Primarily, the stadium is used for American football, but it's also an event arena.
FirstEnergy Stadium is located between Lake Erie and the North Coast Harbor in downtown Cleveland. If you want to stay near the stadium, there are fantastic hotels, and many restaurants and bars to try different cuisines. Plus, don't worry about where to park, we've got you covered.
Keep reading to find everything about and around the home of the Cleveland Browns!
FirstEnergy Stadium: Key Facts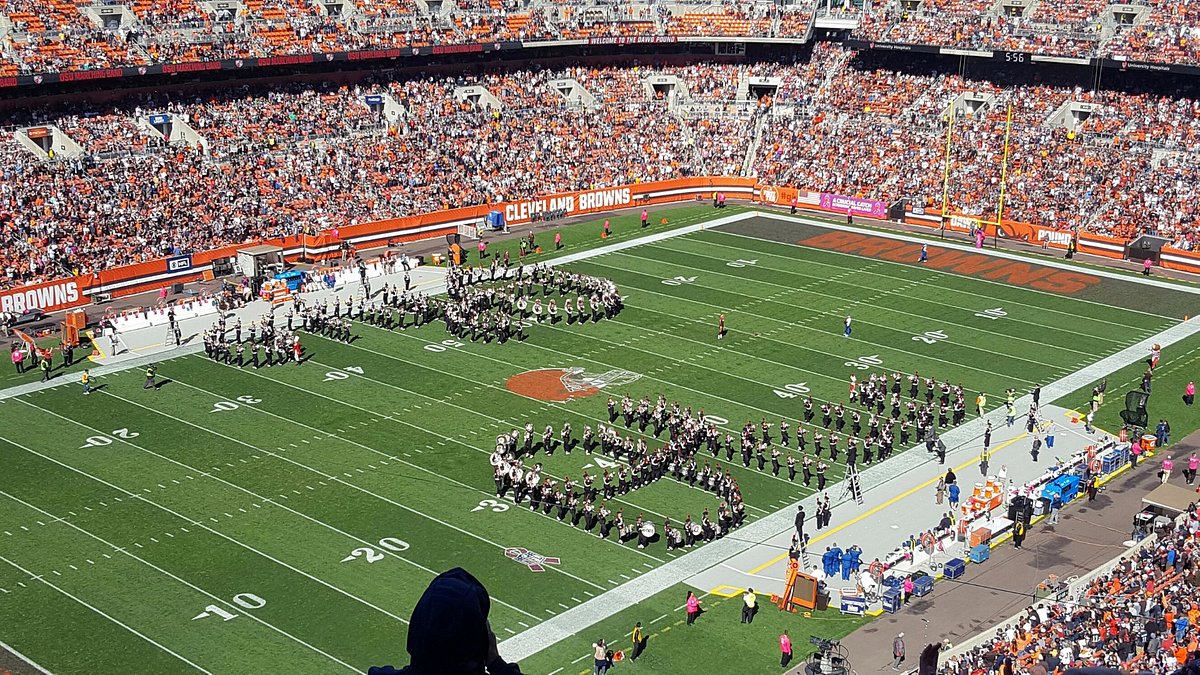 The venue was first opened as Cleveland Browns Stadium and got its new name FirstEnergy Stadium in 2013 after naming discussions.
The stadium was called Cleveland Browns Stadium from 1999 to 2013.
It was first opened on September 12th, 1999.
FirstEnergy Stadium is located on the same ground as Municipal Stadium, which previously stood there for 50 years.
The stadium was built with the financial help of the National Football League, a special tax from Cleveland voters, and Art Modell's legal settlement.
It occupies 31 acres of land between Cleveland Memorial Shoreway in the North Coast Harbor and Lake Erie.
FirstEnergy Stadium is close to the Great Lake Science Center and the Rock and Roll Hall of Fame.
The FirstEnergyStadium building cost was $460 million in 2021.
FirstEnergyStadium has 67,895 seats, of which 8,800 are club seats, and 143 are suites.
The architect was Robert P. Madison International, Inc. and Ralph Tyler Companies.
The stadium designer was Populous, previously called the Sports Venue Event Division of Hellmuth, Obata, and Kassabaum.
Its record attendance was on November 3rd, 2002 when it was called Cleveland Browns Stadium. 73,718 people watched the game between the Browns and the Steelers.
Where Is FirstEnergy Stadium Located?
FirstEnergy Stadium is located in Cleveland, Ohio, USA. The stadium's address is 100 Alfred Lerner Way, Cleveland. It sits on land between Lake Erie and the Cleveland Memorial Shoreway in the North Coast area. The city of Cleveland is the county seat of Cuyahoga County in Ohio.
You can find the Great Lakes Science Center, Rock and Roll Hall of Fame, Cleveland Convention Center, Cleveland Public Library, Old Stone Church, and other landmarks and buildings near FirstEnergy Stadium. There are many attractions and things to do around the stadium.
The Best Way to Get to FirstEnergy Stadium
FirstEnergy Stadium is accessible by bus, subway, light rail, and car.
By public transportation
If you are using public transportation, the following bus transit lines have routes that stop near the stadium: 22, 25, 26-26A, 51-51A, 53-53A, 55-55B-55C, 77, and 9.
To get to the stadium by bus, you can take one from Roman Fountain Pizza, Steelyard Commons, McGowan Park, Coventry Road, WWR, Cleveland Metroparks Zoo, MetroHealth Outpatient Plaza, Kent State, Pearl Road, and Raw Esthetics. You have six bus stations near FirstEnergy Stadium, all within five to seven minutes of walking distance.
The two subway stations near the stadium are W.25 – Ohio City Station and Tower City – Public Square Station. The first one is located within 23 minutes of walking, while the latter is farther away, located within 45 minutes of walking.
The first light rail (Blue/Green/Waterfront) to FirstEnergy Stadium stops nearby at 4:15 AM.
By car
If you travel by car, these are the directions you should use, depending on which side you are coming from.
From the south. Take either I-71 or I-77 north to the East Ninth Street exit. To get to the lake, take East Ninth Street. You will see the stadium on your left.
From the east. Go on I-90 West to Route 2 West and take the East Ninth Street or West Third Street exit. You will see the stadium on your right.
From the west. Take Route 2 east to the Lakeside Avenue exit and go left onto West Third Street. The stadium will be straight ahead.
Parking Near FirstEnergy Stadium
You can reserve a parking lot near the stadium if you are a pass holder. You can park in the following parking lots: Orange Lot, Yellow Lot, Tan Lot, Purple Lot, Red Lot, and Silver Lot. Moreover, there are first come, first served parking lots north and west of FirstEnergy Stadium.
In addition, you have other parking garages where you can park adjacent to the stadium. The following are some of the available parking options:
All of these parking lots are just steps away from the stadium.
The Best Restaurants Near FirstEnergy Stadium
Rosie and Rocco are located at the club level of FirstEnergy Stadium. Fans, athletes, and event participants can taste their delicious Italian dishes throughout the whole year. The menu options are pizza, pasta, salads, sandwiches, and meatballs.
Rosie and Rocco's are highly rated among customers, mainly due to its tasty pizza. Moreover, if you are attending a concert or a game, you don't have to walk or travel, just go earlier to the stadium or stay after the show to enjoy these Italian specialties.
If you want to try the best quality seafood, you should stop by Blue Point Grille, just steps away from the stadium. Voted "Cleveland's Most Popular Restaurant" by Zagat Survey and crowned as "Best Seafood Restaurant" by Cleveland Magazine, facts tell everything you need to know.
The French windows of this cosmopolitan diner allow you to enjoy the downtown skyline. You can stop by the antique bar as well for a happy hour. Make a reservation and visit this place if you want to taste delicious fish specialties and award-winning wines.
You can find both an elegant ambiance and an exquisite menu, just 10 minutes of walking distance from FirstEnergy Stadium. This is a contemporary fine dining restaurant with Italian cuisine. Most of the artworks displayed were imported directly from Venice.
The staff sources the ingredients locally to make handmade dishes, from pasta to bread, steaks, and seafood. If you are a wine lover, here you will have a choice of 200 wines (40 by the glass).
Another awarded eatery is Mallorca Restaurant. From enjoying a great meal to hosting a wedding or an event, this Spanish and Portuguese restaurant will make your experience unforgettable.
The lunch and dinner menus are rich with Spanish and Portuguese dishes created by the chef. You can taste deliciously prepared soups, salads, meat, seafood, pasta, and more. Moreover, they cater to vegetarians and vegans.
Marble Room Steaks & Raw Bar is located in a century-old building that was once a bank. Many of the bank design elements are kept and repurposed. This restaurant is about 17 minutes of walking distance from the FirstEnergy Stadium.
You can enjoy your favorite dish and cocktail in this amazing atmosphere. Choose from the various options from the dinner, dessert, and cocktail menus. You can taste sushi and sashimi, seafood, meat dishes, and mouth-watering cakes, among other specialties.
The Best Bars Near FirstEnergy Stadium
This bar is located on the 32nd floor of Hilton Cleveland Downtown. Just steps away from the stadium, you can enjoy stunning views, cocktails, and nibbles in the so-called "best seat in town" bar.
The "Coast to Coast" menu offers a mix of foods from every Cleveland coast. The menu is divided into North, South, East, and West Coast plates. You can have one of their signature cocktails and enjoy a live band or a DJ night.
| | |
| --- | --- |
| Location | Bar 32 |
| Contact | +1 216-413-5000 |
This private bar is located above the Metropolitan Cleveland's lobby and is ideal for catching up with friends. You won't need more than 20 minutes to get here from the stadium. The bar opens for dinner and is open until 12 AM.
In Ledger Bar, you can taste local craft beer, wines from around the globe, or artisan cocktails. You can combine this with a meal from the dinner menu. They have many options available, from appetizers, salads, and soups, to pizzas and barbeque.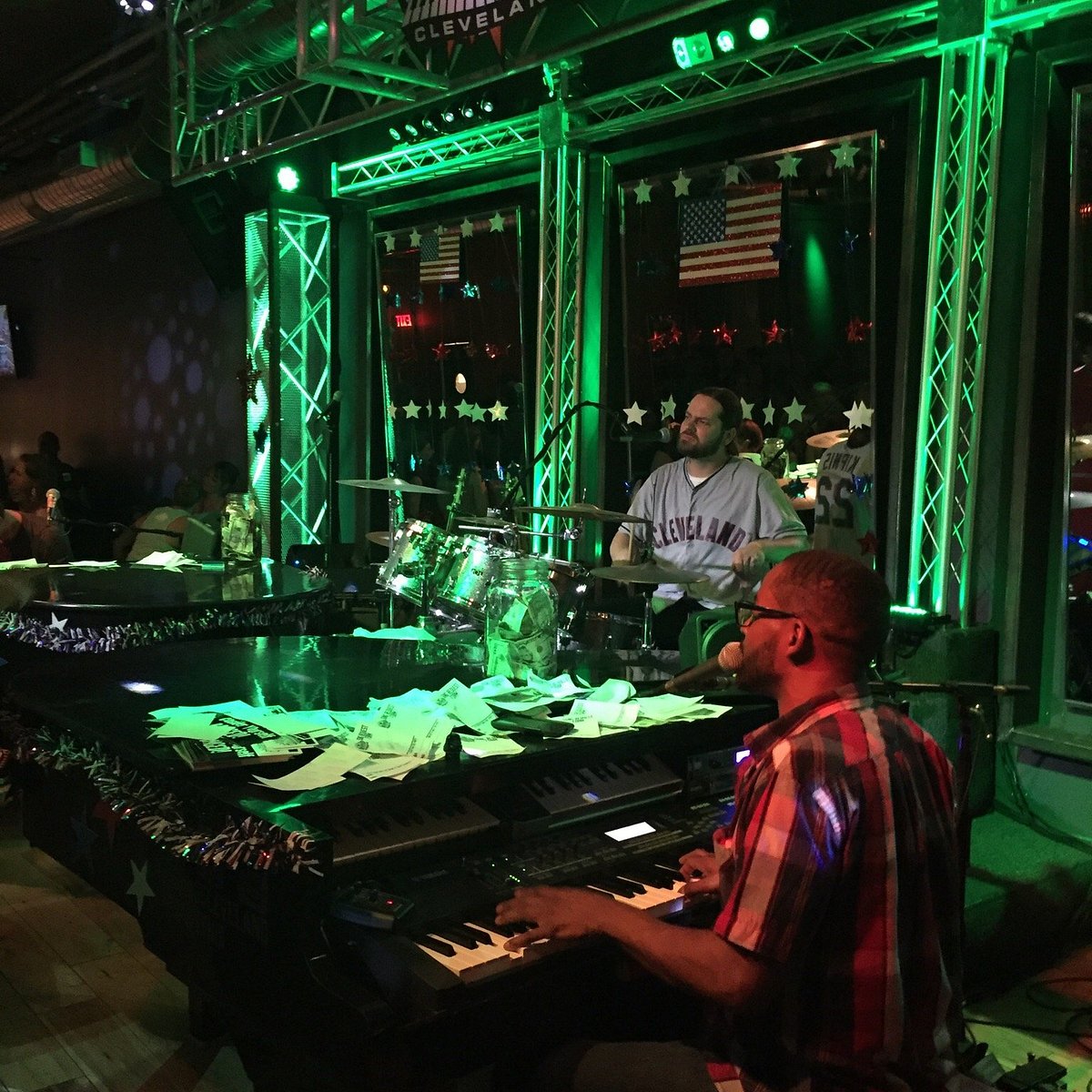 The Big Bang Dueling Piano Bar is slightly different from the others on our list. Here, you can choose a song and hear it live. The band performs on real-time audience requests. Here you can enjoy comedy, music, karaoke, and more.
The bar is located just 12 minutes of walking distance from FirstEnergy Stadium. The Big Bang Dueling Piano Bar is a perfect stop to have strong drinks and fun with your friends.
You can find this dance and sports bar in the historic Warehouse District. This bar has been operating for almost 20 years, and it is famous in Cleveland due to its fun nights and weekend DJ parties.
Dive Bar is open Sundays for Browns games. This is the place to be before or after a game or concert since it is a few blocks from the stadium. If you do not have tickets for a Browns game, go to Dive Bar, order one of the 36 on-tap beers, and enjoy.
On just a 20-minute walk from FirstEnergy Stadium, you can visit a unique bar located in a century-old bank vault under the Cleveland Trust Rotunda.
From classic to iconic cocktails, spirits, wines, and beers to delicious small plates, these menus promise a great experience.
| | |
| --- | --- |
| Location | Vault |
| Contact | +1 216-239-1200 |
The Best Hotels Near FirstEnergy Stadium
The best hotel near the stadium is a four-star, luxurious place, where you can enjoy amazing lake views and have a relaxing time. The Ritz Carlton is very close to the Arcade, Rock, and Roll Hall of Fame, and the Great Lakes Science Center.
Favorite among tourists, The Ritz Carlton's rooms are spacious with many amenities. In the on-site bar and kitchen, TURN, you can enjoy delicious American dishes and drinks.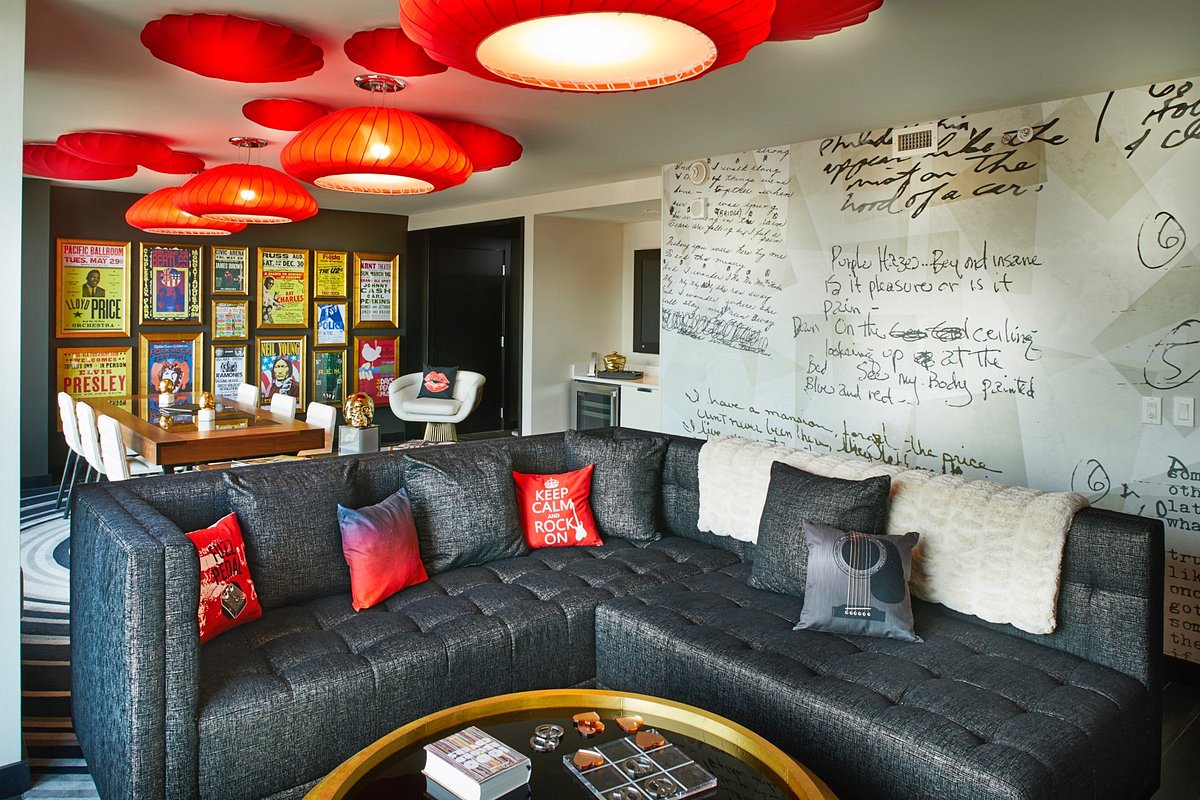 Very close to FirstEnergy Stadium and Playhouse Square is Hilton Cleveland Downtown, considered one of the best hotels in this area. Inside you can find modern and spacious rooms and a rooftop bar overlooking the lake.
Moreover, in Hilton Cleveland Downtown, you enjoy some of the best restaurants and bars, such as Eliot's Bar, Bar 32, and The Burnham Restaurant. This hotel has a convenient location to see the heart of Cleveland's city center.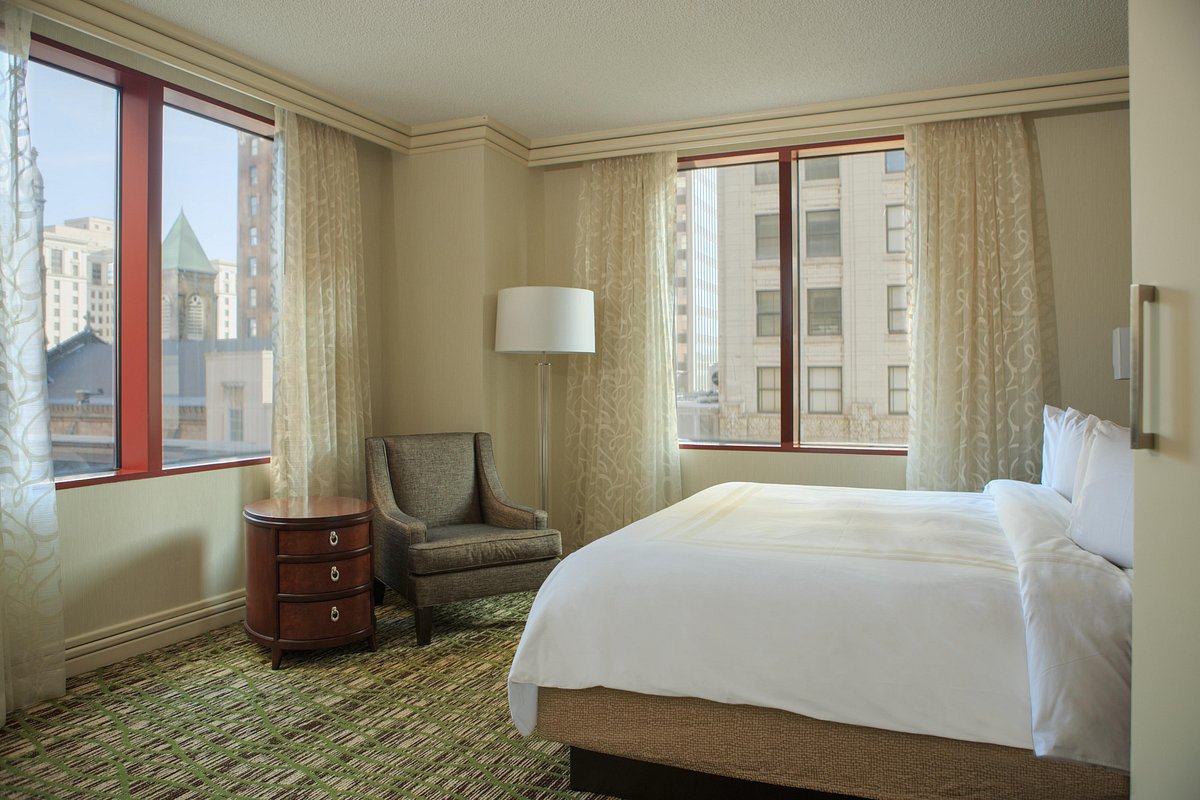 The next hotel on our list, Marriott Downtown at Key Tower, has an ideal location very close to FirstEnergy Stadium and all the most important attractions in this area. Among other things that this hotel offers, you can relax at the spa or work out in the fitness center.
When it comes to drinks and dining, this hotel is where the famous Il Venetian is located. Additionally, you can dine in the Great Room, Public Square Pantry, or try sushi in Marble Room Sushi.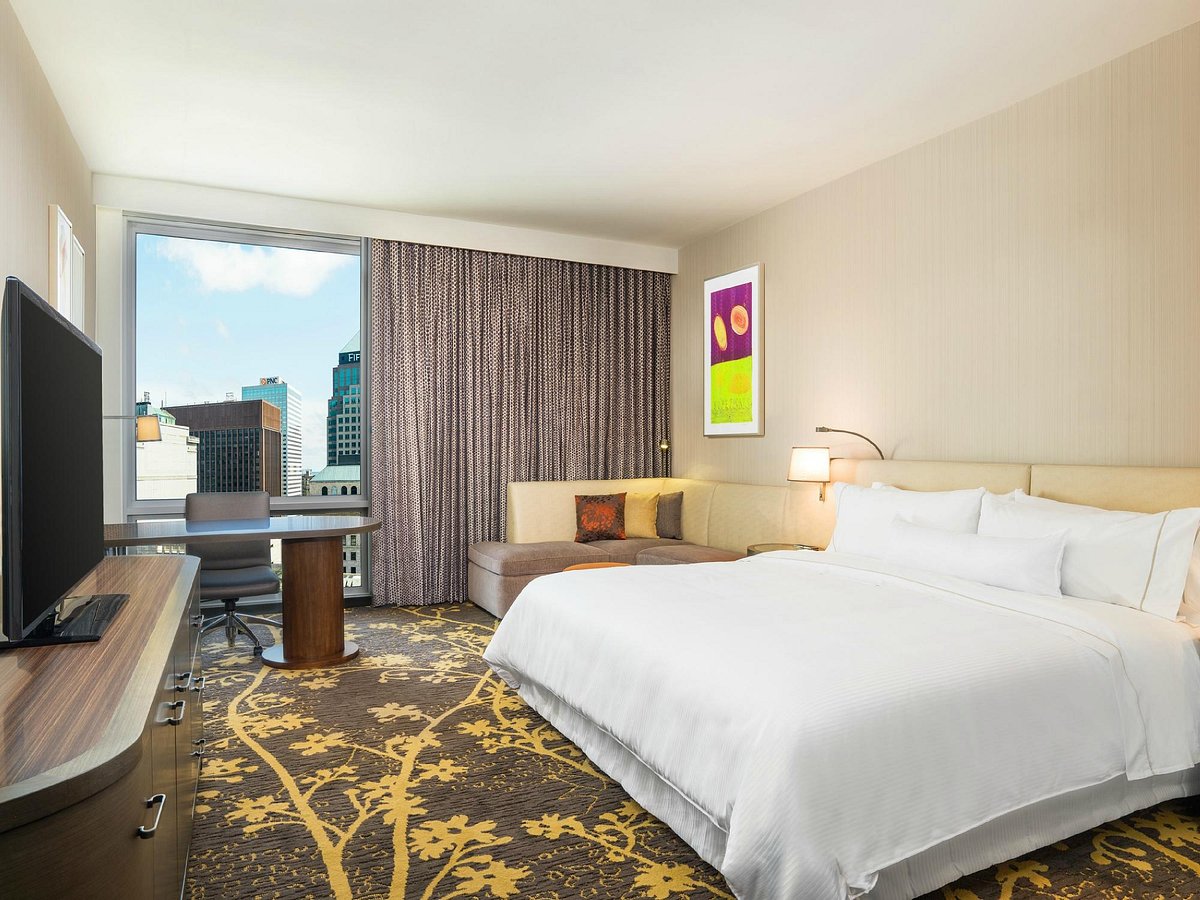 Lastly, we chose The Westin Cleveland Downtown due to its amenities, the signature Westin Heavenly Bed and Bath, and of course, the ideal location. The Westin Cleveland Downtown is situated only 15 minutes by foot from FirstEnergy Stadium, Cleveland Convention Center, Rock and Roll Hall of Fame, and Great Lakes Science Center.
Moreover, you can enjoy local organic ingredients and try delicious American dishes in The Westin Cleveland Kitchen, located at the hotel.
The History of FirstEnergy Stadium
Sitting on one of the most sacred grounds in the NFL, FirstEnergy Stadium's location has been a place to play football since 1946. Browns have been part of NFL history since 1950 when they joined the league.
From the beginning, The Cleveland Browns played at Cleveland Municipal Stadium. Municipal Stadium witnessed many memorable Browns games until the late 1980s when the stadium started to look old and needed a refurbishment. Everyone wanted this change because it was crucial to generate revenue.
In 1995, Art Modell failed to reach an agreement with the city of Cleveland to build a new stadium. However, in 1997, started the construction of the Cleveland Browns Stadium, home of the Cleveland Browns, for 13 seasons at the location of the Municipal Stadium.
In January 2013, the stadium was renamed FirstEnergy Stadium. The stadium's structure is so good that you can see the Browns game from all sides, as well as Lake Erie and Downtown Cleveland.
The architectural changes and renovations continued through the years until the stadium was perfected. Now, it has several amenities, including Browns Hall of Fame, Legends – Sports Grille, a team store, and Club 46, a new hospitality area.
Where to Get Tickets for FirstEnergy Stadium
You can get tickets for FirstEnergy Stadium from the stadium directly. You can reach the ticket sales office by calling them at (440)891-5050, or by emailing [email protected], from 8:30 am to 5:30 pm.
Moreover, you have various other options to buy tickets for an event or game at FirstEnergy Stadium. For example, you can purchase tickets online from Ticketmaster, just go to the event schedule and find when you want to go.
Another site that helps you buy tickets for the stadium is VividSeats. You can find events, tickets, and venue information for 2023 and 2024. Plus, you can filter tickets from cheap to more expensive, you can see the stadium map and seating chart and find other useful information, such as where to park, etc.
Next are Ticket Center, Box Office Ticket Sales, and ticket sales. There are more websites that you can find online. But don't forget the official site of the Cleveland Browns as well.
Does FirstEnergy Stadium Offer Tours?
Unfortunately, FirstEnergy Stadium does not organize any stadium tours. In the past there have been some guided tours, however, they do not offer them anymore.
Conclusion
FirstEnergy Stadium has been the home of the Cleveland Browns for many years. Although its name was changed, the location is undoubtedly known for the Cleveland Browns. Located in Downtown Cleveland, on Lake Erie's shores, this stadium is close to many landmarks and attractions. If you are visiting the stadium, just minutes away, you can take the chance to see other attractions Cleveland is famous for.
The location is the reason why some of the best restaurants, bars, and hotels in Cleveland are built exactly in this area. You can get to the stadium by car, bus, light rail, subway, or on foot, depending on your location.
Don't wait! Buy a ticket to go to FirstEnergy Stadium and enjoy Cleveland.