The best thing about watching an event at the Rocket Mortgage FieldHouse is that you can experience food from all around the city in one place. Famous chefs of Cleveland, such as Ohio, Karen Small, Jonathon Sawyer, Rocco Whalen, Michael Symon, and many others, have set up their food stations to serve their best recipes to the fans and guests who arrive at the stadium.
From shrimp bowls to beef Reuben and the usual burgers, chicken, and tacos, you have numerous options on the menu while looking for food at Rocket Mortgage FieldHouse.
Inside the Rocket Mortgage FieldHouse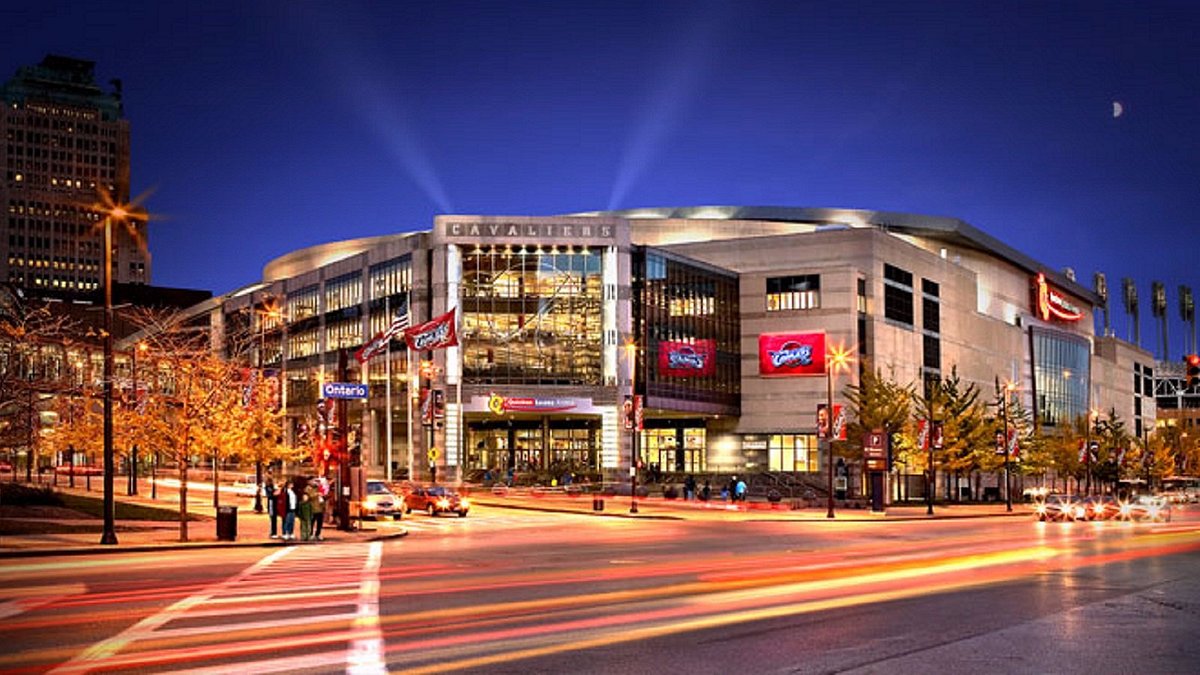 It is simple to locate any eatery that delivers delightful cuisine inside the FieldHouse. Symon's Burger Joint, Flour Pizza Company, Banditos Cantina, Greenhouse Kitchen, Market at the Fig, and many more are just a few of the well-known establishments.
We've shortened the names of a few more bars and restaurants below so you can easily browse the portals and select the one you want.
South Neighborhood:
The stadium's South Neighborhood is the place to go if you're seeking coffee and light fare to help you get rid of your fatigue and satisfy the tiny hungry mouse inside of your stomach. The following food stands can be found there.
Pearl's Kitchen
At Pearl's Kitchen, which is on the street level, Tiwanna Scott Williams meals are available. This restaurant focuses on dishes with a Cajun-Southern twist, like a blackened shrimp rice bowl, a crispy chicken sandwich, flower bombs, and more.
CLE/MKT
Are you trying to avoid meat yet need lighter fare? Your favorite farm-to-table and plant-based dishes are available at CLE/MKT from the regional partners Vegan Vicki, Chef Tiwanna Scott-Williams, and Chef Karen Small. Your vegan dining experience at CLE/MKT will be exceptional because of the veggie burgers, sandwiches, fries, and beverages.
St. Market Cafe
Famous chef of the city, Karen Small, opened this food station in the arena to provide freshly roasted coffee and delicious food at the table of the fans. You can order the signature dishes of the restaurant; bahn mi bowl, turkey sandwich, and corned beef Reuben at the most reasonable prices.
East Neighborhood:  
East Neighborhood is dedicated to meat lovers and organized with food stations that serve sizzling hot grilled chicken, beef, hot dogs, and beverages. Every stop at this corner is a great place for a large group of friends to dine and talk for long hours.
Tenders Love and Chicken
Without a delicious slice of delicate chicken, a game day doesn't seem to be complete. You can fuel your body before the thrilling game begins by eating delicious, juicy chicken dishes from Tender Love and Chicken.
You will find TLC in portals 7 and 8.
Symon's Burger Joint
The single location of Michael Symon's Symon's Burger Joint is close to Portal 9. Michael Symon is a well-known local chef. Fans can indulge in single and double cheeseburgers with a smashed patty, The Big Cleve Burger (especially with added Kielbasa), nacho cheese, fresh-cut french fries, and shakes.
FanFuel
Going to the Rocket Mortage FieldHouse to enjoy your favorite Monsters or Cavs game? Check out portals 2 and 3 before entering the main hall, and refuel your body with a hot dog and beer. You can also have peanuts, pretzels, popcorn, and soda.
Northwest Atrium Neighborhood: 
The Northwest Atrium Neighborhood has the famous restaurant Rocco's.
Rocco's
The honey butter-filled chicken and the tremonster cheesesteak tenders and fries are two dishes available at Rocco's. Fans may have food in the pleasant environment of the food station, enjoy it at their seats, or take in the sights and sounds of the lively neighborhood.
Thanks to self-order technology, full-service bars, and roaming cocktail servers, your experience of food at Rocket Mortgage is the best in the venue.
West Neighborhood:
You'll know you're in the West Neighborhood when the sweet smell of BBQ and grill tickles your nostrils and compels you to visit one of the restaurants listed below.
Flour Pizza Co.
Flour Pizza Co. serves authentic and one-of-a-kind wood-fired pizza from chefs Paul Minnillo and Matt Mytro. From the menu list, you may choose the basic cheese pizza with juicy tomatoes or grana, which is one of the restaurant's hallmark pies.
Furthermore, there is the Funghi, which has Mackenzie goat cheese, roasted shallots, wild mushrooms, thyme, and white truffle oil.
BrewDog
BrewDog is located at a street level close to Portal 27 with the goal of making people just as passionate about craft beers as they are.
Elmore's BBQ Pierogi Nacho
Elmore Smith, a former NBA player, and legendary Cleveland Cavaliers player founded this well-known steakhouse. Cheese and potato pierogies with queso, salsa, BBQ sauce, sour cream, jalapenos, onion straws, shredded cheddar, and smoked BBQ chicken or pork will be available for you to savor.
Other Food Stores at the Rocket Mortgage FieldHouse
New food stalls have been introduced to the stadium in recent years, which have made the dining experience fun and exciting. Here are some new stands:
New at Portal 29  
At Portal 29, you will find two food and beverage stalls named Triple Double Nahco and Draft Beer. You may find the serving system attractive as they serve food in a souvenir basketball bowl. Do not forget to try out the nacho cheese-filled tortilla chips, sour cream, shredded cheese, and salsa.  
Self-Service Kiosks 
At Loudville, Portal 69, Aramark offers brand-new Tapin2 self-checkout kiosks that are exclusive to the stadium for the NBA All-Star Game 2022. These kiosks shorten lines and enable customers to buy meals and go back to their seats promptly.
 AI-Enhanced Smart Checkout
Mashgin Automation technology is now available at four (4) Craftland Beer outlets (Portals 56, 62, 72, and 80), resulting in shorter beverage checkout lines and a wider selection of products.
FAQs
Which seats at Rocket Mortgage FieldHouse are the best?
Seats directly across from the stage, such as those in sections 101, 102, 126, and 201, are among the most convenient. Uninterrupted views are available in the upper-level portions.
What comes with club seats at Rocket Mortgage FieldHouse?
Each box has a choice of four or eight comfy, soft leather seats, as well as drink rails. Visitors can savor cuisine and drinks, lounge space, and private dining tables at the posh Huntington Legends Club.