As a fan of the Cincinnati Reds, I always look forward to attending games at the Great American Ball Park. It's situated on the banks of the Ohio River in downtown Cincinnati, making it a truly scenic location for enjoying America's favorite pastime. In this article, we'll dive into everything you need to know about the gates and entrances at this iconic stadium to ensure you have a smooth experience on game day.
I remember my first time visiting the stadium and feeling slightly overwhelmed by its vastness. With this guide, you'll gain valuable insight into gate locations, parking lot entrances, and when the gates open, so you can arrive prepared and ready to cheer on the Reds.
Navigating stadium logistics can be a bit daunting, especially for first-time visitors. With this comprehensive Gate & Entrance Guide, my aim is to make your experience at the Great American Ball Park as enjoyable and stress-free as possible. So grab your Reds gear, and let's get ready for a memorable day at the ballpark!
Location and Directions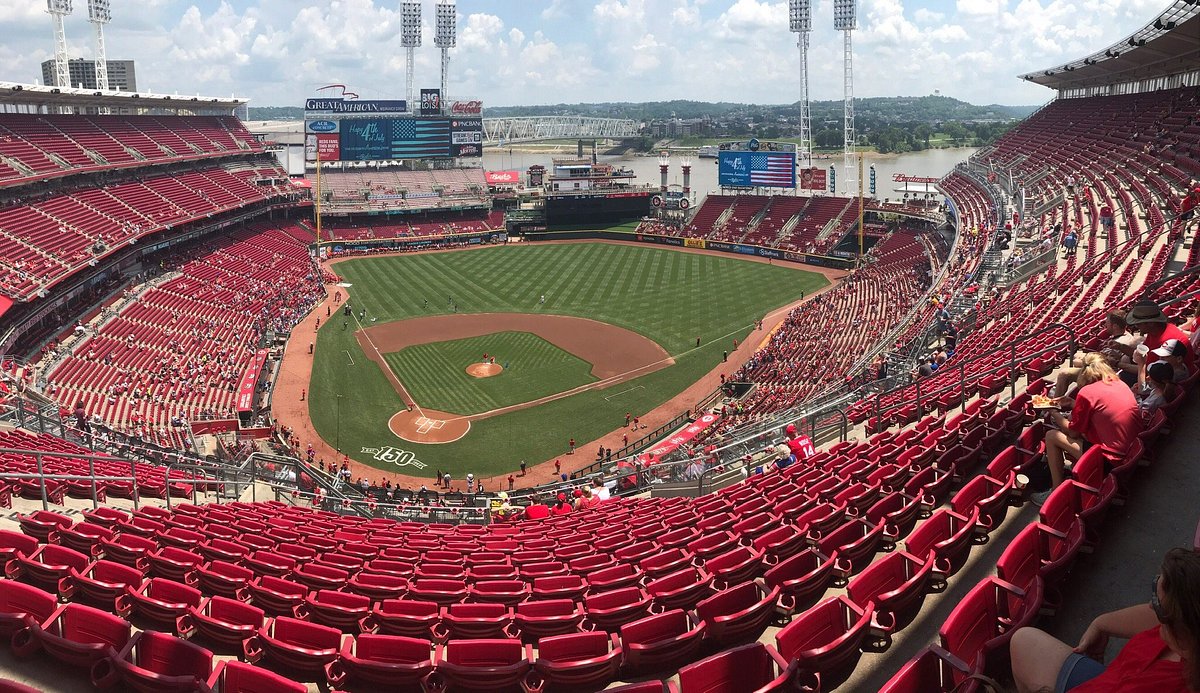 General Location
I find the Great American Ball Park to be conveniently located in downtown Cincinnati, right at the corner of Second Street and Joe Nuxhall Way. With a beautiful view of the Ohio River, it's truly a great home for the Cincinnati Reds, baseball's first professional franchise.
Public Transport Access
For me, accessing the stadium via public transport is quite convenient. Metro buses serve the downtown area, making it easy to get to the ballpark. Additionally, the Cincinnati Bell Connector streetcar has a stop near the ballpark on Second and Main Street, just a short walk from the entrance. More information about public transport options can be found on their respective websites.
Parking Details
When driving to the park, I find several parking options in the vicinity. Some recommended parking garages include:
East Garage – 502 East Mehring Way (recommended entrance) or 475 East Pete Rose Way
Central Riverfront Garage West – 102 West Pete Rose Way (recommended entrance) or 182 Race Street
To get to the Great American Ball Park from I-75 Southbound, I would take the Freeman Avenue exit and follow the directions provided. Parking passes can be purchased online or on the day of the game, subject to availability. If I have any questions about parking and directions, I can call 513-765-7400 for assistance.
The Gates
Gate Timeline
I recommend arriving early to the Great American Ball Park, as the gates open 90 minutes before the game starts. This allows you to avoid the rush, enjoy pre-game activities, and watch batting practice.
Gate Locations and Map
Here are the primary gate locations you should be familiar with:
Crosley Terrace Entrance: This main entrance is located at the corner of Second Street and Joe Nuxhall Way, near the Box Office and Will Call.
Gate 2: Situated at Joe Nuxhall Way, this gate is just southwest of the main entrance.
Gate 3: South of Gate 2, Gate 3 can be found on Mehring Way and Johnny Bench Street.
FOX Sports Club Entrance: Accessible by the Riverfront Club bridge, this entrance is exclusively for members.
Accessible Entrances
Great American Ball Park aims to accommodate all guests, including those who require accessible entrances. Wheelchair-accessible gates include the Crosley Terrace Entrance, Gate 2, and Gate 3. These gates feature ramps and/or elevators, making entering and exiting the ballpark more comfortable for guests with mobility impairments.
Remember, the Great American Ball Park offers a variety of entry points to suit your needs and ensure a pleasant game day experience.
Security Measures
Bag Policy
At the Great American Ball Park, security is a priority to ensure the safety and enjoyment of all guests. As a part of these measures, the ballpark has a clear bag policy. This allows security personnel to conduct quick and efficient inspections upon entry. I recommend using a clear bag no larger than 12″ x 6″ x 12″ or a small clutch purse no larger than 4.5″ x 6.5″. Be sure to double-check the bag size before attending the game to avoid any inconvenience.
Prohibited Items
In addition to the bag policy, there are certain items that are not allowed inside the ballpark. I recommend familiarizing yourself with the list before attending to avoid any issues. I've highlighted a few of the most important prohibited items below:
Weapons of any kind, including firearms and knives
Alcoholic beverages and illegal substances
Outside food and drink (with the exception of one factory-sealed, non-alcoholic beverage per person, in a plastic bottle that is 1 liter or less, or a single-serving juice box)
Large bags or hard-sided coolers
Aerosol cans (including sunscreen and mace spray)
Drones or unmanned aerial vehicles
Noisemakers, air horns, or musical instruments
Professional camera equipment or tripods
Large umbrellas
Keep in mind that this list is not exhaustive, and other items may also be prohibited at the discretion of ballpark security. Feel free to check the ballpark's official website for a more comprehensive list.
By following the above guidelines for both the bag policy and prohibited items, you can ensure a smooth and enjoyable experience at the Great American Ball Park.
Concessions and Amenities
Food and Drink Options
At Great American Ball Park, there are a variety of food and drink options available for guests. Some popular concessions include Skyline Chili, LaRosa's Pizza, Penn Station Subs, Frisch's, and Graeter's Ice Cream. For fans looking for an alcoholic beverage, options such as Moerlein, Taft's Ale House, and various destination bars can be found throughout the park. And starting in 2023, you can also enjoy Chick-fil-A in the ballpark!
Seating Areas
I appreciate that the Great American Ball Park has multiple seating areas that cater to different preferences. You can find:
All-You-Can-Eat seats, which provide access to a buffet-style menu
Garden Bar for a more relaxed, outdoor atmosphere
PB05 for an elevated view of the game and easy access to food and drink options
Each seating area offers its unique advantages, and I encourage guests to explore the different options available to find the perfect spot for their game day experience.
Merchandise Stands
Throughout the ballpark, you'll find merchandise stands offering a wide selection of Cincinnati Reds and MLB products. Be sure to check out the Reds Team Shops for official team gear, and don't miss the Sweet Spot for sugary treats to enjoy during the game. There's also the UDF Market for any last-minute snacks or essentials you may need to make your experience complete.
Other Entertainment Options
While attending a Cincinnati Reds game at the Great American Ball Park, I'd like to explore some of the other entertainment options in the area. There are plenty of things to do around the ballpark, from dining at nearby restaurants to catching some stunning views of the city.
Just a short walk from the ballpark, I might take a stroll along the Smale Riverfront Park. It's a beautiful urban park that offers scenic views of the Ohio River and the city skyline. Other than its natural beauty, the park also has interactive water features, playgrounds, and picnic areas that make it an ideal spot for relaxation before or after a game.
If I'm looking for a bite to eat, there are several Cincinnati restaurants near the ballpark to choose from. The Banks District, stretching along Second Street, offers a variety of dining options that cater to different tastes. A popular choice is the Moerlein Lager House, which is not only home to a great selection of locally brewed craft beers, but also to a delicious menu featuring traditional pub fare and other unique dishes.
Another attraction in close proximity is the National Underground Railroad Freedom Center. This museum showcases the history of the Underground Railroad and chronicles the struggle for freedom in the United States, creating an impactful and informative experience. I'd recommend this place for a thought-provoking educational day out.
In summary, there are numerous entertainment options to keep me engaged while visiting the Great American Ball Park. From parks and museums to restaurants and pubs, the area offers a diverse range of activities and opportunities to enhance my experience at the ballpark.
Special Event Policies
During special events at the Great American Ball Park, I noticed that there are a few policies implemented to ensure a smooth experience for everyone. Let me share these with you to help you plan better for your game day or event experience.
First off, accessible access is a priority at the stadium. The Reds organization is committed to making sure that all guests, including those with disabilities, have a comfortable and enjoyable experience. The ballpark is fully accessible and offers designated seating areas for easy access.
Another important aspect is how the stadium handles digital tickets. The MLB Ballpark app is the go-to place for all your digital ticketing needs. Through the app, you can quickly forward tickets to other guests in your party, making it a convenient way for everyone to enter using their own devices.
It's also worth noting that the Box Office located at the main Crosley Terrace entrance is available for purchasing tickets, Will Call, and any digital ticketing queries you may have.
When planning your visit, you will want to keep in mind the gate locations and opening times. You can find detailed information about these details in resources like the "Great American Ball Park Gate & Parking Lot Guide", which covers everything you need to know prior to arriving at the stadium.
For parking purposes, I recommend using services like Vivid Seats, which not only offer parking passes but also provide an interactive view of the seat location before purchase. This helps you make an informed decision about your experience at the Great American Ball Park.
And finally, don't forget to check out the ballpark's ground rules. These are essential to know, especially during concerts and other non-baseball-related events, to ensure a safe and enjoyable experience for all attendees.
I hope this information is helpful as you prepare for your upcoming visit to the Great American Ball Park. Enjoy the game, concert, or special event!
Conclusion
I hope you now have a clearer understanding of the essential aspects of the Great American Ball Park, including gate locations, parking lot entrance locations, and stadium opening times. Parking and entering the stadium should be a breeze.
Being aware of these details will help you plan your visit and focus on enjoying the Cincinnati Reds' game. The beautiful stadium offers a fantastic experience, with delicious food, a vibrant atmosphere, and an excellent view of the action. I encourage you to make the most of your trip, exploring the rich history of the Reds, and perhaps taking advantage of nearby attractions and dining options.
Feel free to check out the resources mentioned here for further details, and I wish you a pleasant and memorable time at the Great American Ball Park. Go, Reds!