Nestled along the picturesque banks of the Ohio River in downtown Cincinnati, Great American Ball Park stands as a testament to the city's rich baseball history and serves as the proud home of the Cincinnati Reds.
As the first professional baseball franchise, the Reds have roots dating back to 1869 with their predecessors, the Red Stockings.
Today, fans can experience the excitement and tradition of America's favorite pastime, while also enjoying the modern amenities that the stadium has to offer.
Since its inauguration in 2003, Great American Ball Park has been a state-of-the-art facility designed to provide an unforgettable experience for Reds fans of all ages.
With stunning views of the field and the surrounding cityscape, visitors can marvel at the unique architecture that pays homage to classic ballparks from the past. Notably, the stadium recently introduced the BetMGM Sportsbook, as of January 1, 2023, expanding its array of entertainment options for visitors to explore.
As a member of the National League Central Division, the Cincinnati Reds consistently face off against formidable opponents, such as the Milwaukee Brewers, Chicago Cubs, St. Louis Cardinals, and Pittsburgh Pirates.
Each game offers a thrilling spectacle for sports enthusiasts and casual fans alike to enjoy.
Whether savoring traditional ballpark fare, participating in family-friendly activities, or simply basking in the ambiance of a classic American pastime, visitors can expect a memorable experience at Great American Ball Park: Home of the Cincinnati Reds.
Great American Ball Park History
Opening and Significant Events
Great American Ball Park, located in Cincinnati, Ohio, officially opened on March 31, 2003, as the home of the Cincinnati Reds, baseball's first professional franchise.
The ballpark stands along the banks of the Ohio River in downtown Cincinnati, succeeding Riverfront Stadium, which had been the Reds' home since 1970.
A notable feature at the main entrance plaza on Joe Nuxhall Way pays homage to the Reds' former home, Crosley Field, which was their ballpark from 1912 to June 1970.
Here, statues of Crosley-era stars Nuxhall, Ernie Lombardi, Ted Kluszewski, and Frank Robinson are depicted playing.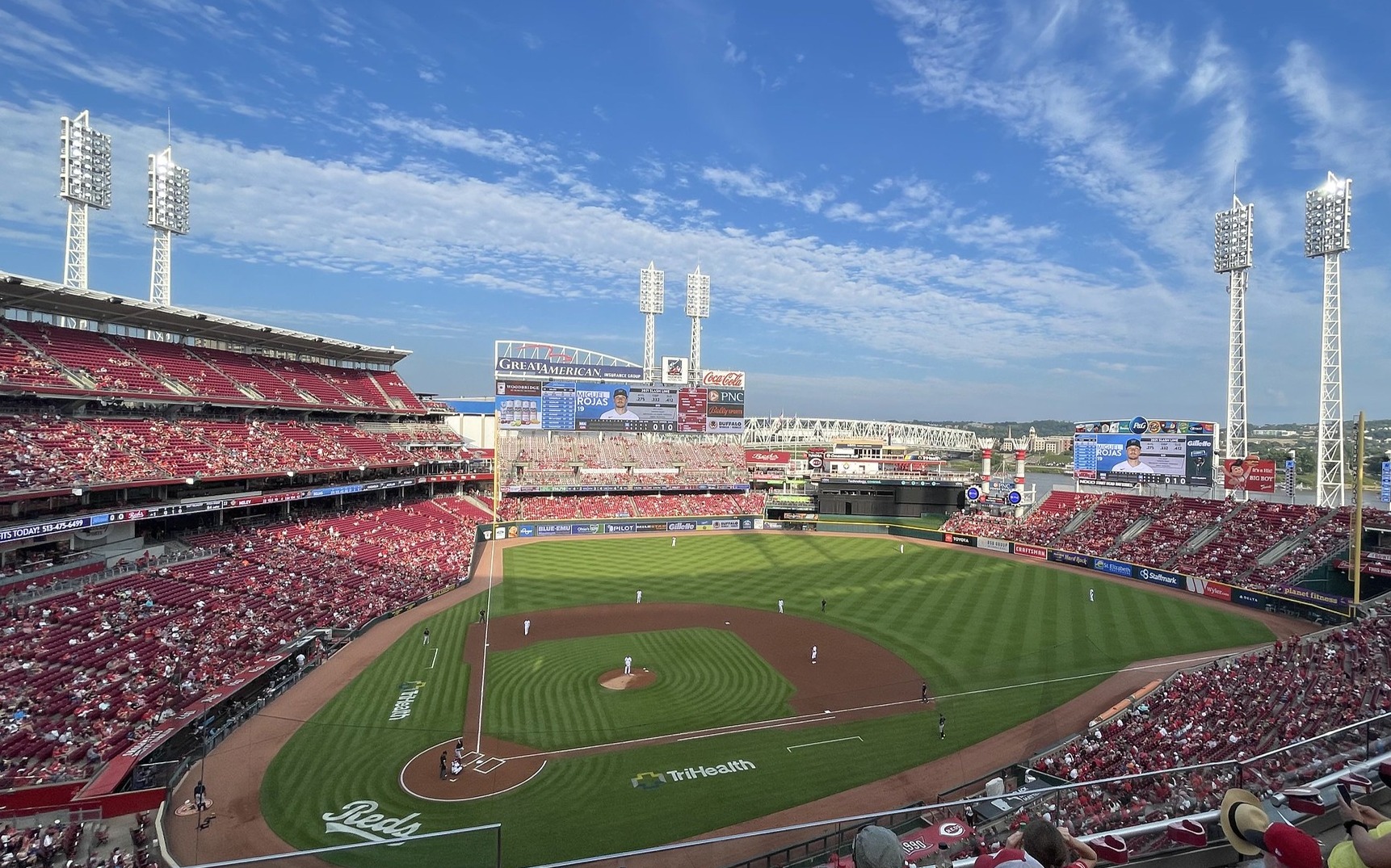 Notable Achievements
2000: The 30-year naming agreement with Great American Insurance Company was announced, giving the ballpark its name.
2003: The ballpark hosted its first regular-season game on March 31, with the Reds defeating the Pittsburgh Pirates.
2015: Great American Ball Park was the host venue for the 86th MLB All-Star Game.
Personal milestones: The ballpark has witnessed several major league milestones, such as Ken Griffey Jr.'s 500th and 600th home runs, as well as numerous individual achievements by Reds players and opponents alike.
Throughout its history, the Great American Ball Park has been an exciting venue for fans to watch their favorite team and enjoy the game.
Hand-in-hand with its rich past, the park remains an important part of Cincinnati's sports history and culture.
Stadium Features
Seating Capacity and Views
Great American Ball Park, located on the winding banks of the Ohio River in downtown Cincinnati, is the home of the Cincinnati Reds.
The stadium provides a variety of seating options, catering to different budgets and preferences, while maintaining an intimate atmosphere that enhances the fan experience.
The unique design of the stadium offers breathtaking views of the riverfront, northern Kentucky landscape, and downtown Cincinnati.
Statues and Displays
Great American Ball Park pays tribute to the rich history of the Cincinnati Reds through various statues and displays.
One notable feature is the Reds Hall of Fame and Museum, which showcases the accomplishments of the team's greatest players and moments in Reds history.
The park also boasts larger-than-life bronze statues of legendary Reds players, such as Johnny Bench, Joe Morgan, and Tony Perez, commemorating their significant contributions to the team.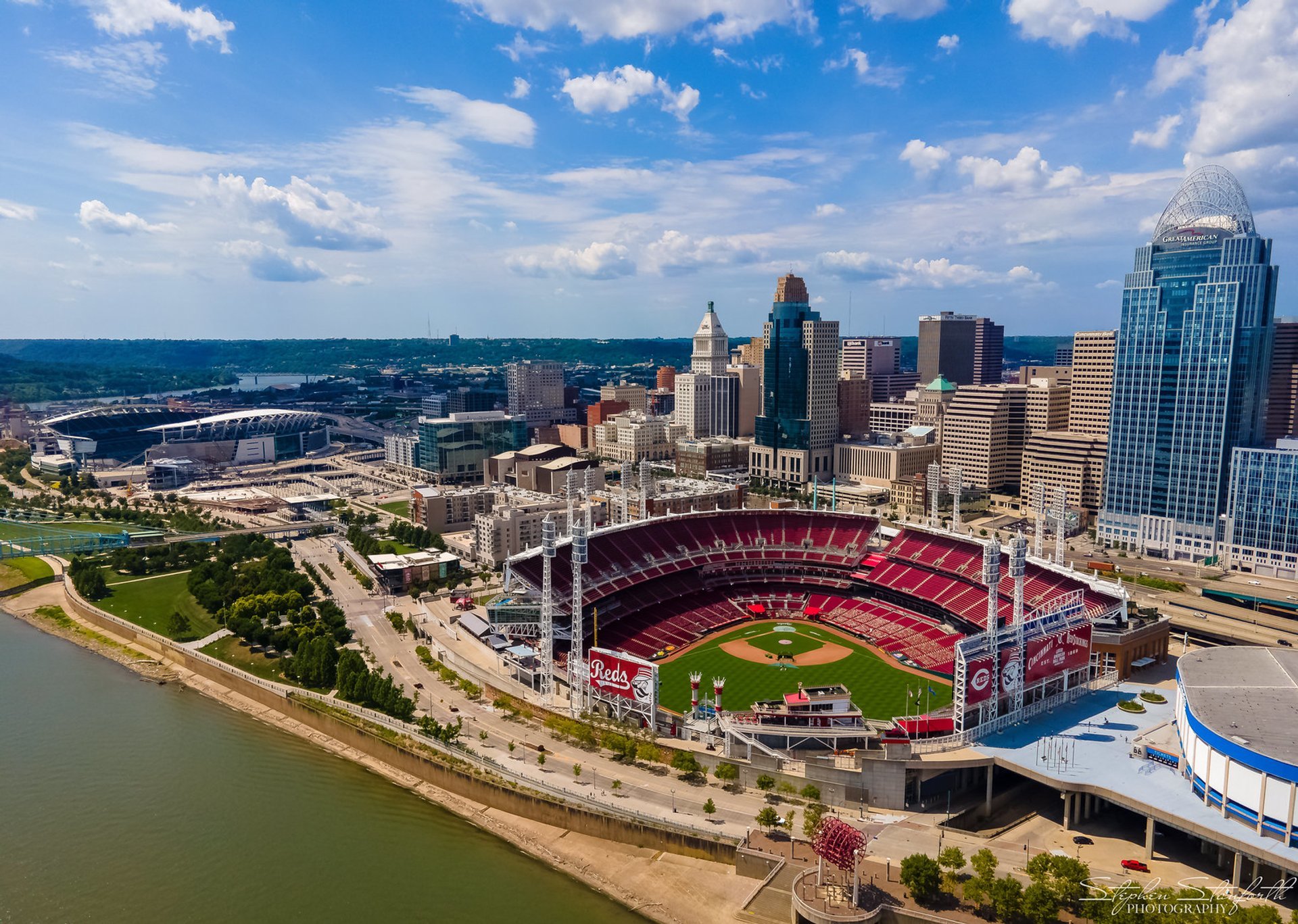 Game Day Experience
Concessions
At Great American Ball Park, you'll find a wide variety of concession stands and dining options to satisfy your hunger during Cincinnati Reds games.
From classic ballpark fare like hot dogs, nachos, and soft pretzels to more unique offerings such as local favorites like Skyline Chili, there's something for everyone.
Here are a few notable options:
Frisch's Big Boy: Enjoy a classic Big Boy burger and fries.
Porkopolis: Try a delicious smoked pulled pork sandwich.
Mr. Red's Smokehouse: Savor some tasty barbecue ribs, brisket, or chicken.
Family Entertainment
The Great American Ball Park offers numerous family-friendly activities and entertainment options.
Kids can enjoy the following:
FanZone: This interactive area lets children practice their baseball skills with various games and activities.
Reds Heads Kids Club: A membership club offering unique experiences, promotions, and activities for kids 12 and under.
Mascot Races: Root for your favorite Reds mascot as they race around the field between innings.
Specialty Nights and Events
Throughout the season, the Cincinnati Reds host a variety of specialty nights and events at Great American Ball Park to engage and entertain fans. Some examples include:
Firework Fridays: Enjoy a spectacular fireworks show after the game on select Friday evenings.
Themed Nights: Look out for special theme nights such as Star Wars Night, Bark in the Park, and Kids Opening Day.
Bobblehead Giveaways: Arrive early on select game days to score a limited-edition Reds bobblehead.
These are just a few highlights of what you can expect during a game day at Great American Ball Park, home of the Cincinnati Reds. Enjoy the baseball action and have a great time!
Transportation and Parking
Public Transport Options
Great American Ball Park, located at the corner of Second Street and Joe Nuxhall Way in downtown Cincinnati, is easily accessible by public transportation.
Metro buses: Metro has numerous bus routes that can take you close to the ballpark. Visit the Metro website to plan your route and check schedules.
Southbank Shuttle Trolley: This service runs between the ballpark and various nearby points of interest, including hotels, parking lots, and restaurants. Check the Southbank Shuttle Trolley website for fares and schedules.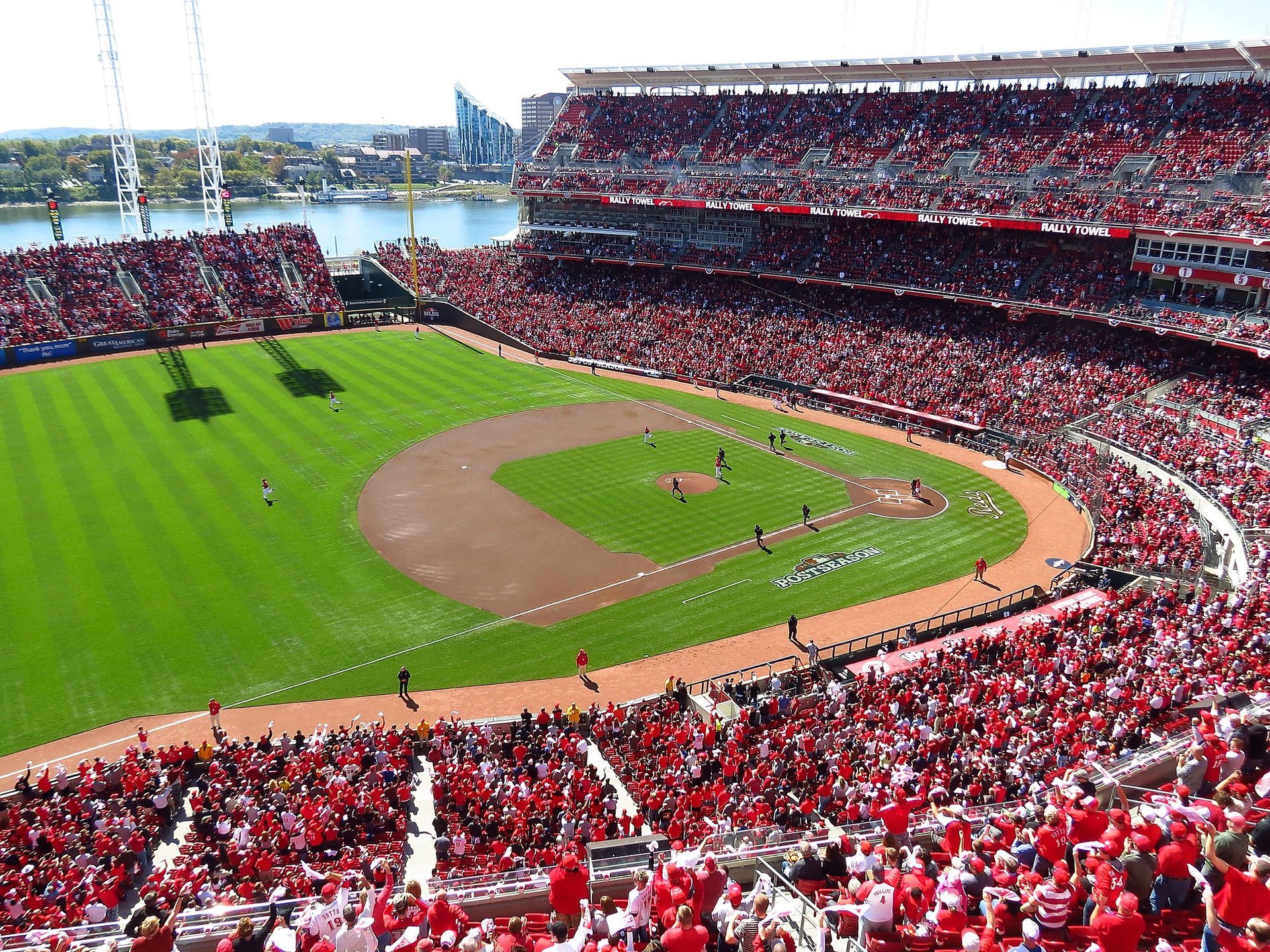 Parking Facilities
Several parking options are available for those planning to drive to Great American Ball Park:
Yellow Passes: Continue on Mehring Way until you reach Great American Ball Park. Enter the Central Riverfront Garage on your right at Dock 1 prior to reaching Joe Nuxhall Way.
Blue Passes: Enter the East Garage on your right.
Green Passes: Enter the Central Riverfront Garage on your right past Joe Nuxhall Way.
For the most up-to-date information, it's a good idea to check the official Cincinnati Reds website for parking updates before heading to the ballpark.
Stadium Tours
Tour Options
Great American Ball Park, the home of the Cincinnati Reds, offers behind-the-scenes ballpark tours for baseball fans and tourists alike.
Stops during the tour include:
Crosley Terrace
The Handlebar presented by Hard Rock Casino
Bally Sports Club
Press Box
Scouts Club presented by Belterra Park
Lexus Diamond Club
Warning Track
Visitor and Home Dugouts
Prices
The prices for ballpark tours may vary, so it's best to check their official website for up-to-date pricing information.
Booking
To book a tour of the Great American Ball Park, simply visit their website or check for available tour dates. It is advised to book early, as tours might fill quickly. Keep an eye on the calendar for upcoming tour opportunities and make sure you don't miss out on this unique experience at the home of the Cincinnati Reds.
James is a big time NBA Golden State follower, who makes sure to catch games when he's in the area. He likes to follow International Soccer, with an interest in small town soccer club, Blackburn Rovers located in the North on the UK.