Welcome to Nationwide Arena, the electrifying home of the Columbus Blue Jackets!
This incredible venue is a must-visit for any hockey fan, offering top-notch amenities and an unforgettable game-day experience.
In this comprehensive guide, we'll cover everything you need to know about Nationwide Arena, including its location, history, transportation options, parking, nearby dining, bars, hotels, and more.
Nationwide Arena: Key Facts
Capacity: Approximately 18,500 for hockey games
Opened: September 9, 2000
Location: 200 W Nationwide Blvd, Columbus, OH 43215
Home Team: Columbus Blue Jackets (NHL)
Other Events: Concerts, family shows, and various sporting events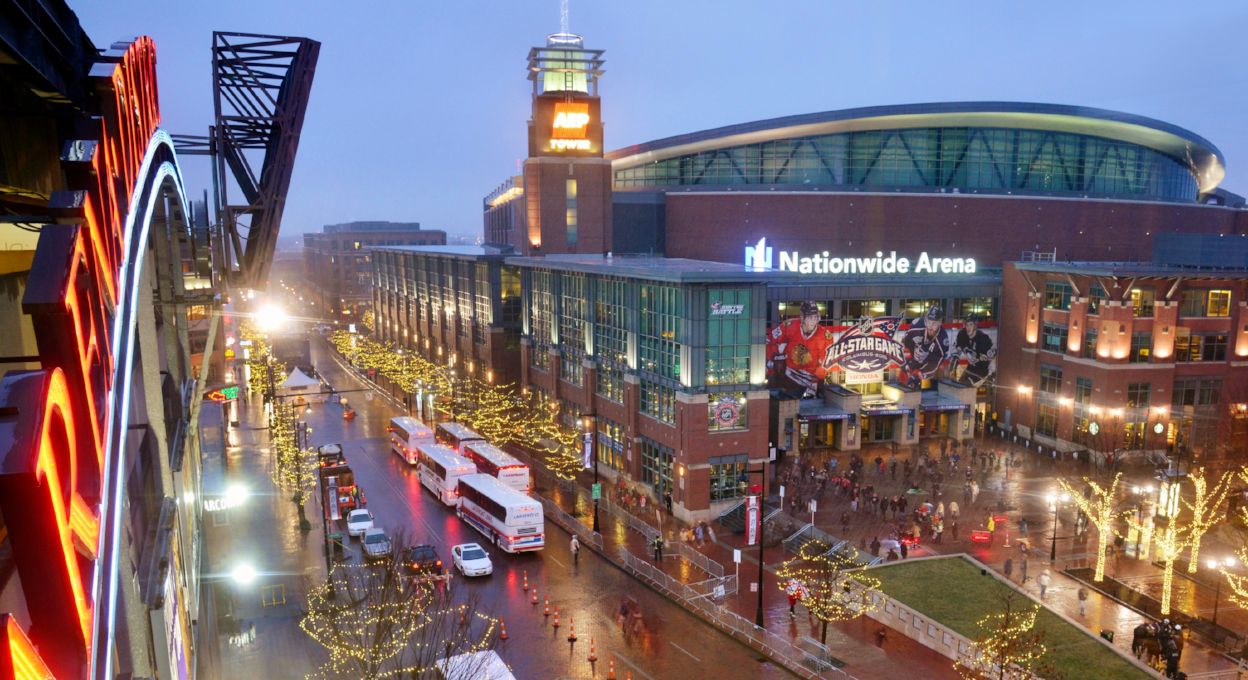 Where is Nationwide Arena Located?
Nationwide Arena is situated in the heart of Columbus, Ohio's bustling Arena District. The Arena District offers a vibrant mix of entertainment, dining, and shopping options, making it an ideal destination for both locals and out-of-town visitors.
The address for Nationwide Arena is: 200 W Nationwide Blvd Columbus, OH 43215
The Best Way to Get to Nationwide Arena
There are several convenient transportation options available for getting to Nationwide Arena:
Driving: If you're driving to the arena, use major highways like I-70, I-71, or I-670 to reach downtown Columbus. Once in the downtown area, follow signs for the Arena District and Nationwide Arena.

Public Transportation: Columbus's Central Ohio Transit Authority (COTA) offers several bus routes that stop near Nationwide Arena. Check the COTA website for schedules and route information.

Rideshare: Services like Uber and Lyft are readily available in Columbus and can provide an easy way to get to and from the arena.

Biking: Columbus has a well-developed network of bike lanes and trails, making it a bike-friendly city. You can also use bike-sharing services like CoGo to rent a bicycle for your trip to Nationwide Arena.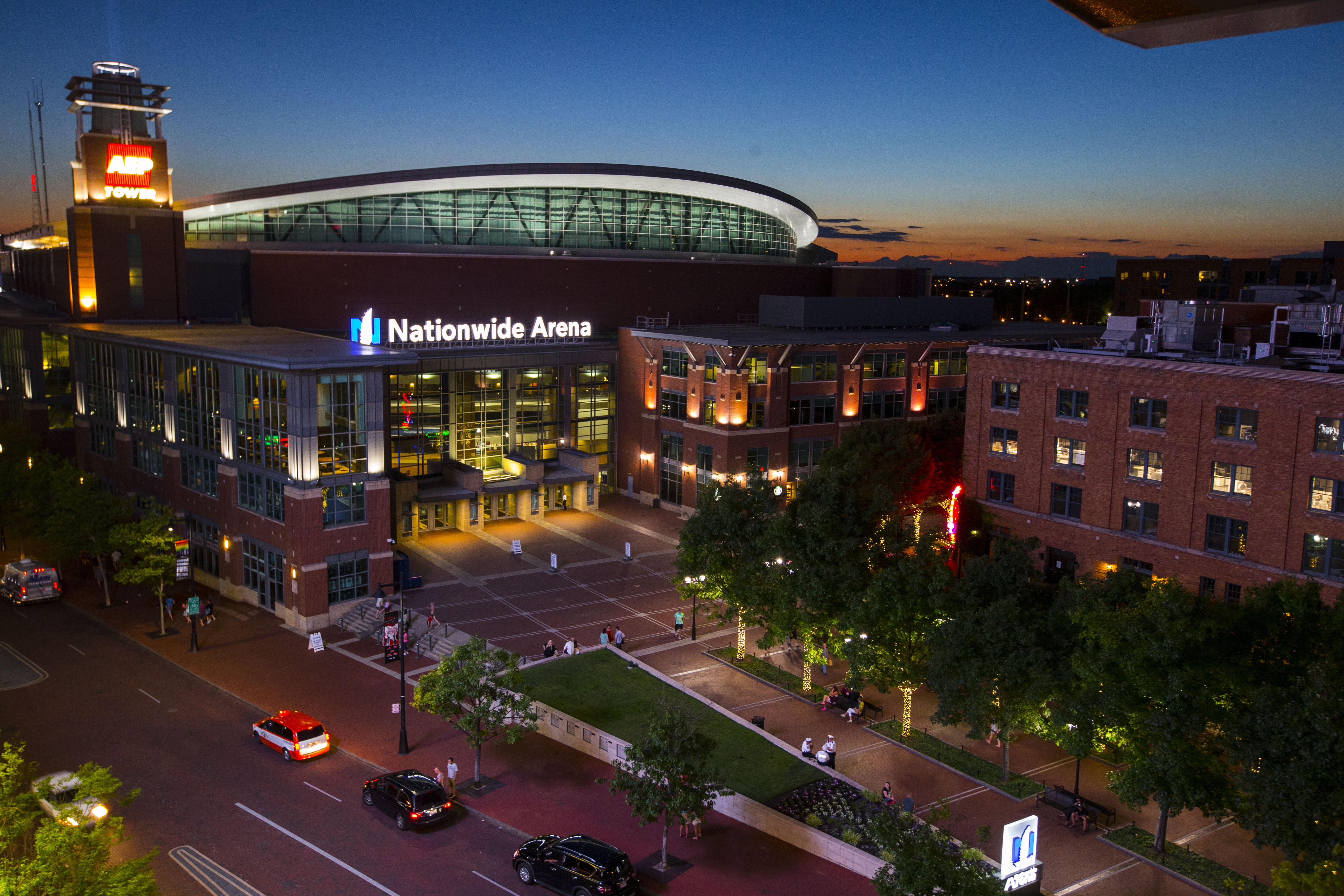 Parking near Nationwide Arena
There are numerous parking options available within a short walk of Nationwide Arena. Some popular choices include:
Nationwide Arena Parking Garage: Located directly across from the arena, this garage offers convenient parking for a fee.

McConnell Garage: Just a short walk from the arena, McConnell Garage offers pre-paid parking options for events.

Surface lots and meters: Several surface lots and metered parking spaces can be found throughout the Arena District.
We recommend arriving early and considering pre-paid parking options to ensure a smooth parking experience.
The Best Restaurants near Nationwide Arena
The Arena District is a food lover's paradise, with a wide array of restaurants catering to various tastes and budgets. Some popular dining options near Nationwide Arena include:
Nada: A stylish Mexican restaurant offering delicious tacos, enchiladas, and margaritas.

Boston's Pizza Restaurant & Sports Bar: A family-friendly sports bar with a diverse menu of pizzas, sandwiches, and more.

Buca di Beppo: A lively Italian eatery with family-style dishes and a festive atmosphere.

Ted's Montana Grill: A classic American grill with a menu featuring bison, steaks, and burgers.

The Pearl: A chic gastropub offering inventive cocktails and a menu focused on fresh, local ingredients.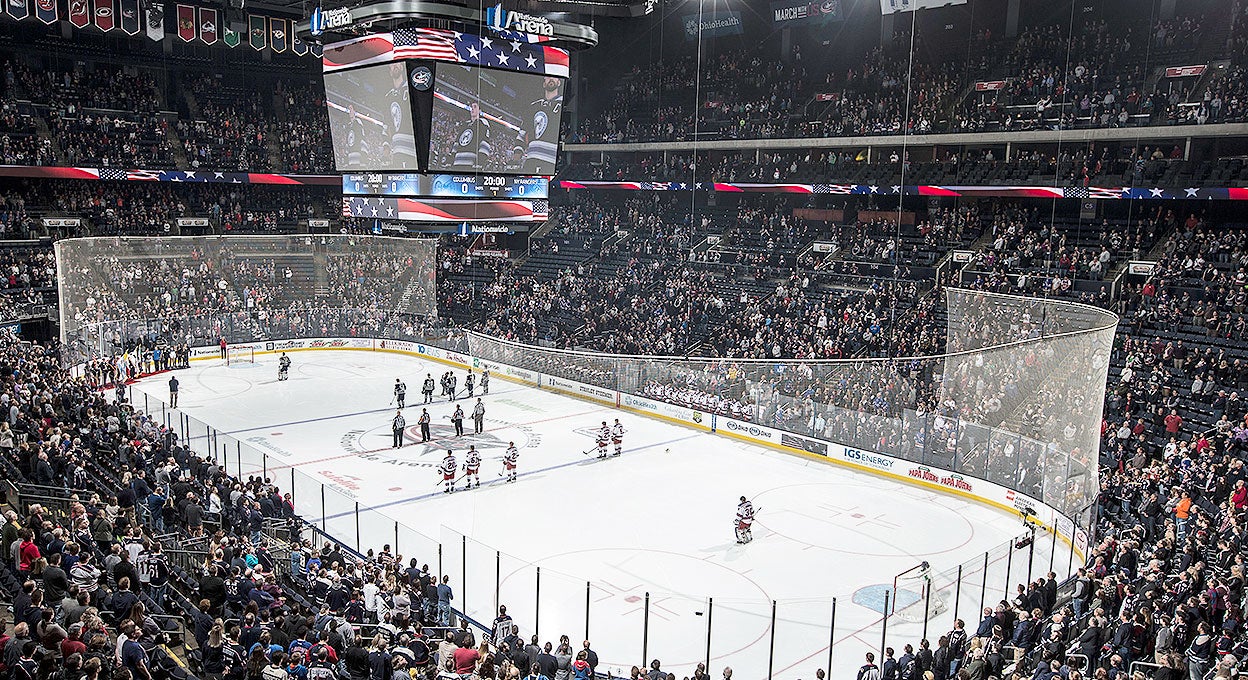 The Best Bars near Nationwide Arena
Looking for a spot to grab a drink before or after a game? Check out these popular bars near Nationwide Arena:
R Bar Arena: The official bar of the Columbus Blue Jackets, R Bar is a lively hockey-themed spot that's perfect for pre-game festivities or post-game celebrations.

The Three-Legged Mare: An Irish pub offering a cozy atmosphere, traditional pub fare, and a great selection of beers.

Pins Mechanical Co.: A unique bar with duckpin bowling, pinball machines, and a spacious outdoor patio. Enjoy a variety of craft beers and cocktails while partaking in some friendly competition.

Novak's Tavern & Patio: A laid-back bar with a rooftop patio, Novak's is an excellent spot for socializing and enjoying a drink with a view.

Big Bang Dueling Piano Bar: A lively entertainment venue featuring talented musicians on dueling pianos, playing your favorite tunes and taking song requests.
The Best Hotels near Nationwide Arena
If you're coming from out of town or looking for a convenient place to stay near Nationwide Arena, consider one of these nearby hotels:
Hilton Columbus Downtown: Located within walking distance of Nationwide Arena, this upscale hotel offers modern amenities and comfortable accommodations.

Hyatt Regency Columbus: Another nearby option, the Hyatt Regency provides guests with a convenient location, spacious rooms, and an on-site restaurant.

Courtyard by Marriott Columbus Downtown: A budget-friendly option within walking distance of the arena, the Courtyard offers contemporary rooms and an indoor pool.

AC Hotel by Marriott Columbus Downtown: A stylish and modern hotel with comfortable rooms and a prime location near Nationwide Arena.

The Lofts Hotel: A boutique hotel housed in a converted warehouse, The Lofts offers unique accommodations with exposed brick walls and high ceilings.
The History of Nationwide Arena
Nationwide Arena opened its doors on September 9, 2000, and has since become an iconic venue in the city of Columbus. The arena was specifically built to house the Columbus Blue Jackets, an NHL expansion team that began playing in the 2000-2001 season.
The construction of Nationwide Arena was a significant milestone for Columbus, as it signaled the city's emergence as a major sports destination. The Arena District, which surrounds the venue, has also experienced significant growth and development since the arena's opening, with the addition of numerous bars, restaurants, and entertainment options.
Over the years, Nationwide Arena has hosted a wide range of events, including concerts, NCAA basketball tournaments, professional wrestling events, and more. It has also served as the home for the Arena Football League's Columbus Destroyers and the National Lacrosse League's Columbus Landsharks.
Where to Get Tickets for Nationwide Arena
Tickets for Columbus Blue Jackets games and other events at Nationwide Arena can be purchased through the following channels:
The official Columbus Blue Jackets website or mobile app
Ticketmaster, the official ticketing partner of Nationwide Arena
The Nationwide Arena Box Office, located at the arena's main entrance
Authorized ticket resellers and brokers, such as StubHub or SeatGeek
When purchasing tickets, be sure to buy from a reputable source to avoid scams and counterfeit tickets.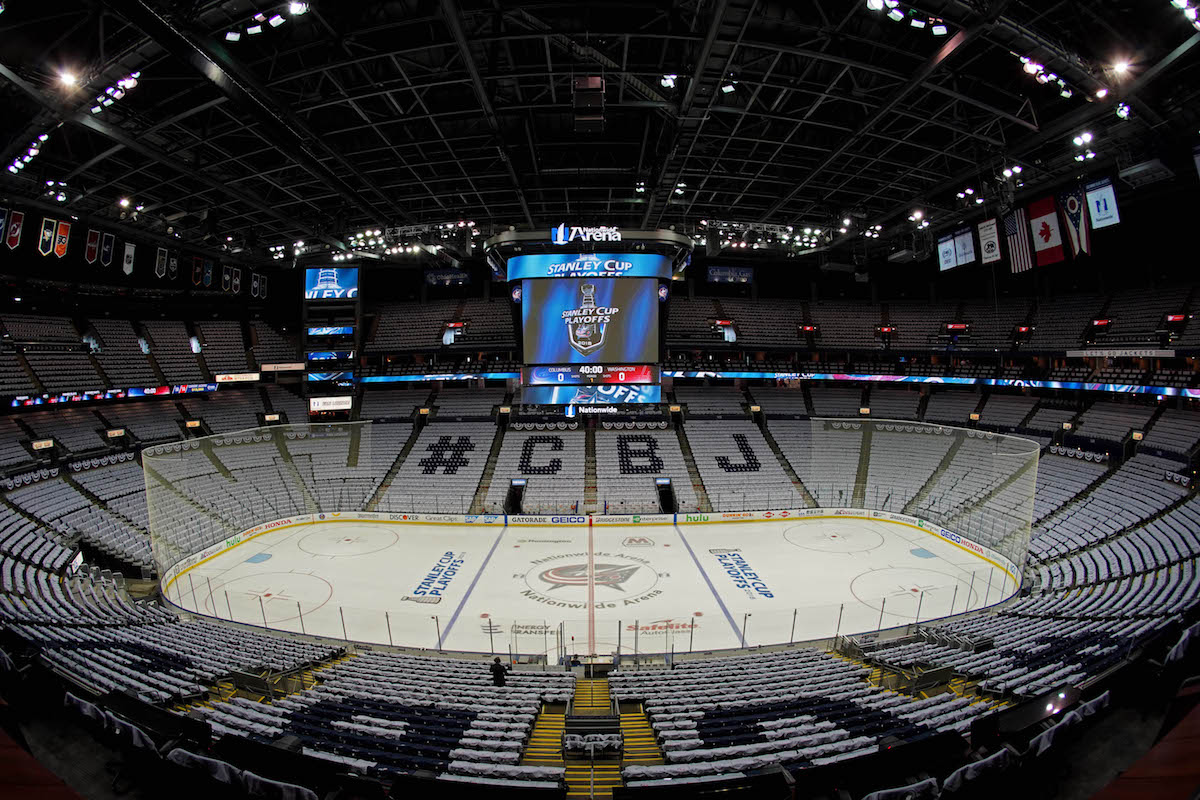 Does Nationwide Arena Offer Tours?
Yes, Nationwide Arena offers guided tours that provide fans with a behind-the-scenes look at the facility. Tours typically include access to areas like the Blue Jackets locker room, the press box, and the arena's premium seating areas. Tours are available on select dates and times and can be scheduled by contacting Nationwide Arena directly.
In conclusion, Nationwide Arena is a premier sports and entertainment destination in Columbus, Ohio. Whether you're attending a Columbus Blue Jackets game or another exciting event, this guide will help you navigate the arena and make the most of your visit. From transportation and parking to dining and accommodations, we've got you covered. Enjoy your time at Nationwide Arena and make lasting memories while cheering on your favorite team or enjoying an unforgettable concert experience.
Accessibility at Nationwide Arena
Nationwide Arena is committed to providing a welcoming and accessible environment for all guests. The arena offers a variety of services and accommodations to ensure a comfortable experience for guests with disabilities, including:
Accessible seating: Nationwide Arena has designated accessible seating areas throughout the venue to accommodate guests with mobility impairments.

Assistive listening devices: Available upon request at the Guest Services Center, these devices can enhance the audio experience for guests with hearing impairments.

Elevators and escalators: The arena is equipped with elevators and escalators to assist guests in navigating between levels.

Accessible restrooms: Accessible restrooms are available throughout the arena, and companion restrooms are also provided for guests who require assistance from a companion.

Service animals: Trained service animals are permitted within Nationwide Arena to assist guests with disabilities.
For more information on accessibility services and accommodations, contact Nationwide Arena's Guest Services Center or visit their website.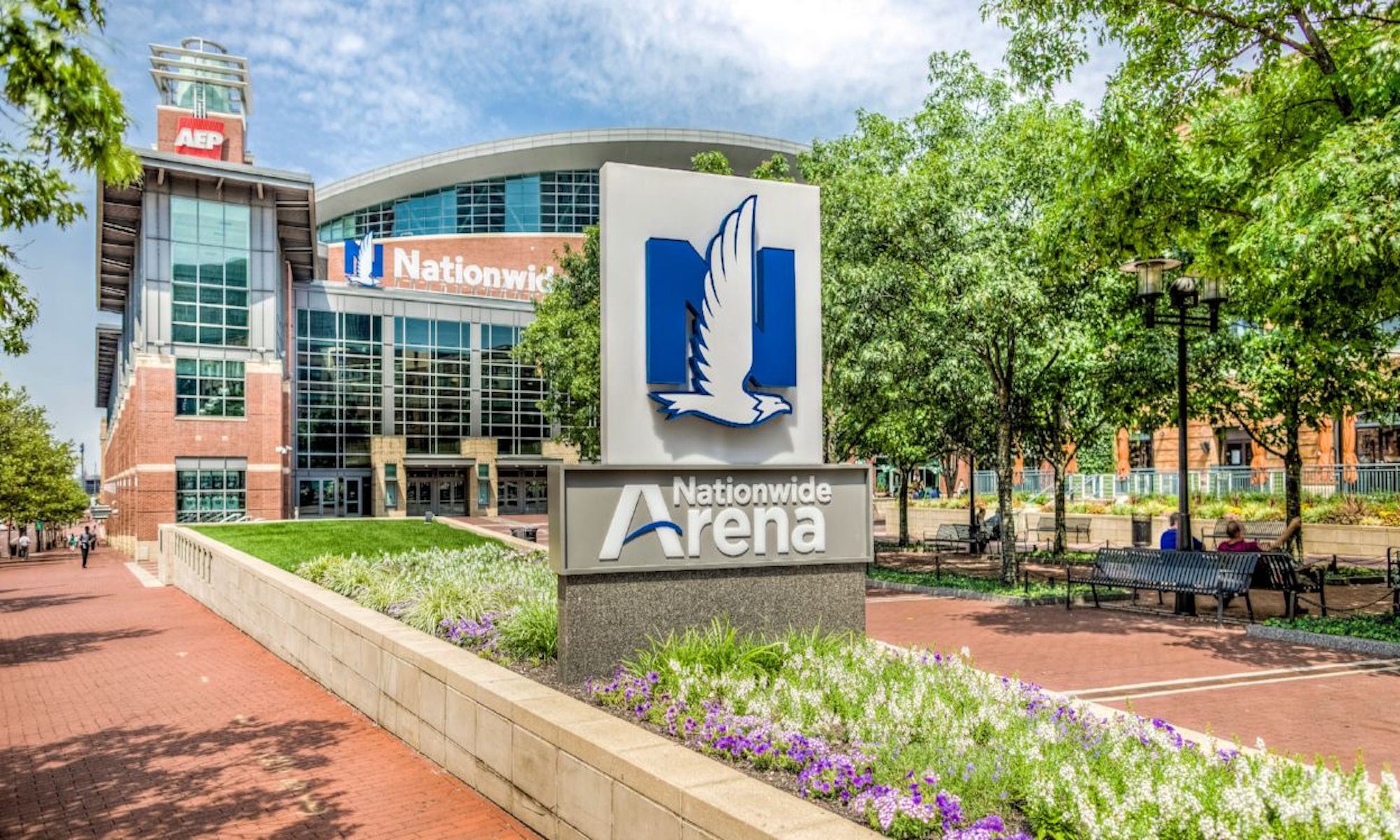 Family-Friendly Amenities at Nationwide Arena
Nationwide Arena offers a range of family-friendly amenities to ensure an enjoyable experience for guests of all ages. Some of these amenities include:
Family restrooms: Located throughout the arena, family restrooms provide a private space for families with young children or guests who require assistance from a companion.

Kids Zone: This interactive play area is designed for young fans and provides a fun and engaging space for children to enjoy during events at Nationwide Arena.

Stroller check: Strollers are permitted in the arena but must be checked at the Guest Services Center upon arrival.

Sensory bags: Available upon request at the Guest Services Center, sensory bags contain items such as noise-canceling headphones, fidget toys, and other tools to help guests with sensory sensitivities enjoy their visit to Nationwide Arena.
Nationwide Arena's Sustainability Initiative
Nationwide Arena is dedicated to implementing sustainable practices to reduce its environmental impact. Some of the arena's sustainability initiatives include:
Energy efficiency: The arena uses LED lighting, energy-efficient HVAC systems, and occupancy sensors to reduce energy consumption.

Waste reduction: Nationwide Arena promotes recycling and composting initiatives to minimize waste and divert materials from landfills.

Water conservation: The arena employs water-saving technologies and practices, such as low-flow plumbing fixtures and efficient irrigation systems, to conserve water resources.

Sustainable purchasing: Nationwide Arena is committed to sourcing environmentally-friendly products and working with vendors who share its commitment to sustainability.
By focusing on sustainability, Nationwide Arena is playing an active role in creating a greener future for both the venue and the surrounding community.
In summary, Nationwide Arena is more than just a sports and entertainment venue; it's an integral part of the Columbus community. With its wide range of amenities, accessibility features, and commitment to sustainability, Nationwide Arena ensures that every guest has a memorable and enjoyable experience. As you plan your visit, use this guide to make the most of your time at Nationwide Arena and the surrounding Arena District.
James is a big time NBA Golden State follower, who makes sure to catch games when he's in the area. He likes to follow International Soccer, with an interest in small town soccer club, Blackburn Rovers located in the North on the UK.