Attending a game or concert at the famous Paycor Stadium doesn't come without preparations. It's best to plan your visit so that you know how to get there, where to park, and what to do nearby. That's why we want to save you from the struggle and give you all the needed information in one place.
Let's dive into its history, the best bars and restaurants, and places to spend the night. Continue reading to discover all there is to know about the Paycor Stadium before your visit!
Paycor Stadium: Key Facts
Paycor Stadium, located in Cincinnati, Ohio, is home to the Cincinnati Bengals. Previously named after the founder of the team, Paul Brown, it's also known as "the Jungle," the tiger's natural habitat.
It has a seating capacity of 65,515 and was the first NFL venue to win an AIA design award. If you're visiting, prepare to be left speechless by the amazing Cincinnati skyline and Ohio River view. Besides the Momentum Pro game field, three smaller practice fields are located nearby.
If you're interested in some light shopping, there are eight stores and 56 stands across the stadium. There's also the Bengals pro shop, where you can get some well-deserved merchandise. Other amenities include 144 luxury suites, 7,000 club seats, and two restaurants.
Music lovers rave for the Cincinnati Music Festival, annually hosted at the stadium. Various big-shot artists have also held concerts at the venue, including Guns N' Roses, Taylor Swift, and Demi Lovato.
Additionally, the annual Queen City Classic Chess Tournament is held there every spring.
Where Is Paycor Stadium Located?
The Paycor Stadium is located at 1 Paycor Stadium, Cincinnati, OH 45202. It's based in Cincinnati's downtown and is part of the town's riverfront development.
It's also connected to the Great American Ball Park through Smale Riverfront Park. The nearby Central Business District connects with Licking Riverside right across the John A. Roebling Suspension Bridge.
There are numerous parks, restaurants, bars, nightclubs, and hotels nearby, so you'll find everything you need within a short walking distance.
The Best Way to Get to Paycor Stadium
If you're not a local and you need help finding the stadium, we'll provide you with detailed instructions. There are several travel options to get there, which we'll further elaborate on.
Traveling by car
If you decide to travel by car, there are a few ways to get to Paycor Stadium, depending on your location.
When traveling on the I-75 Southbound, you should take an exit at Freeman Avenue or 2nd Street. The I-75 Northbound exits are located at 2nd and 5th Street, while the I-71 Southbound ones are at 3rd Street and Gilbert Avenue.
Another way to get there is by taking the exits at 3rd or 6th Street from I-471 Northbound.
Traveling by bus
The Transit Authority of Northern Kentucky has buses from Northern KY that stop near the stadium. You can catch one at the Southbank Shuttle, which takes you along the Covington and Newport riverfronts. During game days, the cost is $1, and there's a bus every 15 minutes.
As for public transportation, there are a few routes that have stops near Paycor Stadium that cost from $1.50 to $2. These include bus line numbers 17, 20, 21, 32, 43, 78, 8, and M+.
The closest station is Fountain Square Station on 5th & Walnut, which is just three minutes away. Other stops nearby include 4th St & Plum St, Vine at 4th, Race at 3rd, and the Riverfront Transit Center Stop.
Parking Near Paycor Stadium
Paycor Stadium offers reserved on-site parking and garage spots that can be booked in advance. However, make sure to purchase them directly from the arena's ticket counter or through the Ticketmaster website. This way, you can avoid being scammed.
The venue's CRG West and Green garages open six hours prior to the game. On the other hand, parking lots 1, 1U, A, B, D, and E, as well as the Hilltop lot, open four hours before the kickoff starts.
Some additional spots outside the venue are the Duke Energy Center Garages, Fountain Square Garage, Enquirer Building Parking Garage, and Scripps Center Garage.
Furthermore, there are tailgating options available on all parking lots that surround the Paycor Stadium. The guests should hurry up and exit the parking two hours after the event, before the closing time. For evening events, the guests must exit the parking with their vehicles before midnight.
The Best Restaurants Near Paycor Stadium
There are countless restaurants nearby, but we chose the ones that offer the best quality and location. Our top picks are based on ambiance, uniqueness, hospitality, and overall experience.
The Taste of Belgium is a local Belgian restaurant chain within a six-minute walk from Paycor Stadium. Its story began in 2007 when Jean-François Flechet brought a waffle maker from his native country. Before they knew it, those waffles became one of Cincinnati's favorite go-to meals.
There are six full-service Bistros all around town, but the Banks holds the ideal location. Its wooden interior has a cabin-in-the-woods vibe mixed with a dash of elegance and cleanliness.
The overall atmosphere feels welcoming and relaxed, making it a great opportunity to wind down after a sporting event.
Food and menu
The unique twist this restaurant provides is taking American cuisine and Belgianizing it. The Taste of Belgium serves breakfast, lunch, and dinner. On the weekends, make sure to drop by and try their unique brunch offer.
The menu is divided into daytime and nighttime meals, including salads, shareable, galettes, waffles, and crepes. We highly recommend you try the $5 Traditional Waffle, the $16.50 Belgian Burger, and the $18.25 Belgian Meatballs.
As for liquor lovers, don't miss out on the opportunity to try their large selection of Belgian beers.
Additional information
Location
6 West Freedom Way, Cincinnati, OH 45202
Contact
(513) 396-5800
Price Range
$$
Working Hours
Monday through Thursday from 8 AM to 9 PM
Fridays and Saturdays from 8 AM to 10 PM
Sundays from 8 AM to 8 PM
E+O Kitchen – The Banks is an Asian fusion restaurant, which is located 0.2 miles away from the stadium. Since it's only a five-minute walk, make sure to check out its lush greenery and luxurious decor.
The name originates from "Earth and Ocean," as the goal is to provide an extraordinary experience to guests by unlocking the beauty that lies between the both.
If you decide to dine here, expect a modern layout with soothing decor. The long bar, hanging lights, and multiple TVs are a delightful escape from the busy city streets.
Food and menu
E+O Kitchen always tends to use fresh ingredients from the best possible locations available. Korean, Vietnamese, and Filipino flavors are included in the dishes, which are influenced by Asian cuisine.
The restaurant has two menu options, one for Dinner & Lunch and the other for a special weekend Brunch. The first features Starters, Salads, Buddha Bowls, Entrees, Sashimi, Nigiri, Rolls, and Desserts. The Brunch menu, available on Saturdays and Sundays from 10 AM to 3 PM, offers Bites, Sides, and Drinks.
So, our recommendations are the $16 Shrimp Ceviche, $26 Miso Glazed Black Cod, and the $15 Hamachi Sashimi.
Additional information
Location
56 West Freedom Way, Cincinnati, OH 45202
Contact
(513) 684-1720
Working Hours
Monday through Friday from 11 AM to 10 PM
Sundays and Saturdays from 10 AM to 10 PM
If you're looking for an awesome pregame venue, the Yard House is the place to be. Located only 0.3 miles from Paycor Stadium, you'll be there within a seven-minute walk. The buzzing atmosphere in this high-end sports bar is enough to get anyone excited about the game.
Yard House provides a spacious indoor area with an industrial yet modern vibe and an outdoor patio area. However, there's also an option for online ordering and curbside pickup.
Food and menu
As a New American restaurant, the Yard House has a variety of comfort foods at your disposal. However, there are also gluten-sensitive options and meals under 700 calories. Liquor enthusiasts are in for a treat as they have one of the biggest craft beer collections.
Their menu consists of appetizers, starters, tacos, pizza, burgers, sandwiches, seafood, sweets, and various types of meat. The Kids' menu features fried chicken tenders, pepperoni and cheese pizza, grilled cheese sandwiches, and classic cheese sliders.
We recommend you taste their $11.99 Avocado Toast, $6.29 Vampire Taco, $16.99 Beyond Burger, and $19.99 Fontina Vodka Penne.
Pro-tip, catch their Happy Hours available every workday from 3 PM to 6 PM. You'll get a 50% discount on select pizzas and appetizers, as well as a $2 to $4 discount on alcoholic beverages.
Additional information
Location
95 E Freedom Way, Cincinnati, OH 45202
Contact
(513) 381-4071
Price Range
$$
Working Hours
Sunday through Thursday from 11 AM to 11 PM
Fridays and Saturdays from 11 AM to 1:20 AM
The Best Bars Near Paycor Stadium
After filling your stomach with some tasty food, you're ready to go for a drink. Luckily, there are several amazing bars you can visit nearby.
The Energy Nightclub is the go-to place for a night of dancing, located 15 minutes away from the stadium. If you're lucky, you might catch one of their theme nights and rave on the vibrant dance floor.
If you're looking for a more modern and sophisticated tavern, check out The Hearth Room. It takes a 10-minute walk to get a taste of their craft cocktails while enjoying smooth jazz music.
Moreover, for some pregame excitement, check out these sports bars: Holy Grail Tavern & Grille, Kitty's Sports Grill, and Knockback Nats.
The Best Hotels Near Paycor Stadium
After a night out downtown, you can book your stay at some of the best hotels where you can rest and have quality sleep.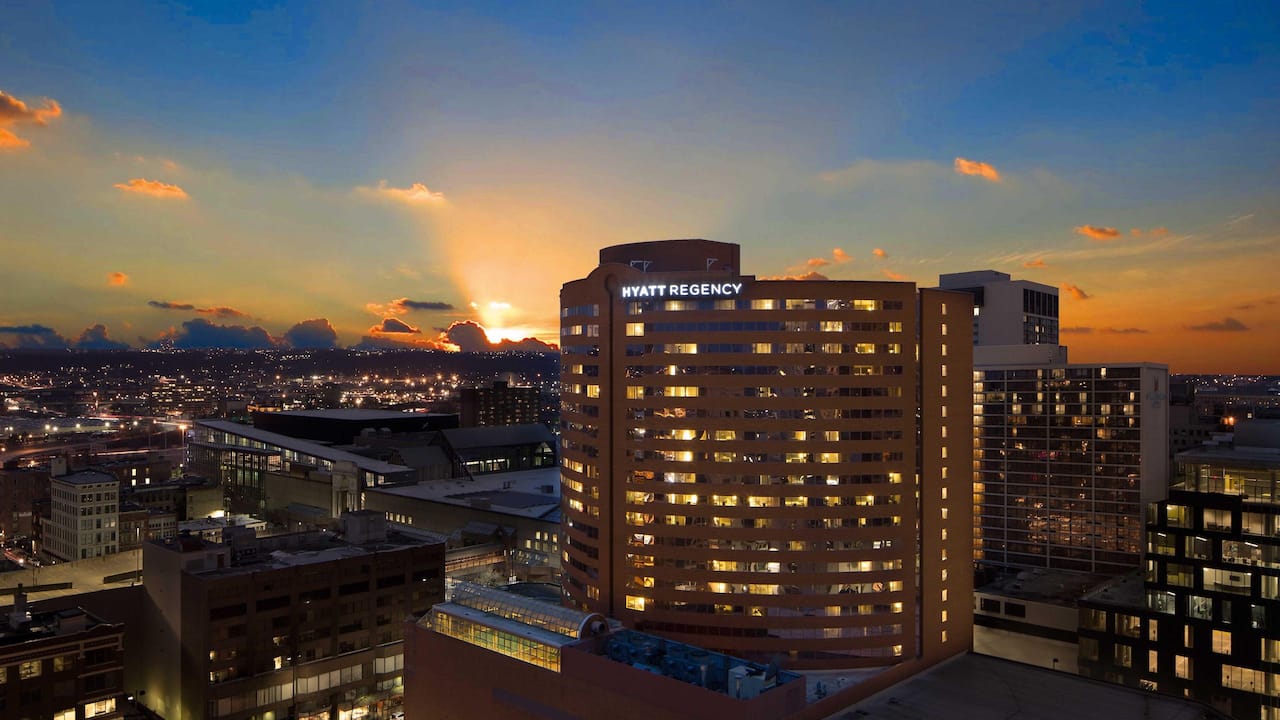 The Hyatt Regency Cincinnati is located five minutes away from the stadium. It offers 491 newly renovated, contemporary rooms to stay at, with views of the town's skyline and river. They come equipped with deluxe amenities, private bathrooms, fast Wi-Fi, air conditioning, and signature Hyatt Grand Beds.
The venue is filled with many fun activities, including the heated indoor pool and 24/7 fitness center. You can enjoy a nice meal at the Red Roost Tavern or grab something from the market. Additionally, there's a business center, valet parking, and an airport shuttle.
Additional information
| | |
| --- | --- |
| Location | 151 W 5th St, Cincinnati, OH 45202 |
| Contact | (513) 579-1234 |
| Price range | $$ |
| Ratings | 4-star hotel |
The Renaissance Cincinnati Downtown Hotel is within a 0.6-mile radius of the Paycor Stadium. Only a 12-minute walk keeps you away from the artful design inside its historic building location.
The hotel grounds are home to the D. Burnham's restaurant and 24/7 fitness center. For those traveling by car, there's a $45 valet parking. Other amenities include free Wi-Fi, meeting rooms, daily housekeeping, and full-service laundry.
Furthermore, the rooms have their own private bathrooms, as well as flat-screen TVs, work desks, and luxurious bedding. You can order some room service and enjoy the mesmerizing views from the large windows.
Additional information
| | |
| --- | --- |
| Location | 36 E 4th St, Cincinnati, OH 45202 |
| Contact | (513) 333-0000 |
| Price range | $$ |
| Ratings | 4-star hotel |
This AC Hotel by Marriott is located eight minutes away, so you'll be within a 0.4-mile radius of the stadium. It's the perfect place for those who want to relax in the lap of luxury. Furthermore, it's a pet-friendly and child-friendly venue for those who travel with their family.
If you want a quality meal, check out the AC Kitchen, while for drinks, you can visit the AC Lounge. The rooftop is reserved for their Upper Deck, equipped with outdoor furnishings and a fire pit. Even though there's no pool, you can enjoy the gym, fast Wi-Fi, grocery shop, and valet parking.
The modern rooms are home to a soothing European-inspired décor and have private bathrooms, while select ones also come with a balcony. There are 55-inch smart TVs for your entertainment, comfortable bedding, and a mini-fridge.
Additional information
| | |
| --- | --- |
| Location | 135 Joe Nuxhall Way, Cincinnati, OH 45202 |
| Contact | (513) 744-9900 |
| Price range | $$ |
| Ratings | 3-star hotel |
The History of Paycor Stadium
The Paycor Stadium was built to replace the outdated Riverfront Stadium, also known as Cinergy Field. Before moving to this new venue, the Riverfront Stadium was home to both Cincinnati Bengals and Cincinnati Reds. However, due to the lack of equipment and unfashionable technology, the teams couldn't reach their full potential.
As a result, the preparations to build a new, significantly more modern stadium began in 1998. Paycor Stadium's construction finished just in time for the 2000 NFL season and had a grand opening in August. The first preseason game played on the 19th of August brought victory to the Bengals against Chicago.
However, in the first four years, major maintenance issues occurred with the Kentucky Bluegrass field, which made it one of the worst in the league.
To solve the problem, a synthetic FieldTurf system was used in its place, which in 2012 was updated to the Act Global synthetic turf. The two LED video displays were also updated in 2014 to bring even better quality to the visitors.
In 2022, the stadium sold the naming rights to Paycor HCM Inc. as part of a 16-year sponsorship. Therefore, the venue was renamed from Paul Brown Stadium to Paycor.
Where to Get Tickets for Paycor Stadium
The easiest way to get tickets for Paycor Stadium is through their website or Ticketmaster. However, since the venue became an all-mobile ticketing environment in 2020, you can't print out the tickets at home. As far as ticket screenshots go, you won't be able to use them since the online barcodes refresh every few seconds.
You'll have to download and install the Official Bengals app to access your tickets and enter the stadium. Furthermore, you can easily store multiple tickets on a single account, access the ones purchased from Ticketmaster, and transfer them to others.
In case you don't own a smartphone or need assistance during gameday, visit the stadium's box office. It's located on the plaza in the North End Zone, between the B and C gates.
Does Paycor Stadium Offer Tours?
Unfortunately, Paycor Stadium doesn't currently accept event requests due to construction.
However, once construction is finished, they will offer behind the scene tours, which can be booked through your Private Events Manager. The tour doesn't include the Bengals' locker room since the players have 24/7 access and want to protect their privacy.
Conclusion
There are countless activities in and around Paycor Stadium suitable for everyone. The stadium's outstanding design and rich history are by themselves enough of a reason to visit it.
Now, you know how to make your way around, where to find the best parking spots, and where to get a good night's rest.
If you're ever visiting Paycor Stadium, make sure you stop by some of the restaurants and bars we have mentioned for a delicious meal and drink.
We hope you will have an amazing time filled with exciting memories!