As a baseball fan, I know the excitement of attending a game in person is unparalleled. With the season in full swing, many of us are planning our trips to Progressive Field, home of the Cleveland Guardians. To make the most of your experience, it's essential to know all about the stadium entrance gates and procedures. I'm here to help ensure you have a smooth and enjoyable time.
Progressive Field is an urban ballpark that boasts a fan-friendly facility within an intimate environment. It is easily accessible by I-90, I-71, and I-77 highways, making it a convenient destination for fans. To provide you with the information you need for your visit, I'll walk you through gate times, entrance locations, and any additional details you should know.
But don't worry, I'll keep it brief. In these next few paragraphs, I'll provide everything you need to know about gate and entrance policies at Progressive Field. So sit back, relax, and get ready for your big game day experience!
History of Progressive Field
As a fan of baseball and Cleveland, I'm excited to share some history about Progressive Field with you. Opened in 1994 as Jacobs Field, Progressive Field is an urban ballpark situated in downtown Cleveland, Ohio. It's bounded by three main streets: Ontario to the west, Carnegie to the south, and E. 9th Street to the east. The ballpark was designed specifically for baseball and has become a Cleveland landmark.
The stadium has witnessed several historic moments, including hosting the 1997 MLB All-Star Game and the 2016 World Series. In 2008, Sports Illustrated fans voted it the best ballpark in MLB. Back then, it was a part of the Gateway Sports and Entertainment Complex, alongside Rocket Mortgage FieldHouse.
What makes Progressive Field truly unique is its intimate, fan-friendly environment. It was created with the primary goal of enhancing the baseball experience for fans in Cleveland. Throughout its history, the stadium has undergone multiple renovations to improve facilities and maintain its status as a world-class ballpark.
So, next time you visit Progressive Field, take a moment to appreciate not just the game but also the rich history that surrounds this fantastic stadium.
Main Gate Overview
As someone who enjoys attending Cleveland Guardians games at Progressive Field, I'd like to help you navigate your way through the ballpark with ease. In this section, I'll provide you with a brief overview of the main entrance gates at Progressive Field, including Gate C, Gate D, the Kids Gate, and the Right Field Gate.
Gate C
Gate C is one of the most popular gates at Progressive Field, and for a good reason! It's located near the corner of East 9th Street and Eagle Avenue, making it a convenient entrance for those coming from downtown Cleveland. During game days, you'll often find street vendors and festivities around this gate. So, not only is Gate C an excellent way to enter the stadium, but it also adds a little excitement to your game-day experience.
Gate D
For those who prefer a quieter entrance, Gate D might be your best bet. It's located on the east side of the ballpark, along East 9th Street, just north of Eagle Avenue. Since it's not as widely used as the other gates, you may experience shorter wait times at Gate D. This entrance is ideal if you're looking to avoid the bustling atmosphere of other stadium gates.
Kids Gate
If you're attending a game with children, I highly recommend using the Kids Gate. It's situated on the west side of Progressive Field, near the corner of Ontario Street and Carnegie Avenue. This entrance is specifically designed for families, offering a more child-friendly atmosphere. Once inside, you can easily access the Family Deck, which is an area dedicated to kid-friendly activities and entertainment.
Right Field Gate
Lastly, the Right Field Gate is located on the southwest side of Progressive Field, near the corner of Ontario Street and Eagle Avenue. This entrance is particularly convenient for those parking in the nearby parking garages, as it's closest to many of the parking options. Additionally, it provides quick access to the Right Field District, which features a variety of food and beverage options.
In summary, Progressive Field offers several entrance gates, each with its unique features and accessibility. Enjoy your time at the ballpark, and go Guardians!
Access and Entry Policies
As a frequent visitor of Progressive Field, I have gathered some essential information regarding gate and entrance policies that you should know before attending a Cleveland Guardians game or any other event at this iconic stadium. Let me share my knowledge with you in the following sub-sections:
Ticket Policies
When attending an event at Progressive Field, I always make sure to have my ticket handy, whether it's a physical ticket or a digital one. In recent years, they have been promoting contactless entry by encouraging fans to download the MLB Ballpark App, which serves as a mobile companion during your visit. This app conveniently stores your tickets, making entry a breeze.
Bag Policies
Progressive Field has implemented specific bag policies to ensure a secure and enjoyable experience for all attendees. My advice is to travel light, as only single-compartment bags measuring 16″ x 16″ x 8″ or smaller are allowed inside the stadium. You should also know that all bags are subject to search by security staff before entering the ballpark.
Food and Drink Policies
One of my favorite aspects of attending games at Progressive Field is that they permit fans to bring their own food and beverages, within certain limitations. Here's a brief overview of their food and drink policy:
Outside food is allowed, as long as it's contained in a soft-sided cooler or plastic grocery bag.
Wrapped or bagged items are acceptable, including sandwiches, chips, and fruits.
Beverages must be factory-sealed, non-alcoholic, and in plastic bottles. Glass containers and cans are not allowed.
Drink containers holding 20 ounces or less are permitted, with a two-container limit per guest.
Following these guidelines will help contribute to a great experience at Progressive Field. Enjoy the game!
Special Considerations
Accessibility Services
At Progressive Field, I found that they prioritize accessibility for all fans. They offer various services to accommodate guests with disabilities. Here are a few services that I came across:
Wheelchair accessible seating: Available in various locations throughout the ballpark.
Assisted listening devices: They can be borrowed from Guest Services, free of charge.
Elevators and ramps: Available for easy access to different levels and sections.
Family Restrooms
I noticed that Progressive Field is family-friendly and offers family restrooms throughout the stadium to ensure the comfort of families and their young children. These restrooms are designed to accommodate parents with kids or fans who need assistance. They include:
Baby changing stations
Larger stalls for families
Amenities for guests with disabilities
Lost and Found Services
In case I, or any fan, misplace personal belongings during the game or event, the Lost and Found services can help with locating the items. If an item is lost, it's essential to visit Guest Services to report the missing item and provide contact information. After the game, I can also contact the team directly, providing a description of the lost item and any necessary details to assist in finding it.
Parking and Transportation Guide
As someone who frequents Progressive Field, I thought it would be helpful to provide you with a brief guide for parking and public transportation options.
Parking Lots
From my experience, parking around Progressive Field can be quite limited. For the 2023 season, prepaid reserved parking in the Gateway East Garage is particularly limited. If parking is available, you'll likely find an option to add it onto your ticket purchase as an add-on before placing your order. Otherwise, you may need to look into other nearby parking options.
There are a few garages and lots within walking distance of Progressive Field, although these can fill up quickly during game days. I recommend arriving early to secure a spot and take your time exploring the area before the game starts.
Public Transportation
For an alternative to driving, Progressive Field is accessible via public transit. With the convenience of multiple transit options, you can avoid traffic and potential parking fees.
Some of the accessible highways include I-90, I-71, and I-77. In case you are using the available public transit options, look into the schedules, and plan your trip accordingly.
I hope this simple guide helps you navigate Progressive Field's parking and transportation options. Enjoy the game, and go Guardians!
Nearby Attractions
I've noticed that there are several attractions close to Progressive Field that you might want to check out before or after a game. One of the most famous attractions in Cleveland is the Rock and Roll Hall of Fame. This museum offers an immersive experience that celebrates the history and impact of rock and roll music. Admission prices are around $35.90 per adult.
If you're more into history, you should consider visiting the Hidden Sights and Stops of Cleveland. This historical tour takes you through lesser-known spots that tell the stories of Cleveland's rich history. I'm sure you'll be surprised by some of the gems this city has to offer.
Don't forget to also explore the restaurants around Progressive Field. There are plenty of options to satisfy all tastes, from classic American sports bars to more exotic international cuisine. A quick search shows various dining options near the ballpark, so you can grab a bite before or after the game.
Lastly, remember to download the MLB Ballpark App before attending a game at Progressive Field. This mobile companion provides useful information about the stadium, events, and more. It's a friendly reminder to make your visit as enjoyable as possible. Enjoy your time at Progressive Field and the nearby attractions!
Conclusion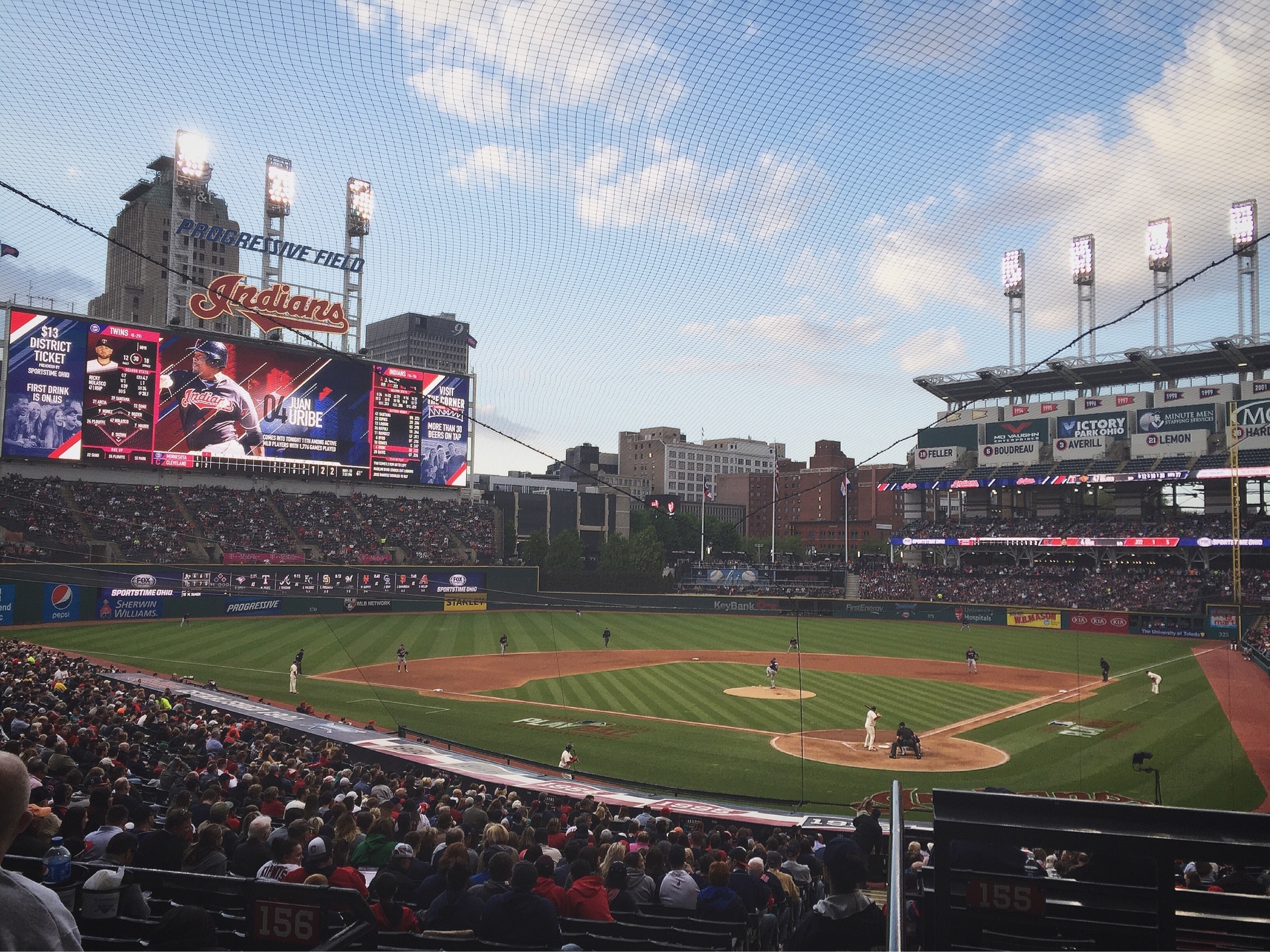 As a loyal Cleveland Guardians fan, I hope this guide has provided you with valuable information about Progressive Field's gates and entrances. The ballpark offers various ingress points, allowing fans to quickly access their seats and enjoy the exciting events hosted at the stadium.
Remember that Progressive Field is conveniently accessible through major highways, such as I-90, I-71, and I-77. Don't forget to use the MLB Ballpark App as your companion, which can help you with navigation and other important details.
Progressive Field has maintained its charm and uniqueness since its opening in the early 1990s. With this knowledge, I am confident that you will have a pleasant and memorable experience at the stadium, cheering on the Cleveland Guardians in the company of fellow fans.