Cleveland, Ohio, the vibrant city located on the southern shore of Lake Erie, is not only known for its rich history and cultural attractions but also as a hub for sports enthusiasts. This comes as no surprise, given the variety of top-notch stadiums and arenas that can be found throughout Cleveland, each showcasing the passion and spirit of sports fans in the region. From professional football and basketball games to major sporting events, these venues have become a source of pride for locals and visitors alike.
Among the most famous stadiums in Cleveland, you will find Progressive Field, home to the MLB's Cleveland Guardians, and Rocket Mortgage FieldHouse, the base for the NBA's Cleveland Cavaliers. For football fans, FirstEnergy Stadium is the go-to destination, housing the NFL's Cleveland Browns. Other notable venues such as the Bert L & Iris S Wolstein Center and the historic Cleveland Arena cater to various sporting events and concerts, further proving that there is something for everyone in Cleveland's sports scene.
The presence of these iconic venues has undoubtedly contributed to the appeal of Cleveland as a top destination for sports enthusiasts. Whether attending a game, concert, or simply exploring the area, visitors are sure to be impressed by the array of stadiums and arenas in the city. With each of these spaces offering unique experiences and opportunities for entertainment, Cleveland's sports venues continue to leave a lasting impression on fans from all around the world.
Stadiums and Arenas in Cleveland
Cleveland is home to several well-known stadiums and arenas, each with its own unique history and purpose. In this section, we will briefly discuss three of the most prominent venues in the city: Progressive Field, Rocket Mortgage FieldHouse, and FirstEnergy Stadium.
Progressive Field
Progressive Field, formerly known as Jacobs Field, is a baseball park located in downtown Cleveland. It is primarily the home of the Cleveland Guardians, a Major League Baseball (MLB) team. Since its opening in 1994, Progressive field has hosted numerous games and events, including the MLB All-Star Game and the World Series. The stadium boasts a seating capacity of approximately 35,000 spectators.
Address: 2401 Ontario St, Cleveland, OH 44115
Opened: April 4, 1994
Surface: Grass
Rocket Mortgage FieldHouse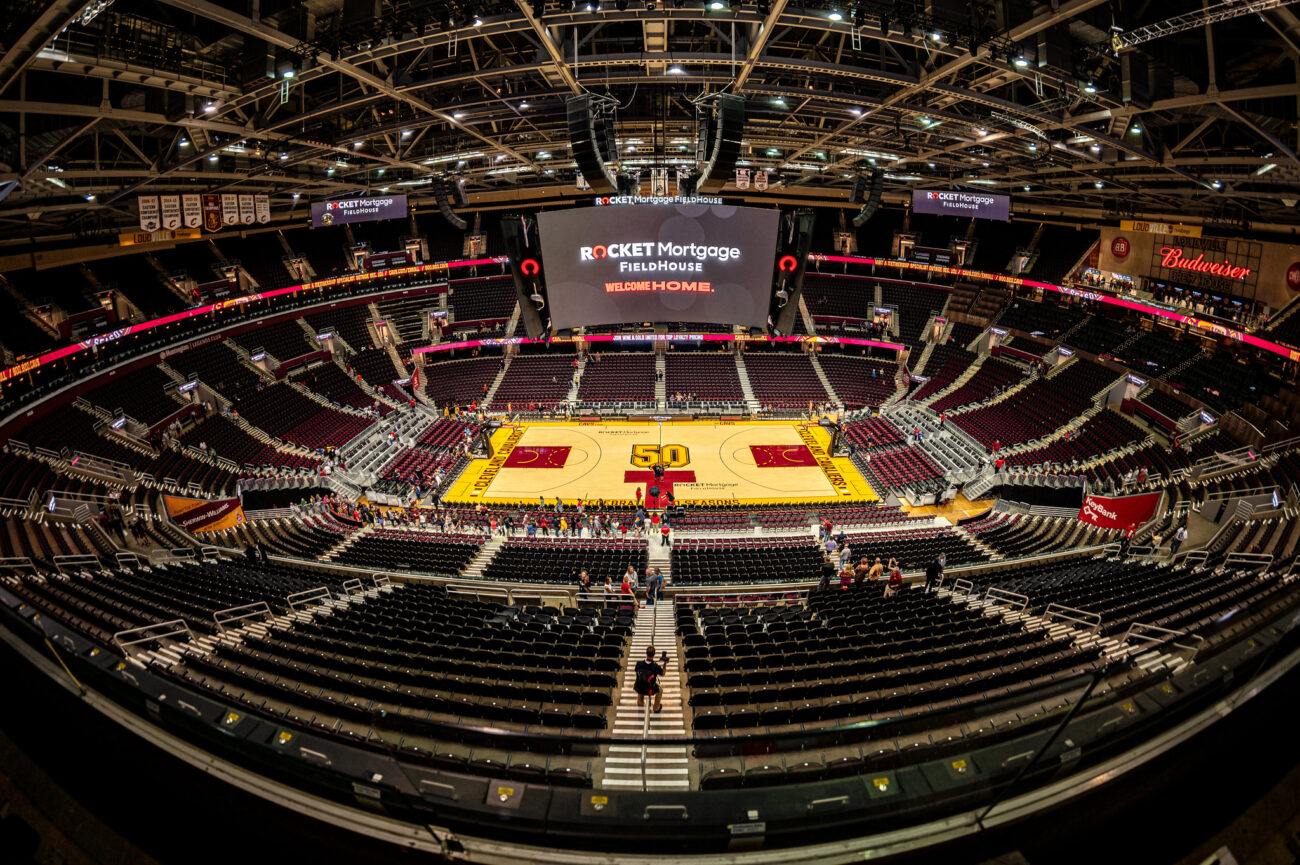 Rocket Mortgage FieldHouse, previously known as Quicken Loans Arena, is a multi-purpose arena situated in downtown Cleveland. This venue serves as the home of the Cleveland Cavaliers, a National Basketball Association (NBA) team, and the Cleveland Monsters, an American Hockey League (AHL) team. The arena can accommodate up to 20,562 spectators for basketball games and also hosts concerts, ice shows, and other events.
Address: 1 Center Ct, Cleveland, OH 44115
Opened: October 17, 1994
Surface: Multi-surface
FirstEnergy Stadium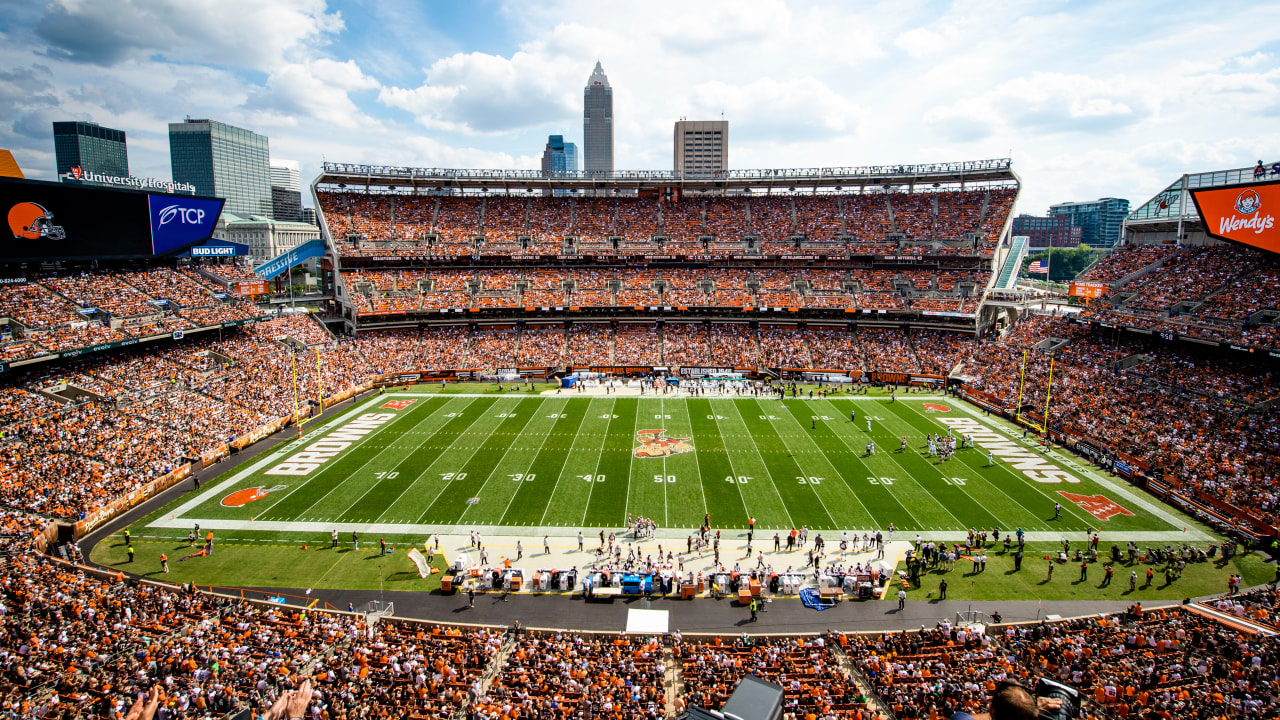 FirstEnergy Stadium, commonly known as Cleveland Browns Stadium, is a football stadium in Cleveland, Ohio. Primarily used for American football, it is the home field of the Cleveland Browns in the National Football League (NFL). The stadium also hosts other events like college and high school football, soccer, hockey, and concerts. FirstEnergy Stadium has a seating capacity of 67,895 spectators.
Address: 100 Alfred Lerner Way, Cleveland, OH 44114
Opened: September 12, 1999
Surface: Kentucky Bluegrass
History and Importance
Role in Local Culture
Cleveland has a rich history of stadiums and arenas, which have played a significant role in the local culture. These venues have brought people together from all walks of life and have been an integral part of the community. The Cleveland Arena, which opened in 1937, was the first significant sports venue in the city, accommodating around 10,000 spectators. It primarily served as a home for the Barons hockey team.
Later, Cleveland Municipal Stadium was built in 1931 and became the long-time home for the Cleveland Indians (now Guardians) from 1932 to 1993, and the Cleveland Browns from 1946 to 1995. This stadium not only had a significant impact on the local sports scene, but it also hosted various events spanning music, opera, circuses, and even a massive historical religious gathering, the 7th National Eucharistic Congress in 1935. This stadium became a hub of Cleveland's culture, with an all-time attendance record of 125,000 people for a single event.
Significant Events
Gateway Project: In the early 1990s, recognizing the importance of sports to the local community, the Gateway sports stadium and arena project was launched as a key part of a major downtown redevelopment program. Cuyahoga County voters approved a sin tax to help finance the new downtown stadiums and arenas, resulting in the creation of FirstEnergy Stadium, Rocket Mortgage FieldHouse, and Progressive Field.

FirstEnergy Stadium (1999 – present): Home of the NFL's Cleveland Browns.
Rocket Mortgage FieldHouse (1995 – present): Home of the NBA's Cleveland Cavaliers.
Progressive Field (1994 – present): Home of the MLB's Cleveland Guardians.

Richfield Coliseum (1975 – 1994): Located in Richfield Township, this arena served as a home to multiple sports teams, including the Cavaliers (NBA), Barons (NHL), and Crusaders (WHA). It played a significant role in Cleveland's sports history before it was replaced by the Gateway project venues.
These arenas and stadiums have not only been the epicenter of various sports events but have also been the backdrop to many other significant milestones in Cleveland's history. The importance of these venues is evident in their continued support and investment by the city and its residents, reflecting their enduring role in the local culture.
Amenities and Features
Seating Capacity
Cleveland is home to numerous stadiums and arenas with varying seating capacities. Progressive Field is one of the city's major venues, with a capacity of 34,830 spectators. This stadium is primarily used for baseball games and hosts the Cleveland Indians.
Another notable venue is FirstEnergy Stadium, which serves as the home of the Cleveland Browns football team. This stadium can accommodate up to 67,895 fans.
The Bert L & Iris S Wolstein Center is an indoor arena located in the Campus District. It has a seating capacity of 13,610 and hosts a variety of events, including concerts and sporting events.
Technological Advancements
Stadiums and arenas in Cleveland are constantly embracing technological advancements to provide an enhanced experience for fans. For instance, FirstEnergy Stadium features a state-of-the-art sound system and large video boards, ensuring fans are not left out of the action.
Progressive Field showcases innovative technologies as well. It offers an extensive Wi-Fi network, providing fans with a seamless internet connection during events. Furthermore, the stadium has modernized its scoreboard, incorporating high-definition video screens for a better viewing experience.
The Wolstein Center has also made significant technological updates, such as improved lighting and acoustics for concerts and other events. Additionally, the arena equips its courts with high-quality flooring materials for optimum performance during sporting events.
Future Developments
Renovation Plans
FirstEnergy Stadium, home of the Cleveland Browns, has a lease set to expire in 2028. This has brought about new discussions about potential renovations and upgrades to the facility. Although specific renovation plans have not been detailed, it is clear that improvements to the stadium will be a priority in the coming years.
New Stadiums and Arenas
Unnamed sources suggest that the Cleveland Browns' team owners, Jimmy and Dee Haslam, are considering building a new $1 billion covered stadium as part of a lakefront redevelopment plan. This ambitious proposal aims to revamp and revitalize the area surrounding FirstEnergy Stadium, making it a more vibrant space in the city. However, it is worth noting that this plan may come at a significant taxpayer expense.
In addition to the potential new stadium for the Cleveland Browns, sports facilities scheduled to open or reopen in the United States and Canada in 2022 are expected to cost a total of $5.8 billion in construction costs. This figure includes the most expensive arenas ever built at both the college and minor league levels.
For sports fans and Cleveland residents alike, these developments present exciting prospects for the growth and revitalization of sports infrastructure in the city. As these plans come to fruition, it will be interesting to see the impact on both the sports community and the broader city landscape.
James is a big time NBA Golden State follower, who makes sure to catch games when he's in the area. He likes to follow International Soccer, with an interest in small town soccer club, Blackburn Rovers located in the North on the UK.