Ohio offers sports enthusiasts a wealth of Stadiums and Arenas to enjoy. From major league baseball to college football, these venues provide thrilling experiences for fans and showcase the pride and intensity of the local sports culture.
Whatever your preferred sport, these spectacular venues offer unforgettable entertainment in the heart of the Midwest.
One notable district for sports lovers in Ohio is Columbus' Arena District, where three impressive stadiums can be found on Nationwide Blvd, also known as Sports Street.
The Ohio State Campus houses the third largest football stadium in the country and serves as the perfect setting for the Buckeyes' 36 varsity sports ranging from baseball to volleyball.
Cleveland also boasts the Progressive Field, a popular baseball stadium with a seating capacity of 34,788, and home to the Cleveland Indians.
Whether you're a local or a visitor, Ohio's diverse range of stadiums and arenas are sure to provide an immersive and enjoyable experience for fans.
With a blend of historic sites and contemporary venues, these locations encapsulate the passion and dedication of Ohio's sports scene.
The History of Stadiums and Arenas in Ohio
Early Stadiums and Their Significance
Ohio has a rich history of stadiums and arenas, dating back to the early 20th century. One of the earliest and most iconic is Ohio Stadium, opened in 1922. Home to the Ohio State Buckeyes football team, Ohio Stadium has seen numerous significant moments in sports history and holds a special place in the hearts of fans. Other notable early stadiums include Derby Downs in Akron, which opened in 1936 and serves as the venue for the annual All-American Soap Box Derby, and Beulah Park Racetrack in Grove City, which operated as a horse racing track from 1923 to 2014 before closing.
Modern Arenas and Their Impact
In recent decades, Ohio has seen the construction of several modern sports facilities that have greatly impacted their cities and surrounding regions. The Huntington Center in Toledo, opened in 2009, is a popular venue for hosting concerts, family shows, and the Toledo Walleye hockey team. Similarly, the Covelli Centre in Youngstown opened in 2005 and serves as a multi-purpose arena, attracting various sports and entertainment events.
Another example is the home of the Cleveland Browns, known today as FirstEnergy Stadium. Its construction began in 1997, and the stadium opened in 1999. The venue replaced the old Cleveland Stadium and showcases modern amenities to offer a more enjoyable experience for spectators.
In Columbus, Lower.com Field was recently constructed as the home stadium for the Columbus Crew SC soccer team. Besides soccer, it brings new opportunities for other sports and entertainment events, contributing to the city's bustling sports scene.
These modern arenas and stadiums have greatly influenced sports culture and entertainment in Ohio. They offer state-of-the-art facilities and enhance the overall experience for fans attending games, concerts, and other events.
Famous Stadiums and Arenas
Ohio Stadium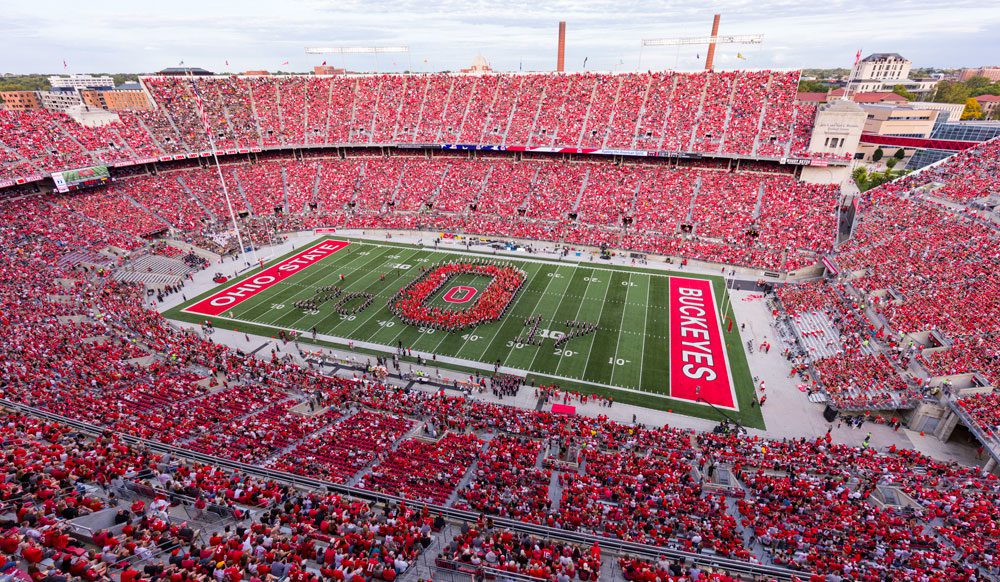 Ohio Stadium, also known as "The Shoe" or "The Horseshoe," is located in Columbus and is the home of the Ohio State University Buckeyes football team. With a capacity of 102,780 spectators, it is one of the largest stadiums in the United States. Ohio Stadium has been hosting football games since 1922 and has witnessed numerous memorable moments throughout the years. In addition to football games, the stadium also hosts concerts and other major events.
Rocket Mortgage FieldHouse
Rocket Mortgage FieldHouse, formerly known as Quicken Loans Arena, is a multipurpose arena located in downtown Cleveland and serves as the home for the NBA's Cleveland Cavaliers and the AHL's Cleveland Monsters.
The arena has a seating capacity of 19,432 for basketball games and can be expanded for concerts and other events.
Since its opening in 1994, Rocket Mortgage FieldHouse has hosted numerous sports events, concerts, and various entertainment shows.
Great American Ball Park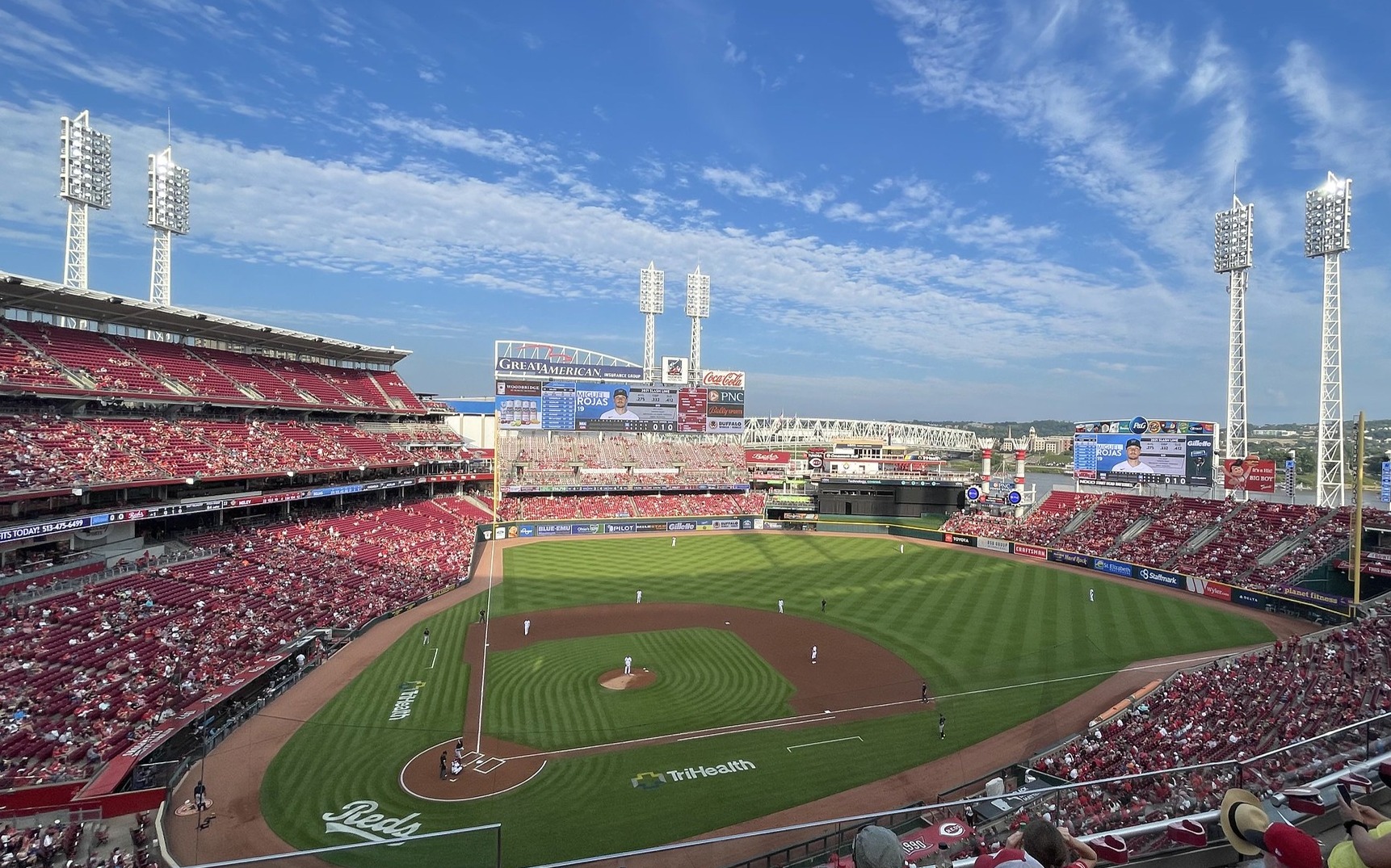 Located in Cincinnati, Great American Ball Park is the home stadium of the Cincinnati Reds, a Major League Baseball team.
The stadium, which opened in 2003, can accommodate 42,319 spectators and is known for its picturesque view of the downtown Cincinnati skyline.
Great American Ball Park features various amenities for fans, including the Reds Hall of Fame and Museum and the "Cincinnati's Champions Pavilion" that showcases the team's history.
The stadium regularly hosts professional baseball games, concerts, and other special events.
Features and Amenities
Ohio is home to a variety of stadiums and arenas that offer an array of features and amenities to accommodate event-goers. This section will explore the seating, accessibility, and sustainability initiatives of some of the state's most well-known venues.
Seating
Ohio Stadium in Columbus is the 3rd largest stadium by capacity in the USA, able to accommodate up to 102,780 spectators. It has been open since 1922, marking its 100-year anniversary in 2022. With its ample seating options and impressive scale, Ohio Stadium delivers a memorable spectator experience.
Nationwide Arena in Columbus is another notable stadium with a capacity of 18,500 for hockey games, 19,500 for basketball games, and 20,000 for concerts. As a multi-purpose arena completed in 2000, Nationwide is adaptable and designed to host a range of events.
Accessibility
Many of Ohio's stadiums and arenas prioritize accessibility, making it easier for individuals with disabilities to attend events.
Ramps and elevators are provided, ensuring that guests who require wheelchair access can navigate the venue.
Designated seating areas for individuals with disabilities and their companions are available and clearly labeled to comply with the Americans with Disabilities Act guidelines.
Accessible restrooms are present throughout the venue.
Sustainability Initiatives
Some stadiums and arenas in Ohio have taken active steps to become more environmentally friendly and sustainable:
Implementation of energy-efficient lighting systems, reducing energy consumption and lowering the venues' carbon footprint.
Emphasis on recycling programs, encouraging guests to dispose of their waste responsibly.
Use of environmentally friendly cleaning products, limiting the venues' overall ecological impact.
Upcoming Stadiums and Arenas
New Developments
One of the newest additions to Ohio's stadiums and arenas scene is the impressive Lower.com Field, home to the Columbus Crew of Major League Soccer (MLS). With a capacity of 20,000, this state-of-the-art stadium opened in 2021 and has already hosted U.S. Men's and Women's National Soccer Team events.
Another interesting development is the planned construction of a 2,000-seat Columbus gaming arena. This 100,000-square-foot facility will not only cater to esports enthusiasts but also host live concerts and other entertainment events.
Future Trends
As the demand for live entertainment and sporting events continues to grow, Ohio can expect to see further advancements in stadium and arena design and technology. Some of the potential trends include:
Sustainability: The incorporation of eco-friendly materials and energy-efficient systems will be a priority for new stadium and arena projects, reducing their carbon footprint and supporting environmental initiatives.
Multifunctionality: The trend towards creating multipurpose venues, like the proposed Columbus gaming arena, will continue. These spaces can cater to a broader range of events, including concerts, esports, and other large gatherings.
Enhanced fan experiences: The integration of advanced technology, such as interactive displays, high-speed internet, and AI-driven services, will enable stadium and arena owners to offer engaging experiences and improved connectivity for fans.
A focus on accessibility: As awareness around the importance of accessibility continues to grow, new stadiums and arenas will be designed to be inclusive and accommodating for fans of all abilities.
Overall, the future looks bright for stadiums and arenas in Ohio, with new developments and innovative trends driving change and improvement in the industry.
James is a big time NBA Golden State follower, who makes sure to catch games when he's in the area. He likes to follow International Soccer, with an interest in small town soccer club, Blackburn Rovers located in the North on the UK.