The home arena of the NBA's Oklahoma City Thunder, known as Paycom Center, sits in the city's downtown area, right next to the Bricktown Entertainment District. Many might still know the arena under its former name Chesapeake Energy Arena, but since 2021 its official name has been Paycom Center.
Besides being home to the City Thunder team and hosting their games, Paycom Center hosts an extensive number of entertainment events in Oklahoma each year. Let's see what more we can discover about the arena!
Paycom Center: Key Facts
Where Is Paycom Center Located?
The Paycom Center is located in downtown Oklahoma just off Interstate 40. It is next to the Cox Business Center and the historic Bricktown Entertainment District.
Oklahoma City owns the arena, while ASM Global is in charge of management.
ASM Global is a venue management company that operates globally across five continents. The company provides venue strategy, management, marketing, sales, programming, event booking, construction, and design consulting.
The Best Way to Get to Paycom Center
Depending on which side you're coming from, the best routes to take to the Paycom Center in downtown Oklahoma are:
East on I-40
First, you should take the Exit at Shields and continue north toward Downtown.
Then, turn left on Reno Ave, and Paycom Center will be on your left.
If you plan to park your vehicle in the Cox Center parking garage, you can reach it by continuing north on EK Gaylord past Reno Ave and turning left.
West on I-40
You should take the exit on I-40 onto I-235 N.
After that, take Exit 1C for W Sheridan Ave toward Downtown.
Now follow Sheridan West into Bricktown, and proceed west to EK Gaylord.
Turn left onto EK Gaylord. You can access the east entrance to the underground Cox Center parking garage from EK Gaylord.
The arena is at the southwest corner of EK Gaylord and Reno Ave.
North on I-35
Keep driving onto 1-235 N.
Then take Exit 1C for W Sheridan Ave toward Downtown. Continue on Sheridan into Bricktown.
Keep going west to EK Gaylord, then turn left once you reach it.
The Arena is west of EK Gaylord and Reno.
South on I-35
Keep going onto I-40 W.
Take the Exit onto I-235 N.
Then Exit 1C for W Sheridan Ave toward Downtown.
Follow Sheridan Ave into Bricktown, and proceed west to EK Gaylord.
Take a turn left onto EK Gaylord.
The arena is once again west of EK Gaylord and Reno.
Parking Near Paycom Center
You can park in the adjacent underground parking garage at Prairie Surf Studios. At this parking garage, you will also find accessible parking spots for those with disabilities.
The parking garage entrances are available on the west side of Robinson and the east side of EK Gaylord.
Other nearby parking options
The Best Restaurants Near Paycom Center
Charleston's Restaurant
Charleston's is a casual restaurant that serves classic pub dishes, like burgers, ribs, and tenders. The restaurant is located on the historic Bricktown Canal and is only 0.4 miles from Paycom Center, perfect for getting a bite and some drinks before heading to your event.
Inside the restaurant, guests will find a big marble bar as a centerpiece, where they can sit to enjoy a glass of wine from the restaurant's extensive wine list. Guests can also enjoy one of Charleston's signature cocktails, such as the Perfect Margarita or the Peach Bellini. Best of all, enjoy the views of the Bricktown Canal and the natural sunlight through the restaurant's floor-to-ceiling windows.
Additional information
Bourbon St. Cafe
If you're in the mood for some Cajun and Creole cuisine, then Bourbon St. Cafe is the perfect place for pregame food and drinks. The eatery is located in Bricktown Canal and is 0.3 miles from Paycom Center. Since 1996 the restaurant has made its mark on the restaurant scene in Oklahoma, famous for its delicious crab dip.
Bourbon St. Cafe provides its guests with the famous warm Southern hospitality. Additionally, you will get the chance to experience the flavors, style, and festive vibes of New Orleans without visiting the city. Besides flavorful food and a great atmosphere, the restaurant provides live music from local musicians.
Additional information
Cafe de L'Asie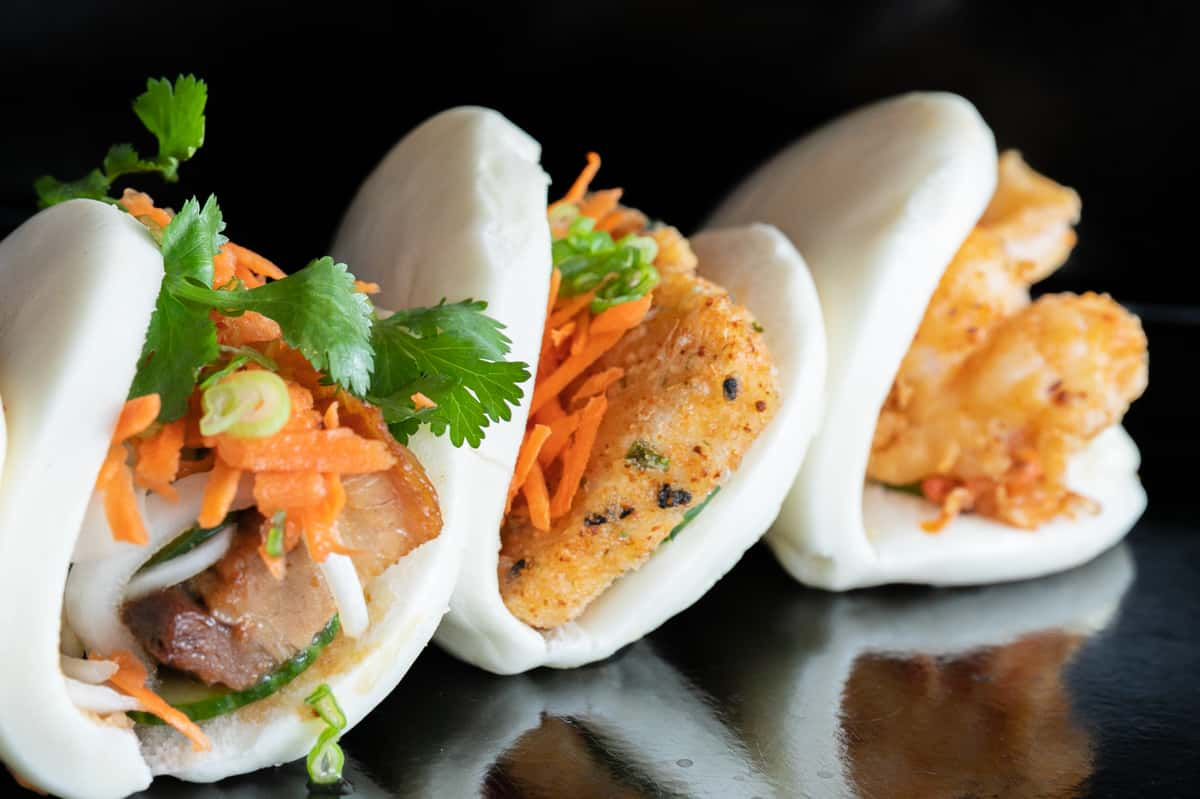 While you're in Oklahoma, you can also try something different and delicious at Cafe de L'Asie, an Asian-fusion restaurant in Downtown Oklahoma. This Asian-inspired intercultural restaurant is within 0.3 miles from the Paycom Center, so you can stop by for a quick bite before heading to the arena.
Cafe de L'Asie is the brainchild of Chef Vuong Nguyen. The chef's background in French culinary training and cultural background has led him to create the restaurant's mouthwatering menu. Among the most sought-after things on the menu is a pad-thai-inspired dish made with fresh Italian pasta, mango salsa, and tasty chicken wings with fish sauce.
Additional information
The Best Bars Near Paycom Center
JJ's Alley
JJ's Alley is a bar unlike any other in Bricktown, Oklahoma. It provides its visitors with a relaxed and friendly atmosphere. Best of all, there is live music seven nights a week. JJ's Alley is an excellent place to immerse oneself in the local culture and experience the talent of the local musicians.
At JJ's Alley, you can sit back, relax and enjoy delicious brews or a glass of good wine. The two-story bar has two patios and three different live music stages.
Additional information
Social Capital
If you are in the mood for something more sophisticated, then head to Social Capital. This modern bar is a beer garden with a rooftop terrace that will amaze you with its skyline views.
The bar's menu features 120 mainly-local craft draft beers, wine, and cocktails, and if you are feeling peckish, there are mouthwatering street tacos, salads, and quesadillas available.
You will find 84 drink options on tap, including Deadpan, Lighting Limonada, Space Snacks, Meghan's Miracle, Factor 50, Hatch 22, Adios Pantalones, and many more.
Additional information
Whiskey Chicks
Whisky Chicks is one of the bars in Oklahoma that sits in one of the oldest buildings of Bricktown, built in 1906. The property was once stable for the Wells Fargo stagecoaches. In other words, it is a building whose walls contain a multitude of stories.
Today the Whiskey Chicks provides a welcoming atmosphere with an antique interior. Visitors can enjoy tasty food, live entertainment, and many craft cocktails.
If you are looking for a place to pass the time before heading to an event in Paycom Center, Whiskey Chicks is the spot. According to the Oklahoma Gazette, the bar is the best venue for pre and post-sporting events and concerts Downtown.
Additional information
The Best Hotels Near Paycom Center
Courtyard by Marriott Oklahoma City Downtown
The Courtyard by Marriott hotel in downtown Oklahoma City features a welcoming, contemporary lobby and roomy accommodations close to the famed Bricktown Entertainment District.
There's an indoor pool, a fitness center, and a restaurant available for its guests. Paycom Center is only 436 feet, a two-minute walk from the hotel.
The smoke-free Courtyard Oklahoma City Downtown offers complimentary high-speed internet access. Each room has a large work area, cable TV, and on-demand coffee. A freshly prepared breakfast buffet with a waffle station is available to guests. The on-site restaurant serves steaks, pasta, salmon, salads, and soups.
Additional information
Wyndham Grand Oklahoma City Downtown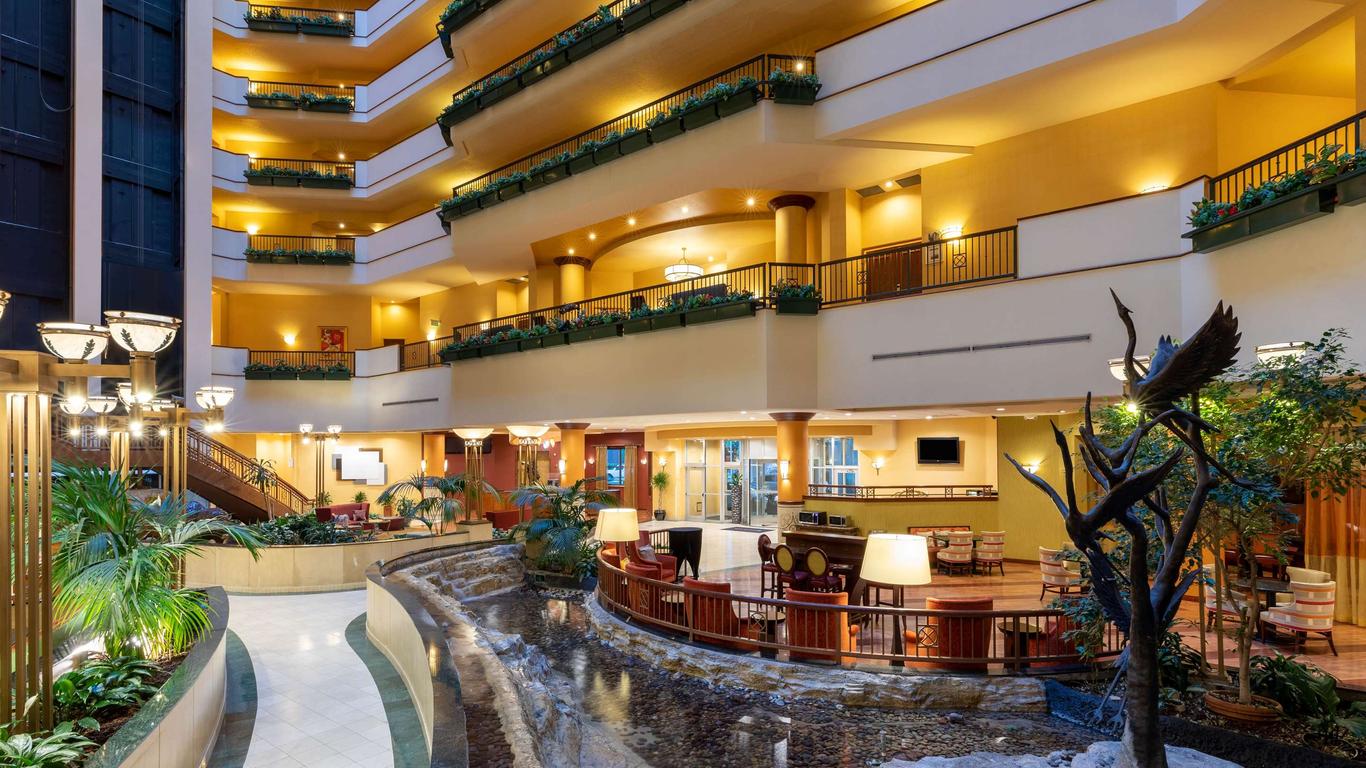 The Wyndham Grand Oklahoma City Downtown is a hotel with a fitness center, an indoor pool, and a spa that is situated in the middle of downtown Oklahoma City. The hotel is 0.3 miles from Paycom Center or a six-minute walk.
All of the rooms have warm designs with lively hues and views of the Bricktown Canal District of downtown Oklahoma City. Each room has a desk and an ergonomic chair. The Spa at 10 North provides a full range of relaxation services, such as massages, facials, body treatments, and fitness advice.
The Wyndham Grand Oklahoma City Downtown has a café that serves Starbucks coffee and pastries in addition to the main restaurant.
A streetcar that runs by the hotel and stops at the Bricktown Entertainment District, Chickasaw Bricktown Ballpark, OKC National Memorial, and Paycom Center is available to guests.
Additional information
Omni Oklahoma City Hotel
Omni Oklahoma City Hotel is situated Downtown, overlooking Scissortail Park, and is only a two-minute walk or 479 feet from Paycom Center. The hotel is eight minutes from the Bricktown Entertainment District and less than a mile from I-40. Additionally, the hotel has a formal steakhouse, a casual restaurant, and two bars on-site.
The property has 17 floors with 605 rooms arranged throughout them. All the rooms in the Onmni Oklahoma City Hotel include flat-screen TVs, cable channels, free Wi-Fi, minifridges, coffee makers, air conditioning, and blackout curtains.
The private bathrooms in the hotel rooms feature a shower/tub combination, complimentary toiletries, a hair dryer, toilet paper, and towels. In the suites, you will also find separate living areas, some even featuring wet bars or billiard tables.
Additional information
The History of Paycom Center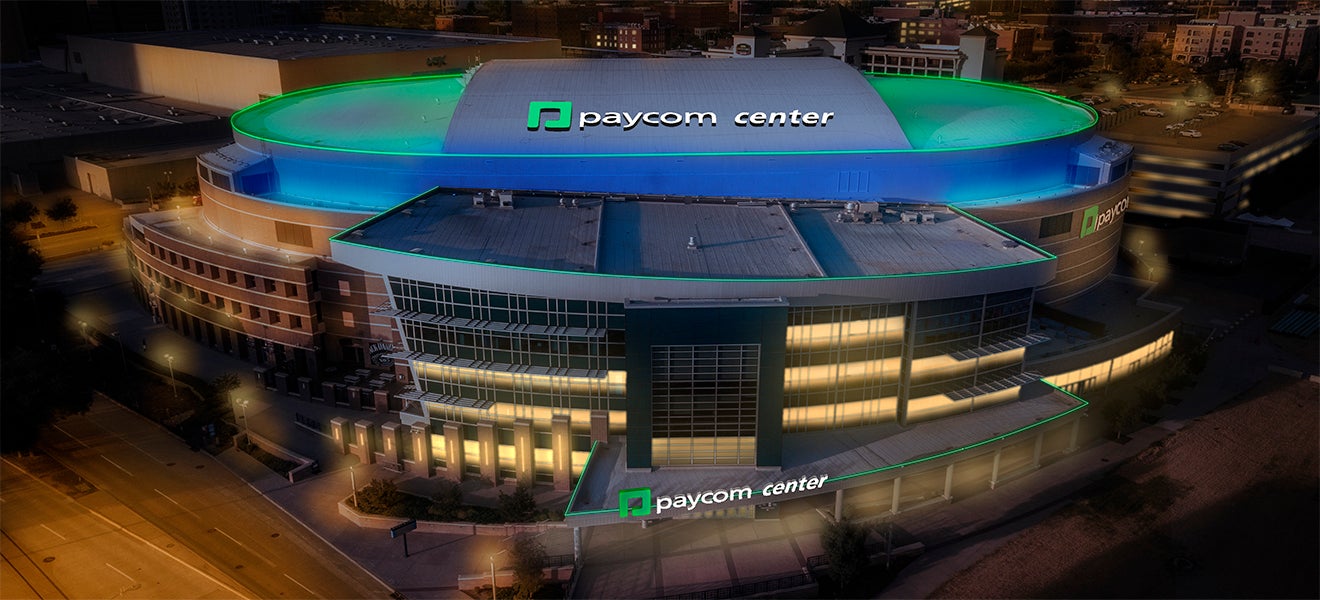 The Paycom Center's construction began in the Spring of 1999 after breaking ground in Downtown Oklahoma. MAPS, Oklahoma City's capital improvement program, funded the arena's construction. The overall cost of the arena was $89.2 million, and its doors first opened on June 8, 2002.
Over the past few decades, the arena has hosted many amazing teams. From 2004 to 2008, the AF2's Oklahoma City Yard Dawgz also called the arena their home.
Perhaps most impressive of all, Oklahoma City opened its doors to the New Orleans Hornets and provided them with temporary headquarters at what was then still known as the Ford Center from 2005 to 2007.
The reason for sharing the arena was due to Hurricane Katrina when the team could not play in their home city due to the damage caused.
The Paycom Center also stood even more prepared than ever before to host the thousands of sports and music fans who enter each event after undergoing a significant refurbishment program in 2013.
Name changes
The Ford Center was the name used when Oklahoma City's venue for world-class performances and various sports initially opened to the public. The facility officially got the name Oklahoma City Arena in 2010.
However, the name would only stick around for a year until the entertainment center was named the Chesapeake Energy Arena in 2011.
Events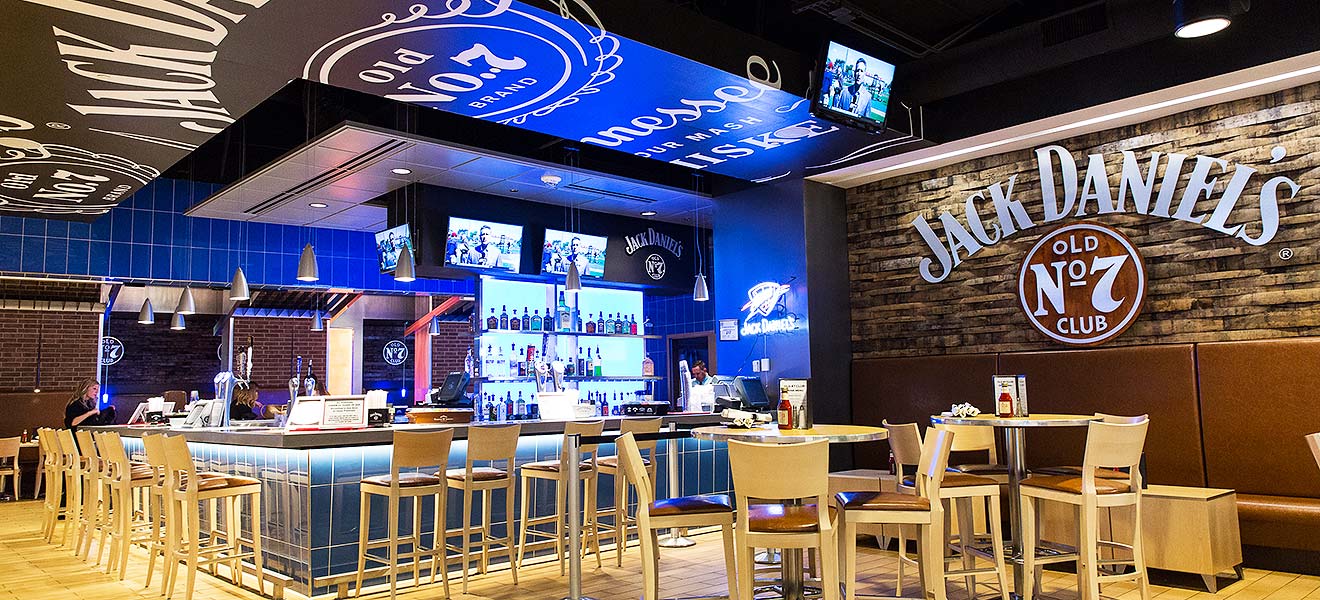 Since its opening day, the Paycom Center arena has hosted over 1,200 events, with over 10 million visitors. Paycom Center hosts various events, including musical concerts, sporting games, family shows, and world-class entertainment.
Concerts – Paycom Center has been the host to some of the most prominent musical entertainers, such as the Rolling Stones, Fleetwood Mac, Elton John, Lady Gaga, Bon Jovi, Cher, Jay-Z, Billy Joel, and many more.
Televised events – Some of the major events held at the arena were televised nationally, including Mission Oklahoma City in 2003 and WWE's Unforgiven pay-per-view in 2005. In 2007, it held the televised Oklahoma Centennial Spectacular, and in 2013, the Healing in the Heartland: Relief Benefit Concert for storm victims in Oklahoma.
Sporting events – The major sporting events held in Paycom Center include the NCAA Division I Men's Basketball Championship First and Second Rounds in 2003, 2005, and 2015, and the NCAA Women's Basketball Regionals in 2008, 2009, 2013, and 2015.
Where to Get Tickets for Paycom Center
You can purchase tickets for events in the Paycom Center at the Paycom Center Box Office or online at www.ticketmaster.com. If you plan on buying your tickets from the box office, you will find them just off West Reno Avenue between Robinson and EK Gaylord.
The Paycom Center Box Office is open Tuesdays and Thursdays from 11 AM to 4 PM. It is also open four hours prior to event time on event days. Paycom's Box Office does not accept cash. It only accepts Visa, MasterCard, American Express, and Discover cards.
If you decide to order your tickets online on Ticketmaster, you can do it whenever you want to. However, you should expect additional fees and service charges when ordering online. For any issues with your ticket order, you can contact Ticketmaster's customer service at +1 800-653-8000.
Does Paycom Center Offer Tours?
There is no information available on the official arena website regarding visitor tours.
Conclusion
Despite going through numerous name changes over the years, Paycom Center is still the same building that first opened its doors to the public in 2002. Since then, the arena has been providing both Oklahoma natives and out-of-town visitors with fun times and memories by hosting numerous events every year.
James is a big time NBA Golden State follower, who makes sure to catch games when he's in the area. He likes to follow International Soccer, with an interest in small town soccer club, Blackburn Rovers located in the North on the UK.