If you're planning to attend a game or event at Acrisure Stadium, you're in for a thrilling experience. Acrisure Stadium, formerly known as Heinz Field, is located in the North Shore neighborhood of Pittsburgh, Pennsylvania, and serves as the home of the Pittsburgh Steelers. This guide will help you navigate the various gates and entrances, making your visit as smooth and enjoyable as possible.
Acrisure Stadium offers a number of entrances throughout the stadium, each providing access to different areas. Some of the main gates at the stadium include Gate A, Gate B, Gate C, Gate 5, Gate 6, Press Gate, and various Suite Entrances. Having a clear understanding of the various entrances will help you find your way around the stadium easily and efficiently.
In order to make your experience seamless, we'll provide essential information about each gate and entrance, including their locations and access points. This will ensure that you can focus on the excitement of the game or event, knowing that you have all the necessary information at hand. So, let's get started on this informative guide to navigating Acrisure Stadium's entrances and gates!
History of Acrisure Stadium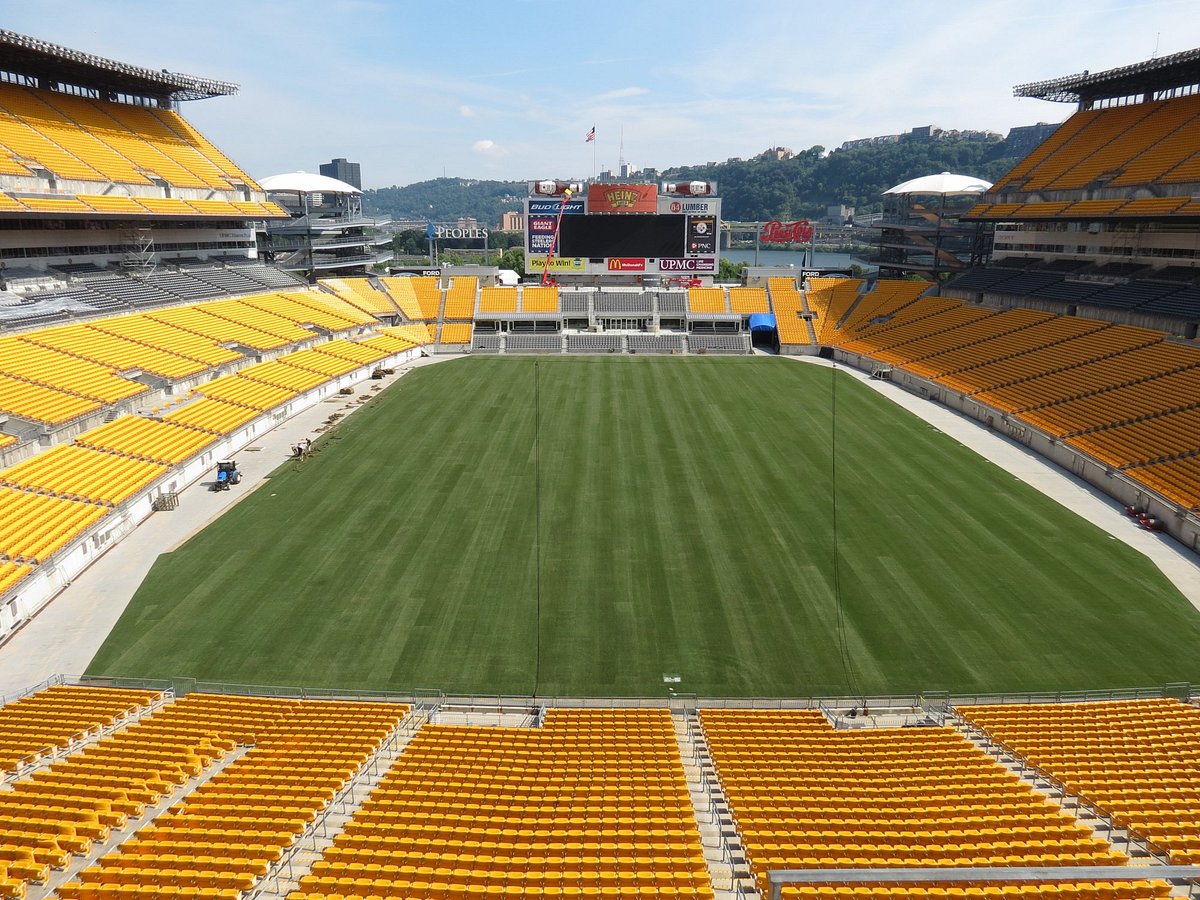 Acrisure Stadium, historically known as Heinz Field, is a football stadium located in the North Shore neighborhood of Pittsburgh, Pennsylvania. It proudly serves as the home of the Pittsburgh Steelers of the National Football League (NFL) and the Pittsburgh Panthers of the NCAA Division I Football Bowl Subdivision.
The story of Acrisure Stadium began with the shared history of the Pittsburgh Steelers and the Pittsburgh Pirates at Three Rivers Stadium from 1970 to 2000. As time passed, discussions took place about the Pirates building a full-time baseball park. Subsequently, a proposal was made to renovate Three Rivers Stadium into a full-time football facility. However, instead of renovating, the decision was made to construct a brand new stadium.
The planning and funding of Acrisure Stadium involved significant efforts from the stakeholders. The stadium received financial support from multiple sources, including the Steelers, the city of Pittsburgh, and through the sale of personal seat licenses. After working through the planning and funding stages, construction of the current stadium eventually started.
Now that you know some of the history behind Acrisure Stadium, you can appreciate the rich background of this iconic football venue. As a fan of the Pittsburgh Steelers or the Pittsburgh Panthers, it's exciting to know that you are watching games in a stadium that has a unique story.
Location and Accessibility
Acrisure Stadium, located in the North Shore neighborhood of Pittsburgh, Pennsylvania, is known for being the home of the Steelers and providing an excellent gameday experience. As I write this guide, I want to ensure that your visit is both enjoyable and hassle-free. Let's talk about the location and accessibility features available at the stadium.
Getting to Acrisure Stadium is relatively simple, with public transportation being a popular option. Make use of the T (Pittsburgh's light rail system) or local bus systems to reach the stadium. Taking public transportation not only reduces congestion but also helps ensure a more environmentally friendly experience.
For guests with disabilities, Acrisure Stadium is committed to providing a seamless and comfortable visit. You can find an accessible ATM inside Gate B. Please keep in mind that the stadium has transitioned to a cashless facility, so having your credit or debit card handy would be useful.
The stadium features several gates to make entry more convenient based on your parking and seat location. All gates are accessible, and for guests needing additional assistance, stadium staff is readily available. Generally, guest entry is permitted two (2) hours before the kick-off.
If you have specific accessibility needs or questions, feel free to reach out to Acrisure Stadium Guest Services at (412) 697-7150 (ext.4), and they'll be more than happy to help. Use their expertise to ensure your experience is tailored to your needs and requirements.
I hope this information helps make your visit to Acrisure Stadium as smooth and enjoyable as possible. Enjoy the game!
Main Entrances and Gates
As a frequent visitor to Acrisure Stadium, I've found that knowing the main entrances and gates is crucial for a smooth and enjoyable experience. Here are the key gates that you should be aware of:
Acrisure Stadium Gate A: This gate is one of the primary entrances and is located in a convenient spot for fans arriving from different directions. It's an excellent choice for getting into the stadium quickly.
Acrisure Stadium Gate B: Another main entrance for the stadium, Gate B provides easy access to the venue. Fans using this entrance will also find an accessible ATM located inside.
Acrisure Stadium Gate C: Gate C serves as another accessible entry point for fans. If you're in need of assistance during the event, Guest Services kiosks can be found near the main entry gates, including Gate C.
Acrisure Stadium Gate 5: This entrance is a great option for those who wish to avoid the crowds at the other main gates. It may not be as busy as some of the other entrances, providing a more relaxed entry experience.
Acrisure Stadium Gate 6: Similar to Gate 5, this gate also serves as an alternative entrance for fans. Choosing this gate can help you avoid long lines and enjoy a smoother entry process.
Acrisure Stadium Press Gate: Specifically designated for members of the press, this gate ensures easy access for media personnel attending events at the stadium. If you are a member of the press, be sure to make use of this entrance.
Acrisure Stadium Suite Entrances: For fans who have booked a suite for an event, there are dedicated Suite Entrances that offer exclusive access to the suite areas. These entrances include Suite B Entrance and Suite C Entrance, providing a convenient and luxurious entry experience for those who have booked suites.
As you're planning your visit to Acrisure Stadium, it's essential to familiarize yourself with these main entrances and gates to get the most out of your experience. Knowing which gate is best suited for your needs will ensure a seamless and enjoyable day at the stadium.
Gate 1
Location
Gate 1 is situated on the southwest side of Acrisure Stadium, just off of North Shore Drive. It's worth noting that this gate is conveniently located across the street from the Carnegie Science Center, making it easy for guests to find and access from that area. I've personally found this location to be very convenient, especially when arriving at the stadium by public transportation or by walking from the nearby attractions.
Opening Times
Generally, the gates at Acrisure Stadium open two hours before the start of the event. This provides ample time for fans to enter the stadium at a leisurely pace, find their seats, and enjoy the pre-game atmosphere without feeling rushed. I recommend arriving early to ensure a smooth entry and to avoid any possible congestion at the gates, especially if you need to pick up any tickets at will call, or if you have items that require security checks.
Accessibility Features
Acrisure Stadium is committed to ensuring that all fans have a comfortable and enjoyable experience at the stadium. Gate 1 is no exception, offering accessibility features to accommodate guests with disabilities. Here are some of the key features I've noticed at Gate 1:
Ramps and elevators are available for wheelchair users and guests with mobility impairments.
Designated entry lanes for guests using wheelchairs, mobility devices, and those requiring additional assistance.
Braille signage for visually impaired guests.
Hearing assistance devices available upon request at guest services.
It's worth noting that if you require any additional assistance or accommodations, I suggest contacting Acrisure Stadium guest services ahead of time at (412) 697-7600, so they can best meet your needs. Overall, it's evident that Gate 1 offers a welcoming environment for all fans to enjoy the Acrisure Stadium experience.
Gate 2
Location
Gate 2 at Acrisure Stadium is an important entrance for fans attending games and events. Based on the information available, the specific location for Gate 2 was not found in the sources provided. However, there are several gates mentioned, such as Gate A East and A West, Gate B, Gate C, and the FedEx Great Hall Gates.
Opening Times
The exact opening times for Gate 2 were not provided in the search results. However, it's important to note that it's typical for stadium gates to open a couple of hours before the scheduled event or game time. To be certain, I would recommend contacting the stadium or checking their website for accurate gate opening times.
Accessibility Features
Although I couldn't find specific accessibility features for Gate 2, it's worth mentioning that Acrisure Stadium likely has various accessibility features to ensure the comfort and safety of all guests, including those with disabilities.
Security Procedures: Entrance
As I entered Acrisure Stadium, I noticed that arriving early is key to avoiding long lines at the gates for security screenings. All guests, along with their belongings, are subject to security screening upon entering, and there's a chance they may be searched when exiting the stadium too.
I found that Acrisure Stadium has an "All Clear On Game Day" safety policy, which requires guests to carry their items in clear bags. To follow this policy, I made sure that my bag was clear and did not exceed the size limit of 4.5″ by 6.5″.
While I was at the stadium, I observed that they expect all fans to enjoy the events in a responsible manner. Behaviors such as unruly, disruptive, or illegal activities are not allowed. Following these guidelines made my experience at the stadium more enjoyable and secure for everyone around me.
In summary, with the right preparation (arriving early and using a clear bag), following the security procedures at Acrisure Stadium is a breeze. This allowed me to have a fun and safe experience during my visit.
Tips for a Smooth Stadium Entry
I always find that preparation is key for a hassle-free experience when attending a game at Acrisure Stadium. From knowing the proper gates to understanding the security guidelines, here are some friendly tips to help you smoothly enter the stadium and enjoy the event.
First, it's essential to know about the clear bag policy at Acrisure Stadium. I make sure to bring a clear bag no larger than 12″ x 6″ x 12″ or a small clutch no bigger than 4.5″ x 6.5″. This policy ensures a faster security check and easy access into the stadium.
Next, try to arrive at the stadium early. I find that getting there at least 1-2 hours before the event allows me to avoid crowd congestion at the gates and have plenty of time to find my seat and explore the stadium.
Before heading to Acrisure Stadium, I recommend becoming familiar with the gate locations and entrances designated for your ticket. This way, you won't waste time searching for the correct entrance, and you'll be able to get to your seat without hassle.
Additionally, be aware of the items you can and cannot bring into Acrisure Stadium. Items like food, drinks, and strollers might be restricted. I always review the full list of restricted items on the stadium's website to avoid any surprises at the security check.
To make the most of my experience soon as I enter the stadium, I like to download the official stadium app beforehand. This provides me with interactive maps, updates, and information about food options and stadium amenities, which saves time and keeps me informed while navigating the stadium.
Follow these tips, and you'll enjoy a smooth entry into Acrisure Stadium at your next visit.
Acrisure Stadium Facility
I recently visited the Acrisure Stadium, and let me tell you, it's a fantastic experience for spectators. The stadium has great facilities that ensure a comfortable and enjoyable time for everyone. Here are some key features of the Acrisure Stadium facility that I came across.
The entry gates are well-designed, making it easy for fans to enter the stadium. There are kiosks at entry gates B & C, where guests can register for game day activities and prize giveaways. The winners get announced at the end of the 3rd quarter, which adds to the excitement.
Once I was inside, I noticed the Club Lounges. The UPMC Club and West Club are exclusive areas that require a valid UPMC Club, West Club, or Suite ticket to enter. These lounges provide great seating, drinks, and food in a comfortable setting for those who prefer a more luxurious game day experience.
To get to the stadium, Acrisure Stadium encourages guests to use convenient downtown parking and public transportation. For a more fun and unique experience, I personally tried the Gateway Clipper which offers game day riverboat rides. I parked at Station Square and enjoyed a scenic ride around the Point, dropping off right at the stadium amidst fellow fans.
Regardless of which area you are seated in, the stadium offers fantastic views of the field, ensuring every fan can fully enjoy the game. The stadium's design also allows for quick and easy access to restrooms, concession stands, and other amenities.
In conclusion, my experience at the Acrisure Stadium was nothing short of incredible. The facility's well-thought-out design, convenient transportation options, and exclusive areas like the Club Lounges ensure a great time for everyone attending an event.
Additional Services
As a frequent visitor to Acrisure Stadium, I find their additional services quite helpful in creating a comfortable experience for all fans. One of their services that I have found beneficial is the availability of wheelchairs for use during events. They offer a limited number within the stadium, which can be found at Stadium Gates and Guest Service 104 located near the FedEx Great Hall. If you need one, all you need to do is deposit your driver's license as a guarantee while using the wheelchair.
For those who prefer to use public transportation to the stadium, like me, there are some good options as well. Pittsburgh Regional Transit (PRT) provides a smooth and accessible ride to Acrisure Stadium. They offer light rail service on the "T" and city buses for fans coming from Downtown Pittsburgh and surrounding suburbs. This makes it an easy choice for me to leave my car behind and enjoy game day without the hassle of parking.
As for dining options, there are plenty of delicious food stands and eateries within the stadium premises. Some stands feature classic stadium fare like hot dogs and nachos, while others offer a mix of international cuisine, such as sushi and even pierogies. Having such a variety ensures that everyone can find something to their liking and makes my visits to Acrisure Stadium even more enjoyable.
Finally, Acrisure Stadium has various guest service locations to assist in meeting the needs of fans, especially those with disabilities. Any questions or concerns can be addressed at the Guest Service Locations positioned throughout the stadium. This shows that Acrisure Stadium prioritizes the needs of all fans and wants to make sure the experience is enjoyable for everyone.