Welcome to Acrisure Stadium, the pride of Pittsburgh and home to the iconic Pittsburgh Steelers.
Nestled in the heart of Steel City, this state-of-the-art sports arena has been the epicenter of excitement and unforgettable moments since its opening. A
Acrisure Stadium is the ultimate destination for Steelers fans, offering an unparalleled game-day experience with cutting-edge facilities, passionate crowds, and a vibrant atmosphere that truly embodies the spirit of this storied football franchise.
In this guide, we will take you on a tour of Acrisure Stadium, providing an insider's look at its rich history, impressive features, and the best game-day tips to make your visit a truly memorable one.
Whether you're a die-hard fan or a first-time visitor, Acrisure Stadium promises to deliver an unforgettable experience that will leave you counting down the days until your next visit.
So, don your black and gold, and get ready to immerse yourself in the world of Steelers football!
Acrisure Stadium: Key Facts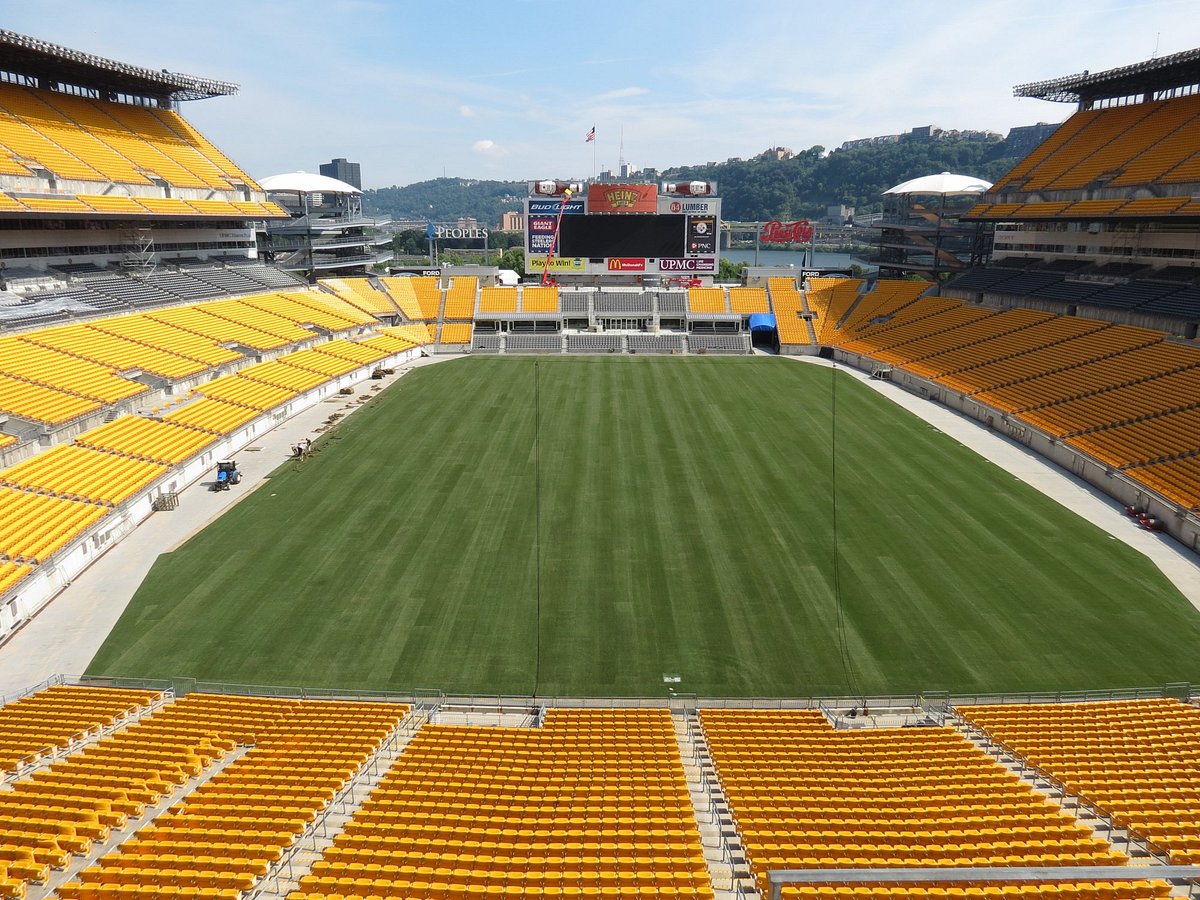 Acrisure Stadium is the home stadium of the Pittsburgh Steelers of the NFL. They also are the home stadium for the Pittsburgh Panthers of the NCAA.
The seating capacity of Acrisure Stadium is 68,400 for football games.
The stadium was amazingly designed by the architectural firm HOK Sport (now Populous). It is known for its distinctive open south end, which offers views of the Pittsburgh skyline and the Allegheny River.
Acrisure Stadium has a natural grass playing surface.
In addition to football games, this stadium has also hosted concerts, including performances by U2, Taylor Swift, and Kenny Chesney.
Acrisure Stadium hosted several important football games, including Super Bowl XL in 2006, which saw the Steelers defeat the Seattle Seahawks 21-10.
The stadium was previously named after the H.J. Heinz Company as Heinz Stadium, a Pittsburgh-based food company that is best known for its ketchup. The company purchased the naming rights to the stadium in 2001.
The construction cost of Acrisure Stadium was approximately $281 million, with funding coming from public and private sources.
The stadium has several unique features, including a 40-foot-tall, 80-foot-wide Jumbotron video screen that is one of the largest in the NFL.
Acrisure Stadium is located on the North Shore of Pittsburgh, adjacent to PNC Park, the home of the Pittsburgh Pirates Major League Baseball team.
Where Is Acrisure Stadium located?
Acrisure Stadium is located in Pittsburgh, Pennsylvania, USA. Specifically, it is situated on the North Shore of the city, adjacent to the Allegheny River. The stadium's address is 100 Art Rooney Avenue, Pittsburgh, PA 15212.
| | |
| --- | --- |
| Address | 100 Art Rooney Ave, Pittsburgh, PA 15212, United States |
| Map link | Acrisure Stadium |
The Best Way to Get to Acrisure Stadium
Acrisure Stadium is a stadium located in Pittsburgh, Pennsylvania, United States. The best way to reach Acrisure Stadium depends on your location and transportation preferences. Here are a few options:
By car: If you're driving to Acrisure Stadium, the stadium is easily accessible via major highways, including I-279, I-376, and Route 28. Parking options are available at the stadium but can be limited and expensive, so it's best to plan ahead and reserve a spot in advance.
Public transportation: Pittsburgh's Port Authority Transit (PAT) operates buses and light rail trains that stop near Acrisure Stadium. The closest light rail stop is the Allegheny Station on the North Shore, which is just a short walk from the stadium. If you're taking the bus, check the schedules and routes beforehand to make sure you arrive on time.
Walking or biking: If you're staying in a nearby hotel or apartment, walking or biking to Acrisure Stadium can be a great option. Pittsburgh has an extensive network of bike lanes and pedestrian paths, and the stadium is located within walking distance of many downtown neighborhoods.
Overall, the best way to get to Acrisure Stadium depends on your location, budget, and transportation preferences. Plan ahead and choose the option that works best for you.
Best Parking Near Acrisure Stadium
Red Lot 7B
Red Lot 7B is a parking lot located in Pittsburgh, Pennsylvania, USA. It is situated near PNC Park, the home of the Pittsburgh Pirates baseball team, and Acrisure Stadium.
Red Lot 7B is one of the parking areas available for fans attending events at PNC Park and Acrisure Stadium. It offers convenient parking for visitors, with easy access to both stadiums. The lot is operated by Alco Parking Corporation, which manages several parking facilities in the Pittsburgh area.
Visitors can pre-purchase parking passes for Red Lot 7B online or pay for parking upon arrival. The lot is open several hours before events and closes shortly after the event ends. It's important to note that parking prices and availability may vary depending on the event.
If you have any specific questions or concerns about parking at Red Lot 7B, you can contact Alco Parking Corporation for more information.
Aviary Parking Lot
The Aviary Parking Lot is a parking facility located in Pittsburgh, Pennsylvania. It is located adjacent to the National Aviary, a bird sanctuary and conservation center. The parking lot provides convenient access to the Aviary and other nearby attractions, such as the Children's Museum of Pittsburgh and the Allegheny Commons Park.
The parking lot offers both hourly and daily rates for parking, as well as discounted rates for Aviary members. It also provides handicap-accessible parking spaces and electric vehicle charging stations.
Visitors can pay for parking using various methods, including credit cards, cash, or mobile payment.
Overall, the Aviary Parking Lot provides a convenient and affordable option for visitors to the Acrisure Stadium and surrounding attractions in Pittsburgh.
The Best Restaurants Near Acrisure Stadium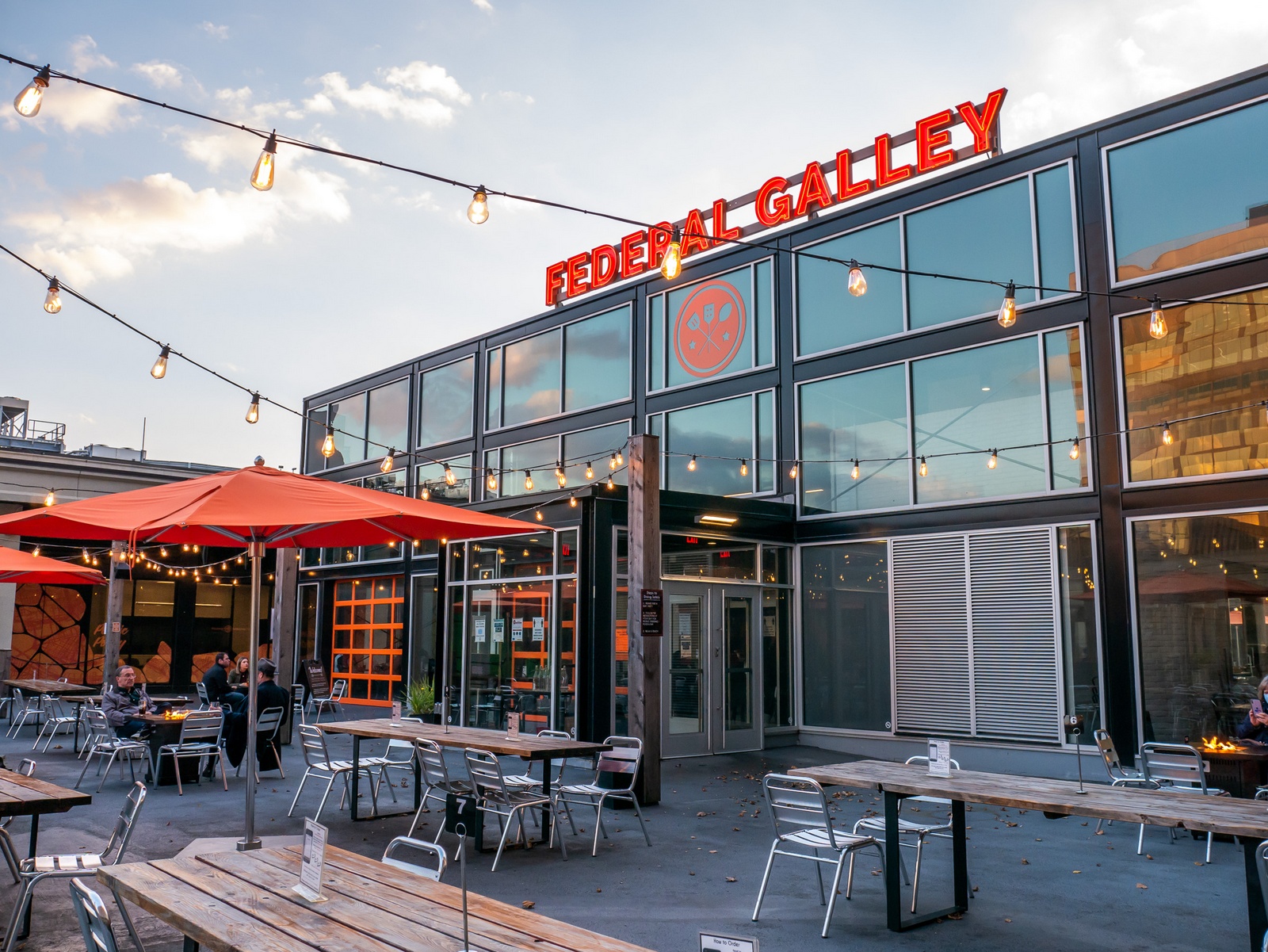 Federal Galley is a food hall located in Pittsburgh, Pennsylvania, that features four unique restaurant concepts in a shared space. The food hall is designed to be a launchpad for up-and-coming chefs, providing them with an opportunity to showcase their culinary skills and test out new restaurant concepts.
The food hall features a central bar area and communal seating, creating a lively and social atmosphere. The four restaurants within Federal Galley rotate every 18 months, ensuring that there is always something new and exciting to try.
Some popular dishes at Federal Galley have included Korean fried chicken, gourmet grilled cheese sandwiches, and wood-fired pizza. The food hall also hosts special events, such as live music and themed dinners, throughout the year.
Burgatory is a popular restaurant chain in Pittsburgh, Pennsylvania, that is known for its gourmet burgers, hand-spun milkshakes, and other American-style comfort foods. The first Burgatory location opened in 2010 in the city's Shadyside neighborhood, and since then, the chain has expanded to include several additional locations throughout the Pittsburgh area and beyond.
At Burgatory, customers can choose from a wide variety of burger options, including traditional beef burgers, as well as options made with turkey, bison, and more. Additionally, the restaurant offers a range of toppings and sauces that allow customers to customize their burgers to their liking.
In addition to burgers, Burgatory serves other menu items such as salads, sandwiches, and appetizers, as well as a selection of craft beers and cocktails. The restaurant is known for its unique and creative menu items, as well as its commitment to using high-quality, locally-sourced ingredients whenever possible.
Peppi's sandwich shop is a well-known eatery in Pittsburgh, Pennsylvania, that has been serving up delicious sandwiches since 1983. Located in the Strip District neighborhood, Peppi's is famous for its huge, hearty sandwiches made with fresh, high-quality ingredients.
Some of the most popular menu items at Peppi's include the Philly Cheesesteak, the Italian Hoagie, and the Roast Beef & Cheddar sandwich. Customers can also create their own custom sandwiches with a variety of bread, meats, cheeses, and toppings to choose from.
Peppi's has won numerous awards and accolades over the years, including being named one of the best sandwich shops in America by USA Today. If you're in Pittsburgh and looking for a delicious sandwich, Peppi's is definitely worth checking out!
| | |
| --- | --- |
| Address | 927 Western Ave, Pittsburgh, PA 15233, United States |
| Map link | Peppi's |
| Phone number | +14122319009 |
The Best Bars Near Acrisure Stadium
Bar Louie is a chain of bars and restaurants that serves a variety of drinks and food. The North Shore location in Pittsburgh is one of several locations throughout the United States.
Bar Louie serves a variety of drinks, including beer, wine, cocktails, and specialty drinks. They have a large selection of appetizers, salads, sandwiches, burgers, and entrees, such as pasta dishes and seafood.
The restaurant has a casual and relaxed atmosphere with plenty of seating and a bar area. It is a popular spot for happy hour, and they often have specials on drinks and appetizers during this time.
If you are interested in visiting Bar Louie, you can check out their website or social media pages for more information on their menu, hours of operation, and upcoming events.
Osteria 2350
Osteria 2350 is a popular Italian restaurant located in the heart of Pittsburgh, Pennsylvania. The restaurant is known for its delicious cuisine and cozy atmosphere, and it has become a favorite among locals and visitors alike.
The restaurant's menu features classic Italian dishes with a modern twist made from fresh, high-quality ingredients. Some popular dishes include the rigatoni with vodka sauce, the roasted chicken, and the Margherita pizza. The restaurant also has an extensive wine list featuring both local and international wines.
Osteria 2350 is located in the historic Strip District of Pittsburgh, and it is open for lunch and dinner seven days a week. Because it is a little further from the stadium, we recommend taking buses number 15 and 86. They are available every 20 minutes.
The restaurant has a rustic and welcoming atmosphere, with exposed brick walls, wooden beams, and dim lighting that creates a cozy and intimate ambiance.
Jack's Bar
Jack's Bar is a popular spot in the South Side neighborhood of Pittsburgh. It is known for its laid-back atmosphere, friendly staff, and reasonably priced drinks. The bar has a long history in the area, dating back to the 1930s when it first opened. Over the years, it has become a favorite spot for locals and visitors alike.
The bar has a cozy atmosphere with dim lighting and a mix of booths and bar stools for seating. There are a few TVs scattered throughout the bar, making it a popular spot to watch sports games.
One unique feature of Jack's Bar is the "Shot Ski," which is a ski with shot glasses attached that multiple people can take a shot from at the same time. It's a fun activity for groups and is often seen as a rite of passage for first-time visitors to the bar.
To get here, it is best to take buses number 15 and 51, which are available every 21 minutes and will cost you around $5.
The Best Hotels Near Acrisure Stadium
Hampton Inn & Suites Pittsburgh-Downtown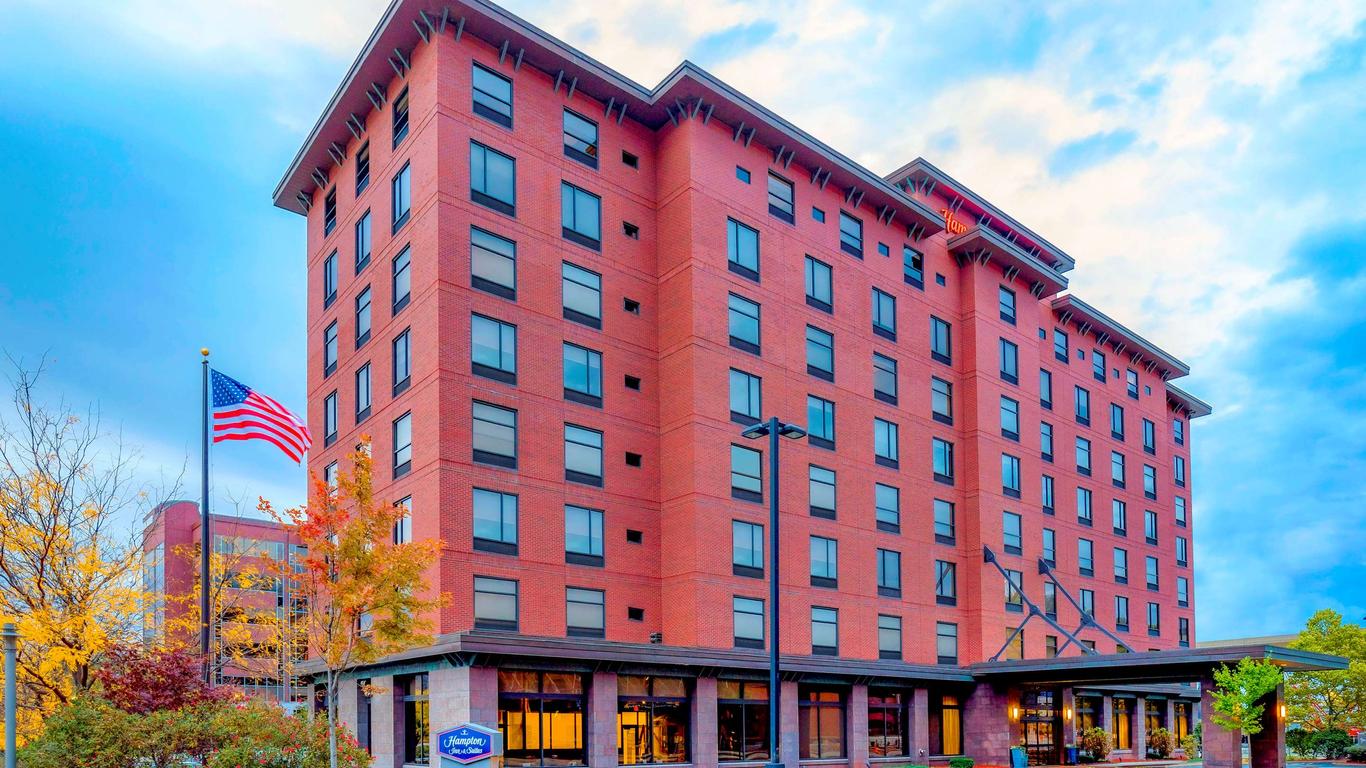 Hampton Inn & Suites Pittsburgh-Downtown is a hotel located in the central business district of Pittsburgh, Pennsylvania. It is around 30 minutes walk to the Acrisure Stadium. However, you can take the Silver metro and arrive at the stadium in about 20 minutes.
Some of the amenities offered at Hampton Inn & Suites Pittsburgh-Downtown include a fitness center, a business center, complimentary breakfast, free Wi-Fi, and a 24-hour front desk. The hotel also has meeting and event spaces available for rent.
The guest rooms at Hampton Inn & Suites Pittsburgh-Downtown are spacious and well-appointed, featuring comfortable beds, flat-screen TVs, coffee makers, mini-refrigerators, and microwaves. Suites are also available, which include separate living areas with sofa beds.
Residence Inn by Marriott Pittsburgh North Shore is a hotel located in Pittsburgh, Pennsylvania, USA. The hotel is situated in the North Shore neighborhood, close to several popular attractions, including PNC Park, Acrisure Stadium, and the Andy Warhol Museum.
The hotel features 180 suites, which include separate living and sleeping areas, a fully equipped kitchen, and free Wi-Fi. Other amenities at the hotel include a fitness center, an indoor pool, an outdoor fire pit, and a complimentary breakfast buffet. There is also a bar and lounge area serving light fare and drinks.
Residence Inn by Marriott Pittsburgh North Shore is a popular choice for both leisure and business travelers, with its convenient location and comfortable accommodation. The hotel is also known for its friendly staff and excellent customer service.
The History of Acrisure Stadium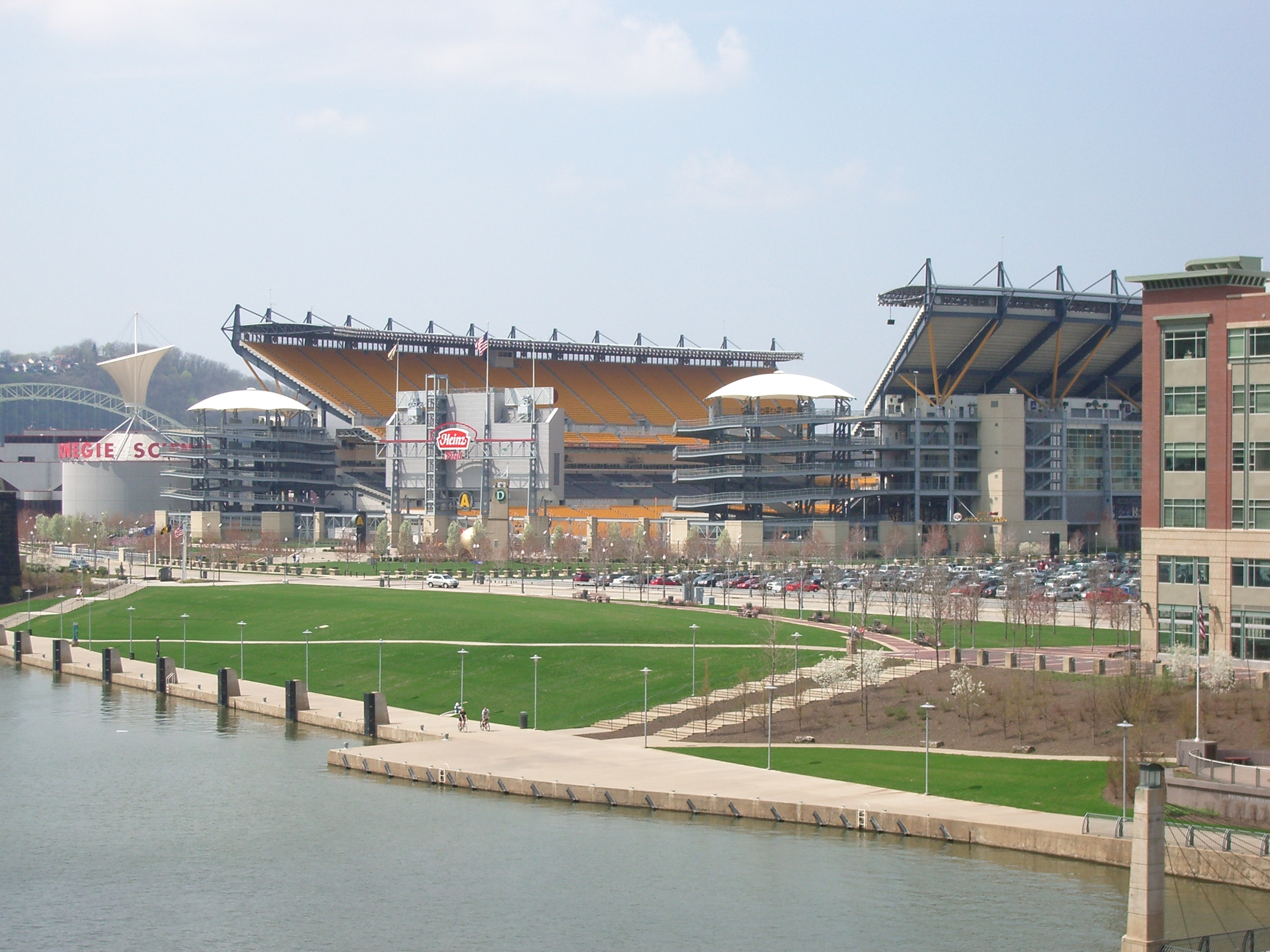 The construction of Acrisure Stadium began in June 1999, with the groundbreaking ceremony being attended by Pennsylvania Governor Tom Ridge, Pittsburgh Mayor Tom Murphy, and Steelers Chairman Dan Rooney. The stadium was named after the H. J. Heinz Company, which is headquartered in Pittsburgh and has a long history in the city.
Acrisure Stadium was designed by the architectural firm of HOK Sport (now Populous) and cost approximately $281 million to build. The stadium has a seating capacity of 68,400 and features a natural grass playing surface. The stadium also includes 129 luxury suites and 7,000 club seats.
The first game at Acrisure Stadium was played on August 18, 2001, when the Steelers defeated the Detroit Lions in a preseason game. The first regular-season game was played on September 16, 2001, when the Steelers played against the Cleveland Browns. The Steelers won the game 16-13 in overtime.
Where to Get Tickets for Acrisure Stadium?
You can get tickets for events at Acrisure Stadium, such as Pittsburgh Steelers football games or concerts, from several sources, including:
The official website of Acrisure Stadium. Visit www.acrisurestadium.com to purchase tickets for upcoming events at the venue.
Ticketmaster. Ticketmaster is one of the largest ticketing platforms in the world, and it sells tickets for many events at Acrisure Stadium. You can visit the website www.ticketmaster.com to search for and purchase tickets.
Third-party ticketing websites. There are many websites that specialize in reselling tickets for events, including StubHub, SeatGeek, and Vivid Seats. These websites may offer tickets at different prices than the official sources, but be sure to purchase from a reputable seller.
In-person. If you live near Acrisure Stadium, you can purchase tickets in person at the stadium box office.
Regardless of where you purchase your tickets, be sure to check the date, time, and seating information carefully before completing your purchase.
Does Acrisure Stadium Offers Tours?
Yes, Acrisure Stadium offers guided tours of the stadium throughout the year. The tours provide visitors with a behind-the-scenes view of the stadium. During the tour, visitors can see the locker rooms, field, press box, and club-level areas and learn about the history and architecture of the stadium.
Tours typically last about an hour and are led by knowledgeable guides who can answer questions and provide insights about the stadium. The tours are suitable for visitors of all ages, and they can be a fun and informative experience for sports fans, architecture enthusiasts, or anyone interested in learning more about Acrisure Stadium.