So you caught a show in Pittsburgh at the PPG Paints Arena or watched the Penguins take down the Leafs.
What better way to celebrate and round out your excursion than with something off the tap or top-shelf?
Good news: there are plenty of options a stone's throw away.
You could check out a quieter sit-down setup to recoup, a rowdy dive bar to get loud, or fun activity-filled venues.
These are 12 of the best bars near PPG Paints Arena.
A beer lover's dream realized; the selection is simply vast. With a wide, 90+ strong array of local and global beers on tap, there are more than enough lagers, ales, and IPAs to choose from.
The wine is also on tap, ensuring that it's fresh and free from any spoiling or oxidation, and a healthy assortment of cocktails and mocktails ensures that there's something for everyone in your party to get in on the good times. Whiskey lovers are welcome, too, with a sturdy selection to parse through and sip on. A well-fleshed-out menu of burgers, tacos, share-ables, and other bar staples round out the options to soak up all the good beer and spirits.
With a wide selection of ice-cold beers on tap (at little cost, no less), Shale's is as unpretentious as they come. Knowledgeable bartenders and a digital jukebox will ensure your pre-or post-game makes for a merry afternoon or evening.
After getting lost in the gorgeous mural gracing its outside wall, you'll step inside to find a dive spot with a whole host of jerseys as decoration. There's a good chance you'll see the owner Jimmy there too, and he loves a good time. Be sure to let the bartenders know when they're doing great. They take compliments (and tips!).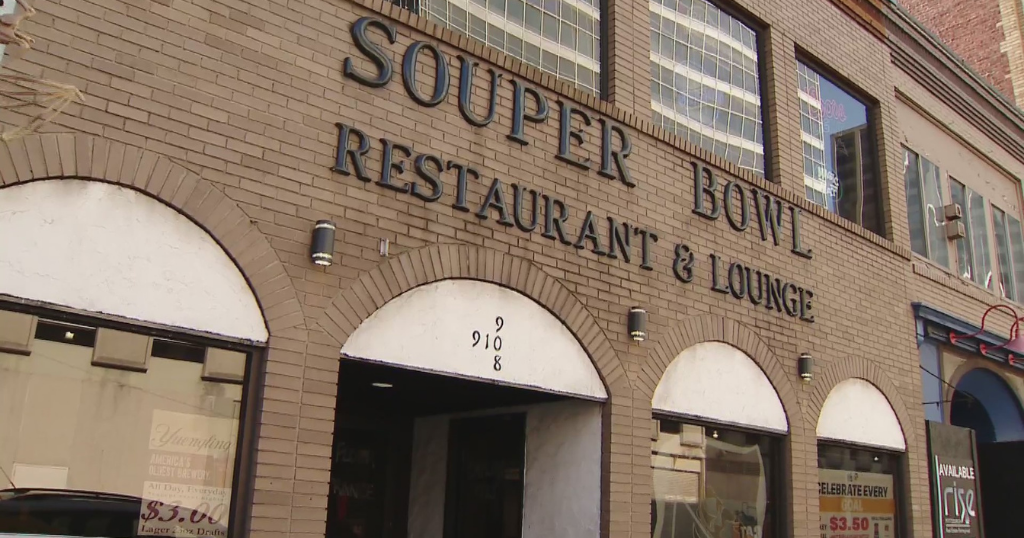 You may find yourself hungry after you've had your fill of PPG's entertainment lineup. Family-owned and operated since 1983, Souper Bowl is a solid destination for a hearty meal and a good drink to cool down.
This traditional American spot has all the team spirit you could ask for, with an atmosphere reminiscent of your favorite childhood diner. The chicken sandwiches get high marks here, whether buffalo or Diablo and a side of fries never disappoints. Their daytime hours make them suitable for a modest sit-down before or after your event, and their location right across the street means you don't have to go far for some ice-cold beer and greasy eats.
A great after-work hangout, this tavern in the Grant Building attracts all types of crowds. This place has something for everyone, from suits decompressing after a long day to celebratory Penguins fans, fundraisers, and bachelorette parties.
The menu keeps it tight with a modest selection of sandwiches, soups, and salads made fresh, as well as daily specials to keep things interesting. Food service ends after lunch, but the free snacks are enough to pair with your drink of choice.
Grant Street also does private and special events if that's what you're looking for, and if you have a larger group, you can call ahead. The attentive staff will make sure things are prepped to shorten your wait when you come through.
And now for something completely different. A suave dive bar with a well-rounded selection of cocktails and Asian fusion dining, The Warren Bar and Burrow gives you the option to go heavy or light with your food and drink.
There's a wide variety to choose from, as the Poké Bowls and daily special Burrow Dogs will tell you. Plus, all the cocktails are $10! Come for the punchy drinks and stay for the sushi rolls or katsu burger. Quality and variety are the names of the game here.
If you're all dressed up or looking for more of a fine dining wine glass experience, Eddie V's has a lobster with your name on it. It's not all frills at Eddie V's, though. There's something for everyone: little plates or large portions, live music, and a splendid dinner and dessert selection. Happy hour runs from 4:30 to 6:30, so be sure to make the most of the house wines and cocktails before you dig in.
The bananas foster butter cake gets high praise here, and you can watch as it's flambéed tableside to your liking. If you're with a date or just want that extra bit of convenience, the valet service starts at 6 pm.
Similarly, Bridges & Bourbon's reservation-only setup may suit your fancy. The cocktails are the main draw here; they are all as tasty as they are aesthetically pleasing. You may find smoke spilling out of your glass or a bird-shaped one to sip from. However, that doesn't mean you should skip out on a great meal, as the fried olives and fried chicken sandwich are to die for.
This spot isn't for lightweights: the drinks come out on the stronger side. If that's your preference, there's an Appalachian Trail to take you where you need to go.
Tucked away beneath the Omni William Penn Hotel, this dimly lit venue is about privacy and the feel of 1920s Prohibition-era secret hideaways. It is a more intimate setting, with cocktails and old-fashioneds inspired by the dry years.
Additionally, gracious bartending and generous portion size help make the calm, low-key atmosphere complete as you sip slow and escape from the outside world. A few of the prohibition era inspired drinks on the menu include:
Girl With the Golden Curls: A concoction of BLY Silver Rum, pineapple juice, Luxardo Maraschino liqueur, and simple syrup.
Smoking Stave Old Fashioned: A drink made of Jameson Black Barrel, orange, Luxardo cherries, simple syrup, and a stave smoked glass.
Death in the Evening: This is made of Wigle Absent-Minded, sugar, lime juice, and maschio prosecco.
Christmas spirit is the name of the game here, and the décor and lively atmosphere make for a fun, boozy night at the North Pole. This for-charity pop-up bar serves quality drinks in fun, pint-sized packages while embodying the Christmas spirit by giving back to local charities like 412 Food Rescue and Amy's Army, among others.
Santa's generosity is on full display here; the eggnog packs a punch, and the Bad Santa served hot could warm even Jack Frost's cold heart. Swing by between Thanksgiving and New Year's Day to belt along to Mariah Carey's "All I Want For Christmas" with all the other merrymakers, and make sure you get there early since it gets filled up quickly!
Who said Halloween only had to be one day a year? If you like spooky, there's more than enough campy, horror-themed décor for you to fall in love with at Jekyl & Hyde. Halloween decorations grace the place, and many drinks come with vampire fangs and witches' fingers as decorations. It's not all appearances, though, as the drinks are standout. The eerie sights are a bonus.
Bar staples such as a pool table and dart board are available too for that extra bit of fun. More locals are to be found here, so this spot makes for a great first step into more adventures in the Pittsburgh area. If you find yourself here on Karaoke night, there's more than enough liquid courage to get you up on the microphone, as the themed drinks are priced around $5.
Sometimes you need an activity to go with your drink, and Barcadia has them in spades. This lively arcade bar is fully decked out with classic games and modern twists on them, such as Pacman, various pinball machines (including a Stranger Things-themed one), and shoot-em-ups.
Multicolored lighting and signature game-inspired cocktails like "Turtle Power" and "Ralph Gets Wrecked" complete the theme as all the fun converges into an unforgettable experience.
The food doesn't disappoint either, as the menu is provided by Slider Vibes, allowing you to mix things up with some appetizers, sliders, and shakes. If you'd like to commemorate the evening, a photo wall complete with a "character select screen" will send the pictures directly to your phone.
During the daytime, this spot is packed with fun for all ages. However, after 10 pm, the bar becomes 21+, and the games truly begin.
This selection comes with sandwiches of all kinds, and they don't disappoint. Touted as carrying some of the best hoagies in Pittsburgh, the bread is baked in-house (always a good sign), and the love from locals makes for a good chat at the bar. The full-service sports bar is bound to draw you in with its variety of alcoholic beverages and different television screens to catch your favorite Pittsburgh team.
This is the "Home of the Battleship," a 27-inch hoagie packed with more than enough to feed multiple in a group or a very hungry 1. Though the sandwiches are usually the draw, there's a good chance you'll stay for a chilled beer, too.
Final Thoughts
As you can see, there are plenty of great options for a good, spirited time in Downtown Pittsburgh, and are all just a short walk, drive, or tram ride from PPG. Whether you just caught a Pens game or a live show, there's something for you and your crew!
James is a big time NBA Golden State follower, who makes sure to catch games when he's in the area. He likes to follow International Soccer, with an interest in small town soccer club, Blackburn Rovers located in the North on the UK.