There's nothing better than a night out with an exceptional dinner and an entertaining show to follow. Before a game or show at the PPG Paints Arena, you may want to grab a bite to eat but aren't sure which restaurant to choose. While this area of Pittsburgh isn't known for its exquisite cuisine, there are some great options.
These downtown businesses are 18 of the best restaurants near the PPG Paints Arena. Whether you're looking for a lovely diner or a high-quality, eccentric establishment, there's something for every experience.
Eddie V's Prime Seafood
Eddie V's is an excellent choice for those looking for great seafood that is high-quality. They have an impressive array of dishes on their menu, along with some other options like steak and chops that are fresh and delicious.
Their atmosphere is elegant but relaxed, with comforting earth tones and experienced, friendly wait staff. The V Lounge also offers live nightly jazz music.
The Commoner
The Commoner is known for turning American favorites into unique dishes. This hotpot prides itself on creating a classical tavern atmosphere with a modern flair. You can enjoy their relaxed atmosphere for breakfast, lunch, or dinner.
If classic tavern food with a twist a style seems like the right choice for you, it's recommended that you make a reservation or call ahead to inquire about availability before your meal.
Gaucho Parrilla Argentina
Gaucho focuses on Argentina-inspired dishes cooked over wood-fired grills. They offer a variety of different options for dinner, including sandwiches, small plates, and sharable platters. People rave about the food and stepping in to get a magnificent whiff of what they have to offer is proof enough of why it's a hot destination for dining.
As one of the most desirable food destinations in the area, it's a good idea to book before your visit.
Meat & Potatoes
Meat & Potatoes is the first gastropub in Pittsburg, offering the comfort of traditional American cuisine. Whether you're in the mood for roasted chicken, a delicious steak, or splurging on a beef wellington, you're sure to leave full and satisfied.
They also are home to a stellar mixology program, offering a variety of well-crafted mixers and carefully chosen drafts and wines. This is the ideal destination if you're in the mood for a traditional dish and a tasty cocktail.
The Souper Bowl
The Souper Bowl prides itself in catering to Penguins fans' needs, ensuring they're open during off-hours before and after the hockey games. Their food is traditional for a pub-style restaurant, but they offer a variety of burgers, sandwiches, and appetizers.
Though the establishment appears very bar-like, it's a cozy place that families enjoy dining at before the big game. Whether you're a Penguins fan or looking for a quick, delicious bite before an event, this place is an excellent destination for quaint dining.
Noodlehead
Noodlehead offers traditional Thai food. They offer soups and sides, but their true gem is the assortment of noodle dishes they have to offer. The establishment is warm and welcoming, offering a comfortable, intimate experience.
They only offer cash transactions but conveniently offer an ATM onsite for their guests. Uniquely, Noodlehead doesn't serve alcoholic beverages but has a BYOB policy.
City Works
City Works is a sports bar with various drinks and American cuisine. They offer an extensive menu with dishes both fit for dining and casual sharing. With a large outdoor patio overlooking Market Square, they're an ideal destination for outdoor dining.
Guests love the variety of beverages, with 90 beers and eight wines on tap. Previous visitors of the establishment appreciate that they offer drinks from many local breweries.
Kaya
Kaya is home to some exquisite, flavorful foods. Their dishes are inspired by traditional Caribbean cuisine. Their carefully selected menu offers sandwiches, tacos, and entrees.
The restaurant's ambiance is soothing and dim-lighted, giving off a welcoming and relaxing atmosphere. The establishment also offers an extensive beverage menu and is known for catering to those with specific dietary or allergy needs.
The Capital Grille
The Capital Grille is the go-to place steakhouse in downtown Pittsburg. They're known for their hand-cut, dry-aged in-house steaks. This restaurant is perfect for larger groups that would like a variety of shareable dishes and excellent main courses.
The food is excellent, but guests walk into the establishment and feel like they have walked into an experience. The decor of wooden paneling and captivating chandeliers make the room feel extravagant and warm.
Primanti Bros
Primanti Bros is a Market Square location with all the makings of a welcoming, friendly sports bar. They offer a wide variety of tasty appetizers and have some impressive hand-crafted sandwiches that come along with homemade coleslaw and crisp french fries.
This location is ideal for a quick bite to eat for a game, offering comfort food that is filling and delicious.
Poulet Bleu
Poulet Bleu is a french-style pub dedicated to excellent food and experienced serving performance. Their food is French-inspired, but they offer an American cuisine twist. Guests can enjoy their visit in the dining room or on the patio.
While their food is refined, the atmosphere offers the rustic feel of comforting of a bistro. The wicker and wood decor allows guests to enjoy their meal in a homey, warm setting.
Tupelo Honey
Tupelo Honey, originally founded in the Carolina Mountains, offers guests a southern-inspired experience. They offer traditional southern dishes like cast-iron pork, fried chicken, and meatloaf.
This location offers a homey atmosphere that's perfect for family and friends to gather for breakfast, lunch, and dinner. With different options to add to your meal, it's the ideal opportunity to get a mix of flavors in one meal.
Bar Marco
Bar Marco is a cozy establishment that offers a menu of comfort food and carefully crafted items alike. Guests can dine inside or outside but get to appreciate the warmth and charm of the atmosphere.
The restaurant offers a fixed price per meal menu, making it easy for anyone to stay on a budget. If you dine at this cozy but elegant place, they ask for proof of vaccination or negative COVID-19 results before dining in.
Sienna Mercato
Sienna Mercato is an Italian cuisine restaurant that is an umbrella for three different dining destinations. On the first floor, Emporio specializes in gourmet meatballs. Mezzo on the second floor features wood-fired pizzas, pasta, and specially selected wines. Il Teto is a rooftop beer garden on the third floor.
This destination can give you three experiences in one or more visits.
P&G's Pamela's Diner
Pamela's Diner is a perfect brunch option for those looking to grab a quick bite before making an early show. This Strip District location is known for its breakfast foods but also has burgers and sandwiches for the lunch crowd.
This quaint little diner is a hidden gem for those looking for inexpensive, delicious brunch food before starting their big day.
Proper Brick Oven & Tap Room
Owned and operated by a Pittsburg native, Proper Brick Over & Tap Room is a pub that was born from the concept of creating a proper bar and restaurant. They offer some exceptional pizzas as well as tasty sandwiches and seasonal specials.
This high-quality pub-style establishment is the perfect location for a cozy, fun experience with friends and family.
Condado Tacos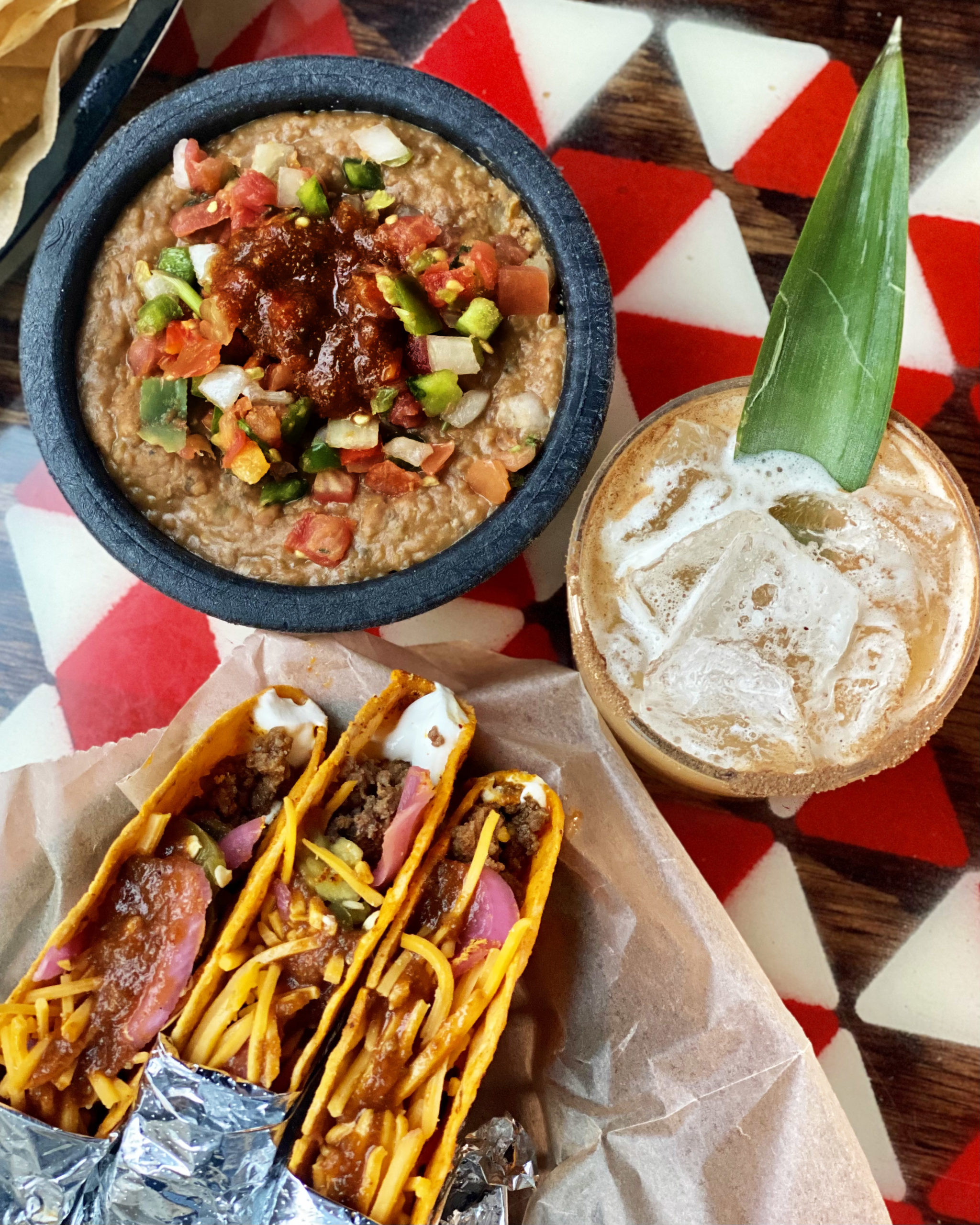 Condado Tacos is a Mexican-inspired bistro with various excellent tacos and dip options. They're best known for their build-your-own taco bar, allowing guests to pick and choose what items and how much of it they want on their meal.
This restaurant prides itself on focusing on two main dishes: tacos and margaritas. This is an ideal location for the individual looking for something particular, delicious, and perfectly designed (especially when it's by your specific selections).
Dianoia's Eatery
Dianoia's Eatery is an Italian restaurant with a cozy, friendly atmosphere. By day, this establishment is an Italian deli and cafe but is transformed into a high-quality restaurant by night.
Staying true to its roots, this restaurant makes all of its pasta, bread, and pastries by hand and in-house. Guests can choose an intimate outdoor setting or a warm environment inside.
Wrap Up
There are dozens of dining choices in downtown Pittsburg conveniently near the PPG Paints Arena. Everybody has different expectations when they go to a restaurant, but good food, drinks, and service are ideal for any guest.
Whether you're looking for a stylish bistro, a cozy diner, or an upscale establishment, there's sure to be something in this area for your taste. These 18 restaurant options are some of the best and offer a variety of exceptional food and atmospheres.