Nestled in the heart of Philadelphia, Citizens Bank Park is the iconic home of the city's beloved baseball team, the Philadelphia Phillies.
Since opening its gates on April 12, 2004, this much-loved stadium has created countless memories for its passionate fans and has become a symbol of the city's sports culture.
As the official bank of the Phillies, Citizens Bank is proud to be a sponsor of Phillies-related community initiatives, further cementing its place as an integral part of the Philadelphia community.
One of the most notable features of Citizens Bank Park is the 13,000-square-foot interactive kids' baseball experience, The Yard, located in Ashburn Alley.
This impressive attraction offers young fans a fun and engaging way to enjoy the park, making it an ideal destination for families and groups. In addition, the stadium's modern facilities and ample seating contribute to its status as a premier destination for sports enthusiasts.
Visitors to Citizens Bank Park can also appreciate its unique and vibrant atmosphere, which is further enhanced by the dedicated fan base.
The park's layout encourages fans to come together and share the excitement of the game, while also providing the opportunity to enjoy local food and beverages.
With a captivating ambiance and exceptional facilities, Citizens Bank Park remains a must-visit destination for anyone looking to experience the true spirit of Philadelphia baseball.
History and Construction
Timeline
Citizens Bank Park, located in Philadelphia, Pennsylvania, opened to the public on April 12th, 2004.
This stadium serves as the home playing field for the Philadelphia Phillies, the city's Major League Baseball (MLB) team.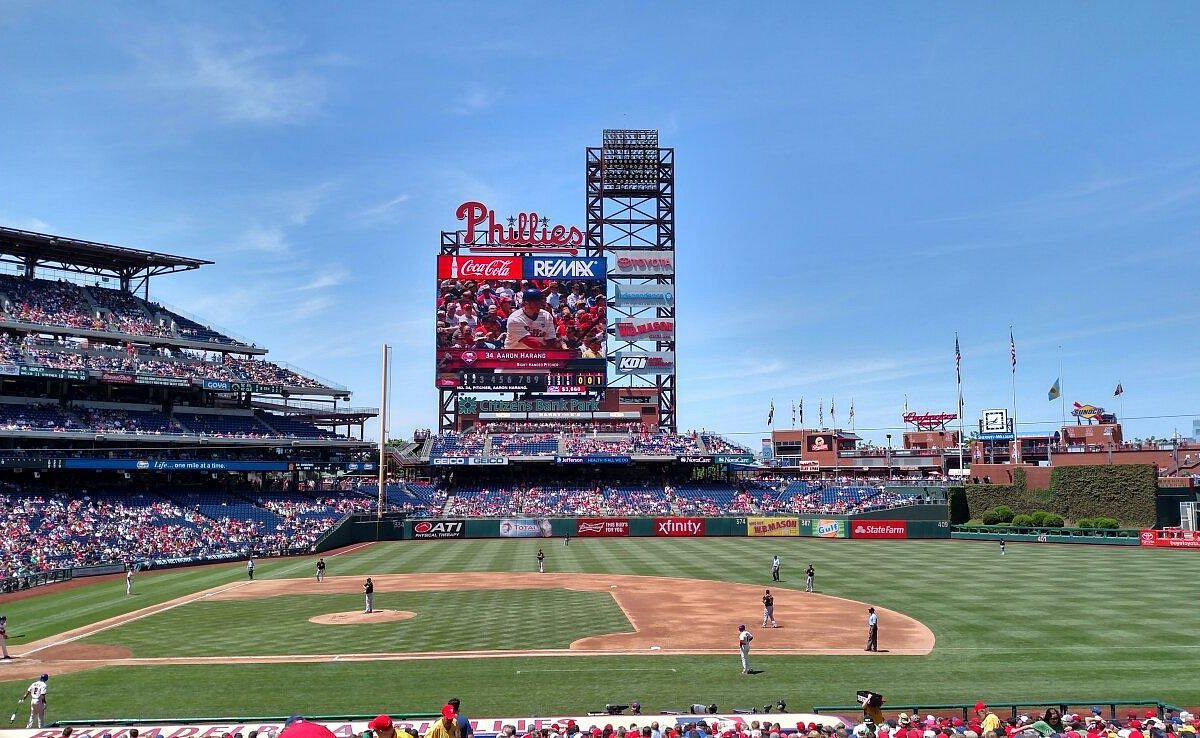 Architecture and Design
The park was constructed on a 21-acre site in the South Philadelphia Sports Complex, with an estimated cost of $350 million.
The sizeable facility boasts a seating capacity of nearly 44,000 spectators and features a natural grass and dirt playing field.
Citizens Bank Park was designed with accessibility and comfort in mind. By collaborating with an Americans with Disabilities Act (ADA) consultant, the architects aimed to make the space universally accessible to fans with disabilities.
Additional noteworthy features of the ballpark include:
Location: North side of Pattison Avenue between Citizens Bank Way and Darien Street
Opening date: April 12th, 2004
Teams: Philadelphia Phillies (Main tenant)
Overall, Citizens Bank Park has become an iconic venue for Phillies fans and continues to serve as a key fixture in the city's sports scene.
Stadium Features
Seating Capacity
Citizens Bank Park, the home of the Philadelphia Phillies, is a 43,500-seat stadium with a natural grass playing surface.
The stadium offers fantastic views of the Philadelphia skyline, enhancing the overall fan experience.
Amenities
One of the most notable amenities at Citizens Bank Park is Ashburn Alley, an in-stadium entertainment complex named after Phillies great Richie Ashburn.
Ashburn Alley features:
A Memory Lane of Phillies lore
Batting and throwing games for fans' entertainment
Additionally, the park offers "The Yard", a 13,000-square-foot interactive kids' baseball experience, located in right field in Ashburn Alley.
Services
Citizens Bank Park is committed to providing an accessible and enjoyable experience for all attendees.
The stadium offers:
A comprehensive A-to-Z Guide for visitors
ADA-compliant facilities and information
The park is also well-known for its range of concessions, offering a variety of food and beverage options to satisfy all tastes.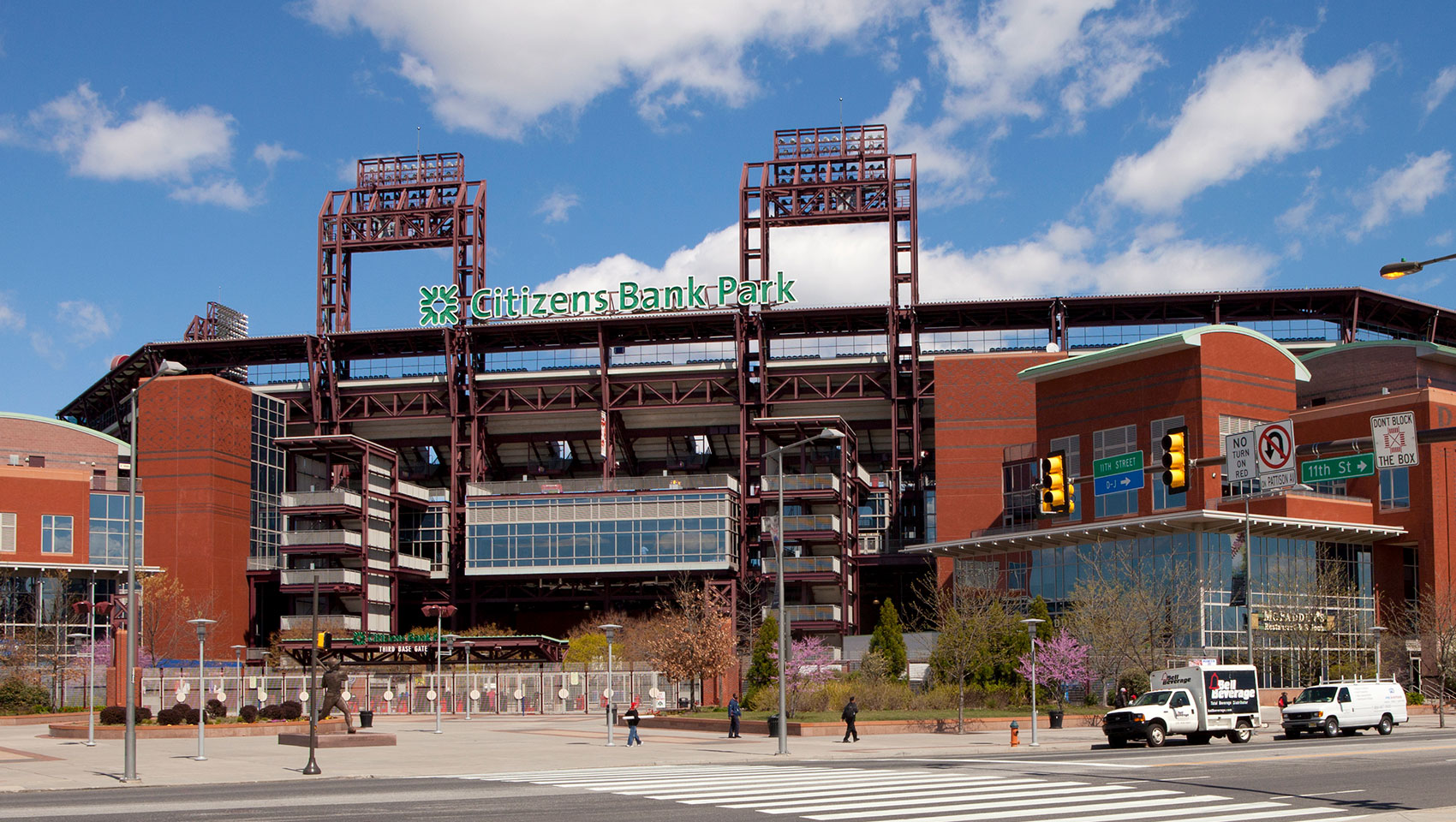 Events and Attractions
Philadelphia Phillies Games
Citizens Bank Park is the proud home of the Philadelphia Phillies, one of the oldest teams in Major League Baseball.
Baseball enthusiasts and casual fans alike can enjoy the electric atmosphere as they cheer on their favorite players from the stands.
With a variety of seating options and a vast array of food choices, there's something for everyone at a Phillies game.
Concerts and Other Events
In addition to hosting Philadelphia Phillies games, Citizens Bank Park serves as a versatile venue for concerts and special events throughout the year.
Renowned artists have performed at the park, creating unforgettable experiences for music lovers. Moreover, the stadium offers an impressive array of event spaces, accommodating gatherings ranging from 25 to 25,000 guests.
Whether it's an outdoor beer garden at Pass and Stow or a climate-controlled space with amazing views, Citizens Bank Park has the perfect setting for your event.
James is a big time NBA Golden State follower, who makes sure to catch games when he's in the area. He likes to follow International Soccer, with an interest in small town soccer club, Blackburn Rovers located in the North on the UK.