Lincoln Financial Field, home to the Philadelphia Eagles, is an iconic stadium that hosts various events and attracts thousands of visitors each year. It's crucial for anyone planning to attend a game or event at the stadium to know the most convenient methods of getting there. This quick guide will provide you with essential tips on the most reliable travel options, ensuring your visit to "The Linc" is an enjoyable and hassle-free experience.
Whether you're a local or an out-of-town visitor, there are seamless ways to reach Lincoln Financial Field. Public transportation options like the SEPTA Broad Street Subway Line offer efficient connectivity, while driving and parking alternatives are available for those who prefer more independence. Ridesharing services, taxis, biking, and walking options all cater to diverse preferences, ensuring a smooth commute to and from the stadium. Moreover, the stadium offers accessibility services for individuals with disabilities, ensuring an inclusive and welcoming environment for all attendees.
Key Takeaways
Public transportation, driving, and ridesharing are viable options to reach Lincoln Financial Field.
Biking and walking offer eco-friendly and health-conscious alternatives for getting to the stadium.
Accessibility services ensure a hassle-free experience for individuals with disabilities attending events at the venue.
Public Transportation Options
Regional Rail
There are several regional rail lines that can be used to get to Lincoln Financial Field. Passengers can take any line to Suburban Station in Center City, Philadelphia. From there, they can transfer to the Broad Street Line subway to reach the stadium.
Broad Street Line
The quickest way to Lincoln Financial Field via public transportation is to take the SEPTA Broad Street Line. Travel south and exit at the last southbound stop, NRG Station. From Center City, North Philadelphia, and South Philadelphia, this is the most convenient method.
From Center City: Board the SEPTA Broad Street Line subway going south and exit at NRG Station.
From North Philadelphia: Join the SEPTA Broad Street Line subway going south and get off at NRG Station.
From South Philadelphia: Take the SEPTA Broad Street Line subway southward and depart at NRG Station.
SEPTA Bus Routes
There are multiple bus routes that serve the area near Lincoln Financial Field. Below are some options to consider:
Route C bus: This route operates southbound from Center City to Broad Street. Passengers can then walk to the stadium from there.
Lib & Normandy Place: This stop is 483 yards away from Lincoln Financial Field and a 6-minute walk.
11th St & Zinkoff Blvd – FS: This stop is 496 yards away and an 8-minute walk from the stadium.
Broad St & Hartranft St: This stop is 568 yards away and a 7-minute walk from Lincoln Financial Field.
By using any of these public transportation options, visitors can easily access Lincoln Financial Field without the hassle of driving or parking.
Driving and Parking
Directions
There are a couple of available routes to reach Lincoln Financial Field by car:
Option #1: Take Route 3, West Chester Pike, to I-476 south (Blue Route). Follow I-476 to I-95 north. Take I-95 north past the airport and Navy Yard to Broad Street, Exit 17 (formerly Exit 14) from the right-hand lane. Follow this into stadium parking.
Option #2: Take I-95 north to Packer Ave, Exit 19 (formerly Exit 15) and bear right off exit.
Parking Lots
There are various parking lots around the stadium where you can park your car. Alternatively, you can park your car north of Lincoln Financial Field and take a subway to the NRG Station, which is within a several-minute walk.
Fees
Parking fees may vary depending on the event and the specific parking lot you choose. It is recommended to check the event and stadium website for updated information on parking fees and availability.
Ridesharing and Taxis
Rideshare Services
Rideshare services like Uber and Lyft are popular options for getting to and from Lincoln Financial Field. These platforms connect you with private drivers who can pick you up and drop you off at your destination. They're easily accessible on smartphones, so you can request a ride with just a few taps. When leaving the venue, make sure to schedule your pickup at a designated location to avoid confusion and ensure a smooth ride experience.
Keep in mind that after events at Lincoln Financial Field, there might be higher demand for rideshare services, which could lead to longer wait times and increased prices due to surge pricing. To avoid these issues, it can be helpful to travel slightly earlier or share your ride with other passengers heading in the same direction.
Taxi Services
If you prefer a traditional taxi experience, there are several taxi companies operating in Philadelphia that you can rely on. During events at Lincoln Financial Field, you might find more taxis near Broad Street or Walnut Locust. To secure a taxi, you can either hail one on the street, call a cab company, or use a taxi app.
While taxi services can be convenient, they might also be subject to delays and higher fares during events at the stadium. It's important to plan accordingly and consider other transportation options if you're trying to save time or money while navigating your way to and from the venue.
Biking and Walking
Bike Routes
Biking to Lincoln Financial Field can be a convenient and enjoyable option for those who prefer an active mode of transportation. The SRT (Schuylkill River Trail) and Delaware River Trail are popular bike routes that can be taken to reach the stadium area. Remember to plan your route ahead of time and make sure to follow bike lanes and marked paths.
Additionally, some bike share programs are available around Philadelphia, making it easier to rent a bike if you don't have your own. Don't forget to bring a lock if you plan to secure your bike near the stadium.
Walking Paths
For those who prefer a leisurely stroll, walking to Lincoln Financial Field can be a pleasant experience as well, especially for those staying in nearby hotels or residing in South Philadelphia. Make sure to follow sidewalks and crosswalks to ensure your safety.
If you're coming from Center City, you can walk along Broad Street which takes you directly towards the stadium. Consider taking a detour through the Philadelphia Navy Yard to enjoy the scenic views and waterfront trails, while still maintaining an efficient route to the stadium.
Remember that walking longer distances can be taxing, so make sure to wear comfortable shoes and stay hydrated. Plan your walking route ahead of time using convenient mapping tools to make your journey to Lincoln Financial Field as smooth as possible.
Accessibility Services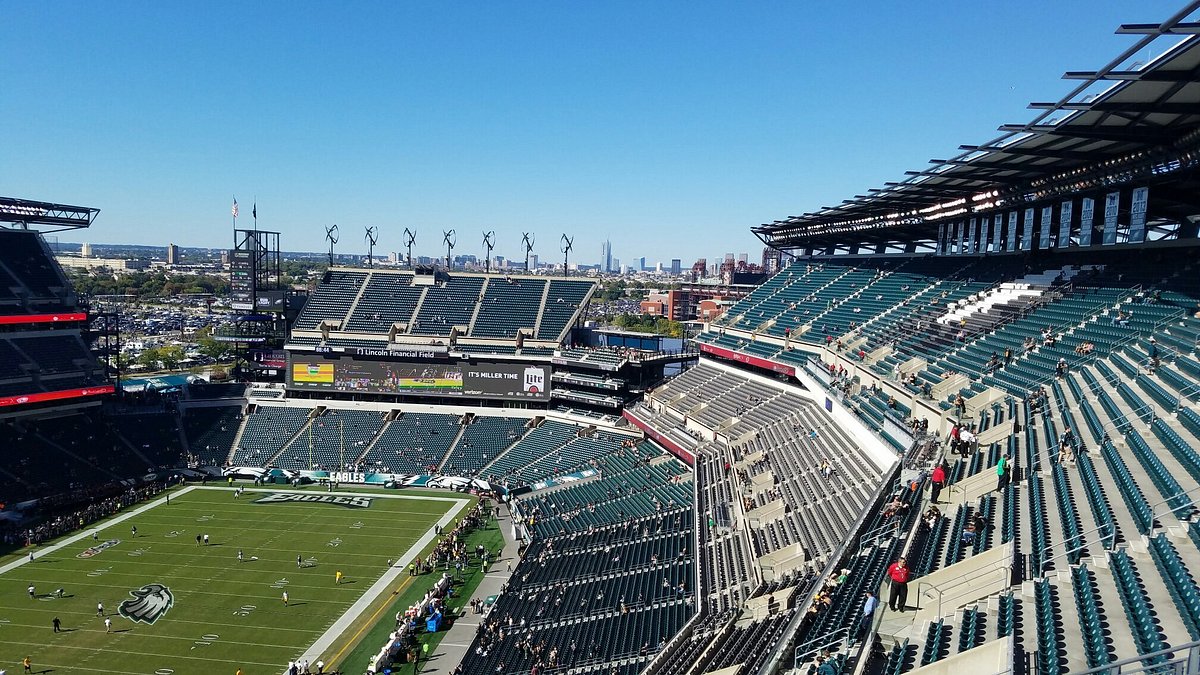 ADA Parking
ADA parking is available at Lincoln Financial Field for guests with disabilities. Accessible parking spaces are located in close proximity to the stadium and are reserved for those displaying a valid accessible parking permit. It's essential to bring the accessible permit to ensure there is proper accommodation.
Assistance for Guests with Disabilities
Lincoln Financial Field is designed with accessibility services in mind, ensuring guests with disabilities have a comfortable and enjoyable experience. These accommodations include:
Accessible vehicle drop-off areas: Strategically located for easy entry and exit to the stadium.
Power-assisted doors: To ensure ease of access for all guests.
Restrooms: Accessible restrooms are available throughout the stadium.
Concessions: Wheelchair-accessible counters in food and beverage areas.
Water fountains: Designed for easy access by all guests.
ATMs: Accessible ATMs are placed throughout the stadium.
Seating areas: Designated sections such as 118, 119, 122, 131, 136, 137, Northeast Terrace 1-3, and others feature accessible seating.
Assistive listening devices: Available for guests with hearing impairments.
Mobile event captioning devices: Provided to ensure clear and concise understanding during events.
For additional information regarding accessible services at Lincoln Financial Field, guests may contact Fan Services at 267.570.4400 (VOICE: 267.570.4400. RELAY: 711).