When I first visited PNC Park, I was struck by its intimate, classic-style design and the stunning views of downtown Pittsburgh and the riverfront. As a sports fan, I wanted to make sure I had all the information I needed about gate locations, parking, and entrance details to make my game day experience as smooth as possible. So, I've put together this handy guide to help you navigate PNC Park like a pro!
Gates at PNC Park open one and a half hours before most start times, with the exception of 6:35 p.m. games on Monday through Thursday, when they open just one hour before the game. For those with access to the Home Plate Club, gates open two hours prior to game time. I've found that arriving early allows me to fully appreciate the historic charm of the ballpark and take in the breathtaking views.
In the next sections of this guide, I'll be sharing more details on the different gate locations and parking lot entrances, along with some helpful tips for making your PNC Park adventure a memorable one. Get ready to enjoy a fantastic game day experience at one of the most exciting urban sports venues I've had the pleasure of visiting!
Location and Parking
Parking Lots
In my experience, when visiting PNC Park for a Pittsburgh Pirates game, I have found several convenient parking options on the North Shore of Pittsburgh. Some of my go-to choices include lots 7A, 7B, 7C, and 7D as well as the surface River Road lots, NOVA Place garage, and the Blue 10 Garage. Personally, I recommend using the Waze app as it can help me find the best route directly to my chosen parking spot.
Lots 7A, 7B, 7C, and 7D: Great options near the stadium.
River Road Lots: A bit further, but still a solid choice.
NOVA Place Garage and Blue 10 Garage: Covered parking options with an easy walk to the stadium.
Public Transit Options
When I'm not driving to PNC Park, I have found that public transit is a convenient alternative. Some of the public transit options I have used to reach the stadium include the Pittsburgh Light Rail or "T" system and the city's bus service, both operated by the Port Authority of Allegheny County.
Light Rail ("T"): The "T" system has a stop at North Side Station, which is just a short walk from PNC Park. It provides a quick and easy way to get to the game.
Bus Service: Numerous bus routes run throughout the city and can get you close to the stadium. You can find the best route using the Port Authority's trip planner tool on their website.
All in all, whether choosing to drive to PNC Park or using public transit, I have always found that there are plenty of easy options for getting to the game without much hassle.
Entrance Gates
Gate A
At PNC Park, you can find Gate A along the riverwalk side of the stadium. This entrance is most convenient for fans arriving from the downtown area or crossing the Roberto Clemente Bridge. As you approach the gate, you'll likely appreciate the beautiful view of the river and downtown Pittsburgh.
Gate B
Gate B is located near the corner of West General Robinson Street and Federal Street. With proximity to parking lots on West General Robinson Street, it's a popular entry point for those who parked nearby. You will find this entrance just across the street from the northern side of the ballpark.
Gate C
If you're visiting PNC Park and are nearer to the east end of the stadium, use Gate C. This entrance is situated on Mazeroski Way, close to the intersection with Tony Dorsett Drive. It's convenient for fans coming from nearby parking lots or making their way from points east of the stadium.
Gate D
Lastly, Gate D can be found on the west end of PNC Park. You'll spot this entrance on the corner of Federal Street and West General Robinson Street. This gate is also convenient for fans parking in nearby lots or walking from areas west of the stadium.
Before planning your visit, always remember to check the specific gate opening times for the game you'll be attending. In general, gates open one and one-half (1 ½) hours before game start times. However, for 6:35 p.m. games on Monday-Thursday, gates will only open one (1) hour before game time and one and one-half (1 ½) hours before game time on Friday-Saturday. Happy game day!
Security and Bag Policy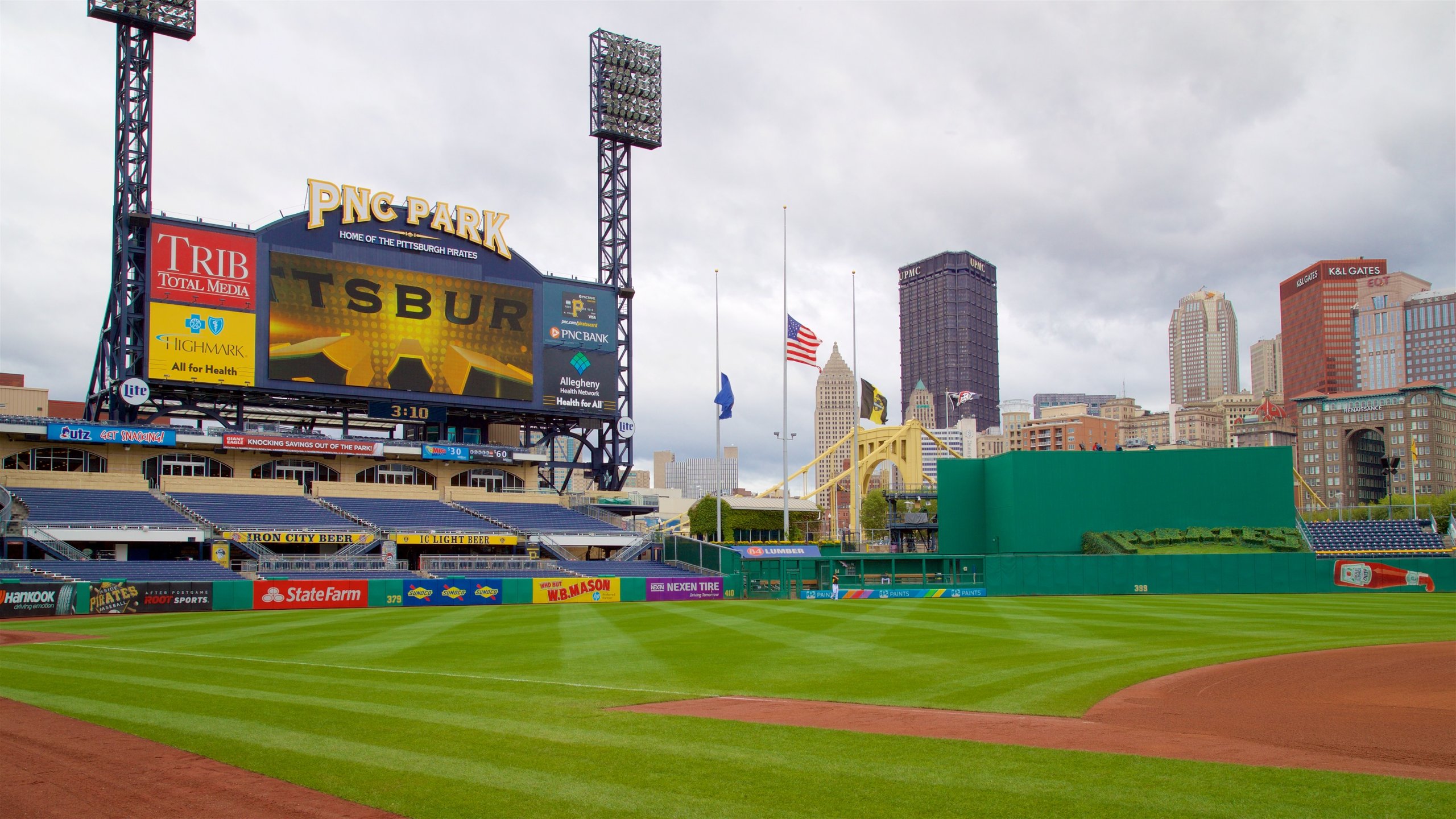 Security Checks
Upon entering PNC Park, I've experienced thorough security checks to ensure the safety and security of everyone in the stadium. This includes metal detectors and bag searches. It's essential to keep in mind that all bags are subject to search, so be prepared to cooperate with security staff to ensure a smooth entrance process.
Bag Restrictions
As a frequent visitor to PNC Park, I always make sure to follow the bag policy, which allows each guest to bring one bag into the stadium. This could be a purse, a fanny pack, a backpack, or a similar item. However, it's crucial to ensure that the bag you bring is soft-sided and measures no larger than 16″ x 16″ x 8″. Any bags exceeding these dimensions will not be permitted inside PNC Park. So, to make my visit more enjoyable and hassle-free, I pay close attention to bag size and the items I pack to meet these requirements.
Facilities
Restrooms
There are plenty of restrooms available for both men and women at PNC Park. As a visitor, I find them to be clean and well-maintained. Additionally, there are family restrooms and wheelchair-accessible options for those who need them. When I attend a game, I can easily locate signs directing me to the nearest restrooms.
Food and Beverage
One of my favorite parts about attending a game at PNC Park is the wide variety of food and beverage options. From classic ballpark fare like hotdogs and soft pretzels to local Pittsburgh favorites like Primanti Bros, there's something for everyone. I love having the option to try out new food stands or indulge in my favorite game day snacks. The ballpark also offers a selection of adult beverages, including local beers and cocktails.
Smoking Areas
While PNC Park is a smoke-free facility, they do provide designated smoking areas outside the ballpark for guests who wish to smoke. When I need to find a smoking area near me, it's as simple as locating one of the park's guest services representatives who are always more than happy to provide assistance. It's good to know that these designated areas are in place so that fans can enjoy the game in a smoke-free environment.
Special Services
Wheelchair Assistance
I've discovered that the Pirates are dedicated to offering a comfortable and enjoyable experience for everyone at PNC Park, including guests with disabilities or special needs. If you need wheelchair assistance, it's available at the ballpark. Feel free to ask for help from staff members when you arrive, and they will guide you to your seating area.
Lost and Found
In case you happen to misplace any personal items during your visit, don't worry – PNC Park has a Lost and Found service to help you locate your belongings. If you become aware that you've lost something while still at the park, simply contact a staff member who can direct you to the Lost and Found area. If you've already left the park and realize you're missing an item, you can contact PNC Park via their website or phone number to check if your item has been turned in and arrange for its return. Remember, it's always a good idea to keep an eye on your belongings and double-check your area before leaving the game to ensure you have everything with you.
Rules and Regulations
As a fan visiting PNC Park, it's essential to be aware of the rules and regulations in place to ensure a safe and enjoyable experience for everyone. I want to share with you a few important things to know before you head to the ballpark.
Firstly, it's encouraged to bring as little as possible with you to speed up the entry process. Non-essential items are better left at home or in your car. When passing through the walk-through metal detectors, you'll need to remove only certain items such as cell phones, cameras, tablets, laptops, and any other large metal objects.
Gates at PNC Park typically open one and a half hours before game time, except for 6:35 p.m. games Monday through Thursday, where gates only open one hour before the game. For Friday and Saturday games, gates will still open one and a half hours early. Keep in mind that the Home Plate Club opens two hours prior to game time.
As a friendly reminder, PNC Park is a smoke-free facility, and smoking is prohibited within its premises. Please be considerate of your fellow fans by adhering to this policy.
Lastly, always remember to be respectful and courteous to other fans and staff. By abiding by these basic rules and regulations, you're contributing to a more enjoyable and memorable visit to PNC Park.