PPG Paints Arena, the bustling home of the Pittsburgh Penguins and a popular venue for various events, takes pride in offering its visitors a wide array of food and beverage options to enhance their experience. From traditional game day favorites to healthier alternatives, the arena's concession stands ensure there's something to satisfy every taste bud.
With a focus on variety and quality, PPG Paints Arena has introduced both healthy salad and fruit options at sections 108 and 116, as well as crowd-pleasing BBQ dishes, such as beef brisket sandwiches and chicken sandwiches, in sections 115 and 205. Fans can also enjoy the flavors of the 'Four Corners Quesadilla' featuring flank steak and an assortment of mouthwatering toppings, as well as Mexican Fiesta's offerings of chicken burritos, taco mac and cheese, short rib nachos, and street corn from Mexican Fiesta.
As the culinary landscape evolves, PPG Paints Arena continues to adapt by expanding their menu options and ensuring guests have access to delicious and satisfying food choices while they cheer on their team or attend a memorable event.
Signature Foods
PPG Paints Arena offers a variety of delicious food options for visitors to enjoy while watching their favorite sports or entertainment event. In this section, we'll explore the signature foods available at the arena, focusing on local favorites and vegetarian options.
Local Favorites
When it comes to local favorites at PPG Paints Arena, fans can indulge in a range of dishes that represent Pittsburgh's unique culinary offerings. One such item is the classic Primanti Bros. sandwich – a Pittsburgh staple that features meat, cheese, coleslaw, and French fries, all stacked between two slices of bread. You can find this iconic sandwich at various locations within the arena.
Another local favorite to consider trying is the traditional Pittsburgh-style hot dog, which comes topped with coleslaw and hot sauce. These delicious options truly capture the essence of the city's food culture.
Vegetarian Options
For those seeking vegetarian options at PPG Paints Arena, there are several choices available to cater to a plant-based diet. Fans can enjoy a variety of arena classics like nachos, pretzels, and popcorn, as well as specialty items like veggie burgers and portobello mushroom sandwiches.
Additionally, visitors can explore various food stands and concession areas throughout the arena to discover even more vegetarian-friendly dishes. With an impressive selection of options, fans can easily find satisfying and nourishing meals while enjoying an event at PPG Paints Arena.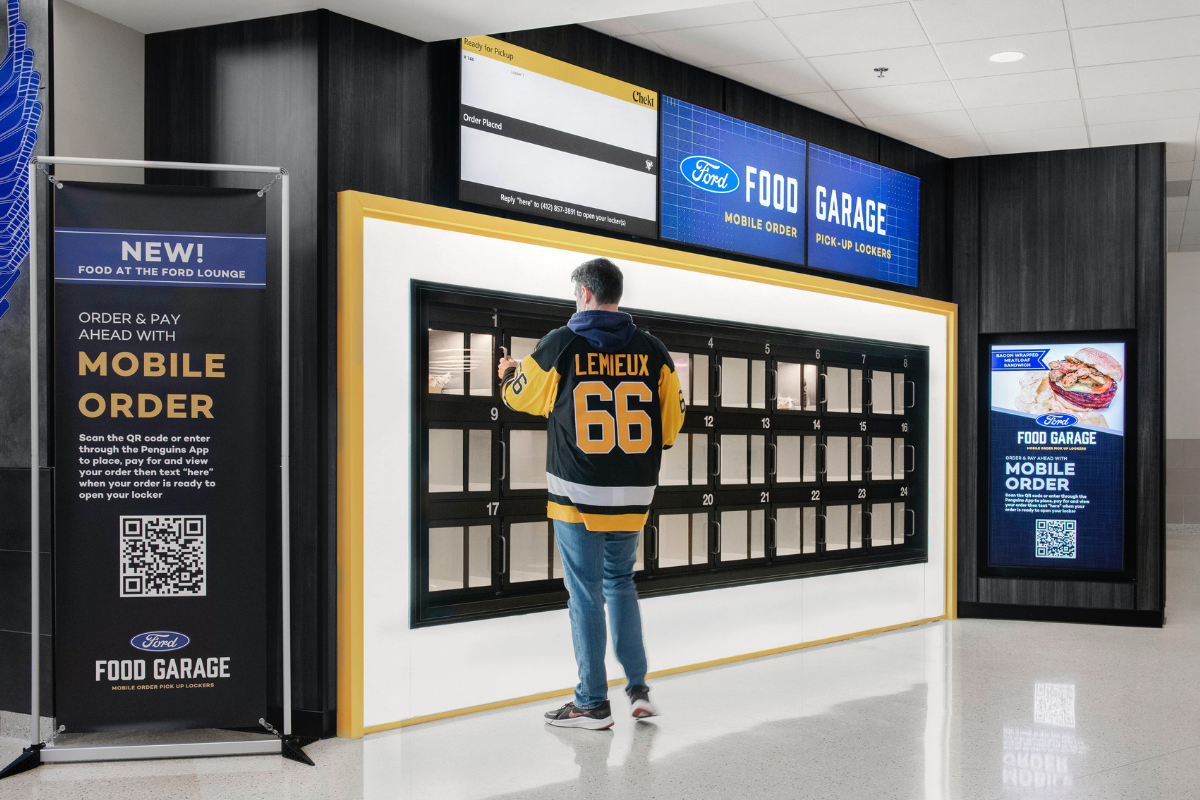 Dining Locations
PPG Paints Arena offers various dining options for event attendees to enjoy during their visit. The arena features concession stands, premium dining experiences, and pop-up vendors to satisfy different tastes and dietary preferences.
Concession Stands
Various food and beverage concession stands are available throughout PPG Paints Arena, providing classic stadium fare and locally-inspired dishes. Guests can find favorites such as:
Dunkin Donuts
Italian Sausage
Classic Meals
Smith's Hot Dogs
Nakama
Healthy Salad and Fruit
BBQ Food Options
Emporio
Premium Dining
For a more elevated dining experience, PPG Paints Arena houses premium dining options such as Burgatory and Smokehouse, offering fantastic burger creations and an array of delicious BBQ items respectively. These restaurants are conveniently located within the arena for those seeking a more refined stadium experience.
Pop-Up Vendors
The arena also features a Make-Rotating Concept Kitchen which includes pop-up vendors, allowing for a diverse culinary scene. These stands change their themed food concepts throughout the season, providing a unique and exciting gastronomic experience at each visit to PPG Paints Arena.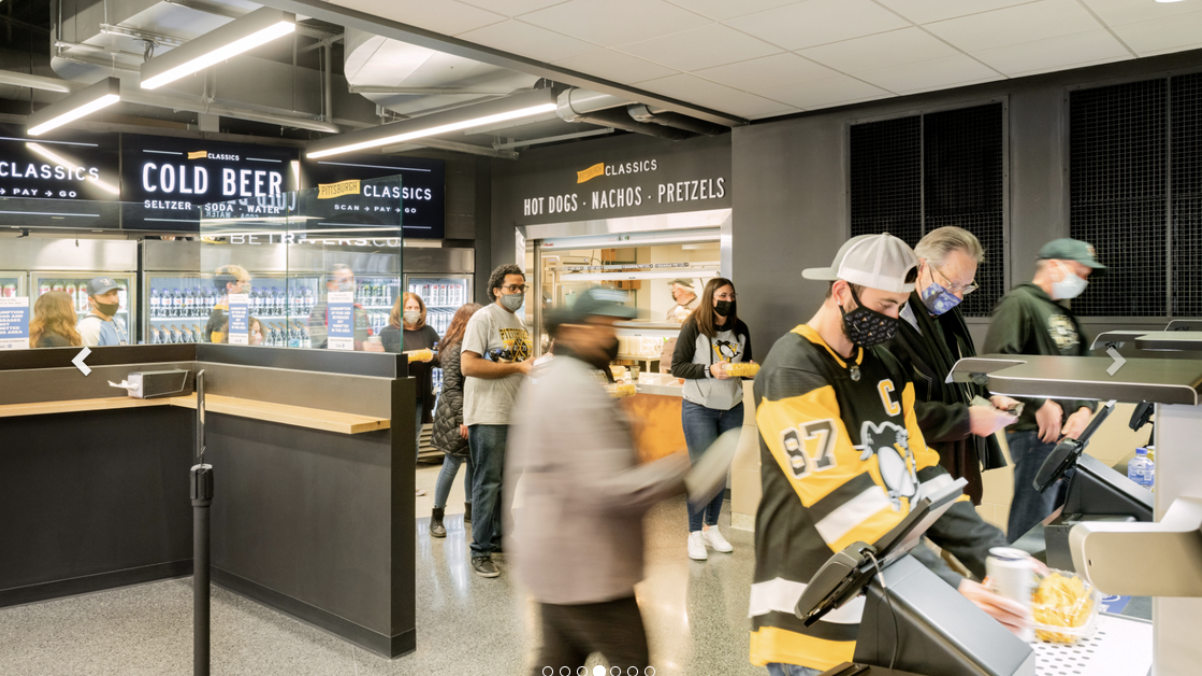 Drinks and Beverages
PPG Paints Arena offers a wide selection of drinks and beverages to its guests during events. In this section, visitors can find options for both alcoholic and non-alcoholic drinks, catering to every preference and mood.
Alcoholic Options
For those looking to enjoy an alcoholic beverage while attending an event at PPG Paints Arena, there are several options available. The arena offers a variety of beers, wines, and cocktails. Guests can choose from local craft beers and popular national brands to suit their tastes. For wine lovers, there is a range of red, white, and sparkling wines. Additionally, the arena features a selection of signature cocktails for those who prefer a more creative drink option.
Non-Alcoholic Options
Guests who prefer non-alcoholic beverages have numerous choices at PPG Paints Arena as well. Soft drinks, including a variety of popular sodas, are readily available throughout the concession areas. The arena also provides bottled water, fruit juices, and iced tea for those looking for more refreshing options. Furthermore, fans can enjoy hot beverages like coffee, tea, and hot chocolate in colder seasons.
Allergen and Dietary Needs
PPG Paints Arena strives to accommodate the diverse dietary preferences and requirements of its guests. In this regard, the arena offers a range of food options that cater to various allergen concerns and dietary needs, as detailed in the following subsections.
Gluten-Free
For visitors with gluten sensitivities or preferences, the food vendors within the arena work hard to include gluten-free options in their offerings. Although specific offerings may vary depending on the event, guests can seek gluten-free items at concession stands throughout the venue. Availability may change based on the event, so it is recommended to contact PPG Paints Arena beforehand to confirm gluten-free options.
Nut Allergies
Guests with nut allergies should be aware that PPG Paints Arena cannot guarantee a completely nut-free environment. However, the food providers within the arena share a commitment to prioritizing the safety and convenience of attendees with nut allergies.
To ensure a comfortable experience, guests with such concerns are encouraged to review the A to Z Guide or get in touch with the arena's staff for further information and assistance.
Guests with special allergen concerns, such as nuts or other ingredients, can also address their needs by reaching out to PPG Paints Arena on 412.553.8570 for specific catering inquiries or questions and comments.
Payment Methods
When visiting PPG Paints Arena, it is essential to be familiar with the different payment methods available at the venue for purchasing food and beverages. Several options are available to make transactions seamless and hassle-free for visitors.
Most food and beverage concessions at the arena accept major credit and debit cards, providing a convenient and secure way to pay for your purchases. Additionally, contactless payment methods, such as Apple Pay and Google Pay, are typically supported at various concession stands, ensuring a fast and efficient payment process. Some concessions may also accept cash payments, but it is worth confirming available payment methods at each individual stand.
PPG Paints Arena has also introduced a convenient food locker system, where fans can order food and drinks from their seats using a mobile app. This innovative system allows visitors to avoid waiting in line and simply pick up their orders at designated lockers. Payments for this service are made through the app, with secure payment options such as credit or debit cards and mobile wallet services.
Always check the payment methods available at individual concession stands, as they may vary depending on the event or the specific food vendor. This will ensure a smooth and enjoyable experience for all visitors while attending an event at PPG Paints Arena.
Nearby Restaurants
For those looking to enjoy a meal before or after an event at PPG Paints Arena, there are several top-rated restaurants nearby to satisfy a variety of tastes.
Barrel Junction and Coughlin's Law Kitchen and Ale House are popular spots located near PPG Paints Arena, according to TripAdvisor.
Additionally, Thrillist recommends a variety of options, including Z-Best Barbecue Chicken and Ribs, The Souper Bowl, and The Commoner. Another noteworthy establishment is Sienna Mercato, known for its rooftop beer garden.
Yelp's top 10 restaurants near PPG Paints Arena include The Eagle Food & Beer Hall, Moonlit Burgers, Gaucho Parrilla Argentina, and Bae Bae's Kitchen, among others. Some of these eateries offer unique atmospheres, such as Bridges & Bourbon and Ritual House.
With a wide range of culinary options available within walking distance of PPG Paints Arena, visitors are sure to find something to suit their taste preferences and budget.
James is a big time NBA Golden State follower, who makes sure to catch games when he's in the area. He likes to follow International Soccer, with an interest in small town soccer club, Blackburn Rovers located in the North on the UK.