Bridgestone Arena, home to the Nashville Predators, offers a variety of delicious food options for fans to enjoy during events and games.
From classic arena fare to unique local flavors, there is something for everyone to satisfy their taste buds.
In this article, we will explore some of the mouthwatering options available at the venue
Among the food options at Bridgestone Arena, fans can find classic dishes such as hot chicken, grilled cheese, and artisan pretzels. The Patron Platinum Club on the Club Level offers more upscale choices like tenderloin sliders, mini lobster rolls, shrimp cocktail, and much more. Other popular dining spots within the arena include Pete & Terry's Tavern and Barrel House, which offer a range of dishes and beverages for visitors to enjoy.
For those looking for a more interactive experience, the Interactive Arena Map and official app can be used to easily locate dining options within the venue.
With so many tasty offerings available, a visit to Bridgestone Arena is sure to be a gastronomic treat for all in attendance.
Bridgestone Arena Overview
Bridgestone Arena, located in Nashville, Tennessee, serves as the home of the Nashville Predators in the NHL and hosts numerous events, including concerts and other sports events. This versatile venue boasts a diverse range of dining options for its visitors, catering to various tastes and preferences.
In addition to providing a world-class sporting and entertainment experience, Bridgestone Arena ensures that its guests enjoy an array of delicious and satisfying food choices. Some of the standout food offerings at the arena include hot chicken mac & cheese, turkey meatloaf burgers, tenderloin sliders, and mini lobster rolls, among others.
Visitors to the arena can indulge in classic food options like hot chicken and grilled cheese from the Goal Zone, or treat themselves to fresh lemonade from the Squeezed Lemonade Stand. Furthermore, for those who enjoy craft beers and pretzels, there are dedicated stands to quench your thirst and satisfy your cravings. Bridgestone Arena also offers numerous dining options during hockey games, concerts, and other events.
Beyond these food options, the main concourse of the Arena features a Puckett's operated barbecue stand and a Hot Chicken stand for visitors to explore and enjoy.
Popular Dining Options
Local Favorites
Bridgestone Arena offers a variety of local favorites for you to enjoy during events. One popular option is Pete & Terry's Tavern, which is located just outside the Nissan SoBro Entrance and offers a comfortable atmosphere along with a great selection of food and beverages. Hours of operation are generally 11 a.m. to post event on event nights at the arena.
Another popular choice is Blanco Cocina + Cantina which offers contemporary Mexican cuisine and is just a short walk from the arena. With its unique and modern take on traditional Mexican dishes, this restaurant can be the perfect spot for pre or post-event dining.
Franchise Restaurants
In addition to local favorites, Bridgestone Arena also offers a number of franchise restaurant options for visitors. These options typically include classic arena staples such as burgers, hot dogs, fries, soda, water, popcorn, pretzels, chicken fingers, chicken tenders, bratwurst, and more. You can find these items at various Goal Zone locations throughout the venue.
Dessert and Snack Options
For visitors with a sweet tooth, Bridgestone Arena does not disappoint. Among the dessert and snack options available are ice cream, frozen yogurt, and freshly baked cookies. These treats can be found at various concession stands and kiosks scattered around the arena, so be sure to keep an eye out for them as you explore the venue.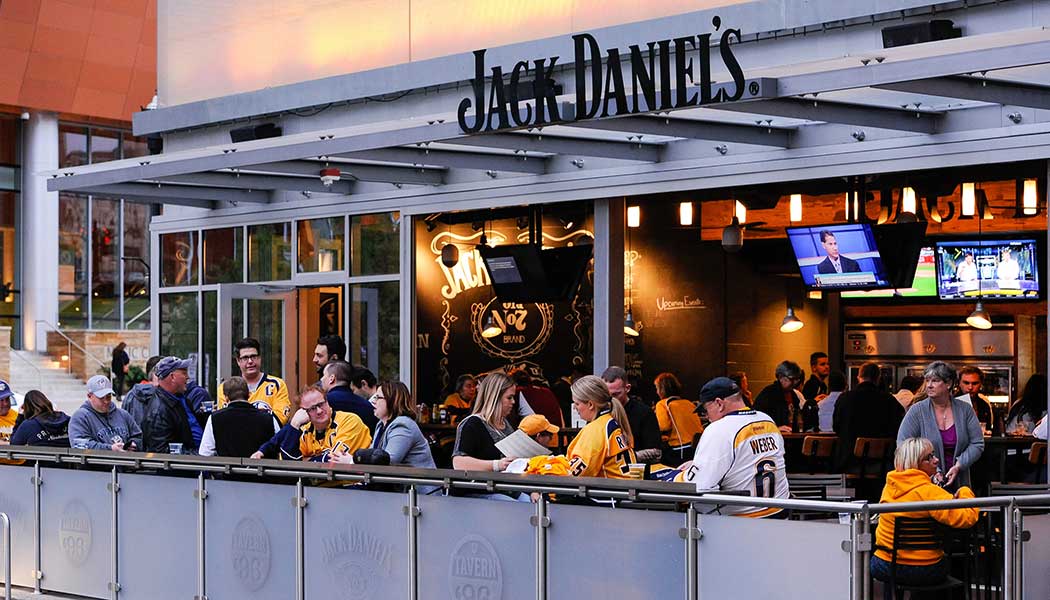 Beverage and Alcohol Selection
At Bridgestone Arena, a wide range of beverages and alcoholic drinks are available to satisfy various preferences. Visitors can find an assortment of draft beers, mixed drinks, and non-alcoholic options throughout the arena's concession stands and bars.
Draft beer selections include popular domestic options, as well as local craft beers, perfect for enjoying during an event. Mixed drinks and cocktails are available from several bars throughout the arena, covering everything from classic margaritas to whisky sours.
For non-alcoholic options, the arena serves sodas, bottled water, and other beverages such as lemonade and iced tea. Additionally, a selection of hot beverages like coffee and hot chocolate is also available during colder months or for guests who prefer a warm drink.
In addition to the traditional concession stands, the Tavern at the Bridgestone Arena offers indoor and outdoor seating with sports programming, providing a more casual dining experience with an extensive beverage menu.
Dietary Restrictions and Healthy Choices
Visitors to Bridgestone Arena can find a variety of food options that cater to different dietary needs and preferences. While the arena is known for its classic food offerings such as burgers, hot dogs, and fries, there are also several healthy choices available.
For those with dietary restrictions or seeking healthier options, some of the food concessions offer lighter fare like salads, wraps, and grilled items. Additionally, vegetarian and gluten-free options can be found throughout the venue to cater to various dietary needs.
Although specific menu items may vary by event or concession stand, here are a few suggested choices for visitors with different dietary preferences:
Vegetarian: Veggie wraps, salads, and hummus plates can provide satisfying and healthy meal options.
Gluten-free: Gluten-free buns and cauliflower crust pizza are available for those looking to avoid gluten.
Lower-calorie options: Grilled chicken sandwiches, salads, and fresh fruit cups offer lighter alternatives to traditional arena food.
It is important to check with the specific concession stand or vendor for detailed menu information and to ensure your dietary needs are met. Don't hesitate to ask if you require assistance or have any questions related to allergens and dietary restrictions.
Payment Options and Policies
Bridgestone Arena offers a variety of food options ranging from classic arena food like burgers, hot dogs, and fries to more specialized offerings such as sandwiches, pizza, and BBQ. In addition to the food choices, guests can enjoy drinks, draft beer, and live music at Pete & Terry's Tavern, which is located just outside the Nissan SoBro Entrance.
When it comes to payment, Bridgestone Arena accepts various payment methods, including cash, major credit cards, and mobile payment services such as Apple Pay and Google Pay. However, with the increasing trend towards cashless transactions, some vendors within the arena might opt for cashless payment options only. It is recommended to have a credit card or mobile payment service handy to ensure a smooth experience while purchasing food and beverages.
It's crucial to mention that all guests entering the arena must have a valid ticket or credential, and they will be subjected to security screenings and bag searches. Make sure to comply with all screening policies and procedures that may vary by event to avoid any inconveniences and fully enjoy your visit to Bridgestone Arena and its food offerings.