As a frequent visitor to the FedExForum, I can't wait to share with you everything you need to know about the gates and entrances. This guide will ensure that you have a smooth and hassle-free experience when attending an event or game at this popular Memphis venue.
In my visits, I've learned all about the various parking options, accessibility information, and guest relations, making it easy for anyone to navigate their way around. Stay tuned for detailed information about the entrance locations, security procedures, and a few tips to make your time at FedExForum truly enjoyable.
I've also gathered some must-try restaurants around the arena and nearby attractions to help you make the most of your visit. By knowing exactly where to go and what to expect, you'll maximize your fun and excitement without any stress or hiccups along the way. Just remember to plan ahead and get ready for an incredible experience at the FedExForum!
Basic Information about FedExForum
FedExForum is the home arena for the Memphis Grizzlies, an NBA basketball team, and also hosts the Memphis Tigers college basketball team. Located in the heart of downtown Memphis, the arena offers a great game day experience for fans of all ages.
I found that, when planning my visit to FedExForum, it was essential to be aware of certain policies and procedures, as well as the arena gate and parking lot locations, which made for easy entrance. There are quite a few parking options available, which cater to different preferences. It's always a great idea to research a bit beforehand to ensure a smooth visit.
One of the things I love about FedExForum is the variety of concessions available, offering a diverse range of food and beverages, which keeps me fueled throughout the game. The Grind & Dine section features a range of menus and locations, ensuring that there's something to suit everyone's taste.
While visiting FedExForum, it's important to remember that the arena has security procedures in place, as well as a list of prohibited items. I recommend checking the list beforehand to avoid any hiccups at the entrance. Additionally, accessibility information is available for those who require it, making the game day experience enjoyable for all.
Whether you're there to support the Memphis Grizzlies or the Memphis Tigers, FedExForum offers an amazing atmosphere, fantastic amenities, and everything you need for a memorable game day experience.
Access and Entrance Guide
As someone who has visited FedExForum, I'd like to share with you some helpful information about the various entrances to the venue.
Main Entrance
In my experience, the Main Entrance is likely where you will enter FedExForum for most events. This entrance is easily accessible and well-marked, so I found it simple to find upon arriving at the venue. Here, you'll find friendly staff ready to help guide you through security and ticket checks.
VIP Entrance
If you have VIP tickets, club memberships, or suite ticket privileges, you will want to make your way to one of the two VIP entrances. This entrance provides expedited access into the venue, and from my understanding, it offers excellent customer service to help you fully enjoy your special event experience.
Accessible Entrance
For guests with disabilities or those who require special accommodations, the FedExForum has an Accessible Entrance. This entrance is designed to make entering the venue as easy as possible for individuals with mobility impairments. From my observations, the staff at the Accessible Entrance seemed to be attentive and ready to offer any assistance required.
Remember to plan ahead for any event at FedExForum and arrive with plenty of time to account for parking and potential lines at the entrance. I hope this information is helpful and leads to a fantastic experience at the FedExForum.
Security Procedures and Measures in Place
Security Procedures
As a visitor to FedExForum, I appreciate the measures they've taken to ensure a safe and secure experience for everyone. One important procedure that's enforced is their bag policy. All bags must be no larger than 14″ x 14″ x 6″. If a bag is larger than 4″ x 6″ x 1.5″, it will be screened through X-ray machines instead of manual searches. This helps speed up the process and make it more efficient.
When I attend events at FedExForum, I also noticed that they have enhanced security measures in place for all NBA games starting from Oct. 6. These same security measures are now standard for all events at FedExForum, including concerts, shows, and University of Memphis games.
Restricted Items
FedExForum has a list of restricted items to protect the well-being of everyone attending their events. Some of these items include:
Alcoholic beverages
Outside food and drinks
Glass containers
Weapons of any kind, including firearms and knives
Professional cameras and recording devices
Noisemakers (air horns, drums, whistles, etc.)
Laser pointers
Fireworks or explosive devices
Large banners, flags, or signs
As a visitor, it's important for me to keep in mind the security procedures and restrictions when planning my visit to FedExForum. It allows me to have a stress-free, enjoyable experience while watching my favorite events in a safe and secure environment.
Seating Guide For Different Sections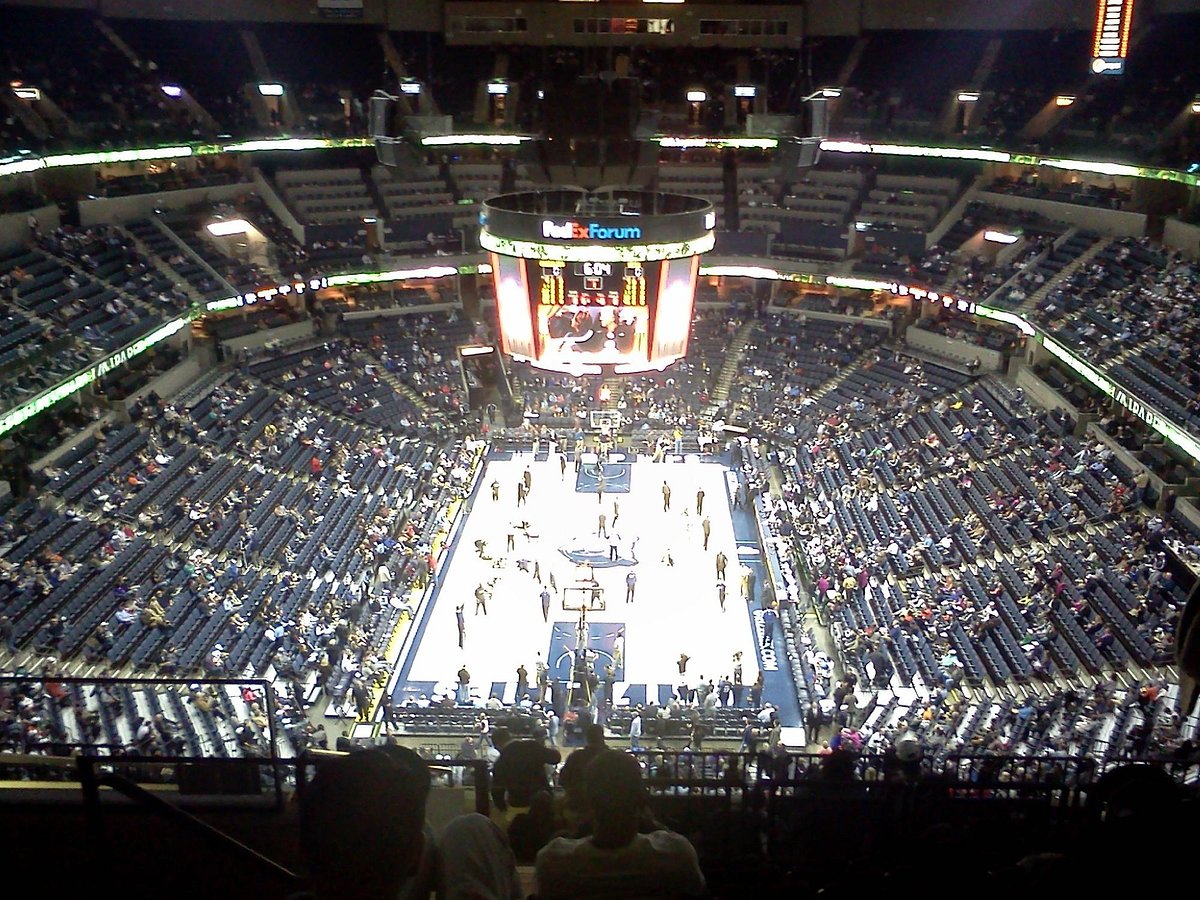 I want to help you understand the seating arrangement at FedExForum, so let me provide you with an overview of the different sections. This way, you'll be able to choose the best seat for your next event.
FedExForum has a variety of seating options that cater to different preferences. The arena's seating is divided into floor courtside sections, plaza (lower) level, club (middle) level, and terrace (upper) level.
Floor courtside sections are numbered from 1 to 9 and feature rows from A to W (A, B, C, D, E, F, G, H, J, K, L, M, N, P, Q, R, S, T, U, V, W). These seats provide an up-close experience and put you right in the action.
On the other hand, plaza level sections are numbered 101-118. If you prefer a slightly elevated view of the court or stage, these lower level seats could be just what you're looking for.
For a more exclusive experience, the club level consists of sections C1-C14. These seats not only provide a great view, but they also come with extra perks such as access to private lounges and premium food and beverage options.
Finally, the terrace level is located in sections 201-232 and offers affordable seating with a birds-eye view of the event. Though they are a bit further from the action, these seats still provide a great overview of the entire arena.
Keep in mind that for concerts, the seating layout at FedExForum may vary slightly, with additional options like General Admission seats, fan pits, or B-stages being introduced depending on the event. In any case, with this seating guide in mind, I hope you find the perfect seat to enjoy your time at FedExForum!
Arena Facilities
Restrooms and Facilities
During my visit, I found that FedExForum prioritizes cleanliness and comfort in their facilities. There are multiple restrooms located throughout the arena on various levels and concourses, ensuring there is always one accessible to visitors. These restrooms are regularly serviced and maintained, so I never felt uncomfortable using them.
Additionally, FedExForum also features facilities such as ATMs, water fountains, and charging stations throughout the arena. These convenient amenites helped make my experience more enjoyable.
Retail Shops
I noticed that shopping options were abundant at FedExForum. Numerous retail shops are dispersed throughout the venue, offering a wide variety of merchandise for fans. Some of the most popular items available include team jerseys, hats, souvenir cups, and collectible memorabilia. The selection caters to both Memphis Grizzlies and visiting team fans, so everyone has an opportunity to take home a piece of their experience.
Eateries inside the Venue
My experience at FedExForum further included exploring several dining options. There is an array of food and beverage choices that cater to various tastes. Some of the options I discovered include:
Classic arena fare: Hot dogs, pretzels, nachos, and popcorn, which are always a hit during games.
Local flavors: BBQ dishes and other regional favorites reflective of Memphis's culinary scene.
Healthier alternatives: Salads, wraps, and vegetarian options for those seeking lighter fare.
Patrons can also find standard beverage options, including soft drinks, bottled water, and draft beer, along with specialty cocktails from different concession stands throughout the venue.
The combination of facility amenities, diverse retail options, and a wide array of food and drink offerings certainly made my visit to FedExForum memorable and enjoyable.
Digital and Paper Tickets
Digital Ticket Procedure
As a FedExForum visitor, I always find their digital ticketing system very convenient. In 2023, FedExForum uses digital, mobile tickets for events. To access my tickets, I simply use the Ticketmaster app on my smartphone. This not only makes it more efficient but also reduces the chances of losing my tickets or facing issues with counterfeit tickets.
Steps to follow for digital tickets:
Download the Ticketmaster app on your smartphone.
Sign in to your account or create one if you don't have it.
Access your tickets in the app and have them ready upon entry.
Don't worry about screenshots or printing, as the ticket scanners will only accept live tickets from the app.
Please note that if you don't have a smartphone, it's best to contact the ticket office and let them advise you on how to proceed.
Paper Ticket Procedure
Although digital tickets are preferred at FedExForum, there may be some instances where you still end up with paper tickets. In that case, you'll need to follow the traditional method of entry.
Here are some tips on handling paper tickets:
Keep your tickets safe and secure, as they can be easily damaged or lost.
At the entrance, present your physical ticket to the attendant for scanning.
Don't forget to check the event date and time on your ticket so you're there on time.
Remember that the FedExForum Box Office is open Monday to Friday from 10 a.m. to 5:30 p.m., and on event days on Saturdays.
Getting to FedExForum
As a frequent visitor to the FedExForum, I have some useful information for you regarding transportation and parking options. Whether you're planning on using public transportation or driving, I've got you covered!
Public Transportation
In my experience, public transportation in Memphis is a convenient way to get to FedExForum. The Memphis Area Transit Authority (MATA) operates bus routes in the city, and several of these routes have stops in the vicinity of the arena. Additionally, the trolley line runs nearby, offering another option for reaching the FedExForum. To plan your trip using MATA services, I suggest using their Trip Planner tool to find the best route for you.
Driving and Parking
If driving is your preference, there's no need to worry about parking options. From what I've encountered, there are numerous parking lots and garages in the area surrounding FedExForum. Keep in mind, though, that purchasing a parking pass in advance can help reduce hassle on game day and ensure you have a reserved spot.
While I always find it handy to use GPS navigation when driving to an unfamiliar location, you can also refer to these general directions to FedExForum:
From the North: Take I-40 W to Exit 1A for I-240 S. Then, take Exit 30 for Union Avenue, and turn left onto Union Avenue. Finally, turn right onto S Third Street, and the arena will be on your right.
From the South: Take I-55 N to Exit 278 for I-240 N. Continue on I-240 N, and take Exit 30 for Union Avenue. Turn right onto Union Avenue, followed by a right turn onto S Third Street. The arena should be visible on your right.
Remember to always check the FedExForum website for any updates or specific event parking information before heading out. Enjoy your visit to the arena!