We all know that Memphis is the soul and birthplace of multiple fantastic music genres. Besides being the home of the blues, the city has so much more to offer to its locals and tourists, such as the legendary BBQ, the welcoming hospitality, and the Southern charm in all city's corners.
Although known for its fascinating musical heritage, Memphis is home to the only NBA team in Tennessee – the Memphis Grizzlies. The FedExForum is the team's home arena, and it's the city's largest multi-purpose arena.
Since the arena plays a major role in the cultural life of Memphis, we have created an article to address all questions tourists have regarding the venue. We have also included multiple facts about the arena and hope you'll find them interesting.
FedExForum: Key Facts
The arena seats 18,119 people for basketball, 16,400 for hockey, and about 19,000 for concerts. The arena has 27 courtside suites along with 32 club suites and 80 club boxes.
The most interesting thing about this arena is that it's the only themed arena in the US. Also, unlike the other NCAA and NBA arenas, FedExForum's entry provides a unique experience for the visitors, as they have to go through the Grand Lobby, where the fans have an indoor gathering before a game.
When going to a sports game, visitors also can enjoy the arena's tribute to the city's musical heritage, as it features various exhibits of multiple musical genres associated with Memphis.
Another interesting fact is that besides celebrating the musical and artistic heritage, the arena also proudly represents Memphis cuisine, which has a signature Southern taste. You'll find four restaurants, multiple stands, and various refreshment areas within the arena.
Where Is FedExForum Located?
The arena is located in downtown Memphis, on 191 Beale Street.
The Best Way to Get to FedExForum
If you're going to a concert or another event, you shouldn't worry about finding the way to the venue, as it's easily accessible by bus, car, or on foot. If you don't drive or don't want to use the bus, you should also know that trolley lines run within a few blocks from the arena.
If you drive to the arena, you can easily locate FedExForum from the exits off I-40, I-55, and Midtown I-240. The directions found on the official website will take you right to the venue.
In case you don't want to pay for parking, you can take the bus. Multiple lines pass near the arena, including 34, 36, 39, 4, and 57. Once you take the bus, you can exit at one of the bus stations near the arena. For instance, the bust stop Third@MLK is about a five-minute walk from the arena.
Taking a bus to arrive at the arena is very convenient. That's because you can find a line any time, starting from 4:20 AM (arriving at the arena) to 12:00 AM (arriving at the arena). Moreover, the bus fare costs about $1. 
Parking Near FedExForum
FedExForum Gossett Motors Garage
The arena has a garage located in the same venue with five levels and 1,500 parking spots. You should know that customers can buy parking access on a seasonal basis for Memphis Grizzlies and Memphis Tigers games. It's also important to note that for non-basketball events, parking spots are sold on a first-come, first-served basis.
The Gossett Motors Garage has a designated drop-off location for disabled patrons. Moreover, it has parking spots for visitors with disabilities. You should also know that the garage has two entrances on Dr. M.L. King Jr. Avenue, on the spot between B.B. King Boulevard and Fourth Street.
Parking in this garage is priced differently depending on the event. For instance, for the Future and Friends event on March 10, a spot in this garage costs $29, which is the same price as parking for the Journey event on April 1. That said, you have to reserve your parking spot in advance.
Parking info
One Commerce Square Parking
Here you have another garage where you can park your vehicle and still be within a short walking distance from the FedExForum. The One Commerce Square Parking works all day long and has 510 parking spots at affordable prices.
If you want to use this garage, you'll have to pay $2 for one hour or $12 to leave your vehicle for 24 hours. You can pay for parking with cash or a credit card on the spot.
It's important to note that this garage has a height restriction of 2.36 m. Additionally, if you have an electric car, you should know that this garage features an electric-car charging area.
Parking info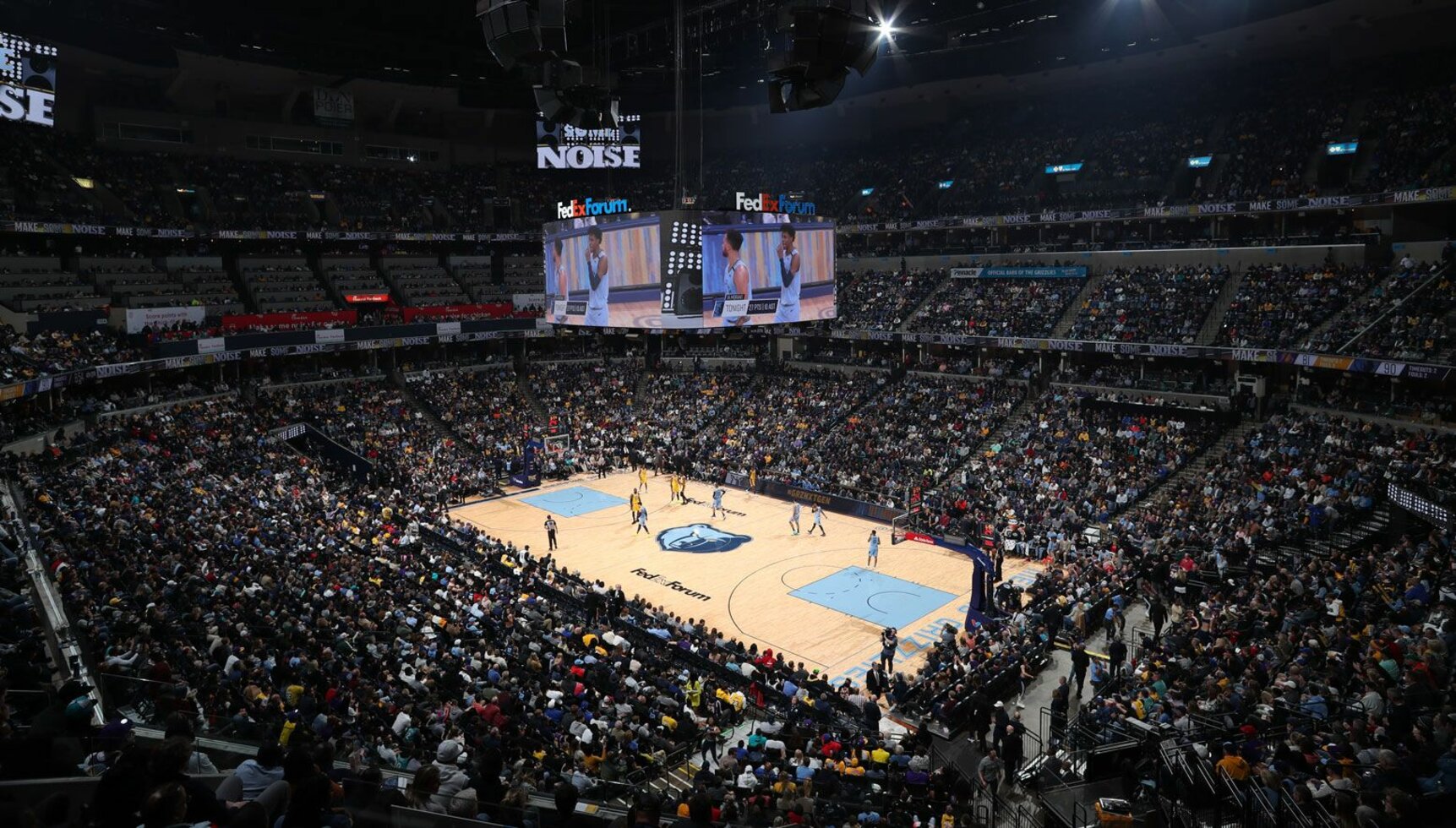 The Best Restaurants Near FedExForum
When on the way to the FedExForum or right after attending an event, check out the best restaurants near the arena we listed below and grab a bite.
Before we introduce you to these three fantastic restaurants, we should know that this area includes numerous diners and pubs where you can have an excellent meal. However, we have selected these as the best and some of the most notable restaurants near the arena.
In addition, you should know that we picked three restaurants located on Beale Street. This means that they're close to the arena and located on one of the most iconic streets in America, where blues and jazz mix with delicious food and excellent drinks.
Silky O'Sullivan's
This is the place you should visit if you're up for entertainment and some food. Silky O'Sullivan's organizes live music or other events every day. So, wherever you go, you and your friends will have great fun.
When it comes to food, the first thing you should know is that Silky Sullivan was known as the "Father of Barbecue." Besides the signature BBQ recipes, you can order various delicious starters, sandwiches, oysters, shrimp, and other seafood, salads, and soups at Silky O'Sullivan's.
Restaurant info
| | |
| --- | --- |
| Location | Silky O'Sullivan's |
| Contact | +1 901 522 9596 |
| Working Hours | Monday: 4 PM – 12 AM;Tuesday-Thursday: 12 PM – 12 AM;Friday: 12 PM – 2 AMSaturday: 11 AM – 2 AM;Sunday: 12 AM – 9 PM |
| Price Range | $$ |
Itta Bena
You should visit Itta Bena if you like a bit of a different kind of fun. This Southern restaurant is known for its dimly lit lounge and cocktail bar. Itta Bena is a hidden gem located on the third floor of the BB King's Blues Club, just a few-minute walk from the arena.
The restaurant offers fantastic dishes inspired by Southern cuisine, including appetizers, salads, soups, entrees, and various desserts.
We highly recommend you reserve a table before you go online or by calling the phone number you can find below.
Restaurant info
B.B. King's Blues Club
When in Memphis, you must visit the BB King's Blues Club. Although the place is classified as a barbeque restaurant, it's so much more than a diner. The place has a rich Southern heritage, combining soulful values, classic soul, and rock and roll.
Regarding food, BB King's Blues Club specializes in ribs. However, you can also have shrimp, chicken, or catfish. The restaurant offers various entrees from Southern cuisine recipes and soups, salads, and sandwiches.
If you visit BB King's Blues Club, we strongly recommend you try some of the signature cocktails and shots.
Restaurant info
| | |
| --- | --- |
| Location | B.B. King's Blues Club |
| Contact | +1 901 524 5464 |
| Working Hours | Monday-Thursday and Sunday: 11 AM – 10:30 PM;Friday-Saturday: 11 AM – 12:30 AM. |
| Price Range | $$ |
The Best Bars Near FedExForum
If you don't feel like eating, you and your friends or family can have a drink or two. Check out the best bars that are within a short walking distance from FedExForum.
Ibis Cocktail Bar
If you want to try some cocktails, you should visit Ibis Cocktail Bar. This bar is located on Main Street, about ten minutes from the arena.
Ibis Cocktail Bar has an extended menu of drinks, including the signature Sour Tower and Hot Memphis Nights cocktails. Here you can have a nice cup of coffee with tequila, of course, or take an Irish coffee to go.
Whether you're a whiskey lover or want a beer before or after a game, Ibis Cocktail Bar is one of the best bars to go.
Bar info
| | |
| --- | --- |
| Location | Ibis Cocktail Bar |
| Contact | +1 901 748 5187 |
| Working Hours | Monday-Wednesday: Closed;Thursday: 5 PM – 12 AM;Friday: 5 PM – 3 AM;Saturday: 5 PM – 3 AM;Sunday: 11 AM – 9 PM. |
| Price Range | $$ |
Peoples on Beale
Before or after attending an event in the arena, you have to check out Peoples on Beale. The bar is located in the block right across the arena.
This place is very casual with a welcoming atmosphere. It has a comprehensive drink menu that includes cocktails, shots, and beers, as well as an extended selection of wines.
Besides having a drink with your friends or family, you can also enjoy a pool game, as Peoples on Beale features 100-year-old Brunswick pool tables.
Bar info
| | |
| --- | --- |
| Location | Peoples on Beale |
| Contact | +1 901 523 7627 |
| Working Hours | Monday: Closed;Tuesday-Sunday: 4 PM – 2 AM. |
| Price Range | $ |

The Best Hotels Near FedExForum
In case you're planning to stay in Memphis for a few nights, and you're looking for hotels near the arena, we can help with that too. These are the highest-rated hotels closest to the arena.
Hampton Inn & Suites Memphis – Beale Street
This 3-star hotel is located within six minutes walking distance from the arena. This is a pet-friendly hotel, so you can take your furry friend on a trip with you.
Furthermore, Hampton Inn & Suites has guest rooms, suites, and rooms for guests with disabilities. Some of the amenities available include free Wi-Fi, a hot breakfast, and a digital key for the room.
Moreover, the hotel has an indoor pool, fitness and business center, and meeting rooms.
Hotel info
The Peabody Memphis
The Peabody is one of the most legendary hotels in Memphis, also known as the South's Grand Hotel. This luxurious, four-star hotel features an indoor pool, spa, and Athletic Club, as well as an excellent dinner and a galleria of shops.
Furthermore, the hotel has multiple guest rooms, suites, handicap-accessible rooms, and pet-friendly rooms.
Hotel info
Residence Inn by Marriott Memphis Downtown
Here we have a three-star hotel located about a 13-minute walk away from the FedExForum. The Residence Inn is a very elegant hotel registered with the National Historic Registry. Once you enter the building, you'll fall in love with the stunning interior of the lobby and its original architectural features.
Residence Inn offers studio rooms and suites with free Wi-Fi and other amenities. Every room reservation comes with a full American breakfast. Additionally, you can take your pet, as the hotel has pet-friendly rooms.
Hotel info
The History of FedExForum
As you may know, the arena is not one of the oldest arenas in the NBA. In fact, the Memphis Grizzlies had a different home known as Memphis Pyramid.
After much debate, the construction of the new arena began but was interrupted by the Memphis Summer Storm in July 2003. The construction continued, and the new arena was officially opened in September 2004.
The City of Memphis owns this arena. However, FedEx, one of the most popular businesses in Memphis, bought the naming rights for $92 million.
Hosted events
Although it's the home of the Memphis Grizzlies, FedExForum was built as a multi-purpose arena. Therefore, it hosted and still does various sports games, as well as concerts, family shows, and other events.
College basketball
Some of the most notable events include the college basketball game between Memphis Tigers and Tennessee Volunteers in February 2008 and the Conference USA men's basketball tournament from 2005 to 2009. Also, the arena hosted one of the four regional finals in the 2010 NCAA Division.
Ice hockey
Besides college basketball, FedExForum welcomed the Nashville Predators and the Columbus Blue Jackets in September 2006 for an NHL preseason game. That was the first ice hockey match held at the arena.
Boxing
So far, the arena has hosted multiple wrestling events. For instance, World Wrestling Entertainment's Unforgiven was held in September 2007, while the PMG Clash of Legends was in April of the same year.
Another interesting event was the lightweight title fight between Penn and Sanchez as a part of the Ultimate Fighting Championship in December 2009.
Concerts and other events
As a multi-purpose arena, it hosted the Built Ford Tough Series in 2010. Several years later, it hosted Monster Jam and the Hot Wheels Monster Trucks Live in 2019.
The arena's interior is the feature that makes FedExForum so unique and different from the other NBA venues. The entire interior is designed with Memphis' musical heritage in mind, with the goal of paying tribute to some of the most famous artists in the city. As such, it is the only themed stadium in the NBA.
Many artists entertained their fans at this venue. The list of musicians that have performed here is extended. It includes names such as Alicia Keys, Eric Clapton, Foo Fighters, Tom Petty and the Heartbreakers, Michael Buble, Paul McCartney, Pearl Jam, Red Hot Chili Peppers, Rolling Stones, Billy Joel, Bon Jovi, Bob Seger, AC/DC, Elton John, etc.
Where to Get Tickets for FedExForum
You can buy tickets online or in person by visiting the FedExForum Box Office.
If you want to buy tickets for an event in person, you should keep in mind that FedExForum Box Office working hours are from 10 AM to 5 PM, Monday through Friday. The Box Office is closed on weekends.
It's also important to note that operating hours on event days may vary. That's why we recommend you dial +1 901 205 2525 to ensure the Box Office works.
To buy tickets online, visit ticketmaster.com. We also recommend you check out this event calendar to learn more about the upcoming events and find information on the tickets.
Does FedExForum Offer Tours?
Yes, the arena does offer tours. The tours are available for groups of at least ten people and are usually held Monday through Friday from 9 AM to 4 PM. Of course, the period depends on whether there's a scheduled event at the time.
You should remember that you have to contact the venue to check the available dates and schedule a tour.
James is a big time NBA Golden State follower, who makes sure to catch games when he's in the area. He likes to follow International Soccer, with an interest in small town soccer club, Blackburn Rovers located in the North on the UK.