Nissan Stadium is the home of the Tennessee Titans NFL team and the Tigers of Tennessee State University. It is a multi-purpose stadium in Nashville, Tennessee, that hosts a variety of entertainment events such as the Music City Bowl, Major League Soccer, the Bowl Game, CMA Music Festivals, concerts, and so on.
Moreover, their food game is also strong because they provide a wide range of food items that suit the taste buds of all Tennessee Titans fans. So, if you are wondering what to get during the game, we have a list of all the food at Nissan Stadium that are worth a try.
The Classics of Nissan Stadium
Tennesse Titans fans keep coming back to the stadium to watch their favorite NFL team play and devour the classic food offered at the stadium. So, we have gathered the most delicious classic savory, and sweet items provided at the stadium so that you can enjoy them during the game.
Savory Items
Let's start off the list with the classic savory items at Nissan Stadium. These are very popular among local fans.
Yee-Haw Brewing
If you are looking for local Nashville drinks and brews, you should head over to the Yee-Haw Brewing Co. They have various local brews that are amazing. Find them in sections 107 and 140.
Nashgrille
Classic stadium food is perfect for snacking during a game. You can get traditional hot dogs, hamburgers, French fries, cheeseburgers, beer, water, and other food items in Nashgrille. They are located in sections 219 and 228.
Grab & Go
If fancy or heavy meals aren't on your list on a game day, you can always get stadium staple food at Grab & Go. They offer peanuts, beer, popcorn, desserts, etc., in sections 213 and 234.
Pizza Stand
Sometimes, a yummy pizza is all you need to improve your game day. Head over to the Pizza Stand to get pepperoni and cheese pizzas. You can find them in section 130.
TN General Store
TN General Store is very convenient when you are searching for light snacks during the game. They serve Italian sausages, hot dogs, popcorn, soft pretzels, and many other items. You can visit them in sections 207, 217, 230, and 240.
Dessert Items
No game day is complete without something sweet. Although the stadium does have sweet pretzels, you can try another classic item on their menu.
Ice Cream & Candy
If you bring your family to the stadium, they will definitely love some ice cream and candy on a hot day. You can get different ice cream flavors in sections 207, 217, 230, and 240.
New Food to Enjoy at Nissan Stadium
Classic food items at Nissan Stadium are great, but they can become boring to a regular visitor. That is why Nissan Stadium has introduced new food items to its menus. These food items have become popular really quickly because of their fantastic taste. So, let's get to know the most popular and delicious ones!
New Items
We have mentioned the latest popular food options added to the stadium menu.
Twice Daily
Twice Daily brings you healthy food among all the heavy and fatty items. They have tasty salads, dips, wraps, and other items that you will absolutely love. You can find them in sections 116 and 131.
Party Fowl
If you are looking for some hot chicken sandwiches, you should visit Party Fowl. Here, the sandwiches are made with Nashville hot chicken, but the best part is you can choose your own level of spice for the sandwiches.
Puckett's Trolley
Puckett's Trolley brings hearty and fulfilling meals to the stadium. They have delicious briskets, mac n cheese, nachos, french fries, etc., on their menu. So, if you are looking for a good, tasty meal, visit them in the north end zone of Nissan Stadium.
Bent Buckle BBQ
BBQ food items are always a great meal to order and enjoy during a game. Bent Buckle BBQ serves one of the tastiest BBQ meals at the stadium. They have beef brisket sandwiches, BBQ chicken sandwiches, pulled pork sandwiches, fresh fries, etc., on their menu. So, if you are hungry at the stadium, visit them in section 134.
Three Star Chicken
Three Star Chicken serves the popular original Nashville hot chicken to Tennessee Titans fans. They also have delicious tater tots, French fries, and chicken tenders on their menu if you don't want anything spicy. They are located in sections 211 and 236.
Fry The Coop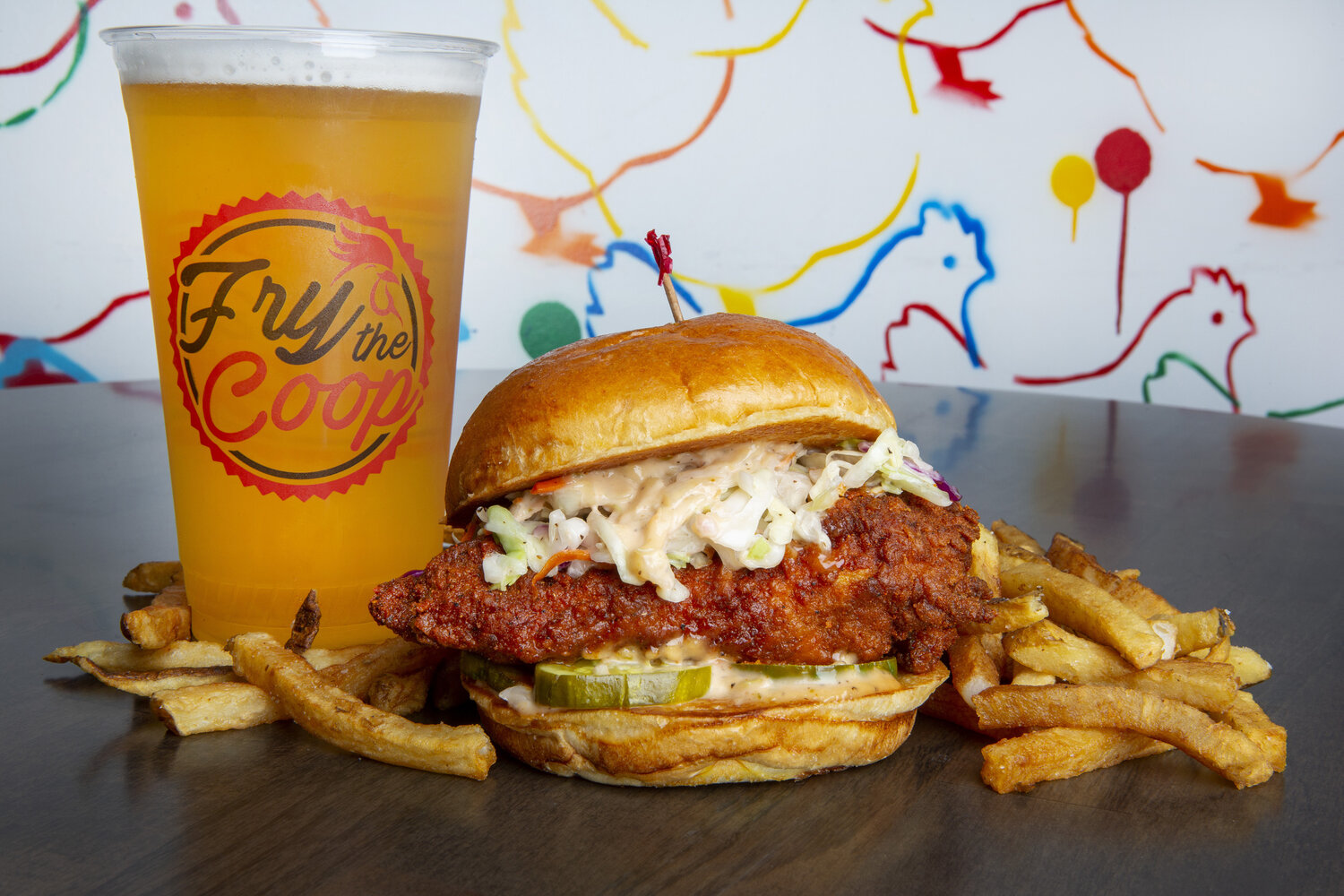 Fry The Coop has delicious hot chicken sandwiches made with Nashville hot chicken, tomatoes, onions, and other unique condiments. You can grab a bite in sections 112, 121, 135, 144, 308, and 339. 
The Slim & Husky's
If you are looking for Nashville's local pizza, The Slim & Husky's has got you covered. In sections 117, 130, 214, and 233, they serve their famous local Nashville pizza to all stadium visitors.
Southern Smoke
If you plan to spend the whole day watching the Tennessee Titans game at Nissan Stadium, you will need a rich and hearty meal. Southern Smoke offers jumbo BBQ sandwiches with a side of cheese nachos to fulfill your hunger. You can find them in sections 212 and 235.
2nd Street Kitchen
2nd Street Kitchen in sections 303 and 304 have their famous turkey burger on the menu at Nissan Stadium. The burger is made with turkey meat, cranberry chutney, and arugula, assembled on a soft wheat bun.
Martin's Bar-B-Que Joint
Deb Paquette, a popular Nashville Chef, opened Martin's Bar-B-Que Joint in Nissan Stadium. The restaurant serves delicious pulled pork BBQ nachos with all the toppings, smoked chicken wings, and Martin's homemade BBQ chips with their Special Ranch dip.
Moreover, you must try their signature pulled pork sandwich because it is one of the best sandwiches in the stadium. You can grab these food items in section 102.
Conclusion
Nissan Stadium has a seating capacity of over 60,000 for all NFL fans. They always try to keep their service top-notch, which goes the same with their food. You must try our suggested classic and new food items whenever you visit the stadium. We guarantee that these food options are delicious and will make your game day much better.