When I visit Nissan Stadium in Nashville, Tennessee, I always appreciate how smooth and efficient the entry process is. Home to the Tennessee Titans and host to numerous other events, it's essential to know the ins and outs of the stadium's gate and entrance system to ensure a fantastic experience. In this article, I will share valuable information about Nissan Stadium's gates, entrances, and helpful tips to make your visit a breeze.
Knowing the location and the opening times of the various gates can make a big difference in my overall experience. Nissan Stadium features ten main gates, all of which fans can use, and separate club entrances for Club Members and Suite Holders. It's essential to arrive well-prepared, as gates open two hours before kickoff for Titans home games. Understanding the stadium's strict bag policy also saves time. I bring a clear bag measuring 12″ x 12″ x 6″ or smaller, or a single-compartment clutch purse smaller than 4.5″ x 6.5″, since no other bags are permitted.
Parking is another crucial aspect to consider when visiting Nissan Stadium. I find arriving early and knowing your parking options makes the experience less stressful, allowing me to focus on enjoying the game or event. So, let's dive into the essential gate and entrance information to make your Nissan Stadium visit an enjoyable one!
Getting to Nissan Stadium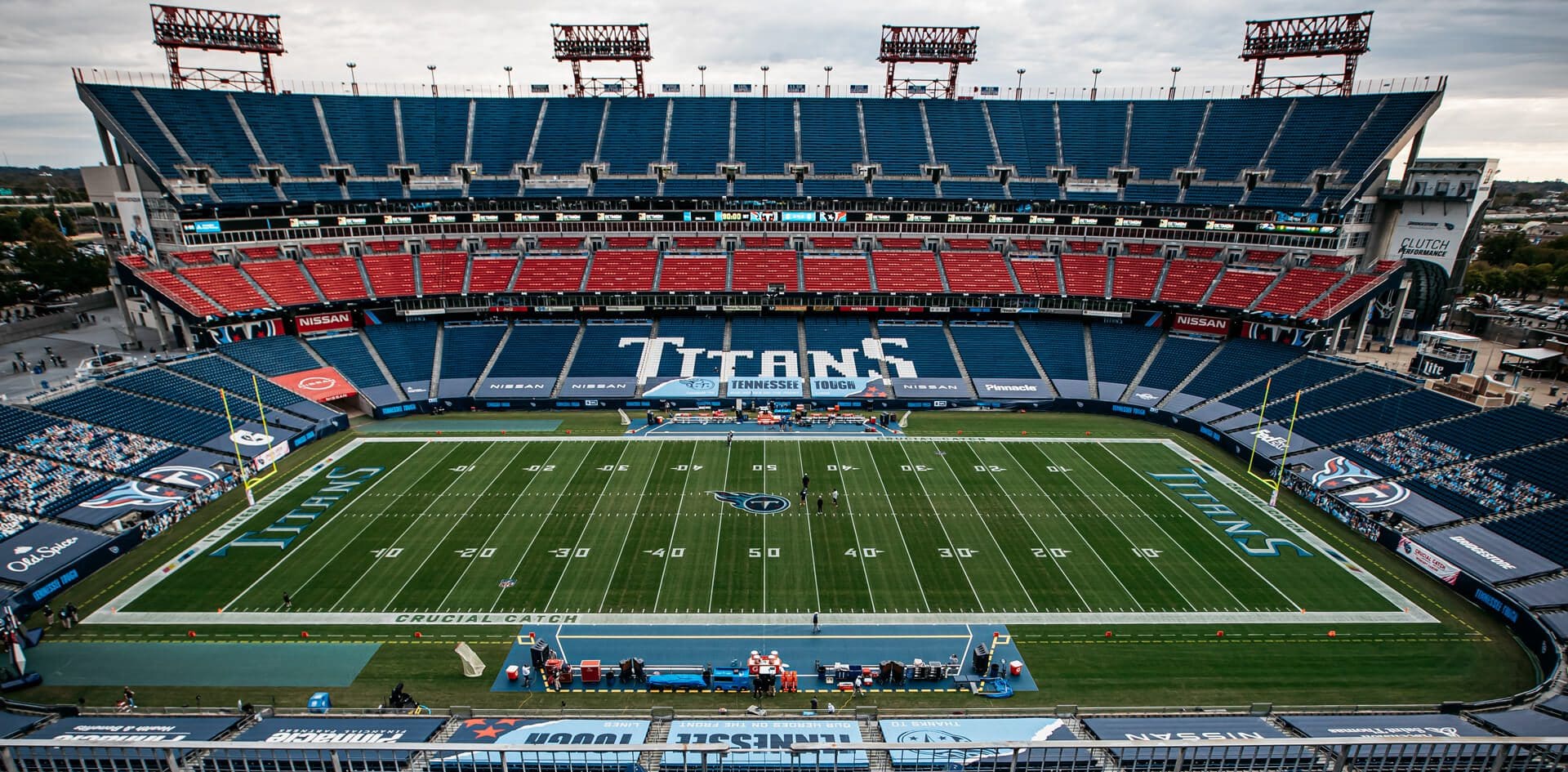 Public Transport Options
I find that taking public transport to Nissan Stadium is convenient and easy. Local buses and shuttles are available for transportation to the stadium, especially on game days. If you prefer trains, the Music City Star train service offers rides to and from the stadium, making it a stress-free choice for getting there.
Parking
If you decide to drive to Nissan Stadium like many fans do, there's plenty of parking available around the stadium. Tailgating is popular and adds to the pregame excitement. Just make sure to arrive early to secure a spot, and check for any parking restrictions or fees beforehand. Keep in mind that designated rideshare pick-up and drop-off areas are also provided for anyone using rideshare services.
Entrance Gates Information
Gate Locations
At Nissan Stadium, there are several gates for visitors to enter. These gates are conveniently located throughout the stadium for easy access. The gates are numbered from 1 to 5, and you can find them situated as follows:
Gate 1: This entrance is one of the main gates and is located near the stadium's southwest corner.
Gate 2: You'll find this gate close to the stadium's northwest side.
Gate 3: Situated near the stadium's northeast corner, this is another primary entrance for visitors.
Gate 4: Positioned close to the stadium's southeast side.
Gate 5: Located within the western part of the stadium, this entrance is designated for Club Members and Suite Holders.
Additionally, elevators are available for guests with disabilities, but to maintain social distancing, only four people are allowed inside at a time.
Opening and Closing Times
I recommend arriving early to Nissan Stadium to ensure a smooth entry and find your seats. Generally, the gates open two hours before the event's start time. For Tennessee Titans games, parking lots open four hours before kickoff, and stadium gates open two hours before the game. After the games, the parking lots will close two hours after the game ends.
Keep in mind that alcohol sales end after the 3rd quarter, and be sure to adhere to the stadium's bag policy to avoid any potential delays while entering. To summarize, you should bring a clear bag that is no larger than 12″ x 12″ x 6″.
Accessibility Guide
Accessible Entry Points
At Nissan Stadium, guests with disabilities have several entry points. The gates include Gate 1, Gate 2, Gate 3, Gate 4, Gate 5, Gate 6, Gate 7, Gate 8, Gate 9, and Gate 10, as well as the East Club Entrance. For easier access to seating, I recommend visiting the ticket windows inside Section 108. Accessible seats are distributed on a first-come, first-served basis.
Overall Accessibility Features
Nissan Stadium is committed to providing an enjoyable experience for all guests. They offer several features and services for guests with disabilities, such as:
Assistive Listening Devices: Available during Titans games, these complimentary devices can be checked out at the Fan Services window in Section 124.
Clear Bag Policy: Nissan Stadium has a strict bag policy, so I strongly encourage you to bring a clear bag measuring 12″ x 12″ x 6″ or smaller to facilitate the entry process. This policy also ensures accessible seating areas remain free from obstructions.
Security Measures
As a visitor to Nissan Stadium, it's important to be aware of the security measures in place to ensure everyone has a safe and enjoyable experience. In this section, I'll cover the bag policy and prohibited items you should be aware of before attending an event.
Bag Policy
Nissan Stadium has implemented a strict bag policy. The stadium encourages guests to refrain from bringing bags, but if you need to bring one, it must be clear and no larger than 12″ x 12″ x 6″. The only exception to this rule is a single-compartment clutch purse smaller than 4.5″ x 6.5″. Backpacks, luggage, briefcases, and large items are not allowed inside the stadium. By following this policy, you'll help ensure a smooth entry process for yourself and fellow fans.
Prohibited Items
In addition to the bag restrictions, there are certain items that are not allowed inside Nissan Stadium. Here's a list of some common prohibited items:
Weapons of any kind, including firearms, knives, and pepper spray
Alcoholic beverages
Food and beverages from outside the stadium
Glass containers
Selfie sticks
Professional cameras and recording equipment
Drones or remote-controlled aircraft
Laser pointers
Before entering the stadium, a thorough screening process is conducted at the gates to detect and prevent any of these prohibited items from entering the venue. Please be mindful of these rules when attending an event at Nissan Stadium, as they are in place to ensure everyone's safety and enjoyment.
In-Stadium Services
As a frequent visitor of Nissan Stadium, I'd love to share some useful information on the in-stadium services available to make your experience even better. In this section, I'll cover restroom locations and food and beverage options.
Restroom Locations
Nissan Stadium offers numerous restrooms throughout the stadium, so you'll never have to worry about long lines. Restrooms are located on each level of the stadium, near each of the main gates and in the club and suite areas. If you need assistance in finding the nearest restroom, don't hesitate to ask a staff member – they're always friendly and helpful.
Food and Beverage Options
At Nissan Stadium, they offer a variety of food and drink options to satisfy your taste buds. Here's a brief overview of what you can expect:
Classic Concessions: Enjoy your favorite stadium fare like hot dogs, nachos, pretzels, popcorn, and soft drinks.
Local Eats: Experience some of Nashville's local flavors with options like barbecue, hot chicken, and gourmet burgers.
Healthier Choices: Find lighter snacks and meal options like wraps, salads, and grilled items.
Adult Beverages: Quench your thirst with a selection of beers, wines, cocktails, and frozen drinks found throughout the stadium.
Remember, if you have dietary restrictions or special requests, don't hesitate to ask the concession staff. They're always happy to help you find the best options for your needs. Enjoy your visit to Nissan Stadium!
Special Features
Kid's Zone
I recently visited the Nissan Stadium and was delighted to find a Kid's Zone available for young fans to enjoy. This dedicated area offers various fun activities for children, such as inflatable games and interactive play zones. It's a great spot for families with little ones who might need a break from the action on the field.
In-Stadium Technology Features
In addition to the Kid's Zone, I noticed that the Nissan Stadium has several impressive in-stadium technology features. These include:
High-definition video boards: The stadium boasts two massive high-definition video boards, which provide clear replays, live-action shots, and other content for fans to enjoy during the game.
Wi-Fi: I was pleased to find that Nissan Stadium offers free Wi-Fi throughout the venue, enabling me to stay connected and update my social media during the event.
Mobile app: The stadium has a dedicated mobile app, which allows fans to access team news, stadium maps, and other useful information right from their smartphones.
These in-stadium technology features significantly enhanced my overall experience at Nissan Stadium, making it an even more enjoyable venue for both die-hard fans and casual spectators alike.
Stadium Code of Conduct
As a regular visitor of the Nissan Stadium, I'd like to share some important points about the stadium's code of conduct to help ensure a fun and safe experience for everyone. Please keep in mind, these rules are in place to promote a family-friendly environment and enjoyable experience for all attendees.
First and foremost, excessive alcohol consumption is discouraged at the stadium. While it's okay to have a drink or two, make sure to stay within your limits and be respectful of others. If you find yourself getting unruly or aggressive, stadium staff have the right to intervene and escort you out of the premises.
Noise levels should also be considered. Cheering loudly for your favorite team is a major part of the excitement. However, continuous loud and abusive language or behavior can disturb other fans around you. Keep the energy high, but let's maintain a respectful atmosphere.
As for prohibited items, here's a brief list of some things not allowed inside Nissan Stadium:
Weapons, fireworks or explosives
Poles or sticks
Illegal substances
Outside food and beverages
Large banners or signs obstructing the views of others
Smoking, including e-cigarettes and vaporizers
Please note that all bags brought into the stadium must adhere to the clear bag policy. Clear bags must be 12″ x 12″ x 6″ or smaller so that security checks can be conducted swiftly and efficiently.
Lastly, let's talk about seating. It's important to stay in your designated seat as indicated on your ticket. Avoid standing for long periods of time or blocking the aisles and walkways, as it can be a safety hazard for other fans and stadium staff.
By following these guidelines, I believe we can all enjoy a fantastic time at Nissan Stadium while creating unforgettable memories with fellow fans. Don't forget to wear your Titans gear and show your team spirit!
Conclusion
As a regular visitor to Nissan Stadium, I find the entrance process to be quite efficient. With ten main gates, fans can enter the stadium smoothly and quickly. It's important to remember that only club members and suite holders can access the stadium club entrances.
When packing my bag for a game, I always keep in mind that Nissan Stadium enforces a strict bag policy. I usually carry a clear bag that is 12″ x 12″ x 6″ or smaller, or if I need just a few essentials, a small clutch purse smaller than 4.5″ x 6.5″ does the trick. It's really helpful to know this in advance to avoid any inconvenience on the game day.
Additionally, Nissan Stadium has various seating options, including the Upper Level, which offers a great view of the game. My personal favorite is the Upper Midfield section as it provides a perfect vantage point without breaking the bank. The ticket prices for the Upper Level range from $45-$59, and the PSL prices range from $300 to $1,100 per seat.
Lastly, when it comes to parking at Nissan Stadium, I usually plan and book my spot in advance to save time and stress on the day of the game. This way, I ensure a smooth and enjoyable experience at the stadium.
In a nutshell, knowing about the gates, entrances, bag policy, seating options, and parking details can make a huge difference to my overall experience at Nissan Stadium. So, I hope my insights make your next visit just as enjoyable as mine. Enjoy the game!