Do you have an upcoming game or a concert to attend at Nissan Stadium? Then this article is for you!
Here you'll learn everything you need to know about the stadium and your journey to get there. We have provided a detailed description of the best restaurants, bars, and hotels where you can stay at. Additionally, we have also found the best way you can reach the stadium and avoid traffic.
With that being said, keep reading and discover everything about Nissan Stadium. More importantly, learn some tips for your next adventure at the stadium!
Nissan Stadium: Key Facts
Any football fan knows about Nissan Stadium. However, for those outsiders that are hearing about this legendary place for the first time, don't worry! We got you covered.
Nissan Stadium is a multi-purpose stadium in Nashville, Tennessee. It is the home of the football team Titans. This stadium is also a very famous concert venue. However, Nissan Stadium is used for all types of events and galas, too.
It has the capacity to welcome 69,143 people. For some types of events, this capacity can be exceeded.
The stadium has three levels of seating, with the lower bowl completely encompassing the field. The club and higher levels of the stadium's dual towers rise above the lower bowl along each sideline.
Lastly, it is owned by the Metropolitan Government of Nashville and Davidson County.
Where Is Nissan Stadium Located?
Nissan Stadium is located in beautiful Nashville, Tennessee, on 1 Titans Way. Close by the stadium is the Cumberland River, Tennessee Performing Art Centre, and Public Square Park.
For anyone that visits Nashville for the first time, note that the area around the stadium is developed. This means that it has all the necessary institutions close by, and it's also a popular tourist spot.
The Best Way to Get to Nissan Stadium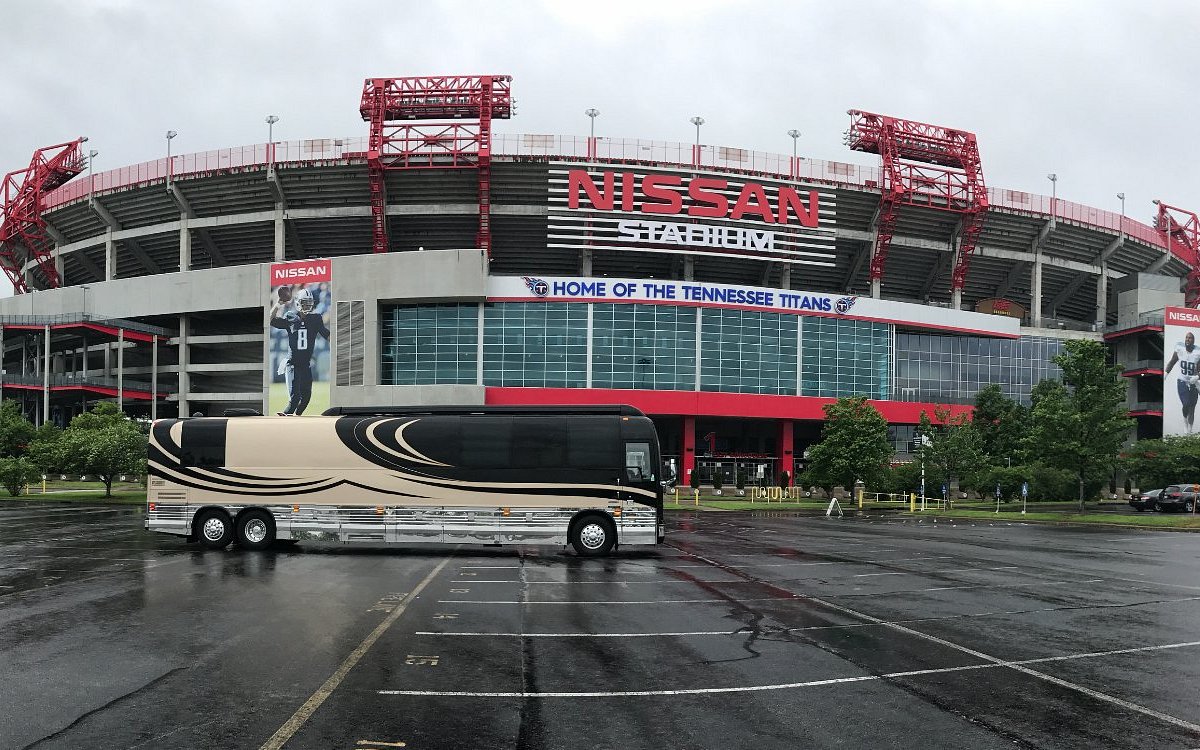 As previously mentioned, this stadium has a multi-functional purpose and is widely known by the public. More importantly, it has a broad event program, which makes it busy all year long.
So, no matter what event you are attending, the best way to reach the stadium is on foot or with public transport.
We advise using public transport, especially if you have tickets for a Titans game or a concert. This way you can avoid the traffic and the extra parking cost that will be applied if you come by car.
Another good way to reach the Nissan Stadium is by foot. However, this is not the best option as you may have to walk for two hours, depending on your location.
Lastly, riding a bike is also a good option. If you do decide to come with a bike, there are specialized parking spots where you can lock it safely.
Parking Near Nissan Stadium
Finding a parking spot for your car can be a true nightmare, especially before a game or a concert. Don't waste your time trying to park your car in the middle of nowhere. Instead, use one of the stadium's available lots.
It is widely believed that parking at the stadium is much more expensive than any other parking lot. Bear in mind that this is not true. The prices of the stadium parking fall between $30 to $50 depending on the event and the demand. This price is nearly identical to the hourly charge of any other garage or parking lot nearby.
We recommend parking at one of the stadium's parking lots, as they are secure and under constant monitoring. Plus, your spot will be guaranteed once you buy your ticket.
The best four spots where you can park your vehicle:
Nissan Stadium Lot A
Nissan Stadium Lot B
Parking Lot H
Parking Lot M
The Best Restaurants Near Nissan Stadium
Black Rabbit
Black Rabbit is for anyone that loves a dark and cozy atmosphere. The restaurant is located within a 12-minute walk from the Nissan Stadium, and it has the tastiest food in Nashville.
The menu offers a variety of choices, and the food is always freshly made. You can make your order from the following menu options:
Small plates
Mains
Snacks
Desserts
Cocktail menu
Draft
Cans
Wine menu
Aside from being perfectly aesthetic, Black Rabbit is also affordable. If you decide to dine here, you will pay $25 on average for one person's meal and drink.
On a more important note, Black Rabbit is accessible to everyone. This means that disabled people can enjoy the good food and the lovely atmosphere here. For that purpose, Black Rabbit has a suitable entrance, seating, and toilet for wheelchair accessibility.
Keep in mind that different types of payments are accepted in this place. Meaning, you can pay with cash or with a card. Both credit and debit card payments are accepted. However, this restaurant doesn't accept mobile payments like PayPal, ApplePay, or any other.
Additional information
Gray & Dudley
Are you a person that likes to hang out in pubs and artsy restaurants that make you feel relaxed, not formal? Then Gray & Dudley should be your first choice after a game at Nissan Stadium.
It is located only a 12-minute walk away from the stadium. Close by is the Musicians Hall of Fame and Museum and the Tennessee Performing Arts Center.
Gray & Dudley is accessible to everyone, including people with disabilities. This is made possible because the restaurant has a suitable toilet, seating, lift, and entrance.
In addition to this, all types of people are welcome here. Therefore, this is a perfect fit for family gatherings, birthdays, dates, or a nice spot to hang out with your friends. Gray & Dudley is open to diversity, and LGBTQ+ members are always welcome here.
The food is fresh and made using the best natural ingredients. Their menu offers the following options:
Breakfast
Brunch
Dinner
Cocktails
Spirits
Because there might be a wait, we advise you to reserve a table in advance.
Additional information
The Countrypolitan Bar & Kitchen
If you like restaurants that feel like the artistic home of your soul, then The Countrypolitan Bar & Kitchen is the right fit for you.
It is located within a 15-minute walk from the stadium, and it can be the perfect place to end your night. The Countrypolitan Bar & Kitchen is suitable for solo and group dining. Additionally, they have a takeout option for anyone that is too busy to dine in.
The best feature of this restaurant and bar is the fact that it has free Wi-Fi and comfortable chairs. More importantly, it also has accessible toilets, seating, entrance, and parking.
When it comes to food, it is prepared under the highest standards and by following strict conditions. The menu is broad and offers a variety of choices. The cuisine is standard, with classic burgers, sandwiches, and salads.
From a payment perspective, they accept cash and card payments. Unfortunately, this restaurant still doesn't accept mobile payments.
Additional information
The Best Bars Near Nissan Stadium
If you would like to grab a drink prior to or after a Titans game, we've made a list of the three best bars you must go to! They are a good fit for an everyday night out or a special celebration.
Each bar is located within a five-minute drive from the stadium, and they're close to many tourist sights.
They all are accessible to disabled people and accept both cash and card payments.
So, if you are a fan of fun and like to have a great time, definitely swing by one of these bars near the Nissan Stadium.
Wild Beaver Saloon
Coyote Ugly Nashville
Doc Holliday's Saloon
Wild Beaver Saloon
Wild Beaver Saloon makes amazing parties and has live music and karaoke nights. That's why this is one of our favorite bars in Nashville.
If you are unsure what to order, have a cocktail, as it is their specialty.
And since it is only 15 minutes from Nissan Stadium, it's the perfect choice to end your night.
Additional information
Coyote Ugly Nashville
Coyote Ugly Nashville is where you go when you want to have a crazy night out.
This is the place if you'd like to take a body shot or see bartenders dance.
The bar has a wide alcoholic menu. However, we believe their beer and cocktail selection is the best.
Additional information
Doc Holliday's Saloon
Doc Holliday's Saloon has regular live music and a fantastic atmosphere.
The bar has a wide collection of beverages, both alcoholic and non-alcoholic. We recommend you try their cocktails or a crafted beer!
Additionally, the bar has an online shop where you can buy merchandise.
Additional information
The Best Hotels Near Nissan Stadium
As Nissan Stadium is one of the most popular attractions in Nashville, Tennessee, there are many hotels nearby. In this section, we will provide a detailed description of the best hotels you can stay in. Whether you're attending a game or a concert at the stadium, these three hotels have everything you need.
Note that your comfort is our main priority. For that reason, a key standard in our selection was the pleasant atmosphere of the hotel. Furthermore, we searched for places that are affordable and have many amenities.
La Quinta Inn & Suites by Wyndham Nashville Downtown/Stadium
The Russell
Clarion Hotel Nashville Downtown – Stadium
La Quinta Inn & Suites by Wyndham Nashville Downtown/Stadium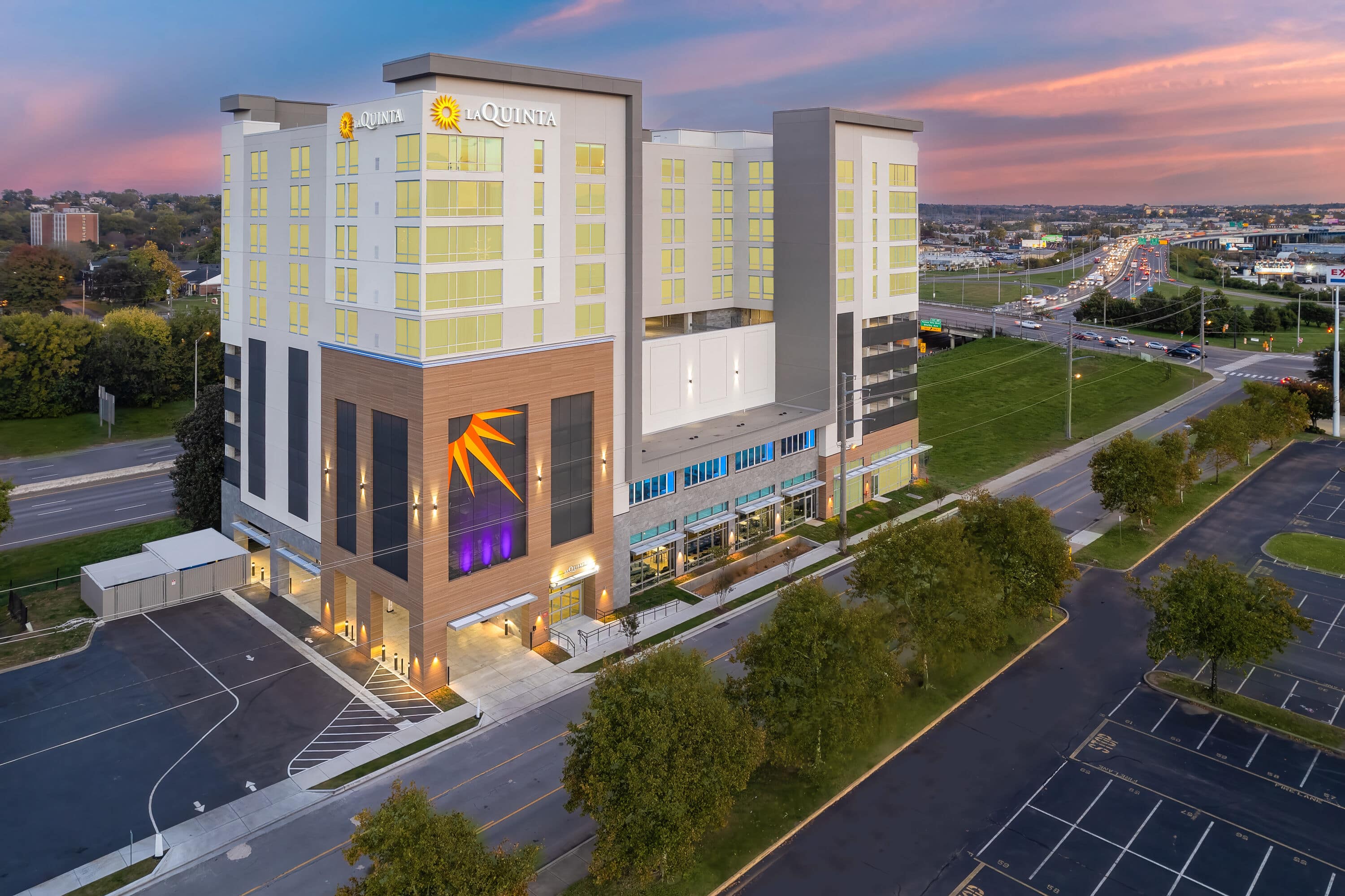 This is a modern pet-friendly hotel that is located an eight-minute walk from the stadium. It has many great features and amenities, such as an indoor pool, city views, and wide and bright rooms.
On average, staying here for one night will cost you $245. However, considering the fact that the prices are demand sensitive, you may end up paying much less. For example, currently, you can book a room for only $180 for July 2023.
Finally, this hotel has a rating of 8.3 on Booking.com and a great location. It is close to many of the city's highlights.
Additional information
The Russell
If you are looking for a modern, artsy, and aesthetic hotel, then The Russell is the best fit for you.
It has wide, bright, and well-organized rooms. Additionally, it is located close to many tourist attractions and only a 20-minute walk to the Nissan Stadium.
Price-wise, staying here costs $275 for one night. This is the average price for one room. Note that the dates of your stay, the type of room, and the duration of your trip may have an effect on the total price. Still, be aware that the prices are subject to change and are dependent on demand.
Lastly, this hotel has free parking and Wi-Fi, and it is accessible to people with disabilities.
Additional information
Clarion Hotel Nashville Downtown – Stadium
If you like to stay in a modern and luxurious hotel, then you should definitely book a room at Clarion Hotel.
At Clarion Hotel, the rooms are cozy and bright, with king or queen-size beds, and well-organized. Aside from all the other amenities that this hotel has to offer, we believe that the best features are the gym and the indoor pool.
It is important to know that the hotel is only a 10-minute walk from the Nissan Stadium, and it's close to many of the touristy spots in Nashville.
When it comes to the price, staying here costs an average of $195 for one night. This price is only an average, and it's used to show you what to expect when booking a room. You can book a room for a cheaper or a higher price depending on your travel dates and other relevant factors.
Additional information
The History of Nissan Stadium
Nissan Stadium was built in 1999, and since then it has been known under many names.
In the period 1999 up to 2002, it was called Adelphia Coliseum. Later, from 2002 up until 2006, it was recognized under the name the Coliseum. From 2006 to 2015, this stadium was known as the LP Field.
The Nissan Stadium got its current name on June 24, 2015.
As it was built in 1999, this stadium has existed for twenty-four years.
Where to Get Tickets for Nissan Stadium
Each stadium has its own base where to buy tickets for upcoming events. That is the case with Nissan Stadium as well.
So, if you have the intention to attend any of the seasonal matches or the upcoming Taylor Swift concert, your tickets can be bought here.
Additionally, you can purchase tickets from the artists' website. Moreover, when it comes to seasonal games, you can buy tickets from the official site of your team as well.
Does Nissan Stadium Offer Tours?
We are glad to inform you that this stadium actually offers tours! Unfortunately, they don't have any group or public tours. However, you can still book a private tour of the stadium. This way, you can explore the entire Nissan Stadium without any distractions.
By booking a private tour you will be able to see the Press Box, Locker Room, TV Production Studio, Post-Game Interview Room, T-Rac's Den, Broadcast Booths, and more! Note that the stops that are included and mentioned above are subject to change. It's like this because they depend on the other events that are taking place at the stadium.
Private tour tickets
If you intend to buy tickets for the private tour, that can be easily done. All you have to do is go on their website and scroll down on the page. Next, you will have to fill out the form that is a formal request for a private tour of the Nissan Stadium. You have to write down your name and surname, email, phone number, and guest count.
Then you will have to choose a desired date and time for the tour. The final step allows you to add any additional comments you may have or something you'd like to mention. However, note that this is only a request for the tour. For that reason, this step is totally free.
After you submit this request form, you will be contacted by a staff member from the Events and Tours Team of the stadium. Then, you will be provided with instructions for booking and other additional information.
Unfortunately, we are unable to provide you with the price range of the tour. That depends on different circumstances, and you should wait to be contacted by the staff.