Nestled at the junction of Interstate 35E and Interstate 35W in Denton, Texas, Apogee Stadium stands as a landmark for college football enthusiasts and a proud home for the University of North Texas (UNT) Mean Green football team. Having opened its gates in 2011, this modern facility replaced Fouts Field, where the team had played since 1952. As a member of the American Athletic Conference, the Mean Green enjoy fierce competition and showcase their skills in front of a dedicated fanbase.
With a seating capacity of nearly 31,000, Apogee Stadium serves as the focal point of the Mean Green Village, encompassing various academic, training, and competition facilities for UNT's nearly 400 student-athletes. The stadium was designed and constructed by award-winning companies HKS and Manhattan Construction, embodying cutting-edge architectural concepts that elevate the overall football experience.
In addition to its striking design, Apogee Stadium is the first sports venue in the United States to achieve LEED (Leadership in Energy and Environmental Design) Platinum certification, reflecting the stadium's commitment to sustainable practices. Combining superior athletic facilities with environmental responsibility, Apogee Stadium represents a new era of college football and sets a high standard for future stadiums to follow.
History
In the early 2000s, the University of North Texas (UNT) began planning for a new stadium to replace the aging Fouts Field. In September 2002, UNT purchased 19 acres of land on the opposite side of Interstate 35 from the main campus in Denton for $5.1 million from Liberty Christian School. This site, together with an adjacent 158-acre golf course owned by the university, became the future home of Apogee Stadium.
Apogee Stadium, a horseshoe-shaped arena with a seating capacity of 30,850, opened in 2011 and serves as the official stadium for the North Texas Mean Green football team. The architecture firm HKS designed the stadium, which is the same firm that designed the Dallas Cowboys' AT&T Stadium. This state-of-the-art facility marked a new era for the Mean Green and provided a significant venue that hosts not only football games but also concerts and other large events.
In addition to its modern design, Apogee Stadium has set a high standard for sustainability in sports facilities. It achieved LEED Platinum Certification for New Construction in 2011, making it one of the few stadiums in the country to receive such recognition. This distinction represents UNT's commitment to environmental stewardship and highlights Apogee Stadium's innovative green features, such as energy-efficient lighting and water conservation systems.
The history of North Texas Mean Green football dates back long before Apogee Stadium. The first football team was fielded in 1913 when the university was still known as North Texas State Normal College. Over the years, the team has grown and evolved, and with the completion of Apogee Stadium, the Mean Green now have a fitting home to showcase their talents and bring the North Texas region together for sports and entertainment.
Location
Address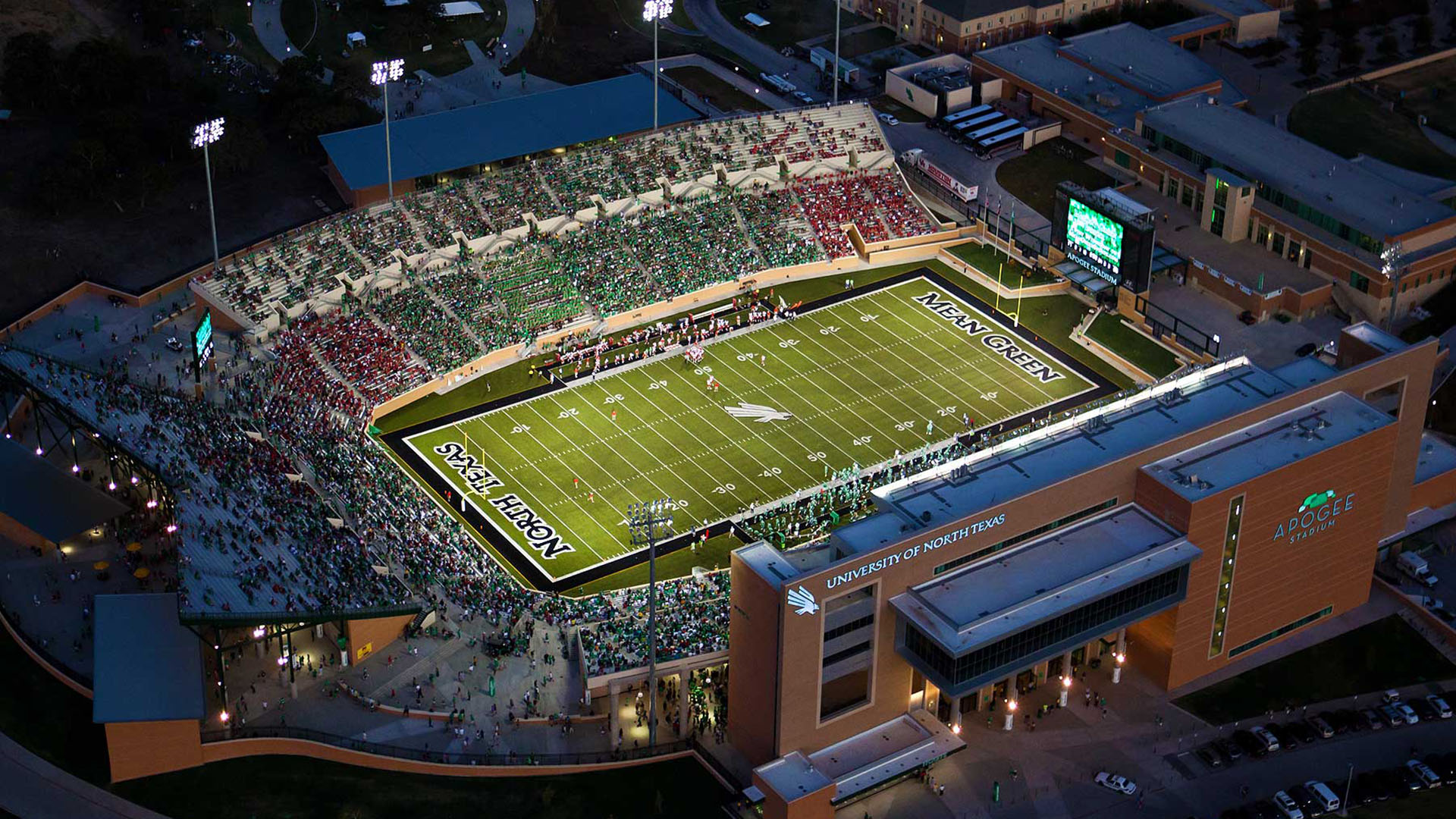 Apogee Stadium is situated at the corner of I-35E and Bonnie Brae Street in Denton, Texas. As the home of the University of North Texas (UNT) Mean Green football team, the stadium is part of the Mean Green Village, which also hosts various academic, training, and competition facilities for UNT's student-athletes. Its construction in 2011 replaced the former Fouts Field, which had been the base of operations for the football program since 1952.
Accessibility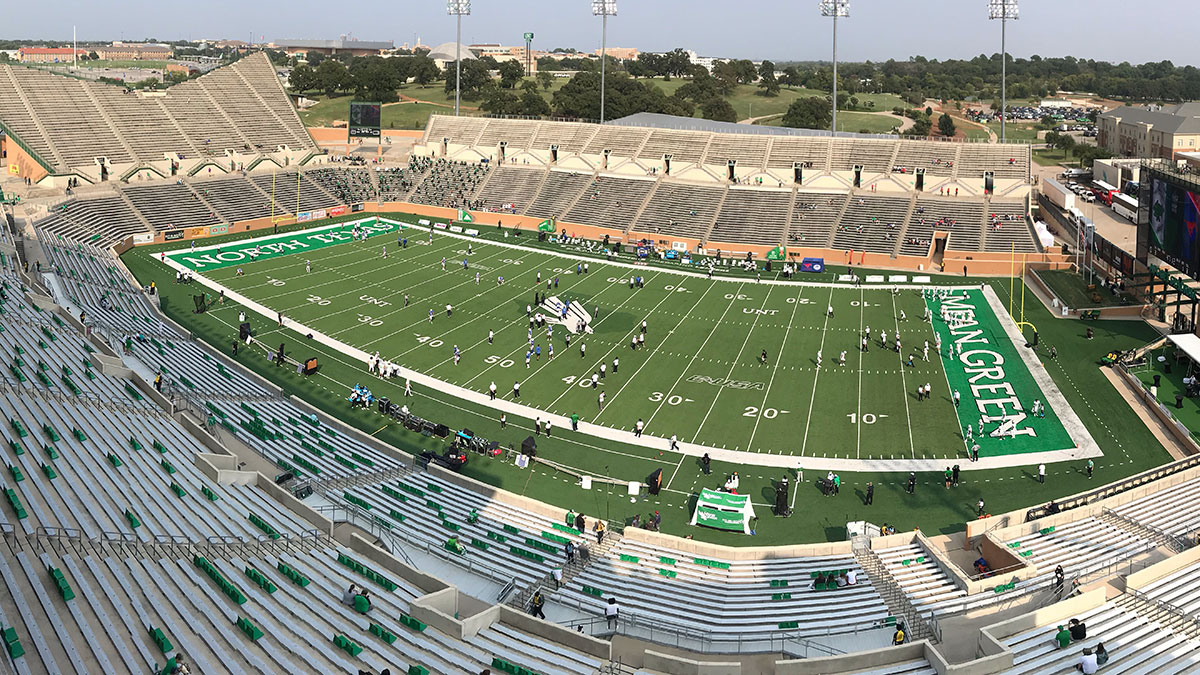 Easily accessible, Apogee Stadium is located alongside the major highway I-35E, making it convenient for visitors to travel to and from games. Furthermore, the city of Denton is committed to promoting alternative modes of transportation, which includes biking and public transportation options.
For fans who prefer to ride their bikes, there are numerous bike racks located around the stadium, allowing for secure and convenient storage.
In terms of public transportation, the Denton County Transportation Authority (DCTA) provides a variety of services to help attendees reach the stadium. On game days, fans can use the A-train commuter rail, which connects Denton to Dallas and other neighboring cities. This provides an efficient and eco-friendly way to get to and from Apogee Stadium.
Features
Stadium Capacity
Apogee Stadium has a seating capacity of 30,850 spectators. This modern stadium is the home of the North Texas Mean Green football team and has attracted fans from all over the state since 2011. It has seen an average attendance of Mean Green football home games between 2011 and 2020.
Facilities
The stadium offers various facilities for fans to enjoy during the game. It features 21 luxury suites, 750 club seats, banquet space for events, and a team spirit apparel store. Besides, the Apogee Stadium is known for its sustainable design features, which have earned praise and awards from media outlets and industry groups.
In collaboration with the University of North Texas, Apogee has managed the student residential network (ResNet) for the residential community on the UNT campus since 2008.
Events at Apogee Stadium
Popular Games
Apogee Stadium is the proud home of the University of North Texas Mean Green football team. The stadium has witnessed some key games and moments throughout the years, attracting large crowds and creating budding rivalries. For instance, the season opener against the SMU Mustangs brought in an attendance of 29,519 Mean Green fans, and on Mean Joe Greene Day versus Louisiana Tech, a new record of 30,150 fans was set in a sold-out Apogee Stadium.
The 2023 football season features some exciting matchups, such as the game with California Golden Bears on September 2nd, and Abilene Christian Wildcats on September 30th. These games are eagerly anticipated by fans and promise to bring exciting moments and memorable experiences to all who attend.
Concerts and Functions
While Apogee Stadium is best known for its thrilling football games, it also plays host to various concerts and functions throughout the year. As a multifunctional event space, Apogee stadium has the capacity and facilities to cater to a wide range of events, providing unique experiences for both organizers and attendees.
The modern aesthetics and impressive sound system make Apogee Stadium an ideal venue for concerts, with audiences enjoying live music in an unforgettable setting. Similarly, the stadium's expansive event space offers plenty of room for functions such as corporate events, seminars, and community gatherings. The flexibility and versatility of Apogee Stadium allows it to accommodate events of all sizes and cater to different needs, making it a popular choice for event planners in the Denton area.
Mean Green Team
Achievements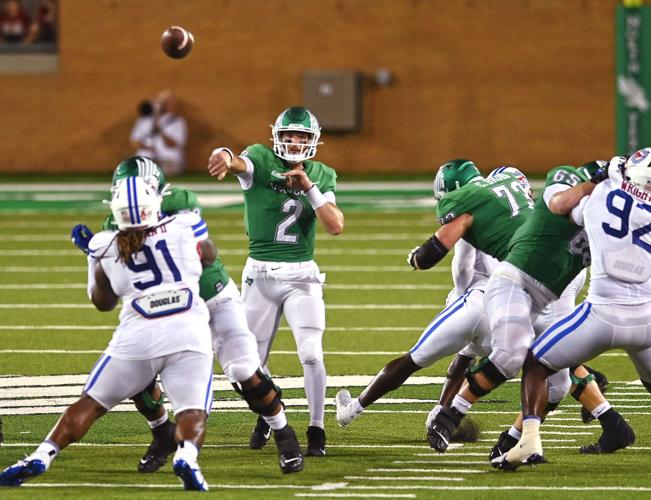 The North Texas Mean Green football team has had its share of successes since DATCU Stadium (formerly known as Apogee Stadium) opened in 2011. In 2017, the team achieved a notable first in the stadium's history – a perfect 6-0 home record. The Mean Green competes in the American Athletic Conference and has continued to build on their success over the years.
Notable Players
The North Texas Mean Green has produced several standout players who have made significant contributions to the team and have gone on to successful professional careers. Here are a few examples:
Lance Dunbar: A running back for the Mean Green from 2008 to 2011, Dunbar went on to play for the Dallas Cowboys and Los Angeles Rams in the NFL.
Jamize Olawale: Another former running back for the team (2010-2011), Olawale has played in the NFL for the Dallas Cowboys and Oakland Raiders.
Mason Fine: Quarterback for the Mean Green from 2016 to 2019, Fine set numerous school records and is considered one of the top quarterbacks in program history.
These are just a few of many talented players who have been part of the Mean Green Team over the years, showcasing the strength and perseverance of the program at the University of North Texas.
Visitor Information
Tickets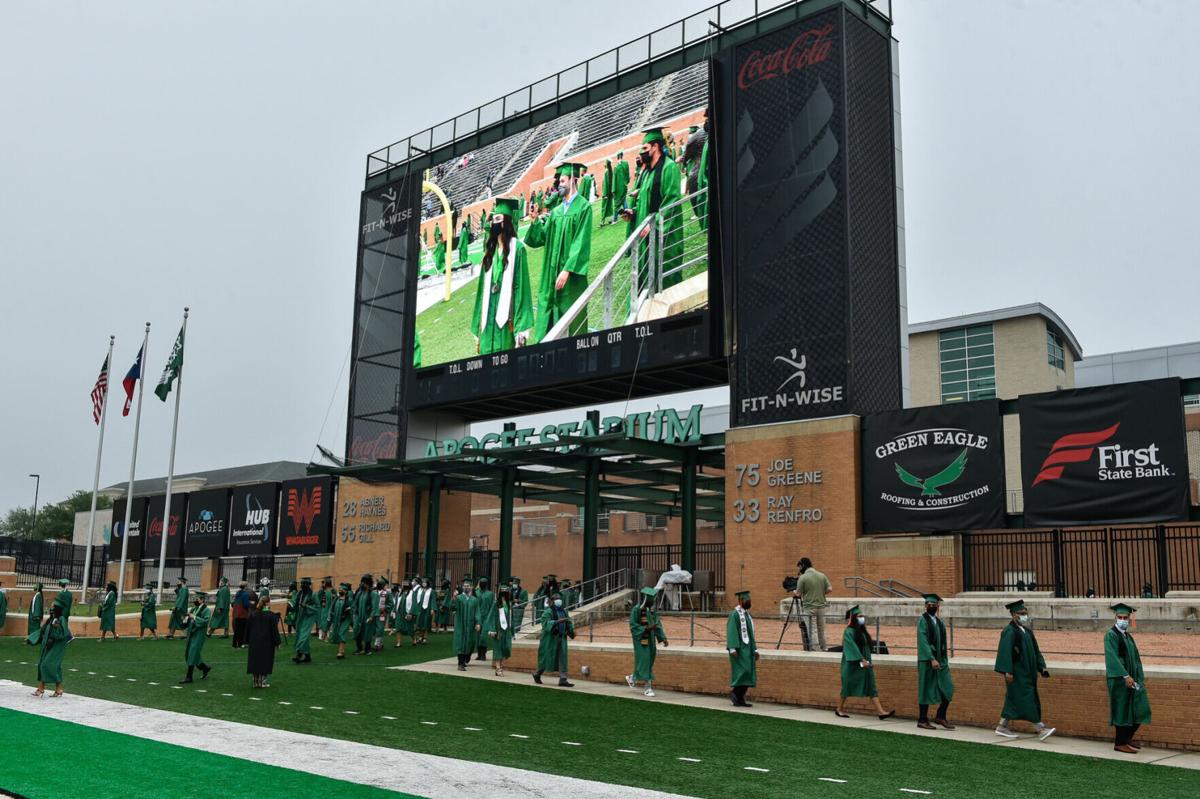 If you're looking to attend a North Texas Mean Green game at Apogee Stadium, you can purchase tickets through the University of North Texas Athletics website. There are various seating options available, including general admission, reserved seating, club seats, and luxury suites. Prices may vary depending on the category and demand for the game.
Parking
Parking at Apogee Stadium is well organized, with multiple parking lots available for fans. There are dedicated lots for season ticket holders and General Public (GP) lots for single-use or game-day parking. Be sure to arrive early, as spaces fill up quickly on game days. There are also shuttle services that operate from designated parking lots, making it convenient for fans to reach the stadium from their parking spot.
Remember to have a friendly attitude while visiting Apogee Stadium. Enjoy cheering for the North Texas Mean Green!