Whether you're a die-hard football fan or a traveler looking to immerse yourself in the culture, nothing screams America like seeing live football.
And where better to watch a game than in the Heartland, where football is a way of life?
The Dallas Cowboys are arguably one of the most popular teams in the NFL.
They have the longest streak of sold-out games and are one of the most successful teams with five Superbowl wins. They are even the highest-valued team, worth an astonishing $5 billion dollars!
A visit to AT&T stadium for a game or even a tour is definitely worth the trip. Below, we'll make sure you have all the information you'll need before making the trip to Arlington, Texas!
AT&T Stadium: Key Facts
AT&T Stadium was initially named "Cowboy Stadium." It was completed in May 2009 for a whopping $1.15 billion dollars – almost twice what it was estimated to cost.
It has been referred to as "Jerry World" after the Cowboy's owner and manager, Jerry Jones, and the many uses he found for the venue.
Over the years, it's been used for concerts, spartan races, rodeos, motocross, professional wrestling, high school football, basketball, and even soccer games!
Some noticeable events that took place at the AT&T stadium include:
WWE's WrestleMania 32 took place on April 3, 2016. It was the most attended WWE event with over 100,000 viewers. Wrestle Mania 38 was also held there in 2022.
AMA Supercross Championship round every year since 2010
The 2026 FIFA World Cup will have multiple games at the stadium, and perhaps even it is final!
NBA All-Star Weekend on February 14, 2010, set a new Guinness book record for the highest-ever attended basketball game with 108,000 viewers
College Football Playoff National Championship on January 12, 2015, where the Ohio State Buckeyes played and won after the Oregon Ducks
Big 12 Championship Game in both 2009 and 2010
Cotton Bowl Classic every year from 2010-2018
Advocare Classic from 2009 to 2014
50th Annual Academy of Country Music Awards in 2015
Southwest Classic from 2009-2011 and then move back to AT&T stadium from 2014 and will continue until at least 2024
Multiple Boxing world championships fights
Major concerts including the two largest, Taylor Swift's 2018 tour with 105,000 attendees and George Strait in 2014 which earned over $18 million
The inaugural American Rodeo in 2014
Choctaw Casino Resort Iron Cowboy hosted its professional bull riding show in 2016
Greg Laurie's Harvest America was the largest evangelical event ever and took place at the stadium in 2016
The stadium is home to the Cotton Ball Classic and Big 12 Championship Game. While it has seating for 80,000 guests, with standing room, it has held a record of just over 105,000 guests.
It even has the 34th largest video screen in the world, along with over 3,000 additional LCD screens. The dome is one of the tallest in the world, and the roof is retractable. The rumor is the stadium uses more power than some small countries!
Where is AT&T Stadium Located?
The AT&T stadium is located in Arlington, Texas. Arlington is just west of Dallas and has a population of nearly 400,000.
Other than its stadium, the city is known for the University of Texas at Arlington, Arlington Baptist College, Six Flags Over Texas, River Legacy Parks, The River Legacy Science Center, and Mensa International.
The stadium is located centrally in downtown Arlington. It's conveniently close to many amenities, including Dr. Robert Cluck Linear Park, Six Flags, restaurants, arcades, and a movie theater.
The Best Way to Get to AT&T Stadium
The best way to get to the stadium is to drive and park yourself unless you have a shuttle service available to you.
Public transportation will not get you directly to the stadium, unfortunately. In fact, there is very little public transportation at all in Arlington!
However, if you don't drive (or chose to forgo the rental car on this trip), we do have a few other options for you.
If you take the train to the Centreport Station, you can then get a taxi from there to cut down on costs. It is still a 15-minute drive from this central location.
You can also check to see if your hotel offers a shuttle service, as some larger ones do.
Some bars, such as J. Gilligan's and Grease Monkey, also offer their customers shuttles to the game. This is a good option if you want to have a drink beforehand!
Parking near AT&T Stadium
Parking at the stadium opens 5 hours prior to a game or event. The parking is designed to get visitors in and out of the stadium without much delay.
There are 15 lots at AT&T stadium with 12,000 parking spots. There are a further 12,000 spots located at the Texas Ranger Ballpark that is used as overflow parking during large events.
Based on the location and event, parking can range anywhere from $20 to nearly $1000 for a premium spot during the Super Bowl!
There is a special lot dedicated to RV parking and oversized vehicles (Lot 14), and RV parking will cost $150 per spot.
Tailgating is all part of the American Football experience, and the AT&T stadium has dedicated areas specifically for tailgating. These are located in the grassy lots, and the spots all have space behind each car to set up.
The Best Restaurants near AT&T Stadium
You'll have plenty of choices to fuel up before a game and have a drink to celebrate a win. Arlington is a great place to indulge in Southern Fare, and you won't have to venture far!
Whether you are after fried stadium food, an upscale environment, or something family-friendly, we've got you covered.
AT&T Stadium Sports Bar
First, in the stadium itself is the AT&T Stadium Sports Bar.
Here you'll find all your favorite finger foods like wings, fried steak, tacos, and burgers!
It's a favorite stop after a game or a tour of the stadium. You can expect to keep that game-day atmosphere going here.
J. Gilligan's Bar & Grill
J. Gilligan's is a great place to load up before the game, as they provide a shuttle service to the stadium.
It does cost a small fee, but it'll save you on parking or taxi fares and is a must if you plan on drinking before the game.
Don't just go for the shuttle though— the restaurant is renowned for its Irish nachos. They've been featured in multiple TV shows, and it's easy to see why.
Picture this: Sliced fried potatoes covered in bacon, Wisconsin cheddar cheese, onions, tomatoes, chives, jalapenos, and sour cream along with a choice of grilled chicken or ground beef…
This traditional Irish pub also has a selection of other delicious items like burgers, steaks, salads, and sandwiches.
With live entertainment available on Friday and Saturday nights, Happy Hour every day until 7 pm, and an internet jukebox, this place has an upbeat atmosphere with high energy to get you pumped for the game.
Daiquiri Depot
If beer isn't your thing— or you just want to switch things up— try the Daiquiri Depot! It's a fantastically hip locale with a New Orleans feel.
These frozen drinks are sure to hit the spot on a hot day; imagine sitting out on the patio with an ice-cold Pina Colada…
They feature signature drinks, such as the Miami Vice, in a range of sizes from a cup to a gallon!
You can even load up the cooler with a couple of jugs of margaritas for the tailgate.
The food matches the atmosphere and drinks menu, with their range of southern and soul food. Friend chicken, oxtails, and sweet potatoes are all on offer.
Babe's Chicken Dinner House
If you're seeing a game with the kids, the bar options may not be what you're after.
Babe's Chicken Dinner House is a good option for a family dinner as they have a kid's menu, booster seats, staff that is great with kids, and even a hokey pokey dance and sing-along.
Good ol' fashion southern food is what you'll find at Babe's— but you'll also find a nine-foot neon cowboy in the middle of the dining room! That's after you walk past the petrified wood walls of the waiting area, and under the water tower of the entranceway.
Here, you'll find fried chicken and catfish— but that's definitely not all!
Make sure you try the chicken fried steak, which comes with buttermilk biscuits, mashed potatoes, grandma's corn, and gravy. Finish it off with some chocolate meringue pie, and you'll be ready for the game!
The Best Bars near AT&T Stadium
If you're just after a drink– whether to toast your team or drown your sorrows– we've got you covered with a couple of bars that have a great atmosphere and a fantastic selection of drinks to suit anyone!
Division Brewing
Division Brewing is a great pick for beer lovers. They make their own craft beers, which are of the highest quality and come in multiple unique options.
For example, the Cordial Cush is a cherry chocolate coconut stout. Or, perhaps you'd like the Elder Bramble– a blackberry and elderflower sour.
The atmosphere is fantastic as well, with a patio where you can relax and take in Arlington. The venue enjoys live music on certain nights from local artists, so be sure to check out their social media to see what's on!
Hooligan's Pub
Hooligan's Pub is the place to go if you're looking for something a bit more upscale. Don't let the name fool you; yes, it is an Irish pub– but they take their game up a notch!
Beer lovers and cocktail fanatics alike will love this pub. The drink options are plentiful, and constantly changing.
There are 25 beers on tap and 80 more in bottles, along with an extensive cocktail list that includes signature drinks as well as the classics.
Guests can get cozy by the fireplace, or bask in the balcony view. There's a mobile app available for the jukebox, and guests are invited to order food from the plentiful nearby takeout options.
It's truly an excellent place to unwind after the madness of a game!
The Best Hotels near AT&T Stadium
If the focus of your trip is seeing the Dallas Cowboys crush the opposition (or even if you're just touring the stadium), there are plenty of options close by.
Being within walking distance can save you a headache later on, and we have some options that mean you don't need to compromise on quality for location!
Live! by Loews
You can't get any closer to the action than this.
Just a stone's throw from the stadium, Live! by Loews is an upscale hotel option with very high standards. The rooms are modern, and some even have views of the stadium that are truly up close and personal.
This sleek hotel, so close to the stadium, Six Flags, and vibrant surrounding nightlife, will cost you around $400 a night.
It also features amenities such as an infinity pool, chic lounges, and an onsite restaurant so you can have a truly relaxing stay.
Courtyard by Marriott Dallas Arlington/Entertainment District
This Marriott location will be easier on your budget than the above, and is still less than a mile from the stadium!
The three-star hotel costs around $200 a night and offers modern rooms, a pool, a fitness room, an onsite casual restaurant, and free WiFi for your convenience.
Holiday Inn Arlington NE-Rangers Ballpark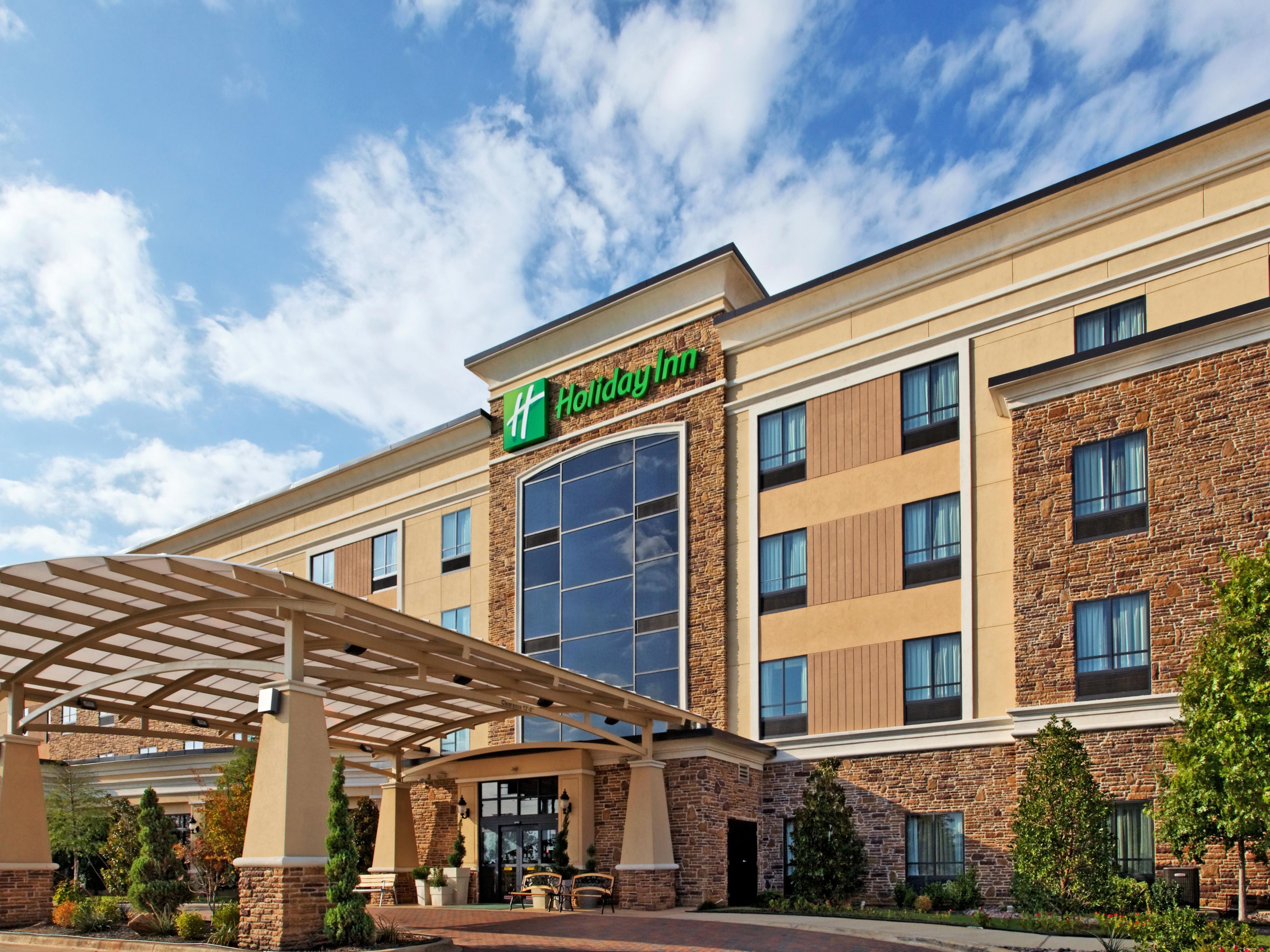 Located a mile from the stadium, the Holiday Inn is a family-friendly option. Rooms start at $200 and include parking, an indoor pool, and even a shuttle to the stadium!
In the hotel is The Draft, a casual restaurant serving steaks, burgers, and drinks so you can fill up before or after the game.
The History of AT&T Stadium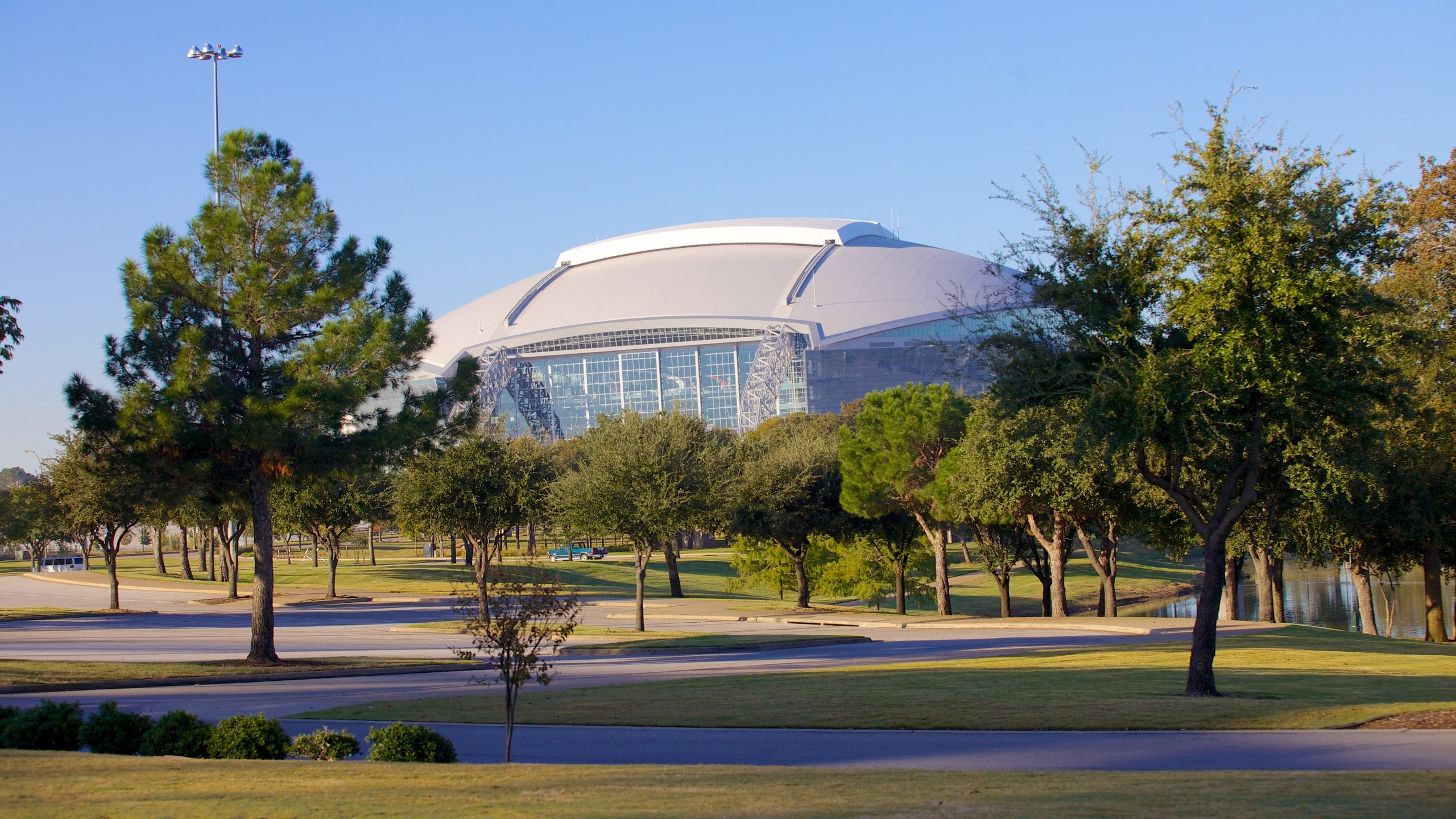 Jerry Jones, the Cowboy's owner, and manager proposed an expansion of the Texas Stadium back in 1994. He wanted to upgrade the stadium by adding 40,000 seats, a retractable roof, and climate control.
By the year 2000, plans had shifted from upgrading the Texas stadium to building a new stadium that was estimated to cost around $500 million. Jones negotiated with several cities, including Arlington, about possible building sites for the new stadium.
In 2004, Jones announced the stadium would be built in Dallas. However, the deal did not go through as the team requested $425 million in public funding for the construction of the building.
Later that year, the deal was completed for Arlington, and the site was chosen! Construction began in 2006 after hiring Manhatten Construction, an Oklahoma-based construction company. Jones released the plans for the stadium to the public.
The construction was finished in 2009, and Jones announced the name of the arena: Cowboy Stadium. A ribbon-cutting ceremony was held in May of the same year.
The first game was played in August– a preseason home game! The first event took place in June, which was a large country music showcase including George Strait, Lee Ann Womack, Blake Shelton, and Reba McEntire.
Where to Get Tickets for AT&T Stadium
You can buy tickets through the Dallas Cowboys website, which uses SeatGeek as its ticketing partner.
Tickets can be purchased for single games, season passes, suite rentals, ticket exchange options, and travel packages.
Does AT&T Stadium Offer Tours?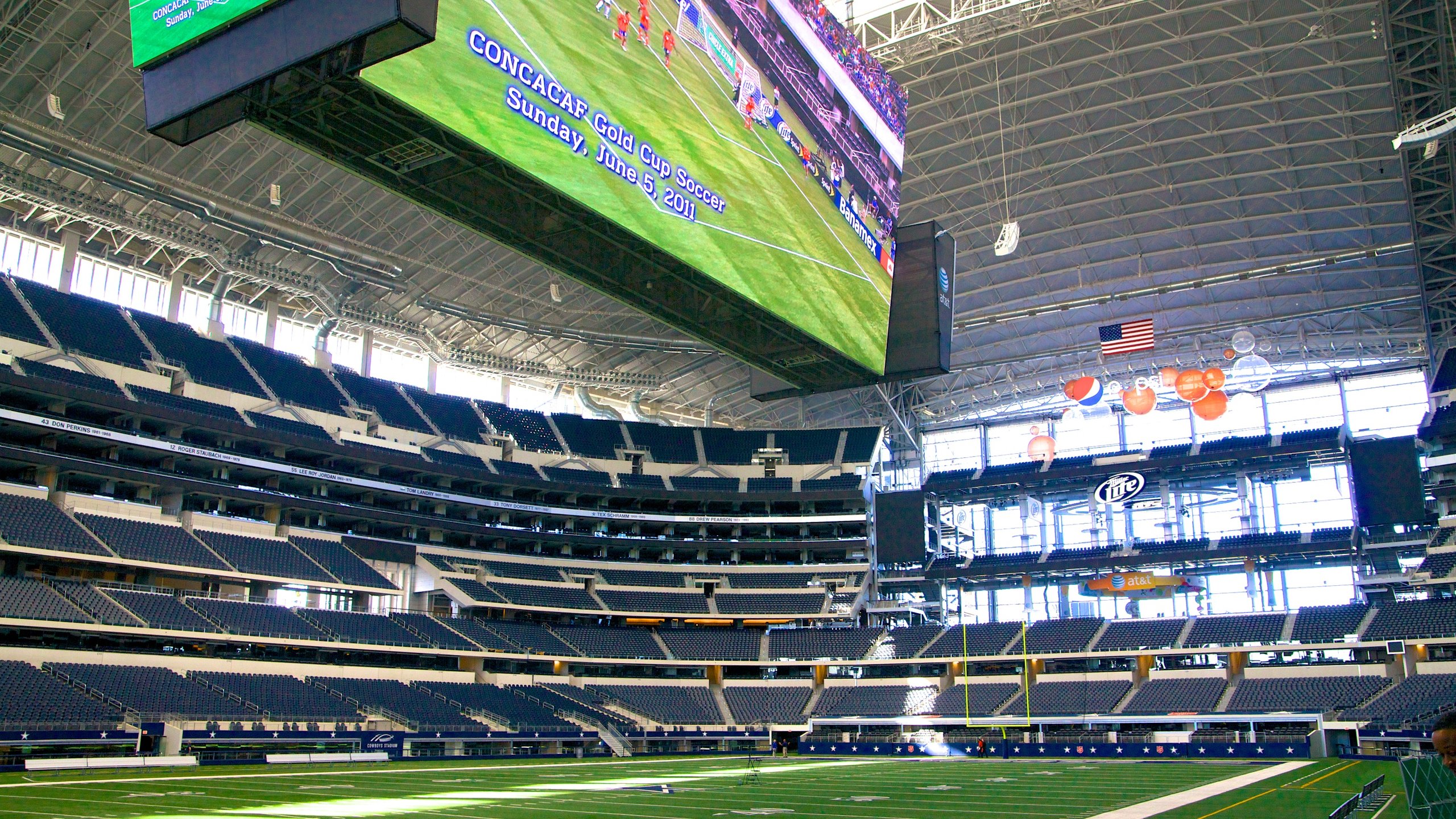 AT&T Stadium offers numerous options for tours to suit people of all ages and interests. Tours are available every day.
Self-guided Tour
This most popular option is available on weekends when the field isn't in use.
Starting at the Pro Shop, you'll be allowed to wander out onto the field, locker rooms, the Miller Lite Club, and the interview room.
While the tour is self-guided, guides will be available in each location to answer all your questions.
You are free to run around the field, throw a ball around, and even take a photo of the iconic Blue and White Star in the center of the field!
Rally Day Tours
Rally Day Tours are specific to days before home games. It's a chance to see the field the teams will soon be playing on.
The tour offers an opportunity to get autographs from alumni and cheerleaders. The energy is high with a live DJ, games, inflatables, and Miller LiteHouse access.
Guided Art Tour
Not into football? Have a drag-along that would like to see something else at the stadium?
No problem.
A unique feature of AT&T stadium is its contemporary art collection!
If you don't want to follow a tour group through the art exhibit, you can download an app or borrow a hand-held device to learn all about the artwork as you view it.
You can even watch videos of artist interviews or installations of pieces that are of particular interest to you!
Educational Tour
Tours are available to school groups, with options for self-guided tours or tours led by trained guides.
VIP Guided Tours
This more in-depth tour allows small groups greater access to the stadium. The stadium's most experienced and knowledgeable guides will take you into every nook and cranny of the site.
Stops not included in the general tour are a private suite, the Cotton Bowl Office vestibule, and a print media press box. You will also see the Dr. Pepper Star Bar or the Ford Motor Company Fountain.
Owner's VIP Guided Tour
This one goes one step further than the VIP tour with one additional stop in an area rarely seen by members of the public. Take the tour to find out!
There you have it: AT&T Stadium, home of the Dallas Cowboys! We hope you enjoy Arlington and all of the activities you're sure to partake in.