Finding the best place to buy Houston Texans tickets is essential for any die-hard fan looking to catch their favorite team in action. With so many options available, it can be overwhelming trying to figure out where to get the best deal. This article will guide you through some of the most popular and trusted sources for purchasing tickets to Houston Texans games, giving you peace of mind and the best chance of getting great seats at a reasonable price.
One reliable source for Houston Texans tickets is the team's official website, HoustonTexans.com. Here, fans can find all the information they need regarding ticket availability and special offers. Another popular option is SeatGeek, an online marketplace that offers competitive prices and a user-friendly platform to help you secure your seats. Ticketmaster is always a tried-and-true option, known for providing a secure purchasing experience along with various ticket options to choose from.
Keep in mind that each of these platforms may have different perks and prices, so it's essential to research and compare your options to make the most informed decision. Take the time to explore these recommended outlets, and you'll be well on your way to enjoying an exciting game with the Houston Texans!
Houston Texans Ticket Sources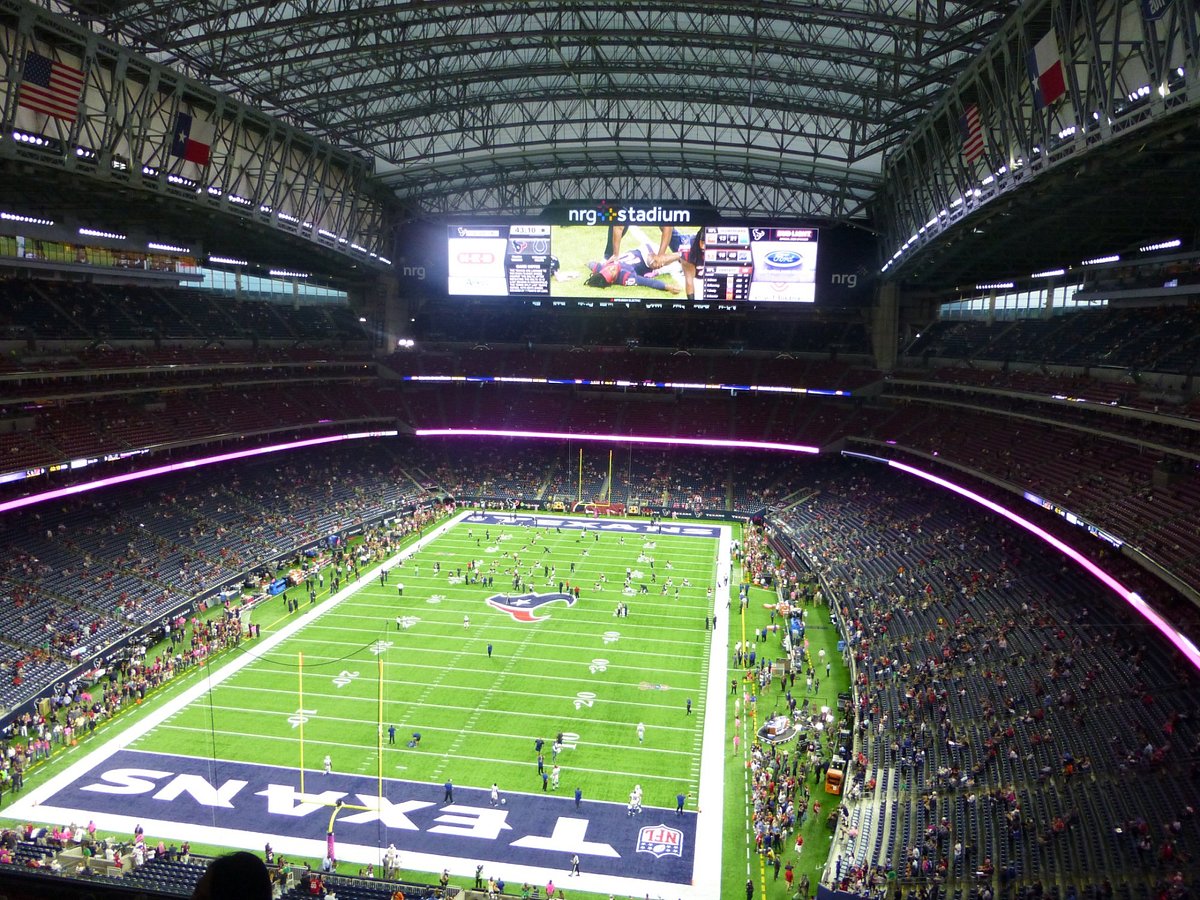 Online Ticket Vendors
There are several online ticket vendors where you can find Houston Texans tickets for the 2023 season. One popular option is HoustonTexans.com which is the official source for Texans ticket information. They provide various options including season tickets, single game suites, group tickets, and more.
Another well-known platform for purchasing Texans tickets is SeatGeek. SeatGeek offers a wide selection of tickets ranging from $25 to over $100 for different games and seating sections. They provide an interactive seat map, allowing you to easily choose the seats that fit your needs and budget.
RateYourSeats.com is another option to explore, providing detailed insights on ticket prices based on stadium sections. Texans ticket prices can vary depending on where in the stadium you intend to sit. At NRG Stadium, ticket prices can be found for as low as $21, while on the road fans can find tickets starting at $4.
To summarize, some main online ticket vendors for Houston Texans:
HoustonTexans.com
SeatGeek
RateYourSeats.com
Box Office at NRG Stadium
If you prefer to purchase your tickets in person, you can visit the Box Office at NRG Stadium which is the home stadium for the Houston Texans. The box office usually has tickets available for sale, including single-game tickets and season tickets. Visiting the box office may provide you with a face-to-face experience and the opportunity to ask any questions you may have about ticket availability and seating options.
To contact the box office, you can call 832-667-2002 or send an email. In-person visits may be subject to the stadium's operations schedule and relevant safety precautions.
In conclusion, whether you choose to buy your Houston Texans tickets online or directly at the NRG Stadium box office, there are various sources available to accommodate your preferences and needs.
Factors to Consider
When looking for the best place to buy Houston Texans tickets, there are several factors to consider. In this section, we will discuss important aspects such as ticket price, seat location, game schedule, and the timing of your purchase.
Ticket Price
It is important to compare ticket prices across various platforms to get the best deal. Websites like the official Houston Texans website, Ticketmaster, and other reputable ticket-selling platforms often offer similar prices, but promotional offers and discounts may vary. Shopping around can help you find better prices and save money.
Seat Location
Seat location can greatly impact your game-day experience. Consider your preferences for viewing angles, proximity to the field, and level of noise. Typically, seats closer to the field are more expensive, while seats in the upper levels offer a more budget-friendly option. Some venues may also offer seating maps to help you choose the best spot for both your viewing pleasure and your wallet.
Game Schedule
When choosing your ticket, consider the game schedule. Prime-time, weekend, and rivalry games tend to be more popular and in-demand, which can result in higher ticket prices. If you are more flexible with your plans, attending games on weeknights or against less popular opponents may be a more cost-effective option.
Purchase Timing
The timing of your ticket purchase can also have a significant impact on the price. If you buy tickets well in advance, you are more likely to find a better selection of seats and potentially better prices. However, waiting until closer to the game day can sometimes result in discounts, as sellers may lower the prices to ensure their tickets are sold. Keep in mind that waiting too long can also run the risk of the game being sold out or only having undesirable seating options left. So, it's a good idea to strike a balance between early planning and taking advantage of last-minute deals.
Safest Methods to Purchase Tickets
Buying Houston Texans tickets can be an exciting experience, but it's essential to know the safest methods when purchasing them. In this section, we will discuss two reliable ways to get your hands on these much-coveted tickets – Certified Resale Sites and Direct from Stadium.
Certified Resale Sites
Purchasing tickets through certified resale sites is a popular and safe option. These websites offer a secure platform for fans to buy and sell tickets, ensuring that you get authentic tickets at a reasonable price. Some of the most reputable certified resale sites include:
SeatGeek: A popular choice among fans, SeatGeek offers an easy-to-use platform to buy Houston Texans tickets. Their interactive seating charts and Deal Score system make finding the best deals a breeze.
StubHub: As an official partner of the NFL, StubHub is a trustworthy source for buying Houston Texans tickets. They offer a FanProtect Guarantee, ensuring that your tickets are valid and delivered on time.
Ticketmaster: Another official NFL partner, Ticketmaster provides a secure platform for purchasing tickets to Houston Texans games. Their Verified Fan program helps ensure that real fans have access to tickets without the worry of bots or resellers.
Keep in mind that prices on these sites may vary due to supply and demand, so it's essential to compare offers before making a purchase.
Direct from Stadium
Another safe option to buy Houston Texans tickets is directly through the NRG Stadium or the Houston Texans official website. Purchasing tickets through the stadium ensures that you are getting genuine tickets at face value. Some advantages of buying direct from the stadium include:
Access to exclusive presale and promotional offers
Guaranteed authentic tickets with no additional fees
Personalized customer service from the venue
To purchase Houston Texans tickets directly from the stadium, visit the Houston Texans website or call their ticket office at 832-667-2390.
In conclusion, purchasing Houston Texans tickets directly from the stadium or through certified resale sites guarantees a safe and secure transaction. Remember to compare prices, review seating charts, and consider any additional fees before making your final decision.
Discount and Special Deals
When it comes to buying Houston Texans tickets, finding discount and special deals can make the experience more affordable and enjoyable. There are several online platforms where fans can find good deals on tickets, such as Gametime, Vivid Seats, CheapTickets, TickPick, and SeatGeek. In this section, we will explore these platforms and highlight some deals that can help you save money while supporting your favorite team.
Gametime is a popular platform where fans can find tickets for as low as $1 for preseason games and regular-season games starting from $19. For example, the Houston Texans' game against the Indianapolis Colts at NRG Stadium on September 17 starts at only $19.
Another option for Texans fans is Vivid Seats, which offers a comprehensive list of the 2023 Houston Texans schedule with filters that allow you to sort matchups by month, opponent, location, and time of day. On this platform, you can find tickets at various price ranges to suit your budget.
CheapTickets is yet another platform where Houston Texans tickets are available. While this platform doesn't display specific pricing, Texans tickets are known to sell out as locals come out in support of their team.
For those looking for the best prices and guaranteed low rates, TickPick is an ideal option. With the cheapest get-in price for the Baltimore Ravens vs. Houston Texans game on September 10 at M&T Bank Stadium starting at $79, fans can enjoy the game without breaking the bank. On this platform, the average ticket price for a Houston Texans game is around $300.44.
Lastly, SeatGeek is another platform where fans can find Houston Texans tickets. For instance, a Houston Texans vs. Atlanta Falcons game on October 8 at Mercedes-Benz Stadium starts at only $24.
In summary, Houston Texans fans have various options when searching for discounted and special deals on tickets. By comparing prices across different platforms like Gametime, Vivid Seats, CheapTickets, TickPick, and SeatGeek, fans can find the best deals and enjoy their favorite team's games without spending a fortune.
Conclusion
When it comes to purchasing Houston Texans tickets, there are several reliable platforms to choose from. SeatGeek offers a user-friendly interface for selecting tickets for specific games, including the upcoming match between the Houston Texans and the Pittsburgh Steelers at NRG Stadium. Prices start at $216, and you can also find tickets for the October 8th game against the Atlanta Falcons. SeatGeek provides a wide range of options for all budgets.
Another trusted source for tickets is the official Houston Texans website, which provides options for group ticket purchases, buying and selling Personal Seat Licenses (PSLs), and access to a virtual venue seat map. Their dedicated phone support at 832-667-2390 ensures you receive proper assistance during the ticket buying process.
StubHub is another popular platform for buying Houston Texans tickets, with a 100% FanProtect guarantee to ensure a safe and secure purchase. Their platform allows you to set price alerts, find tickets within your budget, and even check out the view from the seats before purchasing.
In summary, SeatGeek, the official Houston Texans website, and StubHub are all excellent options for buying Houston Texans tickets. Each platform offers secure transactions, a variety of pricing options, and helpful tools to guide you in selecting the best seats for the game. Remember to have a fantastic time cheering for your beloved Houston Texans, and may the best team win!