As a San Antonio Spurs fan, excitement builds every time a new season approaches. Securing tickets to your favorite games is crucial to be a part of the thrilling atmosphere at the arena. But where is the best place to buy San Antonio Spurs tickets? This article aims to help fans navigate the available options and snag the best seats for memorable game-watching experiences.
There are several legitimate online platforms for purchasing Spurs tickets, ranging from the official NBA website to authorized ticket sellers like Ticketmaster or SeatGeek. These sites offer a user-friendly interface to quickly find and buy tickets to the games you want to attend, while also providing access to exclusive promotions and offers.
Moreover, purchasing tickets through the AT&T Center's official website, where the Spurs play their home games, can also ensure a secure transaction process. In addition to ticket buying options, fans can explore season ticket packages and group ticket rates, providing a comprehensive solution to meet varying ticketing needs.
Local Ticket Outlets in San Antonio
San Antonio Spurs fans have some great local options for purchasing tickets to their favorite basketball team's games. In this section, we'll discuss two popular local ticket outlets in San Antonio: the AT&T Center and TicketCity San Antonio.
AT&T Center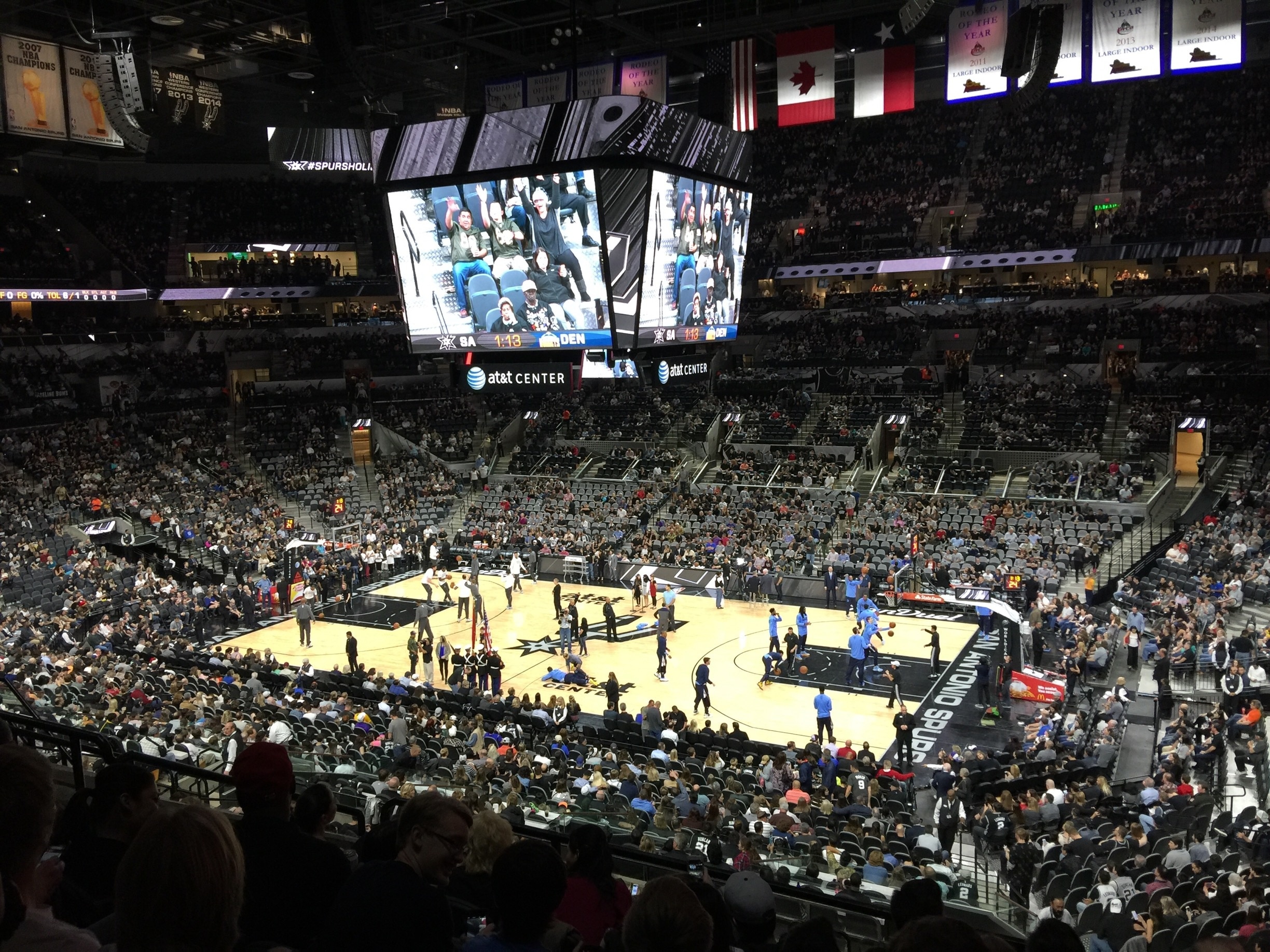 The AT&T Center is the home arena of the San Antonio Spurs and offers the most convenient and direct way to buy tickets for their games. Fans can visit the AT&T Center Box Office in person to purchase tickets or explore the available seats and promotions on their official website.
Not only can you buy tickets for the Spurs games at the AT&T Center, but you can also purchase tickets for other events taking place at the venue. Keep in mind that the AT&T Center's box office hours might vary, so it's best to check their website or call ahead before visiting.
TicketCity San Antonio
TicketCity San Antonio is another popular local option for purchasing San Antonio Spurs tickets. They connect buyers with various ticket providers, ensuring a wide range of options for different seating preferences and budgets.
To start searching for San Antonio Spurs tickets at TicketCity, visit their website and browse through the available selection. Remember to compare prices and ticket availability with other sources to ensure you're getting the best deal.
Both of these local ticket outlets offer reliable ticket purchasing experiences for San Antonio Spurs fans. Whether you prefer the convenience of the AT&T Center or the variety of options provided by TicketCity, you're sure to find the perfect seats for your next basketball game.
Online Ticket Platforms
TicketMaster
TicketMaster is a leading ticket platform offering a user-friendly experience for purchasing San Antonio Spurs tickets. Fans can find tickets for San Antonio Spurs preseason and regular-season games on their website. One of the benefits of using TicketMaster is their access to exclusive presales and ticket promotions, ensuring that die-hard Spurs fans get their hands on the best seats available.
StubHub
Another popular platform for Spurs fans to buy tickets is StubHub. Not only does StubHub provide a user-friendly interface, but it also has a wide selection of tickets for various games throughout the season. As a marketplace for fans to buy and sell tickets, StubHub offers competitive pricing, making it a great option for those looking for the best deals on San Antonio Spurs tickets.
Vivid Seats
Vivid Seats is another reliable platform where fans can purchase tickets for the San Antonio Spurs games. Vivid Seats offers a user-friendly experience and a 100% Buyer Guarantee, ensuring that fans can purchase their tickets with confidence. In addition, Vivid Seats often has special offers and discounts, giving fans even more reasons to check out their selection of San Antonio Spurs tickets.
Season Tickets and Packages
The San Antonio Spurs offer a variety of season tickets and group packages, making it easy and affordable for fans to enjoy their favorite team's games. By purchasing season-ticket memberships, fans can secure their seats for all 44 home games during the season and enjoy exclusive benefits.
Season-ticket holders receive the lowest available new member price, invitations to private member events with Spurs players, and flexible payment schedules. This allows them to spread the cost of their tickets over a more extended period, making it more manageable and accessible for a wide range of fans.
For those looking to attend games with a large group, the Spurs also provide group packages for 10 or more people. These packages come with exclusive rates and on-court experiences, making it a memorable way for friends, family, or colleagues to enjoy the games together. To inquire about group packages, fans can visit the Spurs' official website and access their group ticket options.
Single-game tickets for the Spurs' games are available for purchase at Spurs.com and on Ticketmaster. This gives fans the flexibility to choose which specific games they would like to attend, whether it's a preseason match or an intense, regular-season showdown.
In conclusion, the San Antonio Spurs offer a range of season tickets and packages to suit the needs of different fans. From full-season memberships to single-game options and group packages, there's something for everyone who wants to enjoy the excitement of Spurs basketball. So, grab your tickets now and get ready to cheer on the team!
Secondary Market Tickets
The secondary market is a popular destination for basketball fans seeking San Antonio Spurs tickets. This market includes well-known platforms such as Stubhub, TicketIQ, SeatGeek, and Vivid Seats. It allows fans who were unable to acquire tickets through primary market channels, like Ticketmaster, to purchase tickets from fellow fans who are reselling them.
On platforms like TicketIQ, fans can find Fee-Free San Antonio Spurs tickets with a Refund Guarantee. This option offers ticket buyers extra security and peace of mind, which is especially important during uncertain times. TicketIQ's prices for Spurs tickets currently average around $163 on the secondary market. Meanwhile, the average price for NBA tickets during the 2021 season was $211, making the Spurs' tickets reasonably affordable in comparison.
Stubhub is another popular secondary market platform where ticket prices can vary significantly. For example, a pair of tickets listed on Stubhub were priced at a starting value of $1,600, while their cheapest ticket was $350 per ticket. Vivid Seats, on the other hand, offers tickets for a game against the Warriors at the Alamodome with fluctuating prices depending on seat location and game popularity.
SeatGeek is yet another reputable source for secondary market tickets. It showcases ticket prices for upcoming games, such as the preseason match against the Houston Rockets, starting as low as $16.
When browsing the secondary market for San Antonio Spurs tickets, buyers should be mindful of potential fraudulent sellers. Make sure to verify the credibility of the chosen platform and read reviews from other buyers to ensure a seamless ticket purchasing experience.
Discounts and Deals
When looking for the best place to buy San Antonio Spurs tickets, it's important to be aware of discounts and deals that can help you save money. There are several ways to find these deals and promotions that can make your ticket-buying experience even better.
One great way to score discounted tickets is through SeatGeek. They not only offer a user-friendly platform for buying tickets but also provide regular promotions that can help save on your purchase. For example, tickets for the preseason game between Houston Rockets and San Antonio Spurs on Monday, October 16, at Frost Bank Center in San Antonio, TX, start as low as $16.
Another place to find single game tickets for the Spurs, including preseason and regular season games, is through the official NBA.com website. By purchasing directly from the source, you'll have access to exclusive ticket promotions that may not be available on other platforms.
Ticketmaster is also a great option for purchasing San Antonio Spurs tickets. They have a dedicated page for the team and often offer special promotions and deals specifically for the Spurs' games. For instance, tickets for the game against Houston Rockets on October 16 are available from 7:00 PM at the AT&T Center in San Antonio, TX.
For those looking to find the most affordable tickets, it's worth noting that most San Antonio Spurs games can be attended for under $50. Some low-demand matchups even have tickets as low as $10. Keep in mind that at the AT&T Center, there are no bad locations to view a game, even from the most inexpensive seats.
In summary, some of the best places to find discounts and deals on San Antonio Spurs tickets include SeatGeek, NBA.com, and Ticketmaster. By exploring these options, you'll not only have access to exclusive promotions but also be able to enjoy an unforgettable game experience without breaking the bank.
Tips on Buying Spurs Tickets
When looking for San Antonio Spurs tickets, fans might find it a bit overwhelming with the number of options available. In this section, we will provide a few friendly tips to help guide you in purchasing your Spurs tickets.
First and foremost, consider the official NBA website as your primary source for single game tickets. They often have exclusive promotions and packages that provide a great value for fans. Be sure to periodically check for updates, as there might be current events or deals you don't want to miss out on.
Another source for Spurs tickets is SeatGeek, a well-known ticketing platform that partners with teams and venues to provide an extensive selection of seats. A glance at recent listings showed preseason ticket options starting at as low as $23! SeatGeek's user-friendly interface makes it easy for fans to navigate and find the best deals available.
When planning your game night, don't forget to consider other factors like parking, concessions, and team merchandise. These additional expenses can add up quickly, so be sure to budget accordingly. If you're planning on attending multiple games in a season or bringing a group of friends along, investigate group ticket options that often provide special rates and on-court experiences.
Lastly, it's essential to practice safe purchasing methods when searching for tickets. Websites like Ticketmaster, the official ticket marketplace of the San Antonio Spurs, are reliable choices that guarantee your ticket's legitimacy. Avoid third-party platforms or unfamiliar sources to prevent potential scams or counterfeit tickets.
Following these tips will help ensure a smooth and enjoyable San Antonio Spurs game experience. Happy ticket hunting!
Conclusion
In the quest to find the best place to buy San Antonio Spurs tickets, enthusiasts have a selection of reliable platforms to choose from. NBA.com stands as the official source for purchasing single game tickets for both pre-season and regular season games. Buyers can additionally benefit from exclusive ticket promotions.
Another viable platform is Ticketmaster, where fans can browse through various games and events. With clear schedules and accessible pricing, this platform makes it easy to secure tickets to watch the Spurs in action.
SeatGeek also comes recommended for buying San Antonio Spurs tickets. Sporting events are updated frequently, and ticket buyers can easily locate matches according to date and venue. Meanwhile, RateYourSeats.com can be checked for remaining available tickets—especially for popular games that may sell out quickly.
Lastly, interested buyers can also explore the AT&T Center website for game schedules and ticketing options. As the San Antonio Spurs' home court, it's a fantastic place to secure tickets and stay updated on upcoming matches.
In the end, it's essential to consider personal preferences, budget, and convenience when choosing which platform to use for purchasing San Antonio Spurs tickets. Remember to compare prices, check for promotions, and always ensure the platform's credibility before making a purchase. Happy ticket hunting!