Globe Life Field, the beautiful home of the Texas Rangers, is a must-visit destination for baseball fans and event-goers alike. With its state-of-the-art facilities and exciting atmosphere, it's no wonder that people from all over are flocking to this stunning venue. As a frequent visitor, I'd like to share some essential information to make your entrance experience as smooth and enjoyable as possible.
Understanding the various points of entry at Globe Life Field is crucial for a seamless visit. There are several gates around the stadium that cater to different sections and levels of seating. For instance, the Northwest Entry provides easy access to both the Main and Upper Concourse and is especially convenient for those coming from Live! by Loews. Additionally, the TXU Energy North Entry offers an excellent point of entry for fans with tickets on any level.
Before you embark on your Globe Life Field adventure, it's essential to be prepared with digital tickets, as the stadium has embraced digital ticketing for a quicker, more secure, and convenient gameday experience. With this guide, I hope to help you navigate your way in and fully enjoy the wonders of Globe Life Field.
Getting to Globe Life Field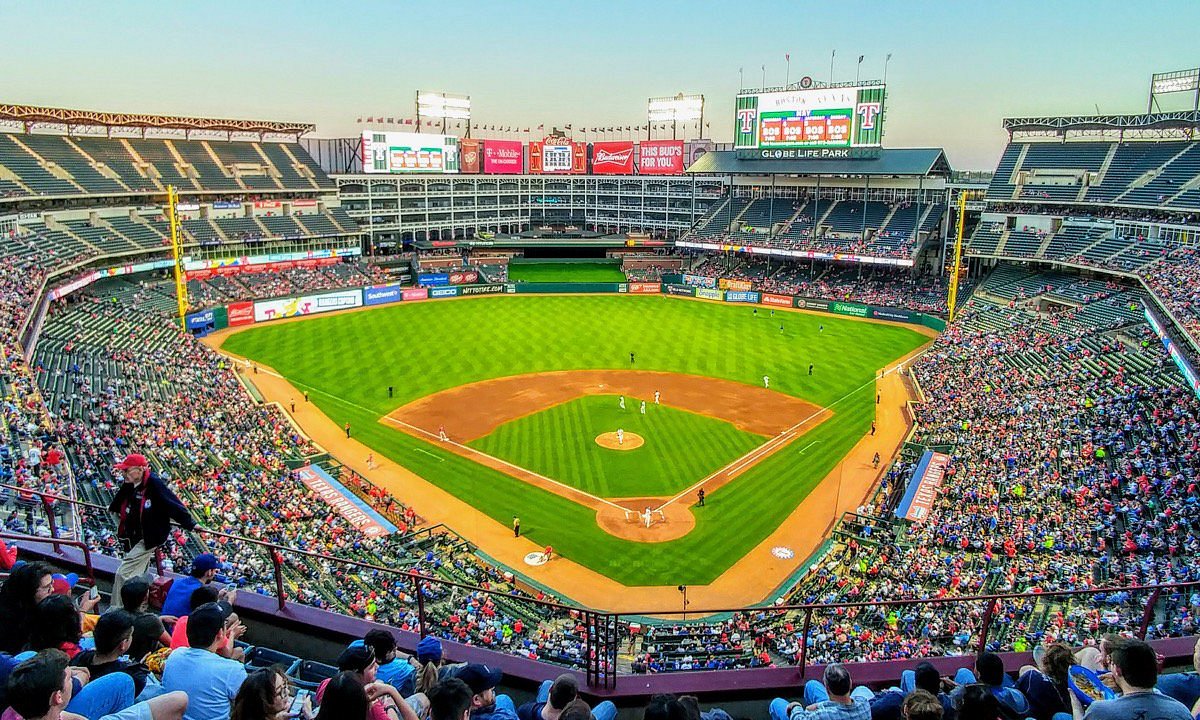 By Car
If you're planning to drive to Globe Life Field, there are various options for parking. From the East (Dallas), you can take I-30 and exit at Collins Street (Exit 27). Turn left on Collins Street, then left on Randol Mill Road. Globe Life Field will be on your right-hand side.
For those coming from the West (Fort Worth), travel east on I-30 and exit at Baird Farm Road/Ballpark Way/Legends Way (Exit 28). Continue on the access road (Copeland Rd) until you reach the third traffic light. At the traffic light, turn right on Convention Center Drive.
By Public Transport
Unfortunately, at the moment, there are no direct public transportation options available for reaching Globe Life Field. You might consider using a ride-sharing service or taxi to complete the final leg of your journey.
Walk-Up Access
If you're staying nearby, such as at Live! by Loews, the Northwest Entry of Globe Life Field is a convenient option. This entry point provides easy access to both the Main and Upper Concourse, helping you find your seat quickly. So, follow the available signage and enjoy your walk on your way to the stadium!
Gates and Their Locations
As a frequent visitor to Globe Life Field, I always find it helpful to know the different entrance gates and their locations. In this section, I'll be discussing three main gate entrances: Home Plate Gate, First Base Gate, and Third Base Gate.
Home Plate Gate
The Home Plate Gate is the most popular entrance gate among fans since it's located near the stadium's main attractions. Moreover, many fans find it convenient as it provides easy access to various seating sections. Here, you'll often see excited crowds of fans lining up to enter the stadium.
First Base Gate
If you're coming from the direction of the first base side, you'll find the First Base Gate a convenient entrance to Globe Life Field. This gate is less crowded than the Home Plate Gate and provides access to multiple seating areas, food stands, and restrooms. Make sure to give yourself a bit of extra time to navigate to your seat, as it may be further away than other gates.
Third Base Gate
Lastly, the Third Base Gate is another good option for entering Globe Life Field. Located on the third base side of the stadium, this gate also offers access to several seating sections, concession stands, and restrooms. Like the First Base Gate, it tends to be less packed than the Home Plate Gate, making it a more relaxed entry option.
So there you have it – a quick overview of the three primary entrance gates at Globe Life Field. Remember to plan your arrival, keeping in mind the gate that offers the most convenient access to your seating area. Enjoy the game and cheer on your favorite team!
Entry Procedures
Security Checkpoints
When visiting Globe Life Field, it's important to be prepared for security checkpoints. I always make sure to arrive early to allow enough time to go through any necessary security procedures. It's a good idea to familiarize yourself with the stadium's bag policy and prohibited items, so you know what you can and cannot bring inside.
At the checkpoints, I've found the staff to be friendly and thorough, ensuring everyone's safety. Remember to be patient and cooperative, and keep in mind that these measures are in place for everyone's well-being.
Ticketing
Globe Life Field has embraced digital ticketing for a seamless and efficient entry process. Before heading to the stadium, I make sure to download my tickets to my phone through the Texas Rangers' preferred ticketing app. This way, I avoid the hassle of paper tickets and waiting in long lines at the box office.
Upon arrival at the gate, I have my digital ticket ready to be scanned, and the process is quick and easy. If you have any issues with your tickets or need assistance, friendly staff members are available at the entrances to help resolve any concerns.
By following these entry procedures and knowing what to expect, I ensure a stress-free arrival and can enjoy the excitement and energy of the game or event at Globe Life Field.
Accessibility at Globe Life Field
As a fan of Texas Rangers, I find that Globe Life Field is committed to providing an inclusive and safe environment for all visitors and accessible services for those with specific needs. Let me share what I have learned about accessing the field for fans with disabilities.
ADA Seating
Globe Life Field offers accessible seating in a variety of locations to accommodate any preferences. Here are the sections where you can find ADA seats:
Sections 2, 4, 5, 8, 11, 16, 19, 21, 24, 25, 28, 31
Sections 101, 105, 109, 111, 115, 117, 120, 124, 127, 128, 129, 132, 135, 137, 140, 142
Sky Box 2
Sections 201, 207, 209, 211, 212, 213, 221, 222, 226, 228, 231, 232, 237, 241, 244
Please note that there is some amount of netting or screening in front of sections 1-26, and the height and coverage vary by section.
Elevator Access
If you have mobility needs or use a wheelchair, don't worry about navigating the stadium. Globe Life Field has several elevators to make your visit smooth and hassle-free. The friendly staff will also be on hand to assist you if needed.
In summary, Globe Life Field does an excellent job in ensuring accessibility for all fans, creating a welcoming and inclusive environment for everyone.
Food and Beverage Options
As you explore Globe Life Field, you'll find various options for food and beverages throughout the stadium. Let me introduce you to some of the offerings in different areas.
Concession Stands
At various concession stands scattered around the concourses, you'll find classic ballpark fare. Here are some highlights:
Popcorn, soft drinks, and hot dogs: these classic game-day staples are available at numerous stands.
Nachos: a fan favorite, delicious nachos can be found to satisfy your craving.
Funnel cakes: they can add a little sweetness to your game experience, locate them at sections 121, 224, and 230.
Bavarian Pretzels: warm, comforting pretzels are available along the concourses.
Healthy fruit cups: if you're looking for something light and nutritious, fruit cups can be picked up at sections 101 and 205.
Restaurants and Bars
Apart from concession stands, Globe Life Field also hosts a restaurant and bar for a more substantial dining experience:
Throwing Smoke: this barbecue restaurant offers a variety of smoked meats, prepared on-site using three custom-built smokers. It's a perfect spot if you're in the mood for some delicious BBQ during the game.
Amenities and Services
ATM Locations
During my visit to Globe Life Field, I found several ATM locations for the convenience of guests. They were strategically placed throughout the ballpark, ensuring easy access to cash when needed. Just look for the signs pointing to the nearest ATM, and you'll be good to go.
First Aid Stations
I was relieved to see that Globe Life Field has First Aid Stations on site to respond to any medical emergencies. The professional staff at these stations are well-prepared to assist in case of accidents or medical issues. Don't hesitate to visit them if you feel unwell, or simply ask a staff member for directions to the nearest First Aid Station.
Lost and Found
Losing personal items is never a pleasant experience, but at Globe Life Field, they have a Lost and Found system in place to help reunite guests with their possessions. If you happen to lose something during your visit, just locate the nearest Guest Services booth, and they'll do their best to assist you in finding your item. And, if you come across a lost item, kindly drop it off at one of these booths so the rightful owner can claim it.
Conclusion
I hope this Gate & Entrance Guide has provided you with all the necessary information to make your visit to Globe Life Field as enjoyable as possible! Remember, the TXU Energy North Entry is a fantastic option, as it allows fans with tickets on any seating level to enter the stadium easily. Plus, it offers a stunning view overlooking left field.
If you're coming from Texas Live!, the flow from there to the North Entry is smooth and simple. Additionally, the Toyota Southwest Entry is available for anyone with a ticket, so don't hesitate to use it if it's more convenient for you.
To make your game day experience even better, keep in mind that all tickets at Globe Life Field are digital. This makes entry quicker, more secure, and hassle-free, so you can focus on enjoying the game. Also, the 5.5-acre retractable roof ensures that the game will go on, rain or shine!
In a nutshell, Globe Life Field offers an amazing experience for Texas Rangers fans and event attendees. Enjoy the game, and have a fantastic time at this state-of-the-art stadium!