Located in Arlington, Texas, Globe Life Field is an impressive retractable roof stadium that has become home to the Major League Baseball's Texas Rangers.
Spanning across a 13-acre site just south of the Rangers' former home ballpark, Choctaw Stadium, this modern facility proudly represents one of the nation's favorite pastimes, providing fans with remarkable game day experiences and unforgettable memories.
Globe Life Field is not only an architectural gem, but it also boasts a variety of club and VIP experiences, including specialty bars like the Balcones Speakeasy, where Waco-based cocktails are served, and premium suites that add a touch of luxury to any visit.
Traditionalist fans can still relish in the all-American culinary classics like hot dogs, nachos, pizzas, and BBQ spread throughout multiple sections of the stadium, as they root for their beloved Texas Rangers.
As a celebrated centerpiece of Arlington sports, Globe Life Field continues to provide excitement and entertainment to the many Rangers fans who call it their second home.
No visit to the stadium would be complete without taking in the vibrant atmosphere, exhilarating action, and rich history that embodies the spirit of both Arlington and the Texas Rangers.
History of Globe Life Field
Design and Construction
Globe Life Field, located in Arlington, Texas, is the current home of the Texas Rangers.
The stadium measures 1.8 million square feet and features a retractable roof that, when closed, is 278 feet above the playing field.
The exterior dimensions of the stadium are approximately 785 by 815 feet.
The design and construction of Globe Life Field were completed with a focus on providing fans a comfortable and enjoyable experience.
The stadium has a seating capacity of 40,300, and various amenities such as pregame tours and a wide range of food options.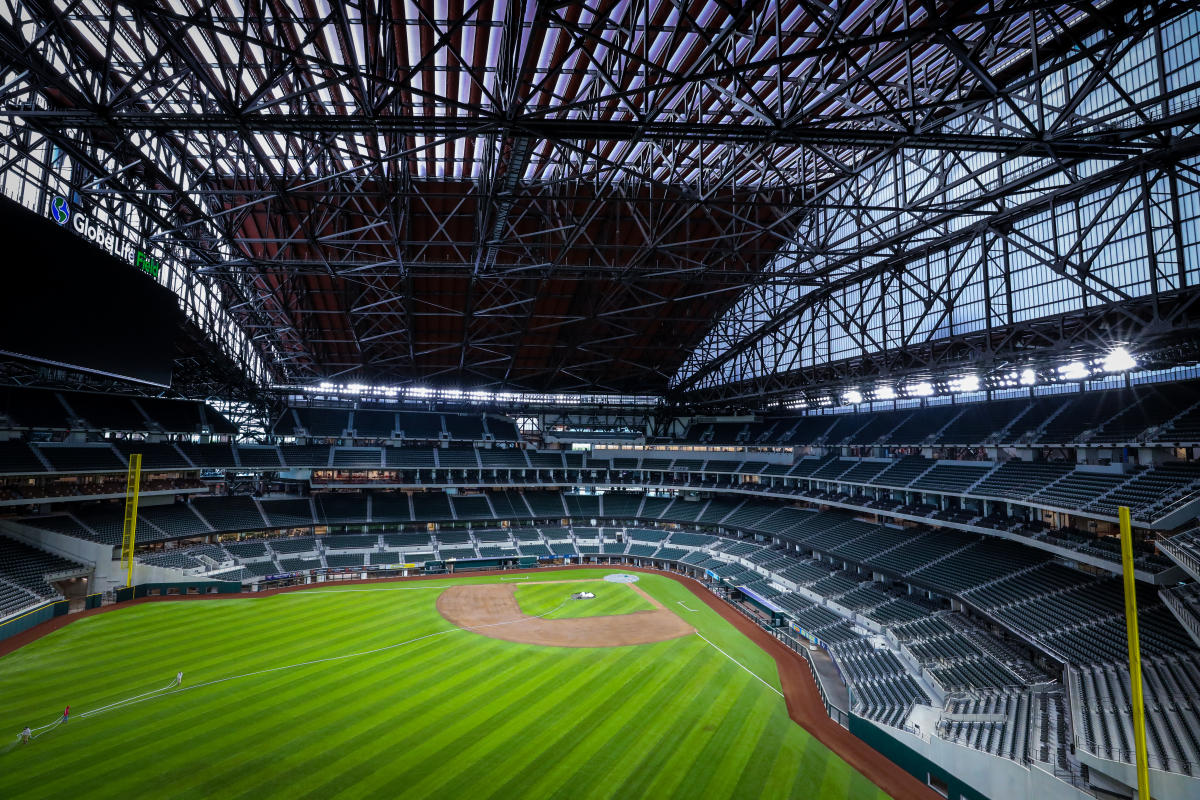 Opening Year
Originally scheduled to open on March 23, 2020, Globe Life Field's inaugural event was postponed due to the COVID-19 pandemic.
The stadium finally opened its doors for a high school graduation on May 29, 2020. The Texas Rangers' first game at Globe Life Field took place later that year, with the team starting to play at the new venue for the 2020 Major League Baseball season.
Stadium Features
Roof and Air Conditioning
Globe Life Field features a retractable roof that can open or close in a matter of minutes, ensuring perfect weather during games and other events.
The stadium is also equipped with air conditioning, a much-needed feature during the hot summer months in Texas.
Seating Capacity and Dimensions
The seating capacity at Globe Life Field is approximately 40,300, providing ample space for fans to enjoy the game.
The stadium's dimensions include:
Left Field: 329 feet
Left-Center Field: 372 feet
Center Field: 407 feet
Right-Center Field: 374 feet
Right Field: 326 feet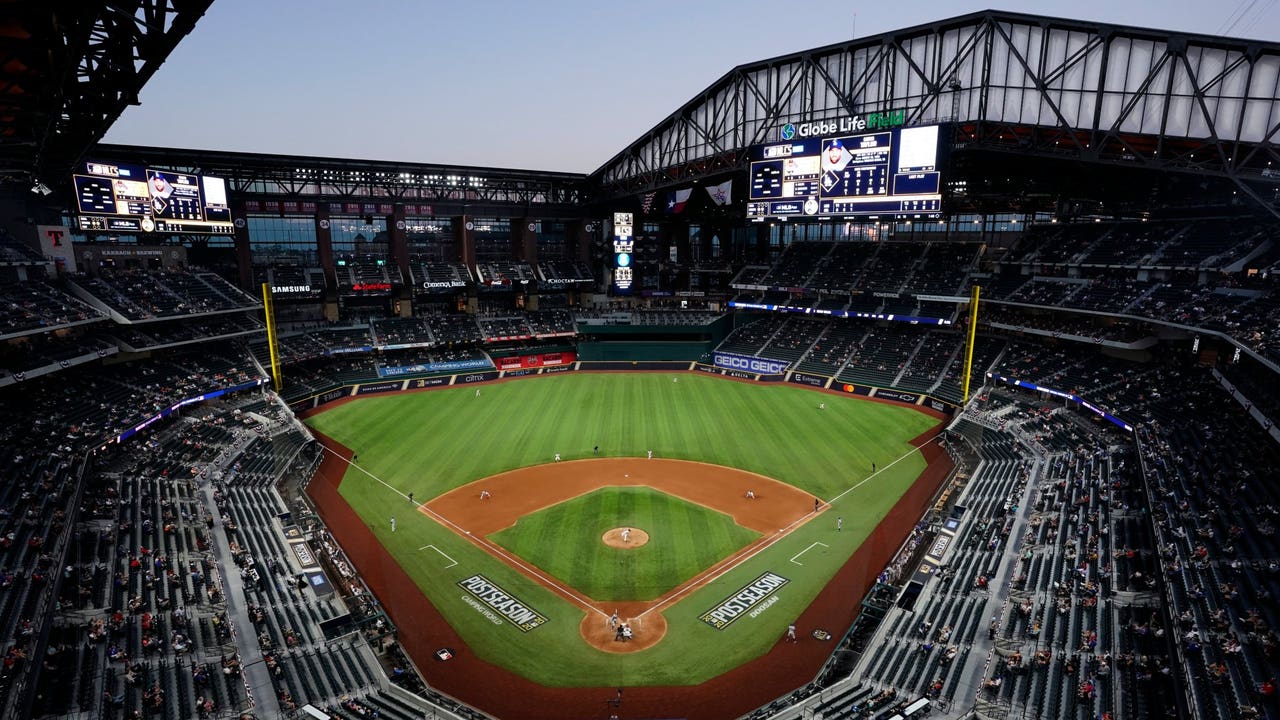 Amenities and Concessions
Globe Life Field offers a wide range of amenities and concessions to enhance the fan experience.
Some highlights include:
Texas Live!: A 200,000-square-foot entertainment complex located just outside the ballpark, featuring dining, shopping, and entertainment options.
Wi-Fi: Free high-speed internet access for all guests.
Concessions: A variety of food and beverage options, including traditional ballpark fare as well as innovative culinary creations.
Retail Shops: Multiple locations throughout the stadium offering merchandise and souvenirs.
Kids Zone: A family-friendly area with interactive games and activities for children.
Texas Rangers at Globe Life Field
Team Performance
The Texas Rangers began playing at Globe Life Field in 2020, after the new, state-of-the-art stadium was completed as a public-private partnership between the City of Arlington and the Rangers.
The venue serves as the team's home and a multipurpose sports and entertainment facility designed for various events.
The Texas Rangers have gone through various ups and downs since moving to Globe Life Field.
It is important to note that Globe Life Field has strengthened the team's commitment to building a competitive lineup and providing an unforgettable fan experience.
Memorable Moments
First Game at Globe Life Field: The debut match at Globe Life Field was played on July 24, 2020, in which the Texas Rangers faced the Colorado Rockies. This marked a new chapter in the team's history, transitioning from their previous home at Globe Life Park.
Unique Features: The stadium boasts a retractable roof, allowing games to be played in all weather conditions. As a result, rain delays have become a distant memory, and fans can enjoy games without disruptions.
All-Star Showcase: Globe Life Field hosted the 2021 MLB All-Star Game, where the best players come together for a night of friendly competition. This event showed the world that the Texas Rangers' new ballpark was a premier location for top-level baseball events.
Throughout Globe Life Field's short history, fans have already experienced a great deal of excitement and unforgettable moments.
The facility's construction and exceptional amenities have greatly contributed to elevating the Texas Rangers' game performance and overall experience.
Events and Concerts
Globe Life Field, the home of the Texas Rangers, is more than just a baseball stadium. It also serves as a modern venue for various events and concerts throughout the year.
With state-of-the-art facilities and an impressive ambience, Globe Life Field offers unforgettable experiences for all attendees.
Apart from the baseball games featuring the Texas Rangers, Globe Life Field hosts numerous other events.
These events range from live music concerts to family-friendly activities, ensuring there's something for everyone in Arlington, Texas.
Events at Globe Life Field:
Live Concerts: The stadium has become a popular concert spot, attracting top musicians from around the world. Make sure you check out the performance schedules and book tickets in advance to catch your favorite artists when they come to Arlington.
Special Events: Globe Life Field is also an excellent location for various special events, including college sports competitions, corporate events, and charity functions. Keep an eye on the events calendar to stay informed about upcoming special events at the stadium.
To secure your tickets to any of these exciting events, visit the official Globe Life Field website or reputable third-party ticket sellers.
Remember to book your tickets as early as possible, as major events at Globe Life Field have a tendency to sell out.
In addition to offering entertainment, Globe Life Field also provides various amenities to make the visitor experience comfortable and enjoyable.
From ample parking facilities to dining options and Texas art on display, Globe Life Field is a must-visit destination for both locals and tourists alike. Make sure to plan a visit to this modern marvel in Arlington, Texas.
Visiting Globe Life Field
Tickets and Pricing
Globe Life Field, the home of the Texas Rangers, offers a variety of ticket options and prices to suit every fan's needs. To see a game, you can purchase single-game tickets, season tickets, or group tickets.
Additionally, special promotions and discounts may be available throughout the season.
Please note that ticket prices and promotions may vary by game, seat location, and availability.
Parking and Transportation
Getting to Globe Life Field is easy, located at 734 Stadium Drive. There are plenty of parking options available, including official parking lots and nearby private parking spots.
You can pre-purchase your parking pass to save time. Also, rideshare services like Uber and Lyft have specific drop-off and pick-up areas near the stadium to make your trip more convenient.
Accessibility and Accommodations
Globe Life Field strives to provide a comfortable and enjoyable experience for all fans, including those with disabilities or special needs. The stadium features accessible parking, seating, and restrooms.
Additionally, there are elevators and ramps throughout the facility to accommodate wheelchair users and those with limited mobility. If you have any concerns or questions about accessibility, it's recommended to contact the venue in advance for assistance with your specific needs.
James is a big time NBA Golden State follower, who makes sure to catch games when he's in the area. He likes to follow International Soccer, with an interest in small town soccer club, Blackburn Rovers located in the North on the UK.