Minute Maid Park, home to the Houston Astros, is located in downtown Houston, Texas, and is an iconic baseball stadium that attracts fans from far and wide. This quick guide will provide you with essential information on how to get there and make the most out of your visit. With numerous transportation options and nearby amenities, attending a game or special event at Minute Maid Park has never been easier.
In the heart of downtown Houston, Minute Maid Park is surrounded by bustling activity and attractions, making it an ideal destination for both tourists and locals alike. Our guide will cover key aspects of your trip, including ticket information, food and beverage options, accessibility, and more. Whether you're a die-hard Astros fan or simply looking to experience a fun day at the park, this guide will help ensure a smooth and memorable visit.
Key Takeaways
Comprehensive guide to reach and enjoy Minute Maid Park
Numerous transportation options and nearby attractions enrich the experience
Ticket information, food and beverage options, and amenities cater to diverse preferences
Location and Access
Minute Maid Park, home of the Houston Astros, is located in downtown Houston, Texas. This section provides an overview of the different transportation options available to fans looking to attend a game or event at Minute Maid Park, including public transportation, driving and parking, and biking and walking.
Public Transportation Options
Houston's METRORail has two lines that serve Minute Maid Park. The Green Line travels through downtown Houston, the Theater District, EaDo (East Downtown), and the Second Ward, with the Convention District Station being the closest stop to the park. The Purple Line goes through downtown Houston, the Theater District, and the Third Ward (southeast of downtown), also providing access to Minute Maid Park at the Convention District Station.
Driving and Parking Options
For those driving to the ballpark, take I-45 North or East on I-10 West and continue on to US-59 South. Exit at Hamilton/Downtown Destinations and continue straight on Hamilton. Turn right on Congress for access to the Diamond Lot North. To reach the Diamond, A, B, & C Parking Lots on the east end of the ballpark, continue north and exit Downtown Destinations/Polk St. Continue on the feeder road, which turns into Chartres. Drive north on Chartres towards Minute Maid Park.
Parking options near the park can be found by reserving a spot in advance. Alternatively, you may consider using ride-hailing services like Uber or Lyft instead of parking.
Biking and Walking Routes
For fans who want to walk or bike to Minute Maid Park, staying at a nearby hotel or parking your car nearby and walking to the stadium can be a good option. The surrounding area is highly walkable and there may be bike-friendly routes available as well.
Ticket Information
Where to Purchase Tickets
There are several options for purchasing tickets to Minute Maid Park:
Online: The most convenient way to purchase tickets is through the official Houston Astros website or other authorized ticket websites such as Ticketmaster and StubHub.
Box Office: Visit the Minute Maid Park Box Office located at Texas Avenue and Crawford Street. The Box Office is usually open on weekdays and game days.
Phone: You can call the Houston Astros ticket office at 1-877-9ASTROS to buy tickets over the phone.
Typical Prices
Ticket prices at Minute Maid Park can vary depending on the seating location, game date, and opponent. Here are some general price ranges for different seating sections:
Infield Box: $45 – $75
Outfield Deck: $30 – $50
Upper Deck: $20 – $35
Please note that these prices are approximate and can vary depending on various factors. It is advisable to check the official Houston Astros website or the authorized ticket platforms for the most up-to-date pricing information.
Seating Options
Minute Maid Park offers a variety of seating options to suit different preferences and budgets. Some popular seating sections include:
Diamond Club: Located behind home plate, this premium seating option offers an exclusive, upscale experience with outstanding views, comfortable seating, and access to a private dining area.
Field Box: These seats provide excellent views of the field and are located along the first and third base lines.
Terrace Deck: Located on the second level, these seats offer a great balance of value and view of the game.
Upper Deck: The Upper Deck provides the most affordable seating options, but with a less optimal view compared to the lower levels.
Remember to review the Minute Maid Park seating chart on the Astros website when purchasing tickets to get a better understanding of the available seating options and their respective locations.
Food and Beverage Options
Inside the Park Offerings
Minute Maid Park offers a variety of food options to satisfy your cravings during a Houston Astros game. Here are some popular choices you can find inside the ballpark:
Chick-Fil-A (Sections 106, 122, 151, 413, 427, 431): Choose from regular, spicy, or grilled sandwiches, chicken wraps, chips, cookies, and fruit cups.
Classic Minute Maid Park Food Choices (Section 116): Treat yourself to corn dogs, funnel cakes, and chicken tenders at the Battered-Up stand.
Extreme Dog (Section 131): Enjoy a classic foot-long hot dog while cheering for the Astros.
Italian Eats at Osso & Kristalla: For something a bit different, try Calabrese chicken wings with Calabrese remoulade, blue agave sriracha chicken wings, or a jalapeño sausage dog.
As for beverages, Minute Maid Park offers a wide range of beer, wine, soda, and ready-to-drink alcoholic beverages at various locations throughout the ballpark.
Surrounding Restaurants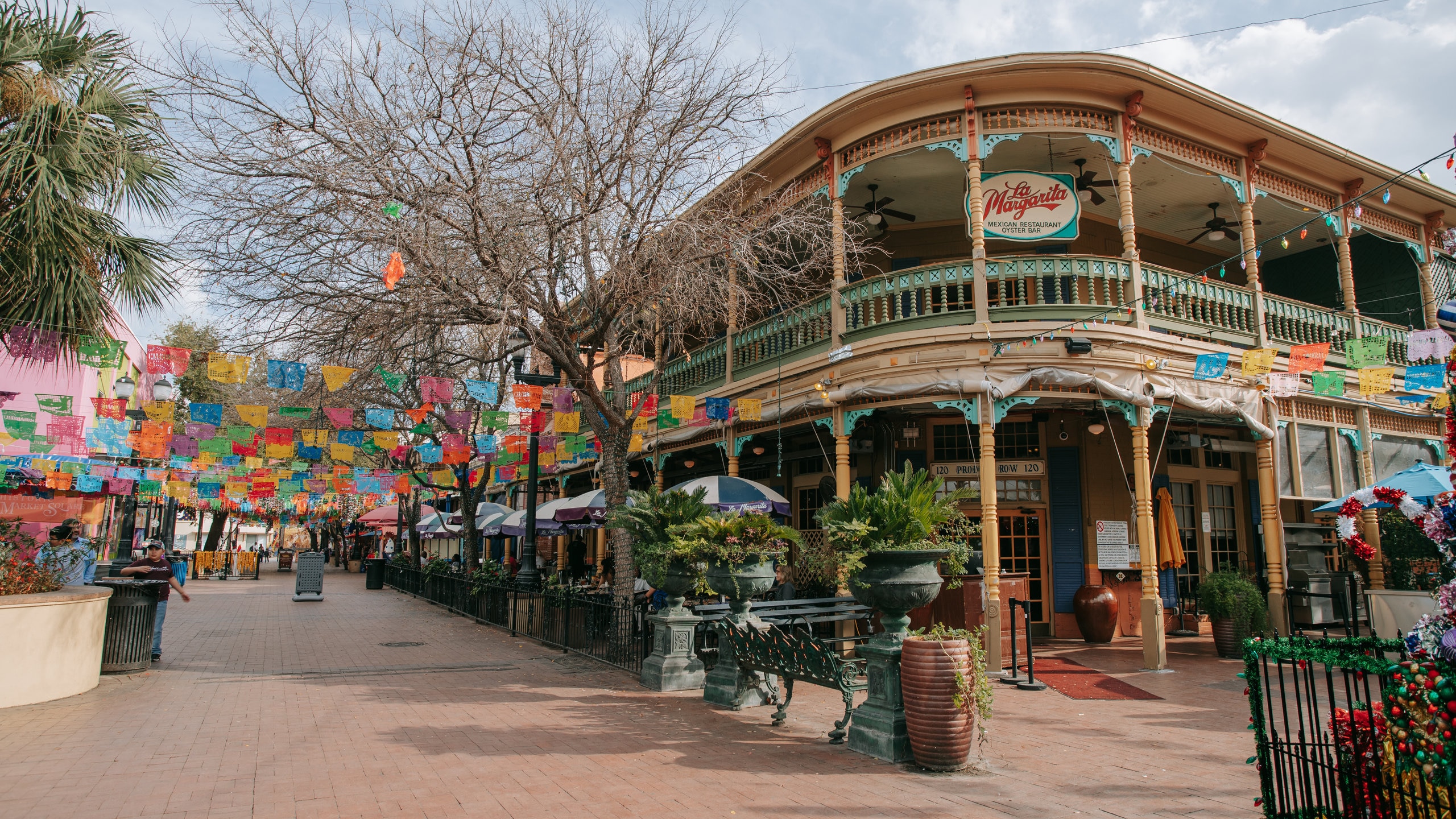 If you're looking to grab a bite before or after the game, there are several restaurants in the vicinity of Minute Maid Park worth checking out:
Eighteen Seventy (1870)

A popular sports bar and grill located nearby, offering a comfortable atmosphere and a menu filled with various pub favorites.

The Grove

An upscale dining option situated in the Discovery Green area that serves New American cuisine with a focus on locally sourced ingredients and sustainable practices.

Market Square Bar & Grill

A casual dining establishment serving delicious comfort food, including burgers, sandwiches, and Tex-Mex dishes.
Remember to plan ahead, as some of these restaurants may require reservations during game days and peak hours. Enjoy your time at Minute Maid Park, and bon appétit!
Amenities and Attractions
Family-friendly Features
Minute Maid Park offers a variety of family-friendly features that cater to fans of all ages. The 19th Hole, presented by the Houston Open, located on the main concourse behind section 156 in Center Field, features Just Walk Out technology, providing a convenient and smooth experience for families (source).
Additionally, there are several kid-friendly areas and attractions within the stadium, including:
Playgrounds
Face painting stations
Interactive games
Sightseeing Opportunities
As a visitor to Minute Maid Park, you'll be able to enjoy many sightseeing opportunities. One of the highlights is the Union Station, a historic landmark that serves as the main entrance to the ballpark. Union Station features a grand hall and a plaza area where you can relax and enjoy the views.
The ballpark is also located near multiple neighborhoods with distinct attractions, such as:
Downtown Houston: Home to the Theater District, various parks, and numerous restaurants.
EaDo (East Downtown): Offers a vibrant community of bars, eateries, and local art.
Second Ward: Rich in history and culture, boasting a unique blend of murals and street art.
To explore the surrounding areas, consider using the Houston METRO's Green and Purple Lines, which provide easy access to Minute Maid Park and nearby attractions (source).
Special Events and Tours
Stadium Tours
Minute Maid Park, the home of the Houston Astros, offers public tours that provide a unique and memorable experience. These tours give visitors the opportunity to explore the ballpark and learn about its history. All tours begin in Union Station, located at the corner of Texas Avenue and Crawford Street.
During a Minute Maid Park tour, guests will have a behind-the-scenes experience, exploring areas such as the vintage, full-sized locomotive that runs along 800 feet of track on the left-field wall. Tours run daily throughout the year, so there is ample opportunity to enjoy this attraction as part of your visit to Houston.
Non-baseball Events
In addition to baseball games, Minute Maid Park hosts a variety of special events, making it more than just a sports venue. The park's unique setting in bustling downtown Houston provides an ideal location for meetings and other private events.
With its versatile and scenic spaces, Minute Maid Park can accommodate various functions, such as corporate meetings, receptions, and even weddings. The 19th Hole, presented by the Houston Open, is located on the main concourse behind section 156 in Center Field. This area features Just Walk Out technology, adding a touch of innovation to your event experience.