In the heart of Houston, Texas lies the home of the Houston Astros: Minute Maid Park.
Known for its retractable roof and nicknamed "The Juice Box," this impressive stadium provides a unique and exhilarating experience for both players and fans.
Seating up to 41,168 spectators, including 5,197 club seats and 63 luxury suites, Minute Maid Park has been a cherished landmark in the city since its opening in 2000.
Located in the vibrant downtown area of Houston, Minute Maid Park replaced the iconic Astrodome as the go-to destination for Astros games. Sporting a natural grass playing field, the stadium boasts state-of-the-art facilities as well as an authentic baseball atmosphere, ensuring that every game is a truly memorable affair.
As the 2023 baseball season kicks off on Thursday, March 30, Astros fans eagerly anticipate opening day when their beloved team takes on the Chicago White Sox.
This venue is not just a stadium; it's a testament to the passion and dedication that fuels both the players and the fans, creating the vibrant community that surrounds the Houston Astros franchise.
Minute Maid Park History
Construction and Opening
Minute Maid Park, nicknamed The Juice Box, is a retractable roof stadium in Houston, Texas. Construction began on November 1, 1997, and the ballpark officially opened its doors on March 30, 2000, as the home of Major League Baseball's Houston Astros. The stadium was initially named Enron Field before Enron Corporation went bankrupt. It was later known as Astros Field until Minute Maid, a subsidiary of Coca-Cola, acquired the naming rights in 2002.
Located in downtown Houston, Minute Maid Park offers a stunning view of the city's skyline while enjoying a game. One of the key features of the ballpark is its retractable roof, providing fans with the comfort of watching games in cooler conditions while shielding them from inclement weather. The roof takes about 14-20 minutes to open or close and is operated around 160 times a year.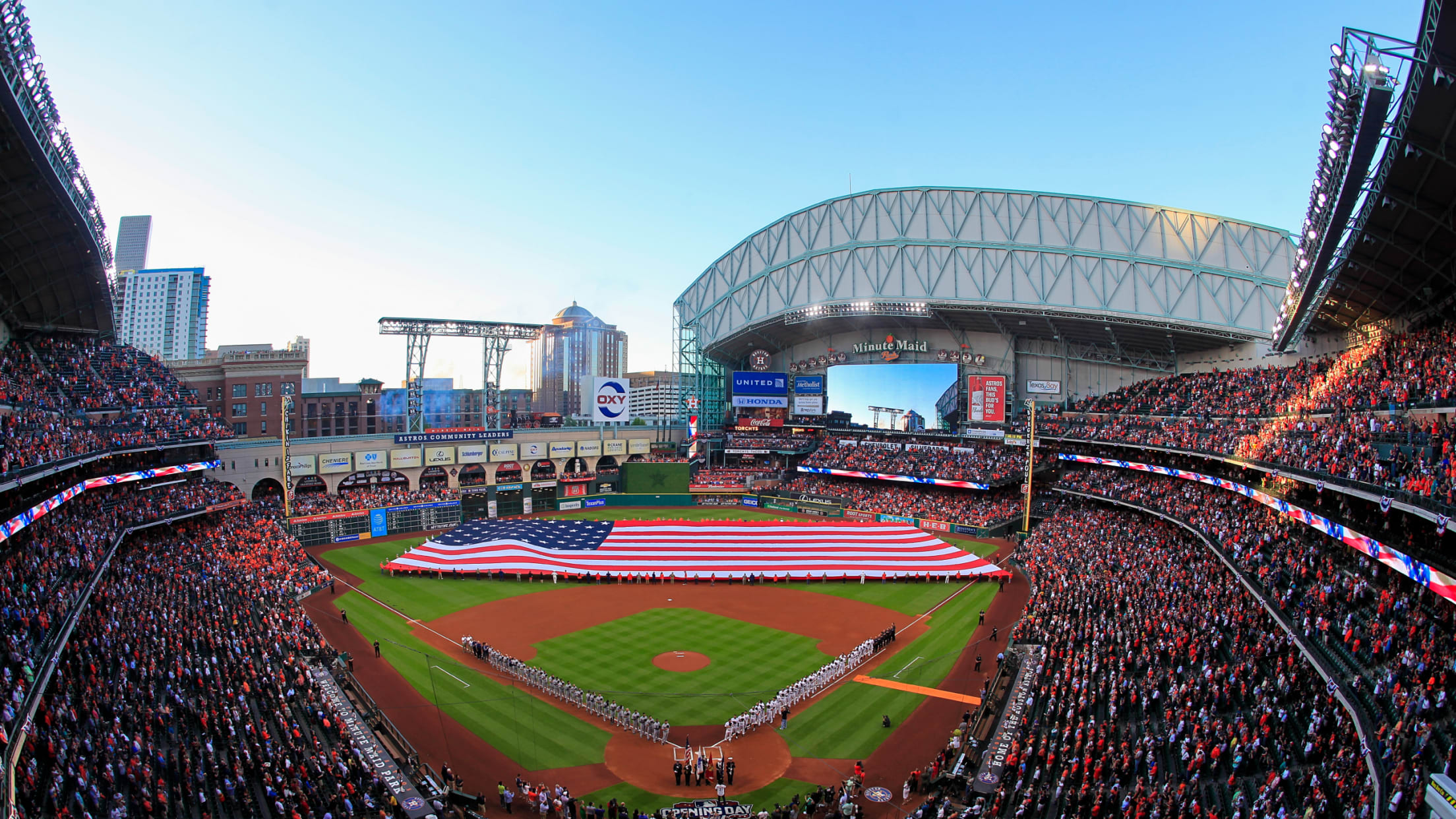 Renovations and Updates
Over the years, Minute Maid Park has undergone several renovations and updates to enhance the fan experience. Some notable improvements are:
In 2011, the Astros updated their scoreboard system with the installation of a new high-definition video display. Measuring 54 feet high and 124 feet wide, it was the largest scoreboard in baseball at the time.
In 2017, the stadium underwent a major renovation to improve the center field area. This multi-million dollar project included the removal of Tal's Hill – a distinctive incline in center field which had been part of the original design – and the addition of new seating, dining, and entertainment options.
Prior to the 2020 season, Minute Maid Park introduced a brand-new high-definition LED ribbon board display, spanning from foul pole to foul pole. This state-of-the-art display offers a seamless presentation of game information, statistics, and entertainment for fans during games.
These and other updates have ensured that Minute Maid Park remains a jewel in downtown Houston's crown and an enjoyable environment for Astros fans and visitors alike.
Stadium Features
Seating Capacity and Layout
Minute Maid Park, home of the Houston Astros, has a seating capacity of 41,168.
This includes 5,197 club seats and 63 luxury suites, ensuring a comfortable and enjoyable experience for a wide range of fans.
The stadium has a natural grass playing field, providing an authentic feel for both players and spectators alike.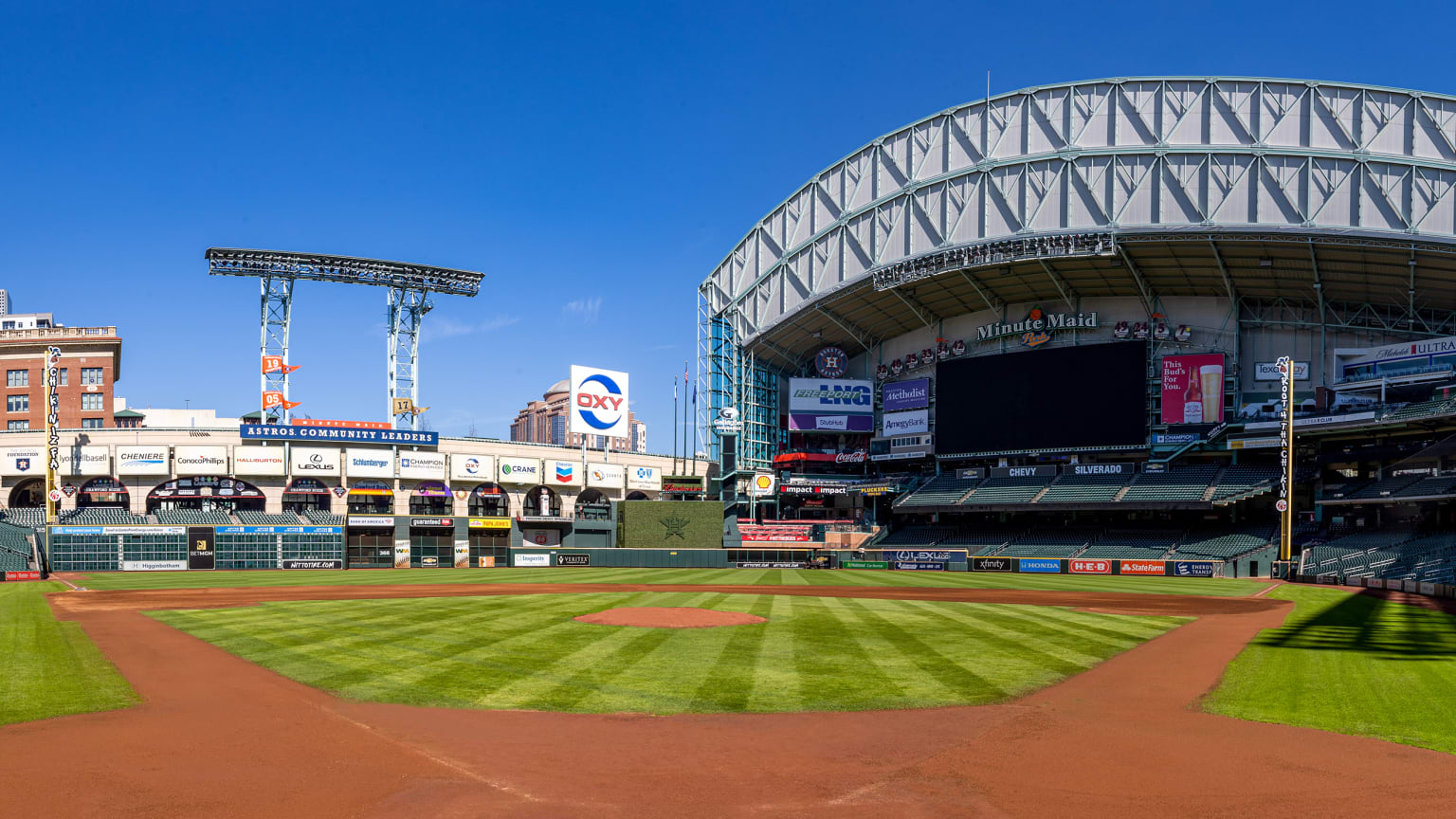 Unique Architectural Elements
One of the most distinguishable features of Minute Maid Park is its retractable roof.
This innovative design allows the stadium to host both domed and open-air events, accommodating varied weather conditions and ensuring the comfort of fans and players.
The retractable roof has become an iconic part of the stadium's appearance, making Minute Maid Park easily recognizable and a standout feature in the downtown Houston skyline.
Another architectural highlight is the ballpark's incorporation of a historic train station, now known as Union Station, into its design.
The stadium's main entrance is through the renovated Union Station, which adds a unique historical aspect and ties the park to the city's rich heritage.
Houston Astros Milestones at Minute Maid Park
Notable Games and Events
Minute Maid Park, home of the Houston Astros, has witnessed a plethora of notable games and events over the years. Some of the most significant moments include:
2005: The Astros host their first-ever World Series games at Minute Maid Park against the Chicago White Sox, although they ultimately lose the championship.
2015: The Astros return to the MLB playoffs after a 10-year absence, clinching the American League Wild Card.
2017: Minute Maid Park hosts Games 3, 4, and 5 of the World Series, with the Astros defeating the Los Angeles Dodgers to claim their first-ever World Series title.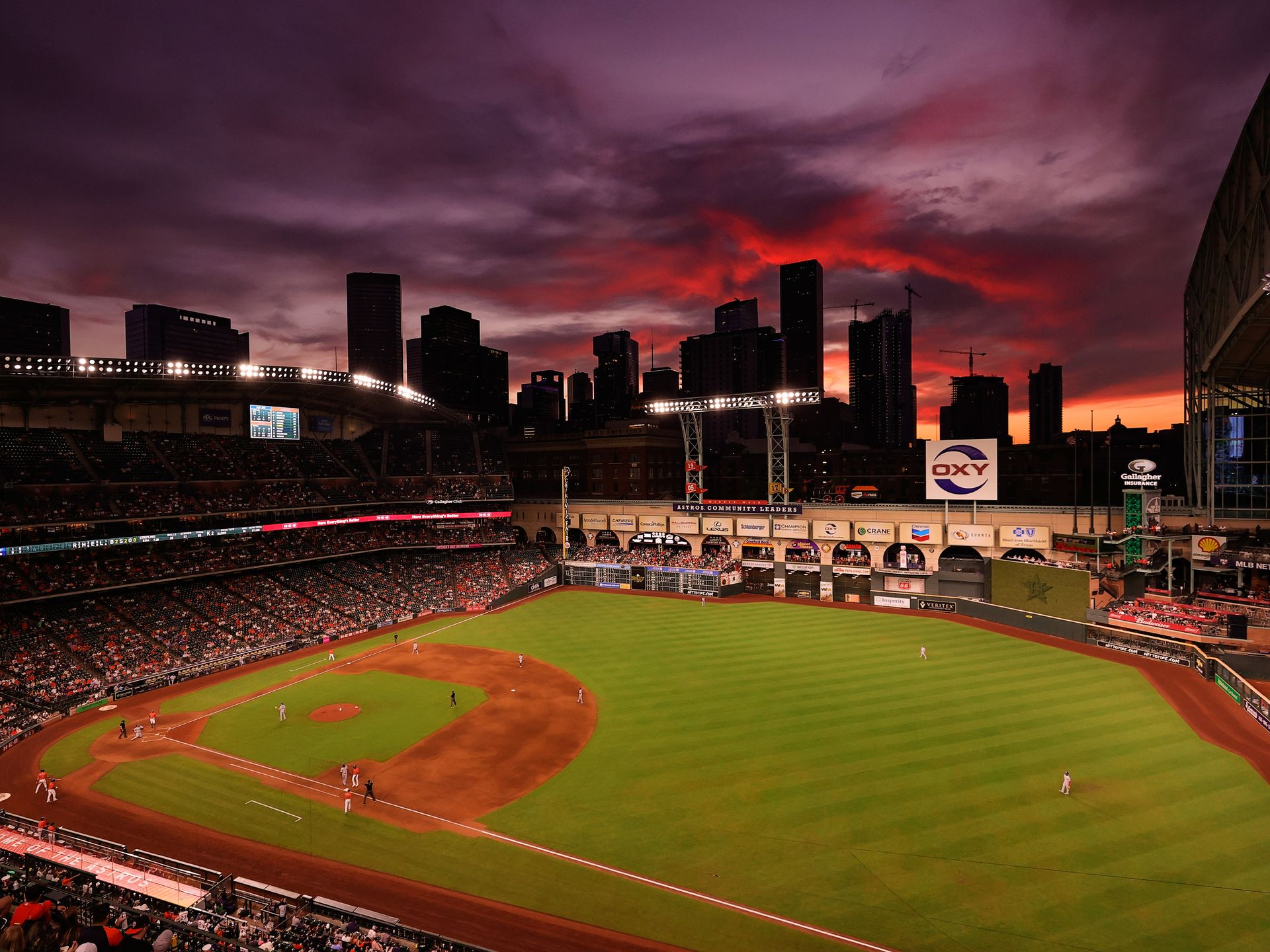 Player Achievements
Minute Maid Park has also been the stage for many remarkable individual accomplishments by Astros players. Some notable achievements include:
José Altuve: The second baseman achieves an impressive milestone in 2021 at Minute Maid Park when he scores his 1,000th career run, a testament to his consistency and productivity.
José Abreu: In the same game as Altuve's milestone, Abreu drives him home with a single, marking his 1,000th career RBI.
Martín Maldonado: The catcher hits his 100th career home run during the same game as Altuve and Abreu's milestones, making it a truly momentous night at Minute Maid Park.
Kyle Tucker: In a 2022 game at Minute Maid Park, Tucker hits a remarkable home run, contributing to the team's victory against the Washington Nationals.
These moments and achievements at Minute Maid Park have contributed to the Houston Astros' rich history and have left a lasting impression on players and fans alike.
Visitor Information
Directions and Parking
Minute Maid Park is located in downtown Houston at Union Station. Driving to the stadium is a convenient option, with numerous parking lots and garages available in the surrounding area.
Additionally, public transportation is available through the METRORail system, which has a stop near the stadium.
For a detailed guide on getting to the park and parking options, you can visit the official Houston Astros website or use a mobile navigation app of your choice to find the best route.
Concessions and Amenities
When attending a game or event at Minute Maid Park, visitors can enjoy a wide variety of food and beverage options.
From classic ballpark fare like hot dogs, nachos, and peanuts to more unique culinary offerings like locally inspired dishes and international cuisine, there is something for everyone to savor at the park.
There are numerous food listings and specialty locations throughout the stadium, ensuring accessibility for all fans. For refreshments, you'll find various beers, soft drinks, and other beverages available in different sections of the park.
In addition to a vast array of dining options, Minute Maid Park also features other amenities to enhance your visit.
There are around 5,197 club seats and 63 luxury suites for those looking for a more upscale game experience. The MLB Ballpark app can be downloaded for use during your visit, making it easy to navigate the park and stay up-to-date on game and venue information.
Tours of Minute Maid Park are also available, offering a behind-the-scenes look at the home of the Houston Astros.
James is a big time NBA Golden State follower, who makes sure to catch games when he's in the area. He likes to follow International Soccer, with an interest in small town soccer club, Blackburn Rovers located in the North on the UK.