Heading to a Houston Texans game or another exciting event at NRG Stadium? I'm here to help you get acquainted with the ins and outs of navigating and enjoying your time at the venue. In this article, we will cover everything you need to know about the stadium's gates and entrances, ensuring a smooth and efficient entry process.
NRG Stadium, located within the inner loop of the southern portion of Interstate Loop 610 between Kirby Street and Fannin Street, is an impressive and dynamic setting for a variety of events. With multiple entrance gates, it's essential to know which gate is most convenient for your plans before you go. This guide aims to provide you with all the information you'll need to make your NRG Stadium experience a memorable one.
From pedestrian entrance times, parking tips, and accessibility options, we will delve into the important details that are sure to make your visit well-organized and hassle-free. So, let's get started and prepare you for a fantastic time at NRG Stadium!
Overview of NRG Stadium
I had the opportunity to visit NRG Stadium, home to the Houston Texans and many other events throughout the year. This impressive indoor/outdoor retractable roof stadium is located in Houston, Texas, just west of the iconic Houston Astrodome in Southwest Houston. The stadium has a leading technological infrastructure, which allows it to be configured for various purposes, such as general sessions, catered functions, exhibits, and concerts.
As for the gates and entrances, there are several main gates and club entrances for fans to use. When planning my visit, I found that pedestrian entrance gates open 3.5 hours before the game. The parking lot zones are also well organized and connected to the associated gate entrances. These aspects make it convenient for fans to access the stadium and enjoy their events with ease.
What makes NRG Stadium so popular among Houstonians and visitors alike is the diverse range of events that take place there. In addition to NFL games, the stadium is also home to the world-famous Houston Livestock Show and Rodeo, and it's set to host the 2023 NCAA Men's Division 1 Basketball Championship.
During my time at NRG Stadium, I enjoyed the dynamic environment and versatility that this venue offers. Its state-of-the-art facilities and multiple entrance options make it an ideal destination for sports fans and event-goers alike.
Navigating Entry Points
Main Entrance Details
I found that pedestrian entrance gates at NRG Stadium open 3.5 hours before kick-off, which is great for anyone who wants to walk into NRG Park and avoid any traffic with vehicle entrance gates1.
When attending a Houston Texans game, keep in mind that gates to NRG Stadium will open 2 hours prior to kickoff2. It's important to plan accordingly, so you don't miss any of the pre-game excitement!
VIP Entrance Insights
Although I couldn't find specific information on VIP entrances for NRG Stadium, I suggest visiting the official website of the Houston Texans, which may provide additional insights on exclusive entrance points and special accommodations for VIP attendees. It's also a good idea to check your event ticket for any VIP details that may be listed.
I hope this helps you navigate the entry points of NRG Stadium and enhances your experience at the venue. Enjoy the game!
Ticket Booth Locations
I'd like to share some essential information about the ticket booth locations at NRG Stadium, so you can easily purchase tickets for Houston Texans games and other events. First, the NRG Stadium South Ticket Windows inside Bud Light Plaza are the primary ticket booths for getting tickets on-site. These windows usually operate on specific dates and times, for instance, in September, they were open on the 1st, 6th, 7th, and 8th, with varying hours.
You might be wondering about the operating hours for ticket booths on game days. Well, I've got you covered! Typically,** pedestrian entrance gates open 3.5 hours** before a Houston Texans game. So, you can head over to the stadium in advance and confidently purchase your tickets.
Additionally, it's worth noting that there are Guest Services booths located at each NRG Park facility. The friendly staff there can assist with any questions or concerns you might have regarding tickets or the stadium in general.
Remember, while buying tickets at the stadium is possible, the best place to purchase Houston Texans tickets might be through online platforms like the official NFL Ticket Exchange or authorized ticket resellers like Ticketmaster. This way, you can secure your seat well ahead of the game and avoid any last-minute hassles.
I hope this information on ticket booth locations at NRG Stadium proves helpful and enhances your overall experience. Enjoy the game!
Security Guidelines
As a regular visitor to NRG Stadium, I always ensure that I understand and follow the security guidelines implemented by the stadium. In this section, I'll share some important information about the Bag Policy and Personal Items, to help you prepare for a fun and hassle-free experience at NRG Stadium.
Bag Policy
I have learned that NRG Stadium has a strict bag policy in place to ensure the safety and security of all attendees. It is worth noting that they only allow clear bags that are not larger than 12x6x12 inches. Additionally, small clutch bags or wallets that are not larger than 5.5×8.5 inches are permitted inside the stadium. Here are some points to remember:
Use clear bags (max. 12″x6″x12″)
Small clutch bags or wallets allowed (max. 5.5″x8.5″)
Backpacks, purses, and diaper bags are not permitted
Personal Items
Knowing what personal items are allowed and not allowed inside NRG Stadium is just as essential. First off, all guests attending an event have to wear a shirt and shoes for their safety and the general comfort of other visitors. Individuals wearing obscene, offensive, or indecent clothing will not be allowed to enter the stadium. While the local authorities might provide specific guidelines for different events, it's best to be mindful of the following:
Keep clothing decent and non-offensive
Always wear shoes and a shirt
By following these security guidelines, you can enjoy a fantastic time at NRG Stadium while ensuring the safety and comfort of yourself and fellow fans.
Accessibility Features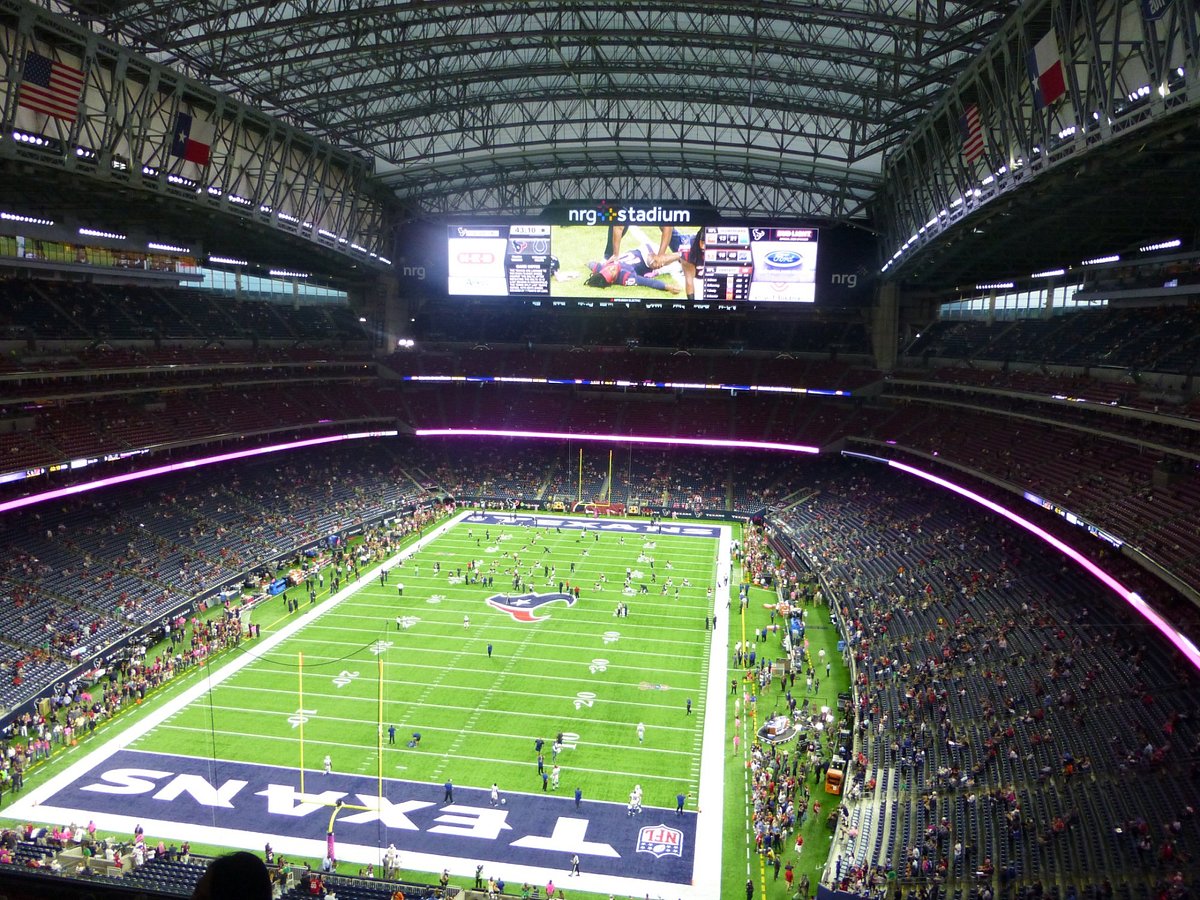 Wheelchair Access Routes
At NRG Stadium, many accessible routes are available for guests using wheelchairs. The ADA seating areas can be found at the top of sections on the Lower Level, Mezzanine Level, Club Level, the last row of the Suite Level, and Loge Level. Additionally, wheelchair accessible seating is also offered at the Directors Club and Chairman's Club.
For drop-off and pick-up, you can use BHP Billion Gate for most events. However, for stadium events, the designated area is "Blue Lot 19." Please note that this may change depending on the event.
If you're using the METRORail for transportation, simply exit at the NRG Park stop off Fannin and enter through gate 2 at NRG Park.
Amenities for People with Disabilities
I'd like to share some helpful amenities that NRG Stadium offers to individuals with disabilities.
First, priority use of passenger elevators is granted to guests with disabilities. You can locate these elevators throughout NRG Park, with elevator lobbies found at the main entrances on the NE, SE, SW, and NW corners of the stadium.
Assisted listening devices are available for some events at the Guest Services booth. Keep in mind that certain events may not be compatible with these devices. To borrow an assisted listening device, you'll need to provide a driver's license or credit card as a security deposit. Just visit the Guest Services booth and speak with a Guest Services Representative for assistance.
Food and Beverage Options
I had the pleasure of exploring the variety of food and beverage options available at NRG Stadium during a recent visit. Let me share with you some of the mouthwatering delights I came across, so you can look forward to indulging in them during your visit as well!
For fans of classic stadium food, you would be pleased to know that NRG Stadium offers a fantastic range of choices. Be it hot dogs, burgers, or nachos, they have it covered. I found these options at several concession stands throughout the stadium, so you never have to walk far to satisfy your cravings.
If you're in the mood for some great Mexican food, Ruchi's Mexican Grill is a popular choice. Located near the stadium at 3202 S Loop W, Houston, TX, this local chain serves up delicious Mexican fare 24/7. I tried their tacos and burritos, and believe me, they were bursting with flavor!
For a pre-game meal, consider stopping by Vasso Grill, located at 7900 Fannin St #1100, Houston, TX. They offer excellent breakfast and lunch specials that will fuel you up for game time. I tried their omelette, and it was both filling and scrumptious.
Another option to consider is 7Spice, located at 9540 S Main St STE 140, Houston, TX. As the name suggests, their dishes pack a flavorful punch. I had their signature dish, and it was an explosion of tastes and spices that perfectly complemented the game-day excitement.
Don't forget to grab your favorite drinks while you're at NRG Stadium. The Bud Light Cantina is situated on the field level and offers a fantastic range of alcoholic beverages in a seated bar setting. It was a perfect spot for me to relax and sip on my drink as I watched the game.
In short, there's something to please every palate at NRG Stadium. Whichever food option you end up trying, I'm sure it will only add to the excitement of your visit!
Souvenir Shop Locations
If you're like me and love collecting memorabilia from your favorite sports events, then you'll definitely want to know where to find the souvenir shops at NRG Stadium. Luckily, there are several spots to choose from, so you can find the best Houston Texans gear and other items to remember your visit.
One of the prime locations to visit is the Team Shop. To get there, simply enter through Gate 10, which is located off Kirby Dr. and McNee Rd. When you arrive at the security checkpoint, just let the guard know that you're heading to the Team Shop, and they will grant you access. The Team Shop offers a wide range of Texans merchandise, from jerseys and hats to novelty items and accessories.
As you walk around the stadium, you'll likely come across various other smaller shops and stands that sell souvenirs. These can be perfect for grabbing a quick item or two without spending too much time away from the game. I suggest keeping an eye out as you explore the stadium, and you'll undoubtedly run into these kiosks.
Additionally, if you're a Club level ticket holder, you have access to a few exclusive stores on the Club level concourse. These shops often feature limited-edition merchandise and higher-end items, catering to fans looking for something unique or special.
So there you have it – plenty of options to find the perfect memento of your trip to NRG Stadium. Remember to enjoy the game, and happy shopping!
Tips for a Smooth Stadium Experience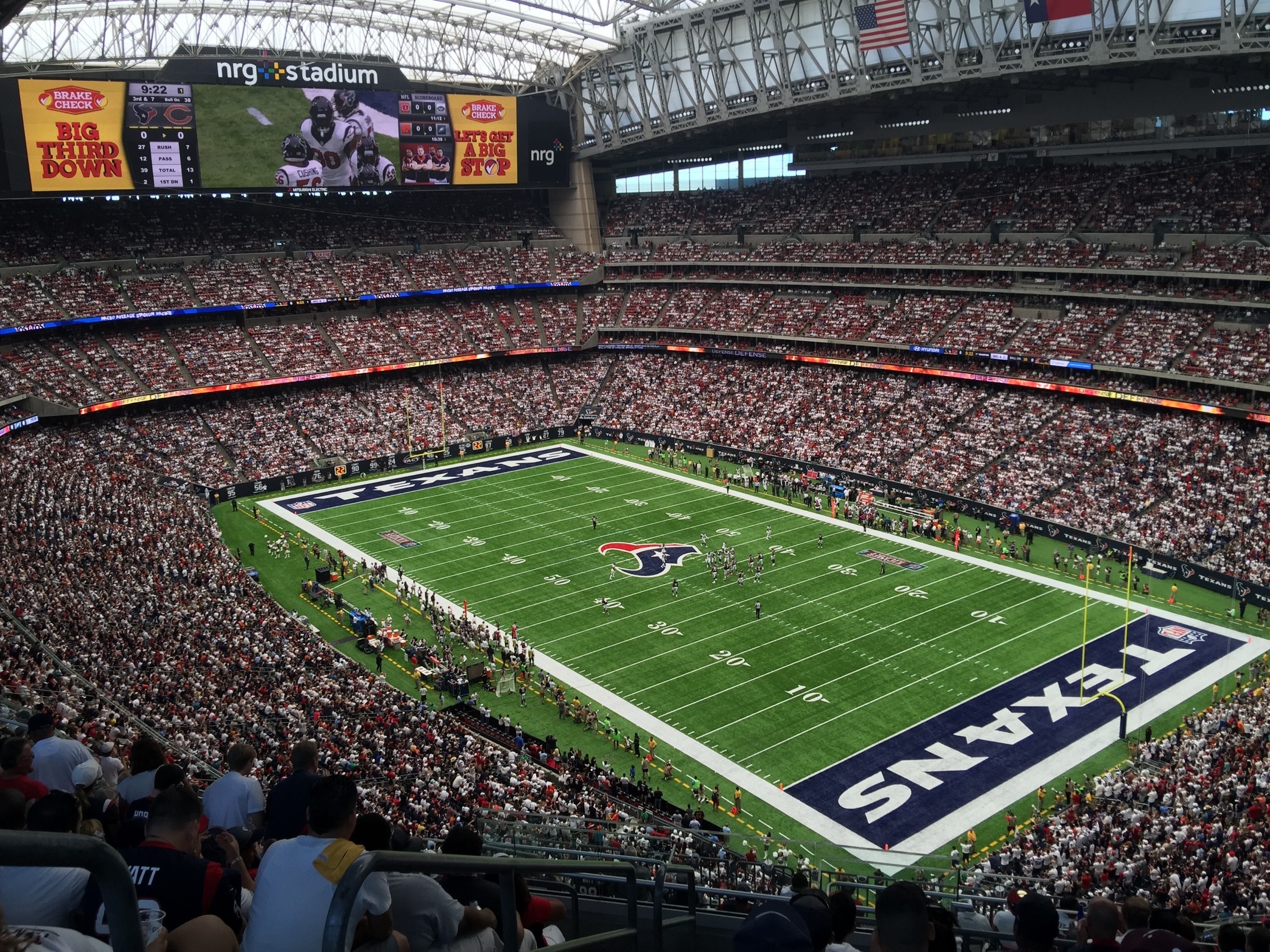 When I visit NRG Stadium for a Houston Texans game or any other event, there are a few things I keep in mind to ensure a smooth and enjoyable experience. In this section, I'll share some tips that could help you make the most out of your visit.
Firstly, I always make sure to arrive early. All NRG Stadium gates open 90 minutes before the event starts, so I find it beneficial to get there well ahead of time to avoid long lines and potential delays. This also gives me the opportunity to explore the stadium, find my seat, and grab any snacks or beverages before the event begins.
Parking is an essential aspect to consider for a smooth stadium experience. When I visit NRG Stadium, I usually look for the best official parking lots, third-party parking lots near the stadium, or areas with free parking. To save time and ensure a spot, I recommend booking parking in advance whenever possible. If you need more information on parking, you can check out NRG Stadium's parking tips guide or contact their Gameday Hotline at 832-667-1400.
In terms of accessibility, NRG Stadium offers handicap parking solutions to cater to the needs of guests with disabilities. These parking spots are available on a first-come, first-served basis, so I recommend arriving early to secure one if needed.
When attending an event at NRG Stadium, I also like to prepare for any possible safety and security measures. It's essential to be aware of the stadium's dos and don'ts and make sure to comply with their rules to ensure a hassle-free experience for both you and other attendees.
Lastly, it's always a good idea to explore public transit options if you prefer not to drive or park your car. Houston has various public transportation options, such as buses or the METRORail, that could help you reach NRG Stadium without worrying about parking.
I hope these tips will help you have a fantastic and stress-free time at NRG Stadium, whether you're cheering on the Houston Texans or attending any other event.