Before catching a game at NRG Stadium, it's best to plan your stay and inform yourself about the hotels, bars, and restaurants nearby. When visiting Houston, Texas, there are countless attractions and activities to partake in, so you have to have an agenda.
That's why we want to help save you time during your preparations and fill you in on all there is to know about this place. Continue reading the article to discover all the information you need about Houston, Texas, and its famous NRG Stadium.
NRG Stadium: Key Facts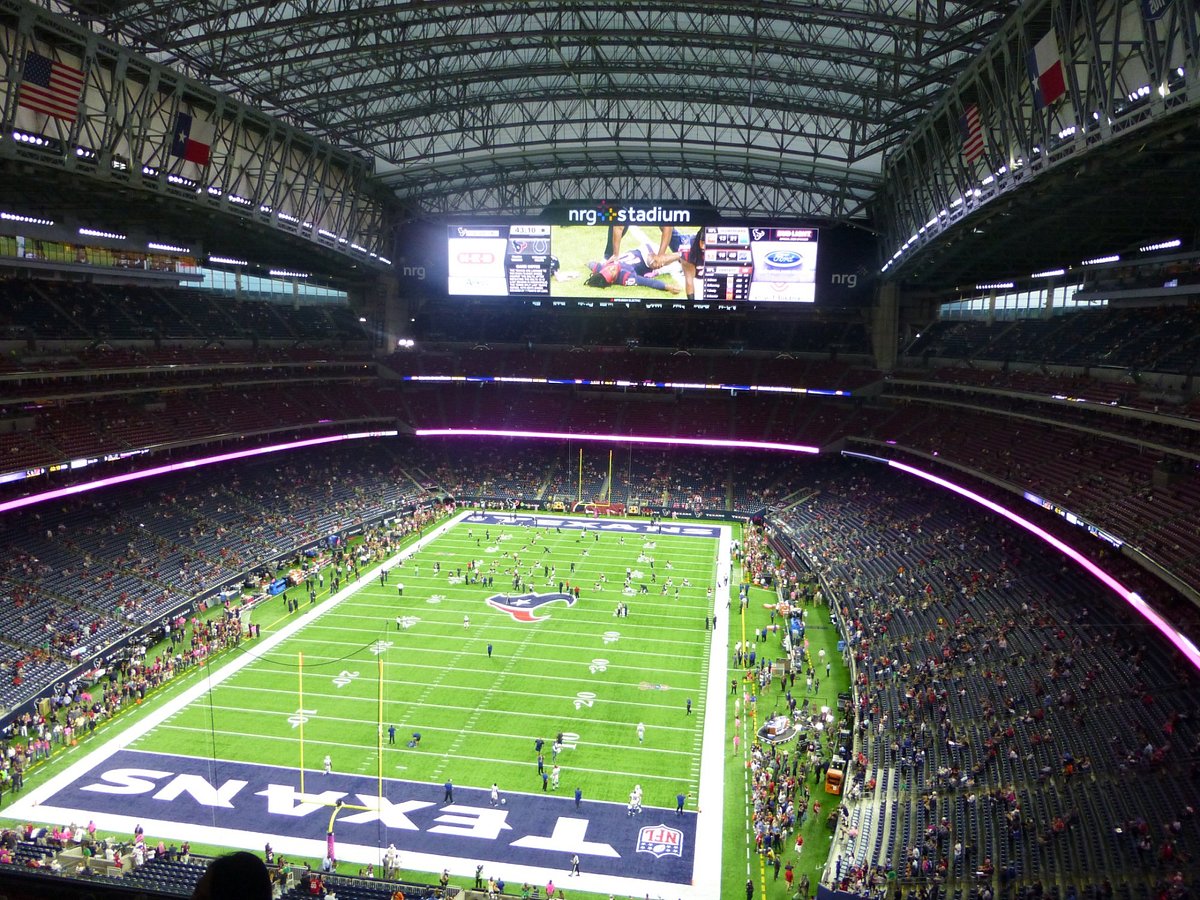 NRG Stadium, formerly known as Reliant Stadium, is the first stadium in the NFL to have a retractable rooftop. Constructed in 2002, the venue is home to the National Football League's Houston Texans and the fabulous Houston Livestock Show and Rodeo.
Furthermore, this stadium is part of the NRG Park Facilities, which is a complex in Harris County. The NRG Park's unique design provides a world-class experience with four facilities: NRG Arena, NRG Center, NRG Astrodome, and NRG Stadium.
Whether it's concerts, sporting events, exhibits, or conventions and meetings you're interested in, this establishment has it all. It has a seating capacity of over 72,000 that includes 197 suites available for a premium experience.
Music lovers are in for a real treat since the venue regularly hosts big-time musicians such as Beyoncé, Guns N' Roses, Taylor Swift, Coldplay, and many more. NRG Stadium also hosts soccer and basketball events, motorsport shows, and exciting rodeos to raise your adrenaline.
With over 500 special events throughout the year, visiting NRG Stadium will surely be a thrilling and memorable experience.
Where Is NRG Stadium Located?
NRG Stadium is located in Houston, Texas, United States, west of Houston Airport. It's based within 6.5 miles of Downtown Houston, so you can find countless tourist attractions nearby.
During your stay in the city, there are numerous activities to do other than cheering on the home team. You can start by exploring the Menil Campus and Hermann Park and move on to tasting the mashup of various cultures this city has to offer.
Furthermore, there are many exhilarating venues and sights, such as museums, parks, and zoos. You'll also find some of the best restaurants and bars around, so be sure to swing by.
The Best Way to Get to NRG Stadium
If you're not a local and need help getting around town, there are a few travel options available. Whether it's by car or public transport, we'll provide you with detailed information on how to get to NRG Stadium.
By car
If you're traveling by car, you can take a few routes to get to NRG Stadium, depending on your location.
If you're traveling from the Hobby Airport, you can take Broadway to I-45, then exit and turn right on Fannin or South Main Street. From there, you'll take another right on McNee Road and enter the main gate of NRG Park.
If coming from the north, your best travel options are Highway 59 and 288. There are two exits you can take from I-610 at Fannin Street or South Main. From there, you turn left on Naomi Street, then take a right on McNee Road and enter the main gate.
When coming from the south side, you can take I-45 or Highway 288 to South Main. Then exit and make a left on Naomi Street and a right on McNee Road, reaching NRG Park's gate.
If you're coming from Downtown Houston, the drive usually takes up to 10 minutes, depending on the traffic. You can take the I-10 to I-610, where you'll exit Finnin or South Main. From there, turn right on McNee and you'll reach your destination.
Public transport
For anyone, whether local or tourist, public transportation is the cheapest way to get around the city and NRG Stadium. Your best option is the Houston Metro and its METRORail because they offer various routes near and around the complex. You can also consider taking a bus since Houston City provides visitors with a safe and comfortable ride anywhere.
If you're traveling from Downtown Houston, your best options are buses 14, 84, or Light Rail 700. Catch a bus at San Jacinto St and ride to S. Main St at McNee, and you will be nine minutes away from NRG Stadium.
On the other hand, if you decide to travel by metro, you can catch the light rail 700 at Central Station Main. It'll take you to Kirby Drive and McNee, just two steps away from the stadium.
Parking Near NRG Stadium
We know how difficult it is to find a parking spot in a busy city on game days. That's why we'll provide you with all the best parking spots near NRG Stadium and their cost.
First, The NRG Stadium itself has over 26,000 parking spots available for their visitors at the price of $40. Keep in mind that the parking gates open four hours before kick-off, so arrive early and secure your spot.
Other places you can park are the $20 Toys R' Us Lot, 10 minutes away from the stadium, and the $35 8181 Stadium Dr. Lot, 9 minutes away.
The Best Restaurants Near NRG Stadium
There's nothing better than a cozy night out with family and friends after a game. Even though there are more than 100 restaurants near NRG Stadium, only a few provide the quality you deserve. Our top picks are based on service, atmosphere, uniqueness, and overall experience.
Olive Garden Italian Restaurant
Stop by the local Olive Garden in Houston if you're looking for some delicious Italian dishes. Located only 13 minutes from the NRG Stadium, this place is excellent for winding down after a sporting event.
The restaurant provides a curbside pickup option, as well as online orders to get your tasty food delivered right to your door. They're open Monday through Sunday with usual working hours from 11 AM to 10 PM. However, on Fridays and Saturdays, the closing hours are 11 PM.
Menu
You can find anything from family-sized meals to gluten-free specialties on the menu.
For appetizers, you can enjoy some delicious spinach-artichoke dip, calamari, dried mozzarella, or toasted ravioli. Their classic entrees include different kinds of alfredo, portions of pasta, and the all-time favorite $17.79 Lasagna Classico.
Furthermore, for $12.99, you can create a new Italian Classic and customize your pasta. You can choose what kind of pasta you'd like and different options for the sauce and the toppings.
As for dessert, you're in for a real treat since they have various specialties, from chocolate to fruit flavored. Our recommendation is the $9.29 Chocolate Brownie Lasagna, which is also a local favorite.
Additional information
Pappadeaux Seafood Kitchen
Pappadeaux Seafood Kitchen is a local American seafood restaurant serving in a dark wood ambiance accompanied by a full bar. Located only 17 minutes from the stadium, this restaurant offers excellent food and service. You can enjoy a luxury meal any day throughout the week from 11 AM to 9 PM.
Menu
Since Pappadeaux Seafood Kitchen tends to use only the freshest ingredients, have a taste of what this fantastic restaurant offers. You'll find specials, chef selections, all kinds of seafood, and famous Cajun specialties on the menu.
For starters, you can enjoy the chef's selection of oysters and traditional shrimp cocktails or Pappa's special Greek and house salads. While it's impossible to get enough of the fried seafood, crabs and lobsters are also a great choice.
The chef selections are anything from Grilled Tilapia & Lump Crab to Mississippi Catfish Opelousas as well as Giant Shrimp & Grits. As for Cajun specialties, you can enjoy a Shrimp or Crawfish Étouffe and the renowned Pasta Mardi Gras dish.
Additional information
The Best Bars Near NRG Stadium
When looking for a place to spend some quality time with friends and family, there are numerous unique bars and pubs around NRG Stadium. Whether you want a wild night out or a relaxing few drinks with friends, Houston has everything for everyone.
Swagger 2 is a lounge bar perfect for daytime drinks and turns into an exciting club pub during the night. Equipped with nine TVs, you can watch all your games while enjoying a tasty crafted beverage. With live music and admirable offers, Swagger 2 never disappoints.
On the other hand, Red River Ice House hosts football nights so you can cheer on your favorite team. This bar is perfect for getting you pumped up before the big game. If you opt for this bar, you can take bus number 14 from the stadium and get there in about 17 minutes.
Furthermore, Bar Esperanto is a relaxed bar with a stylish setting at a boutique residence. This bar is perfect for aftergame enjoyment and serves premium crafted cocktails, all kinds of beverages, and snacks.
Lastly, if you're looking for a wild night out, the nightclubs in Houston are sure to satisfy your needs. Even though there aren't many near NRG Stadium, the Lumen Lounge and Turning Point Club are an experience you don't want to miss.
The Best Hotels Near NRG Stadium
If you're ready to book a night near NRG Stadium, check out these select few hotels that offer a premium, luxury stay. Our selection is based on ambiance, uniqueness, authenticity, and overall experience throughout the stay.
Moreover, some honorable mentions are Staybridge Suites Houston, Astro Best Inn, Scottish Inns & Suites Almeda Rd, and Sterling Inn & Suites.
Holiday Inn Express & Suites Houston S – Medical Ctr Area
Holiday Inn Express & Suites Houston S is a laid-back, 2-star hotel with an ideal location for business trips and vacation getaways. You'll be 15 minutes away from the NRG Stadium and near all of Houston's attractions for curious sightseers.
This accommodation offers a free morning meal at their breakfast buffet and a complimentary parking area for travelers by car. If you don't have a car, there is also a free shuttle or taxi service. Complimentary perks include a fitness center and an outdoor pool for relaxing.
The hotel features family rooms and suites with air-conditioning and daily housekeeping. Relax in their spacious living rooms with pull-out sofas and flat-screen TVs, and have a good night's rest on their comfortable beddings. Equipped with all essential toiletries and kitchenware, you'll have everything you need to make your stay easy and memorable.
Additional information
Wingate Houston near NRG Park/Medical Center
This luxury, premium hotel that's set right across the street from NRG Stadium offers you the stay of your dreams. With everything you need throughout your vacation, Wingate Houston is a convenient choice for those looking for a memorable getaway. NRG Stadium is within walking distance from this accommodation, as well as all the top sights and attractions in Houston, Texas.
In this hotel, you'll have a business center, a fitness center, and a big relaxing pool at your disposal. Their cozy rooms offer free Wi-Fi, as well as comfortable living rooms with tables, chairs, and flat-screen TVs for amusement. Private bathrooms are also available, so you don't have to worry about your privacy.
A parking area is provided, although with a small charge, and self-parking is available. If you want to bring your furry friends along the way, this hotel is pet-friendly and will happily accommodate them.
Additional information
The History of NRG Stadium
When construction started, the initial idea for the stadium was to replace the Astrodome and function like an open-air venue. NRG Stadium would also have the intimacy and comfort of an indoor stadium since Houston NFL Holdings designed the first-ever retractable roof. Formally known as Reliant Park and later renamed NRG Stadium, the venue was built at the cost of $352 million.
The complex officially finished construction within a span of 30 months in October 2001.
The stadium opened on August 24, 2002, and began hosting tons of events, with the first being a game between the Miami Dolphins and Houston Texans. The first-ever rodeo to be held in the stadium was in February 2003.
A permanent artificial surface was installed during the 2015 season due to complaints about the field condition. In recent years, artificial turf was installed in the stadium for high school and college games, keeping the grass ideal for NFL games.
After hosting Super Bowl LI, numerous renovations started so that NRG Stadium could keep up and compete with other NFL venues.
Where to Get Tickets for NRG Stadium
You can buy your live event tickets with a 100% buyer guarantee at the most trusted ticket marketplace, Vivid Seats. Whether you want front seats or a balcony view, you can click the individual event you'd like to go on and view the seating chart. The page will show you the venue set up for your event, along with ticket prices and seat availability.
By purchasing on this webpage, you will also earn reward credit and get exclusive offers with Vivid Seats Rewards.
Does NRG Stadium Offer Tours?
If you want to know why NRG Stadium has the number-one fan experience in the industry, book a tour and get an exclusive preview of the venue. Discover how your favorite artists, performers, and teams prepare for their big day behind the scenes.
These one-hour tours take place Tuesdays and Thursdays from 10 AM to 2 PM, where you'll see the stadium's highlights. Enjoy a walk through the venue with a guide that will talk about the stadium's history and meaningful moments. The tour includes visiting the premium press box, the NFL's team locker rooms, and the first-ever stadium retractable roof.
However, since the stadium's turf still needs to be installed, some areas of the stadium might be unavailable due to maintenance.
The ticket prices for an NRG Stadium tour are $5 for children and seniors and $6 for adults. You can book this experience and purchase tickets on their official website or at the south ticket windows located inside Bud Light Plaza. However, due to covid-19, NRG Stadium tours are postponed but will be available shortly.
Conclusion
In conclusion, there are countless activities in and around NRG Stadium for everyone. Even though the stadium itself is a sight to see, numerous attractions will leave you speechless and luxurious accommodations will offer the stay of your dreams.
Now that we've covered the best hotels, you know where to get a good night's rest. While visiting Houston, Texas, make sure to stop by some of the restaurants and bars we've mentioned to get a delicious meal and drink.
We hope you have a fantastic stay and create beautiful memories!