The National Basketball Association includes 30 teams, playing their games in 29 arenas across the US (and one arena in Canada). All of these arenas are amazing with their modern construction, design, service, displays with high resolutions, big seats, and various other features that make spectators feel welcomed and comfortable.
One of those arenas is Toyota Center in Houston. This arena is the home of the Houston Rockets, but it also hosts many other sports and entertainment events.
We created this guide to introduce you to Toyota Center and tell you everything you need to know about this arena before you go to a concert or a sports game.
Toyota Center: Key Facts
Toyota Center is a modern indoor arena where the legendary Houston Rockets play their home games. This 225,000 square feet venue spans over six city blocks and seats about 18,000 people for basketball games, 17,800 for ice hockey, and about 19,000 for concerts.
Toyota Center includes 103 luxury suites and 2,900 club seats. On the floor level, it has three private club lounges. Moreover, the venue includes a private bar and multiple upscale concessions.
The arena initially had 40 feet by 32 feet video system, which, at the time, had the highest-resolution display among North American sports facilities. Starting in 2012, visitors can enjoy the larger four-panel scoreboard and a top-notch audio system.
Besides welcoming basketball fans, Toyota Center also hosts other events. For instance, the arena was a host to a UFC event on several occasions. It also hosted Bellator MMA events in 2016, multiple WWE events, the Annual Latin Grammy Awards in 2008, and numerous concerts.
Among the artists and groups who have performed at Toyota Center, you'll find famous names, including Prince, Duran Duran, Shakira, Andrea Bocelli, Carrie Underwood, Rammstein, Muse, Gloria Estefan, Depeche Mode, Bon Jovi, Aerosmith, Guns N' Roses, and many more.
Where Is Toyota Center Located?
The Rockets' arena is located at 1510 Polk Street in the Central Business in Houston.
The Best Way to Get to Toyota Center
Since Toyota Center is located in downtown Houston, you have a lot of choices regarding transportation. You can get there by bus, light rail, an Uber, or you can simply walk to the arena if you have found accommodation nearby (more on this later).
Near the stadium, you'll find five bus stations located up to 8 minutes' walking distance. Various bus lines have routes that pass close to the stadium, including 40, 244, 11, 51, 137, and 41. There's a light rail station about 11 minutes walking distance from Toyota Center, and the 700 light rail line stops at that station.
If you drive to the arena, we recommend you check out the arena's website, where you can find clear directions for traveling via US-59 N, 59 S, I-45 N, 45 S, I-10 E, and 10 W.
Parking Near Toyota Center
Toyota Tundra Garage
Toyota Center has its own parking garage called Toyota Tundra, which is located at 1515 Jackson Street – that's about a two-minute walk from the stadium. Moreover, the garage has a sky bridge entrance for VIP guests.
This is a fully-covered garage with seven stories. It includes 2,500 parking spots, as well as various parking spaces for customers with disabilities.
You should know that you must be a pass holder to park in Toyota Tundra on days when the Rockets are playing.
Parking information
| | |
| --- | --- |
| Location | Toyota Tundra Garage |
| Distance from Toyota Center | 2 minutes walking |
| Operating hours | Vary, depending on the scheduled events |

Avenida South Garage
In case you're not a pass holder, or you can't find a spot at Toyota Tundra Garage, you can park in another garage located about three minutes from the stadium. The Avenida South Garage works Monday through Sunday and works all day.
This garage has 1,420 spots and multiple disabled parking spots. Besides regular parking, you can also request valet parking, which will cost you $58. Moreover, the garage includes areas for electric car charging.
To pay for your parking spot, you can use cash or a credit card.
Parking information
The Best Restaurants Near Toyota Center
Now that you have parked your car, take a look at the best restaurants near Toyota Center to grab a bite. We selected three highly-rated eateries with different ambiances and menus to match everyone's dining preferences.
Grotto
Grotto is a restaurant chain with locations in Houston, Atlantic City, Galveston, and Las Vegas. It's inspired by Italian cuisine, offering various signature dishes rich in flavors.
Grotto's menu includes multiple thin-crust pizzas, including the popular Margherita, pepperoni, and wild mushroom. Of course, this wouldn't have been an Italian restaurant without offering pasta. You can have pasta gamberoni, bolognese, capra, or the sea-inspired pescatore with shrimp, calamari, and crab.
For the main course, we recommend you try the shrimp piatta, chicken marsala, or spiedini, which is a dish with salmon, shrimp, and seasonal vegetables.
Additional information
| | |
| --- | --- |
| Location | Grotto Downtown |
| Reservations | +1 713 658 0752 |
| Working hours | Sunday: 12 PM – 9 PMMonday-Wednesday: 11:30 AM – 9 PMThursday-Friday: 11:30 AM – 10 PMSaturday: 12 PM – 10 PM |
| Price | $$ |

Morton's The Steakhouse
Here we have a very fancy restaurant located on the first floor of the McKinney Business Center, about nine minutes from Toyota Center. A meal here will cost you a bit more than dining in some other restaurant, but every bite is worth the money.
Morton's The Steakhouse has a rich menu that includes delicious appetizers, prime steaks and chops, specialty items, seafood dishes, and excellent desserts. Besides fancy meals, you can order and try delicious burgers and sandwiches.
It's worth mentioning that at Morton's, you won't have to worry about your gluten allergy (if you have it) as the restaurant has a full gluten-sensitive menu.
Additional information
| | |
| --- | --- |
| Location | Morton's The Steakhouse |
| Reservations | +1 713 659 3700 |
| Working hours | Monday-Thursday: 11 AM – 9 PMFriday: 11 AM – 10 PMSaturday: 4 PM – 10 PMSunday: 4 PM – 9 PM |
| Price | $$$$ |

Hearsay on The Green
Last but not least, we have a nice classic American-style restaurant located in Embassy Suites Hilton Houston, right across from Toyota Center. Hearsay on The Green is a casual eatery with a cozy and friendly atmosphere and kind, attentive staff.
The restaurant has a comprehensive menu rich in American-signature flavors. You can have a shareable dish of buffalo shrimp or a nice salad with avocado and cucumber. Hearsay also makes great cheesesteak egg rolls, spinach dips, and Wagyu meatballs.
For the main course, you can order a filet mignon, beef short rib, bacon-wrapped shrimp, and even Kung Pao salmon with brussels sprouts. The double pork chops are delicious, as well as the crab-crusted redfish and the famous Texas-cut ribs.
It's important to note that Hearsay has happy hours from Monday to Friday from 3 PM to 6 PM.
Additional information
| | |
| --- | --- |
| Location | Hearsay On The Green |
| Reservations | +1 832 377 3362 |
| Working hours | Monday-Thursday: 11 AM – 11 PMFriday-Saturday: 11 AM – 12 AMSunday: 11 AM – 10 PM |
| Price | $$ |
The Best Bars Near Toyota Center
While in Houston, we recommend you visit at least one of the best bars near the Toyota Center we listed below.
Pete's Dueling Piano Bar
If you ever visit Houston, you must check out Pete's Dueling Piano Bar. We're more than sure you'll love the experience.
Pete's Piano Bar is located on Fannin Street, about a five-minute walk from the arena. The bar is fantastic. It hosts regular dueling piano shows and singing events, during which guests are welcomed to dance, sing, relax, and, most importantly, have the time of their lives.
It's very important to mention that Pete's Bar offers an extensive menu of cocktails. Therefore, don't worry about your shyness – after a drink or two, you'll have your own dance show.
Additional information
| | |
| --- | --- |
| Location | PETE'S DUELING PIANO BAR |
| Phone number | +1 713 337 7383 |
| Working hours | Wednesday-Saturday: 7 PM – 2 AM Sunday-Tuesday: Open for events |
| Price | $$ |

Shay McElroy's
This place is a little far from the arena compared to the other bars we have in this article. Still, if you're a classic ale aficionado, it's worth walking for about 15 minutes from Toyota Center to this popular Irish pub.
Besides Shay McElroy's, this Irish pub has two more locations in Houston – Johnny McElroy's and McElroy's Pub. All of them are Irish-owned and operated, with a lively atmosphere and a recognizable Irish-style interior. The downtown location has a patio for those who want to have a drink outside.
However, it's not just the interior that will make you feel like you're in Ireland. Shay McElroy's menu confirms the Dublin vibe of this place. You'll find numerous draft, bottle, and even seasonal beers. Of course, the pub also offers a comprehensive list of Irish whiskey and scotch.
Additional information
| | |
| --- | --- |
| Location | Shay McElroy's |
| Phone number | +1 713 223 2444 |
| Working hours | Monday-Sunday: 12 PM – 2 AM |
| Price | $ |

Reserve 101
Here, we have a bar for all whiskey lovers. Reserve 101 is located in the heart of downtown Houston and is the place you should definitely visit if you want to have a glass of quality whiskey.
Here's an interesting fact – Reserve 101 has a whiskey selection that includes over 400 bottles from 14 countries across the globe. You should also know that this palace takes its cocktails very seriously, which is why you can find an extended menu of cocktails you won't resist.
Additional information
| | |
| --- | --- |
| Location | Reserve 101 |
| Phone number | +1 713 480 1579 |
| Working hours | Monday-Saturday: 4 PM – 2 AMSunday: 6 PM – 2 AM |
| Price | $$ |
The Best Hotels Near Toyota Center
Hilton Americas-Houston
If you haven't figured out your accommodation yet, we highly recommend you have a look at what Hilton Americas-Houston offers. This is a 4-star hotel in downtown Houston, just a few minutes away from Toyota Center.
The hotel is fantastic and has excellent service. Among the amenities you can enjoy during your stay are fast room service, a digital key, an on-site restaurant, a spa, and a fitness center. Moreover, the hotel has an indoor pool, a business center, and multiple meeting rooms.
Additional information

Hampton Inn Houston Downtown
If you're looking for more affordable accommodation, you should check out Hampton Inn. This is a 3-star hotel in downtown Houston at a seven-minute walking distance from the arena.
Although Hampton Inn isn't as luxurious as the previous hotel we discussed, it still provides excellent and a very comfortable accommodation. You can enjoy the free hot breakfast in the on-site restaurant, as well as other amenities such as a digital key, free Wi-Fi, and access to the fitness center. The hotel has a clean outdoor pool.
Additional information

Marriott Marquis Houston
Marriot Marquis Houston is a 4-star hotel in downtown Houston. To get there from Toyota Center, you'll need about five minutes to walk across the Discovery Green Park.
Marriott Marquis is a luxury hotel with a modern style. It has spacious rooms and various deluxe amenities, which you'll definitely enjoy. One of the best features this hotel offers is the pool on the sixth floor, which provides an amazing urban-resort experience.
Besides the relaxing pool, the hotel offers various other amenities, including but not limited to meeting rooms, a business center, an on-site restaurant, a digital key, and a spa.
Additional information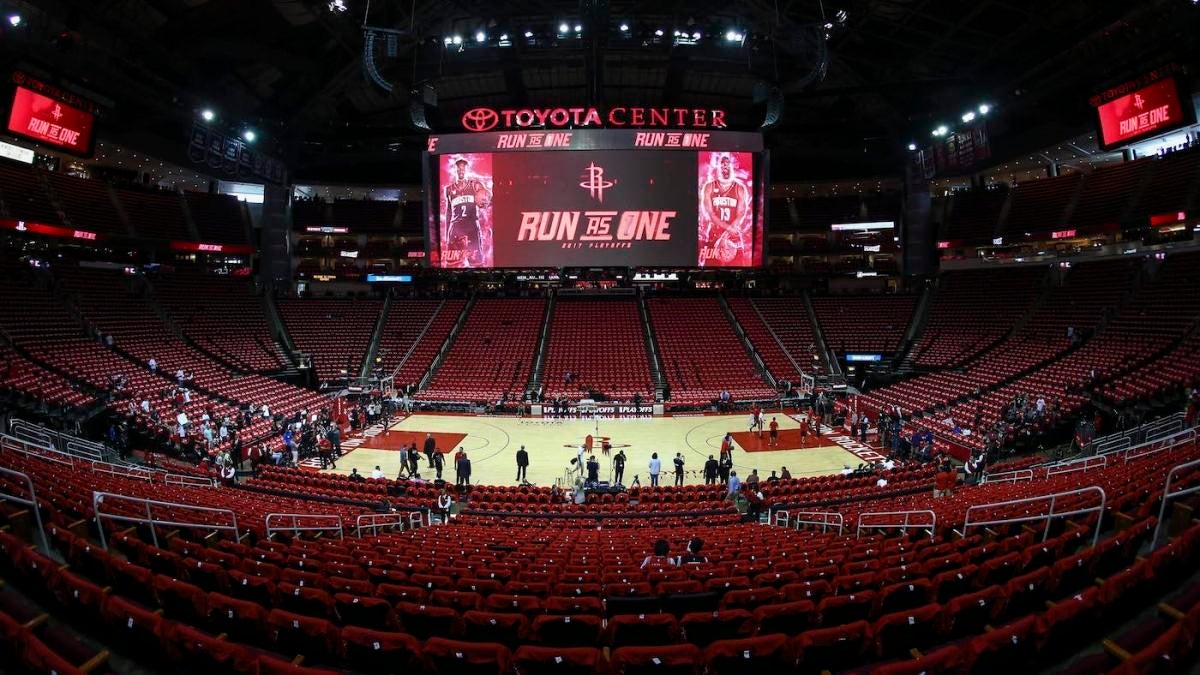 The History of Toyota Center
The NBA's Houston Rockets initially used the Summit, a multi-purpose arena for professional teams, now reconstructed and known as the Lakewood Church Central Campus. However, the team's owner required a new venue in 1995, saying that the Summit was outdated and couldn't host the Rockets any longer.
After several years of negotiations on whether to start the construction of a new stadium, the team and the city reached an agreement. The city voted, and the construction of a new arena was approved on November 8, 2000, by 66% of the voters.
The construction of the new venue began in July 2001 by the Populous, then known as HOK Sport. The construction costs reached $235 million, and the arena was opened in October 2003. The city of Houston paid the majority of the costs, while Toyota made $100 million for naming rights.
The first event hosted in Toyota Center was a concert on October 6, 2003, while the Rockets played their first game (against Denver Nuggets) on October 30.
It's important to note that Toyota Center is a winner of the Allen Award for Civic Enhancement as well as the "Rookie of the Year" award. The arena was a finalist for Pollstar Magazine's "Best New Concert Venue."
Where to Get Tickets for Toyota Center
There are two ways to get tickets for Toyota Center – online or from the arena's box office.
If you want to buy tickets online, you should visit axs.com directly or access this ticket outlet through the Toyota Center's official website.
Now, if you want to buy tickets directly from the arena, you have to find the box office, which is located on the La Branch Street side of Toyota Center.
The box office works Monday through Friday from 10 AM to 5 PM, and is closed on weekends unless there's an event happening on Saturday or Sunday. In that case, the box office opens at 12 PM.
It's very important to keep in mind that Toyota Center's box office is cashless. So, don't forget your credit or debit card if you want to purchase tickets from there.
Additionally, if you go to the arena just to get paper tickets, don't bother. You might as well buy them online, as the arena doesn't give tickets old-style. Instead, the staff will send you the ticket digitally through AXS Mobile-ID.
Does Toyota Center Offer Tours?
Yes! Toyota Center offers fantastic public tours for those who want to explore the fascinating world inside the arena. You can book the popular one-hour Backstage Tour if you want to peek behind the scenes of Houston's main attractions.
During the tour, you'll be able to check out the premium areas of the stadium, such as the Arena Floor, Legend Lockers, Rockets Club, Sire Spirits Social Club, and Lexus Lounge, to name a few.
Tours are scheduled on Tuesdays and Thursdays from 10 AM to 1 PM. The tour ticket costs $15 per visitor. You should keep in mind that these are group tours for at least ten visitors.
The $15 ticket is for a regular public tour. If you want to visit the center during a Rockets game night, the ticket costs $40 per visitor and includes a game ticket for the same night.
James is a big time NBA Golden State follower, who makes sure to catch games when he's in the area. He likes to follow International Soccer, with an interest in small town soccer club, Blackburn Rovers located in the North on the UK.