If you're a fan of the Utah Jazz and looking to catch them in action, finding the best place to buy tickets is essential. With a variety of online platforms and in-person options to choose from, it can sometimes be overwhelming to find the most reliable and affordable source for those coveted seats. In this article, we'll guide you through some of the best places to purchase Utah Jazz tickets that offer a seamless experience and fair prices.
When it comes to online sources, NBA.com is the official platform for all things related to the Utah Jazz, including individual game tickets. You can trust the authenticity of the tickets sold on this site and easily pick from available games that suit your schedule. Another popular online platform for buying Utah Jazz tickets is SeatGeek, which provides a user-friendly interface for comparing ticket prices and seat options. This secondary marketplace has a vast inventory of tickets for various Jazz games, allowing you to find the perfect match for your preferences and budget.
For those who prefer purchasing from a physical location, consider visiting the Delta Center's box office in Salt Lake City, Utah. The box office is open on the day of any scheduled event and offers digital tickets for a hassle-free and convenient experience. With these options in mind, you're well-equipped to secure your spot at a Utah Jazz game and enjoy the thrill of live basketball action.
Why Buy Utah Jazz Tickets
The Utah Jazz is an exciting team to watch in the NBA, and purchasing tickets to their games offers an unforgettable live sports experience. By attending their games, fans have the opportunity to feel the electric atmosphere in the arena and cheer their team on with fellow supporters.
One of the reasons to buy Utah Jazz tickets is the opportunity to see top-notch basketball action. With a roster filled with talented and skilled players, the Jazz consistently competes at a high level, providing plenty of thrilling moments on the court. Additionally, the team has a strong history, having made multiple playoff appearances and boasting legendary players like Karl Malone and John Stockton.
Another reason to attend a Utah Jazz game is the entertainment value that goes beyond just the basketball action. NBA games are known for their lively atmosphere, with music, mascot performances, and fan contests all contributing to a fun-filled experience. The Utah Jazz's mascot, Jazz Bear, adds an extra layer of amusement and enthusiasm to the game, engaging fans of all ages.
Finally, buying Utah Jazz tickets allows fans to participate in a sense of camaraderie with fellow supporters. Cheering on the team together, sharing high-fives, and discussing the game with others creates a sense of belonging to a community of fans. This shared experience is something that watching the game on television simply can't replicate.
In conclusion, purchasing Utah Jazz tickets provides a thrilling, entertaining, and inclusive experience for basketball enthusiasts. Fans get to witness high-level competition and enjoy a lively atmosphere, all while connecting with fellow supporters to create lasting memories.
Where to Buy Utah Jazz Tickets
Official Utah Jazz Website
The first place to consider when looking for Utah Jazz tickets is their official website. Here, you can find single-game tickets for both pre-season and regular season games. The website also offers access to exclusive ticket promotions, making it a great option for true Jazz fans.
NBA Official Website
Another reliable source for purchasing Utah Jazz tickets is the NBA's official website. This platform provides an extensive listing of various games, including those involving the Jazz. It is also a secure site where you can safely purchase tickets online.
Pros:
Wide selection of games
Secure website for transactions
Cons:
Might not have exclusive promotions like the official Jazz website
Physical Ticket Outlets
For those who prefer buying tickets in person, there are several physical ticket outlets. One option to consider is the Vivint Arena Box Office (formerly Delta Center) located in Salt Lake City, UT, where the Utah Jazz plays their home games. Additionally, other authorized ticket sellers might carry Jazz tickets, so make sure to verify the legitimacy of the outlet before making a purchase.
Remember to keep an eye out for promotions and discounts at these outlets, as they may offer savings that are not available online.
Online Ticket Vendors
Ticketmaster
Ticketmaster is a trusted source for purchasing Utah Jazz tickets. As the primary ticket seller for the team, you can find face-value tickets for single games, both preseason and regular season. They offer a user-friendly interface that makes it easy for you to pick and choose the best times to experience the excitement and community of Jazz basketball. Make sure to keep an eye out for exclusive ticket promotions and special deals.
StubHub
As a well-known secondary market platform, StubHub provides a wide range of Utah Jazz tickets for sale. If you are unable to purchase tickets on Ticketmaster or prefer options listed by other fans, this is a great choice. On StubHub, you may find tickets at different price points and locations within the arena. Remember to always check for any additional fees when purchasing from secondary market platforms.
Vivid Seats
Vivid Seats is another option for purchasing Utah Jazz tickets from the secondary market. Similar to StubHub, you can find tickets in various locations and for different prices, depending on the game and the sellers. Vivid Seats also offers a customer-friendly platform, allowing you to easily navigate and filter options according to your preferences. Be aware that secondary market platforms might have additional fees, so double-check before finalizing your purchase.
Things to Consider when Buying Tickets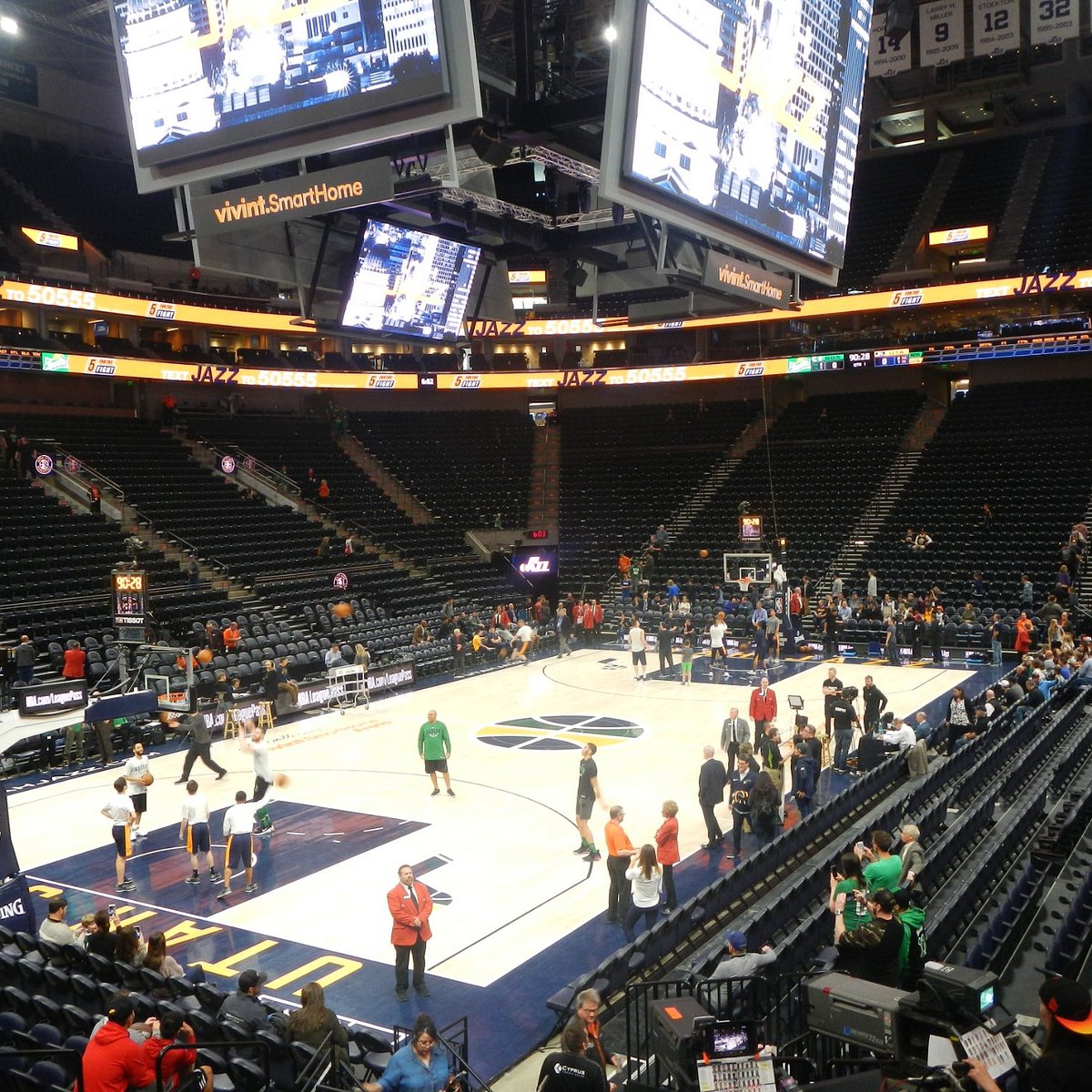 When looking for the best place to buy Utah Jazz tickets, there are several factors to consider. This section provides a brief overview of some key points to keep in mind, including pricing, seating location, and return policies.
Pricing
When it comes to purchasing Utah Jazz tickets, it's essential to compare prices across various platforms to find the best deal. Websites like SeatGeek offer a range of ticket prices, making it easier to find budget-friendly options. Keep in mind that lower-level seats and floor level seats on the sidelines usually cost more than other sections in the arena, with tickets at center court often being the most expensive.
Seating Location
The seating location is an important aspect when purchasing tickets for a Utah Jazz game. The Vivint Arena, where the Utah Jazz plays, offers a good view from most locations. However, it's generally recommended to avoid seats directly behind the baskets. As mentioned earlier, lower-level seats and floor level seats on the sidelines usually provide the best view of the game but also come at a higher price. Make sure to check the arena seating chart before making your purchase to ensure an enjoyable game experience.
Return Policies
Before buying your Utah Jazz tickets, it's crucial to pay attention to the return policies of the ticket platform you're using. Some ticket sellers may not offer refunds or may only provide a partial refund, while others might allow a full refund or exchange under specific conditions. Familiarize yourself with the platform's policies to avoid any unfortunate surprises if your plans change or an event gets canceled.
Tips and Tricks for Scoring Discounted Tickets
Purchasing Utah Jazz tickets at a reasonable price may seem difficult, but with a little patience and strategy, you can find great deals. Here's a friendly guide to help you score those discounted tickets.
One of the keys to finding cheaper tickets is being flexible with your chosen game date. Most Utah Jazz games offer seats under $50, and some even go as low as $10 for matches with low demand. By choosing a game with less buzz, you can enjoy the match without breaking the bank.
Joining fan clubs and email lists of your favorite teams and venues is a smart move as well. This will allow you to stay informed about exclusive pre-sale offers, special discounts, and other promotions for Utah Jazz events. It's an excellent way to stay ahead of the curve and snag those discounted tickets.
Don't underestimate the power of the secondary market. Platforms like Gametime offer a wide selection of event tickets that are often sold below face value. As long as there's a healthy supply of tickets available for an event, you can expect reasonable prices.
While searching for tickets, don't shy away from checking the box office first. This is your best bet for purchasing a ticket at its face value before resorting to secondary marketplaces. It can also save you from paying processing fees commonly charged by online ticket platforms.
Lastly, remember that sometimes going solo to an event can help you score better deals. As many people attend concerts and games in groups, single tickets tend to be priced lower due to less demand. Keep an eye out for these opportunities if you don't mind attending the game alone.
Following these friendly tips and tricks, you'll be well on your way to scoring discounted tickets for your next Utah Jazz event. Enjoy the game!