Jazz Bear has been entertaining basketball fans and bringing smiles to faces since 1994, when he was first introduced as the mascot for the Utah Jazz, a National Basketball Association (NBA) franchise based in Salt Lake City, Utah.
Over the years, Jazz Bear has become an iconic figure in the sporting community, who not only entertains spectators during Utah Jazz games at Vivint Arena but also devotes countless hours to community and public service in the region.
Throughout his tenure as Utah Jazz's official mascot, Jazz Bear has earned numerous accolades, including a 2006 induction into the Mascot Hall of Fame and winning Mascot of the Year five times.
With his exceptional skills in acrobatics and crowd engagement, this beloved character continues to wow audiences at home games, climbing more than 1,100 ladders, and helping to raise funds for various charitable causes.
However, Jazz Bear's journey has not always been smooth, as Jon Absey, the man who portrayed the mascot for nearly 25 years, was fired in 2018.
Despite this upheaval, the Utah Jazz franchise and its fans continue to hold Jazz Bear dear, celebrating the positivity and good-natured fun he brings to every game.
History of Jazz Bear
Creation and Inception
Jazz Bear first made his appearance as the Utah Jazz mascot in 1994. He quickly became a fan favorite with his high-energy performances and daring stunts, such as rappelling down from a catwalk high above the court during his debut.
Not only did Jazz Bear entertain the crowd, but he also dedicated countless hours to community and public service events.
Evolution Over the Years
Over the years, Jazz Bear continued to evolve, consistently surprising fans with his innovative stunts and interactive engagements. As a result, he earned recognition and accolades for his work.
In 2006, Jazz Bear was inducted into the Mascot Hall of Fame. Additionally, Utah Governor Gary Herbert declared October 10, 2013, as "Jazz Bear Day," in celebration of his 20th season with the Utah Jazz and his outstanding contributions to the community.
Through these milestones and his ongoing commitment to the team and fans, Jazz Bear has solidified his position as an essential and beloved figure in Utah's sports culture.
Characteristics and Appearance
Jazz Bear, the beloved mascot for the Utah Jazz, has been entertaining fans since his introduction on November 4, 1994. With a fun and energetic personality, he's instantly recognizable thanks to his distinctive appearance.
Jazz Bear has a brown, furry body, giving him a bear-like look that is both lovable and endearing. His face features a large black nose, big round eyes, and a wide grin, creating a friendly appearance that appeals to fans of all ages.
One of the most notable characteristics of Jazz Bear is his energetic performance style. Throughout the games, he can be seen engaging in a variety of stunts and antics that keep the crowd entertained and pumped up.
These activities include flying down concourse steps on a plastic sled, doing handstands on top of a 20-foot ladder, and performing spectacular ring-of-fire dunks.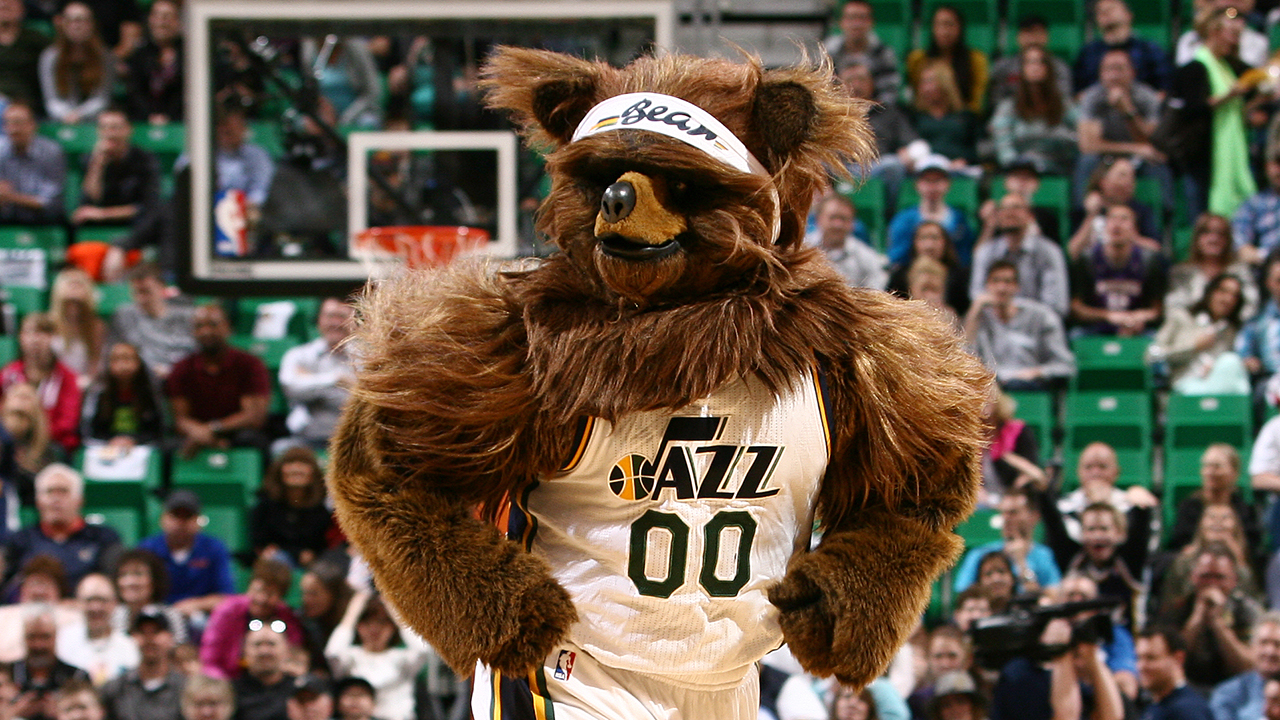 Jazz Bear's outfit showcases his dedication to the Utah Jazz team. Typically, he proudly wears the team's colors on his jersey. It's common to see him wearing a combination of purple, navy, gold, and green.
His jersey usually features the Utah Jazz logo on the front and "Bear" written on the back with the jersey number 00.
In summary, Jazz Bear's appearance and characteristics serve as a living embodiment of the Utah Jazz's spirit and energy. He's furry, friendly, and full of enthusiasm that captivates audiences every time he takes the court.
Mascot Performances
Stunts and Tricks
Jazz Bear, the official mascot of the Utah Jazz, is known for his incredible stunts and tricks during games. His repertoire includes acrobatics, dancing, and other daring performances.
While cheering on the team, Jazz Bear has been seen riding a unicycle, launching himself from a slingshot, and even rappelling from arena rafters. These adrenaline-pumping antics showcase his athleticism and contribute to the high-energy atmosphere during Utah Jazz games.
Interaction with Fans
In addition to entertaining through stunts, Jazz Bear also actively interacts with fans, adding to the overall game experience. He engages with audience members via dance-offs, friendly pranks, and other playful antics.
One notable instance was when he got revenge on an unruly Rockets fan by dousing him with a bucket of popcorn. These interactions bolster the community spirit among Utah Jazz supporters and create unforgettable moments for fans of all ages.
Special Events
Jazz Bear is not limited to performing at Utah Jazz basketball games; he also participates in various special events and community programs.
Events such as charity fundraisers, school visits, and other local gatherings often feature Jazz Bear, bringing excitement and smiles wherever he goes. His involvement in these events demonstrates his commitment to the Utah community, allowing fans to connect with the beloved mascot beyond the basketball court.
Impact on the Utah Jazz Community
Promotional Activities
Jazz Bear has been a crucial figure in promoting the Utah Jazz and has been celebrated for his high-energy performances at basketball games.
Not only does he entertain fans with his humorous antics and stunts, like flying down the concourse steps on a plastic sled or doing a handstand on top of a 20-foot ladder, but he also engages with the community through local events and outreach initiatives.
By representing the Utah Jazz both on and off the court, he fosters a sense of unity among fans while building excitement for the team.
Charity Work
In addition to his work at games and promotional events, Jazz Bear has also made a considerable impact through charity work and community service.
Utah Governor Gary Herbert declared October 10, 2013, as "Jazz Bear Day" in recognition of his contribution to the team and his countless hours of community and public service. With such dedication to serving Utah citizens, Jazz Bear has taken on an important role in the community that goes beyond just being a mascot.
His induction into the Mascot Hall of Fame in 2006 is a testament to this impact, showcasing the integral role he has played within the Utah Jazz community.
Awards and Recognition
The Utah Jazz Bear has been a prominent figure in the world of mascots, gaining numerous accolades and achievements throughout the years. To date, this beloved mascot has received a total of 8 Mascot Leadership Awards and was declared the Mascot of the Year 5 times in his career.
One of the most significant recognitions for the Jazz Bear was his induction into the Mascot Hall of Fame in 2006. This prestigious honor solidified his status as one of the best mascots in the industry and serves as a testament to his impact on the Utah Jazz fanbase.
Another remarkable achievement for the Jazz Bear was the declaration of "Jazz Bear Day" by Utah Governor Gary Herbert on October 10, 2013. This special day celebrated the mascot's 20th season with the Utah Jazz, as well as his countless hours of community and public service, and his standing as an important citizen of Utah.
Though the man behind the mask, Jon Absey, was the Utah Jazz Bear from 1993 to 2018, the mascot's legacy carries on, continuing to entertain and bring joy to countless fans. With a history of impressive awards and recognitions, the Utah Jazz Bear remains a symbol of pride and dedication for the Utah Jazz organization and their supporters.
Jazz Bear Controversies and Incidents
In October 2018, Jon Absey, the man who played the Jazz Bear for more than two decades, was abruptly fired by the Utah Jazz organization. Absey had worn nine different Jazz Bear suits over a nearly 25-year period, becoming a beloved figure among basketball fans. The team's reason for letting him go was that they were "going in a different direction."
Despite the dismissal, Absey remained positive, speaking publicly about his time as the Jazz Bear. He described how he valued his work during his tenure as the mascot, emphasizing the importance of sportsmanship and professionalism.
While there have not been many significant controversies involving the Jazz Bear, some minor incidents have occurred over the years.
The playful nature of mascots occasionally leads to unintended incidents, and in some cases, negative reactions from fans or other teams. Nonetheless, the Jazz Bear has predominantly maintained a positive image.
It is essential to remember that mascots like Jazz Bear play a crucial role in entertaining fans and creating a fun atmosphere for sports events. Although no significant controversies have taken place, the 2018 firing of Jon Absey stands as a notable incident in the history of the Utah Jazz mascot.
James is a big time NBA Golden State follower, who makes sure to catch games when he's in the area. He likes to follow International Soccer, with an interest in small town soccer club, Blackburn Rovers located in the North on the UK.