If you are going to a basketball game or a concert in Salt Lake City's Vivint Arena, you may want to familiarize yourself with the building before arriving. The arena has a pretty interesting history and is home to the Utah Jazz.
If you are heading there, you should know what attractions are near Vivint Arena, your transport options, and where you can stay and dine. So, let's see what you can learn before visiting Vivint Arena.
The Vivint Arena in Utah is home to the NBA Utah Jazz team. The Utah Jazz team competes in the National Basketball Association as a member of the league's Western Conference, Northwest Division.
The team's history begins in the 1974-75 season as an expansion team in New Orleans, the New Orleans Jazz. On June 8, 1979, the Jazz relocated to Salt Lake City, Utah. After its construction in 1991, Vivint Arena became the team's home for the 1991-92 NBA season till today.
The Vivint Arena is the fastest-built arena in the United States. Its construction took 15 months and 24 days. The arena has hosted numerous events, including the NBA All-Star Weekend in 1993, two NBA Finals, the NCAA Men's Basketball Tournament, the U.S. Figure Skating Championships in 1999, and the short track speed skating competitions at the 2002 Olympic Winter Games.
Besides being home to the Utah Jazz, Vivint Arena has also hosted some of the biggest musical acts, including Garth Brooks, U2, Taylor Swift, and The Rolling Stones. The arena welcomes over 100 sporting and entertainment events each year and around 1.8 million visitors.
Vivint Arena: Key Facts
Where Is Vivint Arena Located?
The Vivint Arena is located west of downtown Salt Lake City, about five minutes from the team hotel and approximately 15 minutes from the Salt Lake City International Airport. The arena is situated at 301 West South Temple, only two blocks from the Salt Palace Convention Center.
Vivint Arena is mere steps from various downtown hotels, restaurants, and Temple Square. The footprint of the arena is 12,000 square feet. The building, which has a capacity of around 20,000 people, is the biggest and most advanced arena in a five-state area.
The Best Way to Get to Vivint Arena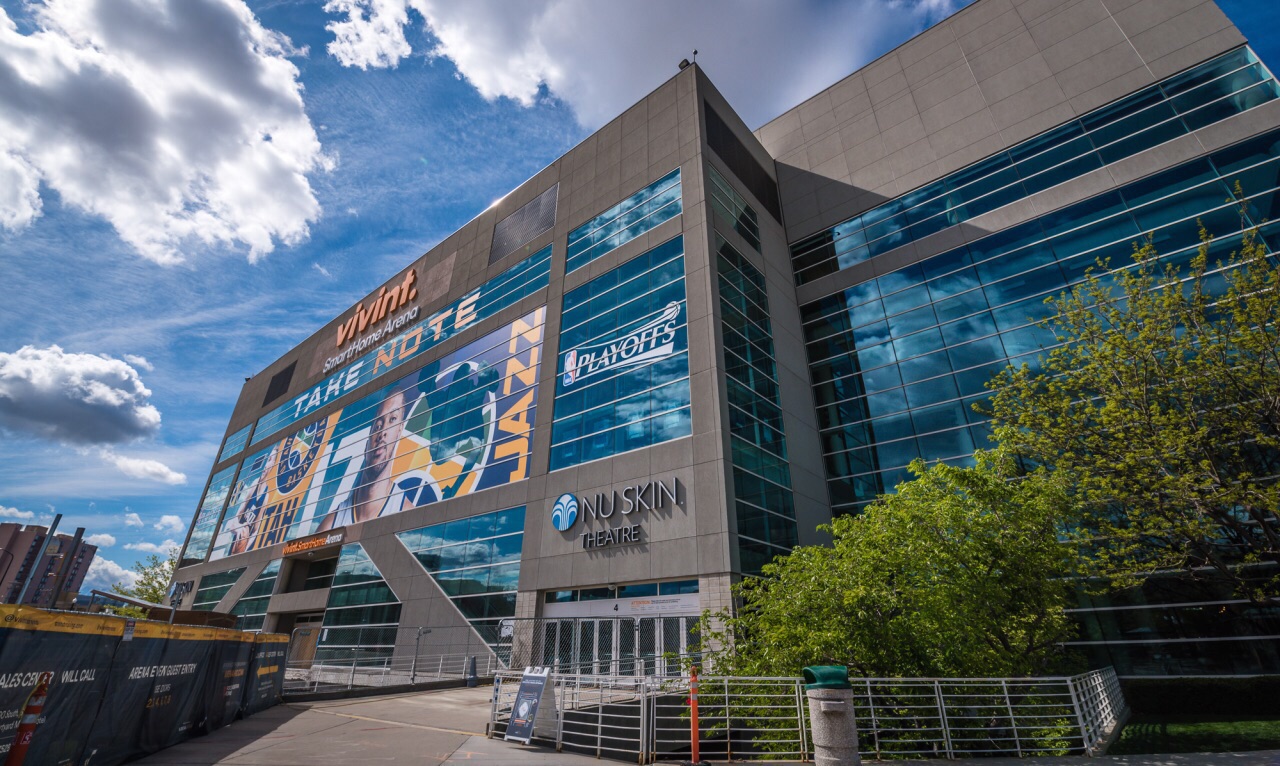 If you are taking a plane ride into Salt Lake City, the closest airport to Vivint Arena is the Salt Lake City (SLC) airport, 4.4 miles away. It takes about 19 minutes to get from the SLC airport to Vivint Arena.
The best way to get from the SLC airport to the arena is with Utah Transit Authority's vehicle that goes from the airport station to the arena station every 20 minutes. The ticket for the transport will cost you $3, and the journey will last 17 minutes.
If you are in the city and want to get to Vivint Arena, the best way to do so is via bus. The buses are free if you are traveling within the Free Fare Zone in downtown Salt Lake City.
If you board a bus that is headed away from downtown, inform the driver that you want to get off in the Free Fare Zone.
Parking Near Vivint Arena
The closest parking lots around Vivint Arena are:
Park Place – 50 North 300 West
Salt Palace Parking – 50 South 300 West
The Gateway Mall – 75 South 400 West
The Triad Center – 50 North 400 West
City Creek Mall – 50 East South Temple
Hyatt House – 300 West 140 South
The Best Restaurants Near Vivint Arena
Tucanos Brazilian Grill
One of the best restaurants near Vivint Arena that offers its visitors a unique dining experience is Tucanos Brazilian Grill. The restaurant serves CHURRASCO cuisine, which is the Brazilian grilling tradition. CHURRASCO is a fusion of South American and European cultures.
At Tucanos Brazilian Grill, the meats and vegetables are well-seasoned and cooked on skewers over open-flame grills. After the food is cooked, the skewers will be brought to your table, where the restaurant staff will slice them directly on your plate.
The restaurant guests can choose from as many flavors and meat cuts as they want. Tuscanos also offers online ordering for take-out and curbside pick-up. Enjoy delicious food before heading to your game or concert at Vivint Arena.
Information
Bruges Belgian Bistro
Bruges Belgian Bistro can provide something savory and sweet near Vivint Arena. Formerly known as Bruges Waffles & Frites, Bruges Belgian Bistro serves traditional cuisine based on traditional recipes from the owner's homeland, Belgium.
You can find all your favorite Belgian delicacies on the menu at this family-run eatery, including waffles, and many other options. Melted butter and caramelized sugar fill the air as you enter Bruges Belgian Bistro for the first time. This is due to all freshly made Liege waffles, which are made using an old family recipe.
The restaurant also delivers waffles and fries from two food trucks. The caramelized treats from The Bruges Waffles Bus are served hot and fresh. You can eat your waffle topped with one of the many toppings they have available in their truck. Their Cinnamonster is a cinnamon waffle topped with banana, Nutella, and vanilla bean ice cream.
Information
Valter's Osteria
Fine Italian eatery serving food from the Tuscan region, prepared according to the recipes of chef Valter Nassi's mother. You can enjoy delicious Italian food here. At Valter's, the chefs make an effort to serve their customers' delicious butternut ravioli, Caesar salads, and lemon gelato.
This restaurant near Vivint Arena is a modern twist on a Tuscan Granary, with a full bar, a private room, and seasonal outdoor dining.
The tasty lunch options include marsala, limoncello, or white wine, and you will undoubtedly return. When visiting this location, make sure to try the excellent hot chocolate, espresso, or fresh juices.
Information
The Best Bars Near Vivint Arena
White Horse
One of the best bars near Vivint Arena is the contemporary American bar called White Horse, which offers various foods, including bar snacks, sharing plates, soups, sandwiches, and steaks. A wide range of alcoholic beverages, including aperitifs, digestives, and international ciders, are available at White Horse.
In addition to a wide variety of wines, White Horse offers ten full-strength ciders on draft. The alcohol menu at White Horse caters to preferences. There are 15 distinct amaros, aperitifs, and digestives that you can order as shots in addition to four different ferments, an aromatic Italian spirit, on the menu.
Information
The Ruin
The Ruin is exceedingly sleek, and futuristic and has a dark, warm, welcoming tone. The bar is near Vivint Arena and offers excellent drinks. The arrangement inside the bar offers both secluded two-top tables for a romantic date night and numerous lounge areas for larger groups.
The bar also offers variation by having a lower diner bar and the conventional barstool step-up, which truly separates the area and provides a unique and intriguing atmosphere. The Ruin offers classics like the fernet, simple syrup, and orange twist Toronto cocktail, but there are also expertly made one-of-a-kind drinks.
On the cocktail menu, you will find Wilmington Ave classics such as Bluebell, Clean Shave, and Pearly Gates. Low ABV cocktails including Lucky Strike, Not a Spritz, and Tsuki Social. The House Cocktails are Old Fashioned, Raindogs, and Electric Dream Machine.
Information
Whiskey Street
In Salt Lake City, Utah, near Vivint Arena, there is the Whiskey Street pub and restaurant. Whiskey Street has a back bar reached by a library ladder and exposed brick walls. Bourbon House Group is the owner and manager of the business.
While whiskey is undoubtedly the focus of this establishment, all drinks are excellent; try any featured cocktails for proof. Additionally, the cuisine is just as popular as the beverages – lunchtime Cuban pig belly and Guinness pancakes for brunch.
Information
The Best Hotels Near Vivint Arena
Hyatt House Salt Lake City/Downtown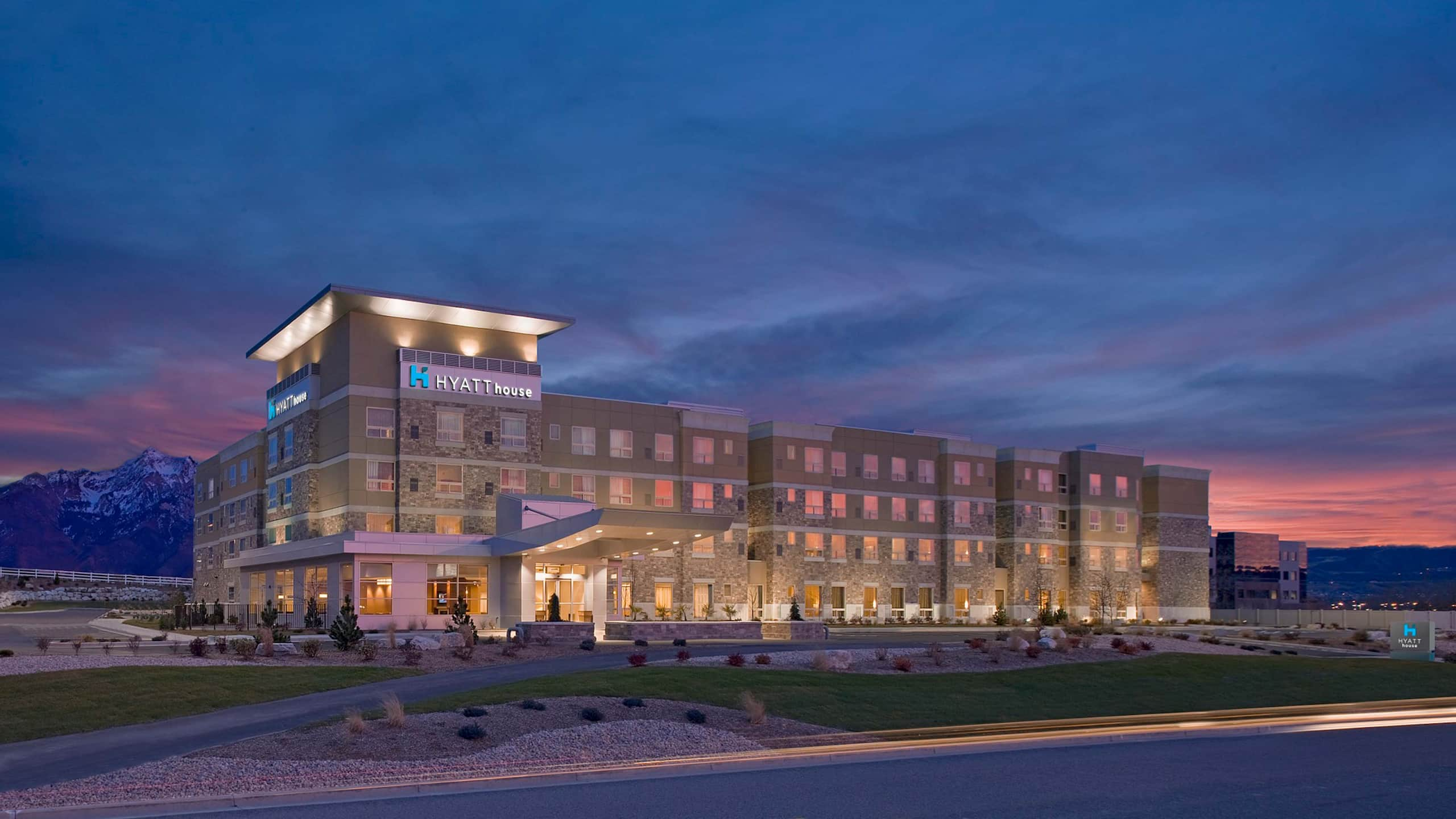 The Hyatt House Salt Lake City Downtown is a hotel with on-site dining and rooms with free Wi-Fi access. It is located in Salt Lake City and is a two-minute walk from Vivint Arena. Guests can enjoy a daily complimentary breakfast, and there is an outdoor pool available.
A desk, a flat-screen TV with cable channels, and a private bathroom are amenities offered in every room. Some rooms come with a complete kitchen.
Drinks and dining options are available at H Bar. The Hyatt House Salt Lake City/Downtown has a fitness center and a front desk staffed around the clock to help guests. Temple Square is 15 minutes by foot from the Hyatt House Salt Lake City/Downtown. At the same time, the distance to Salt Lake City International Airport is a 12-minute drive.
Information
Salt Lake Plaza Hotel SureStay Collection by Best Western
The next hotel nearby Vivint Arena is the Salt Lake Plaza Hotel SureStay hotel. You can reach the University of Utah from Salt Lake Plaza Hotel SureStay Collection by Best Western in 2.4 miles.
Temple Square Station is a short distance from the hotel, and City Center Station can be reached on foot in just six minutes. The hotel offers free Wi-Fi in each room and an outdoor pool and hot tub. The rooms feature cozy and comfortable beds where you will wake up well-rested.
The guest rooms are equipped with a refrigerator, a microwave, and a coffee maker. Additional amenities are a hairdryer, ironing facilities, and a safety deposit box. Free-of-charge gym and business center are available at Salt Lake Plaza Hotel SureStay Collection by Best Western. The hotel has a tour desk, room service, and a cash machine.
Information
Courtyard by Marriott Salt Lake City Downtown
The Courtyard by Marriott Salt Lake City Downtown hotel is located in Downtown Salt Lake City, only a two-minute walk from a light rail station. The hotel is one mile from Salt Lake Temple. Vivint Arena is only three minutes from the Courtyard by Marriott hotel.
Enjoy the complimentary breakfast every morning during your stay. The breakfast options include a la carte, American, and vegetarian. Plus, the hotel has an indoor pool and a hot tub. Courtyard by Marriott provides access to barbecue facilities and an on-site restaurant.
Every guest room at the Courtyard by Marriott Salt Lake City Downtown features a flat-screen TV, a desk, a private bathroom, a sitting area, a fridge, a coffee maker, a microwave, a telephone, and air conditioning.
Information
The History of Vivint Arena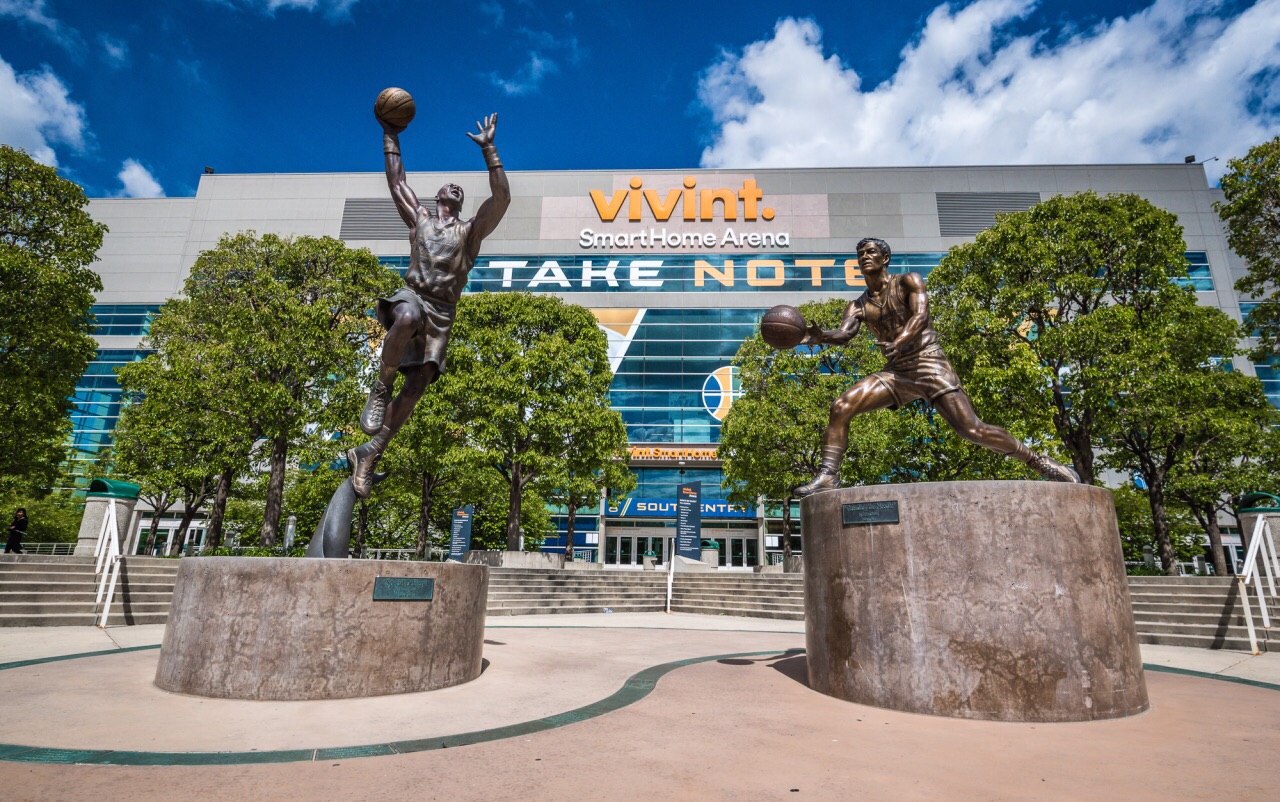 The Vivint Arena was built as a new home for the Utah Jazz and the Salt Lake Golden Eagles and to replace the now-demolished Salt Palace arena. Salt Palace, during its existence, had a capacity of 12,616 seats, while the Vivint Arena now has a seating capacity of 18,306.
Vivint Arena was constructed under the leadership and private financing of the Utah businessman Larry H. Miller. The ground-breaking occurred on May 22, 1991, and the construction was completed on October 4, 1991. The overall cost of the construction at the time was $93 million, which, adjusted for inflation, would be $185 million.
The arena was originally named the Delta Center, then from 2006 to 2015, it was called EnergySolutions Arena, and on October 26, 2015, Vivint Smart Home Arena. The "Smart Home" was dropped in 2020.
Renovations
On September 21, 2016, the Utah Jazz team announced their plans to renovate Vivint Arena, which cost $125 million. The Vivint Arena renovations began after the 2016-17 Utah Jazz basketball season and were completed during the fall of 2017.
The renovations include an improved public address system, larger concourse entries with retail and food options, digital direction, and concessions signboards. Other improvements include the addition of the Legends Club, Fanzz stores, the expansion of the main team store, and numerous energy efficiency projects.
Where to Get Tickets for Vivint Arena
The only authorized ticketing outlets for buying tickets for Vivint Arena are the official Vivint Arena website, TicketMaster.com, and UtahJazz.com. Since January 2018, all non-Jazz events on the first day of general public sales are only available on the website.
The remaining tickets are available for in-person purchase from the second day at the Vivint Arena Box Office. If you buy your tickets from other secondary sites, the Vivint Arena Box Office is not responsible for their validity. Only buy tickets from authorized ticketing outlets to avoid purchasing fake ones.
Does Vivint Arena Offer Tours?
Vivint Arena offers free tours to visitors, so book yours and learn everything about the history of the home arena of the Utah Jazz. The tours are led by a knowledgeable tour guide who is accommodating and ready to answer every question visitors may have. You can also watch the video for the virtual 360 tours of the arena.
Conclusion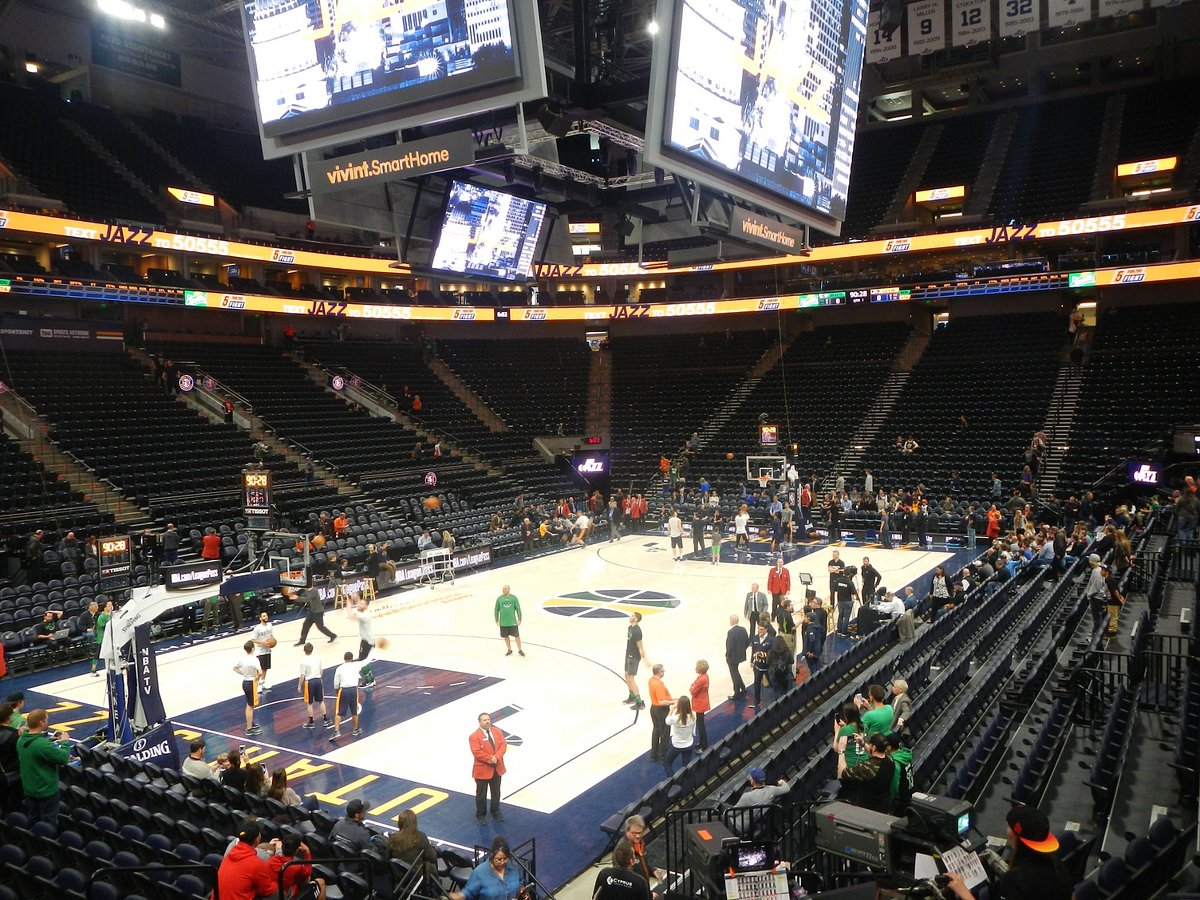 Hopefully, with the detailed information we provided here, you have learned all you need to know about Vivint Arena. Knowing what you can expect and how to navigate is incredibly important before visiting a place, so preparing beforehand is always a smart idea.