The Climate Pledge Arena is a popular destination for lovers of art, entertainment, sports, and other mind-blowing live performances. It is surrounded by numerous visitor hotspots that dot Seattle and Washington state in general. 
If you plan to visit this secluded paradise in the north of downtown Seattle, it is important to note that you'll need to spend days to make the most out of your vacation.
That means you must find a perfect home away from home to stay in during your vacation or trip. With so many hotels nearby, it may be difficult for you to figure out the best of your available options. 
Here are our recommendations of the best hotels near Climate Pledge Arena.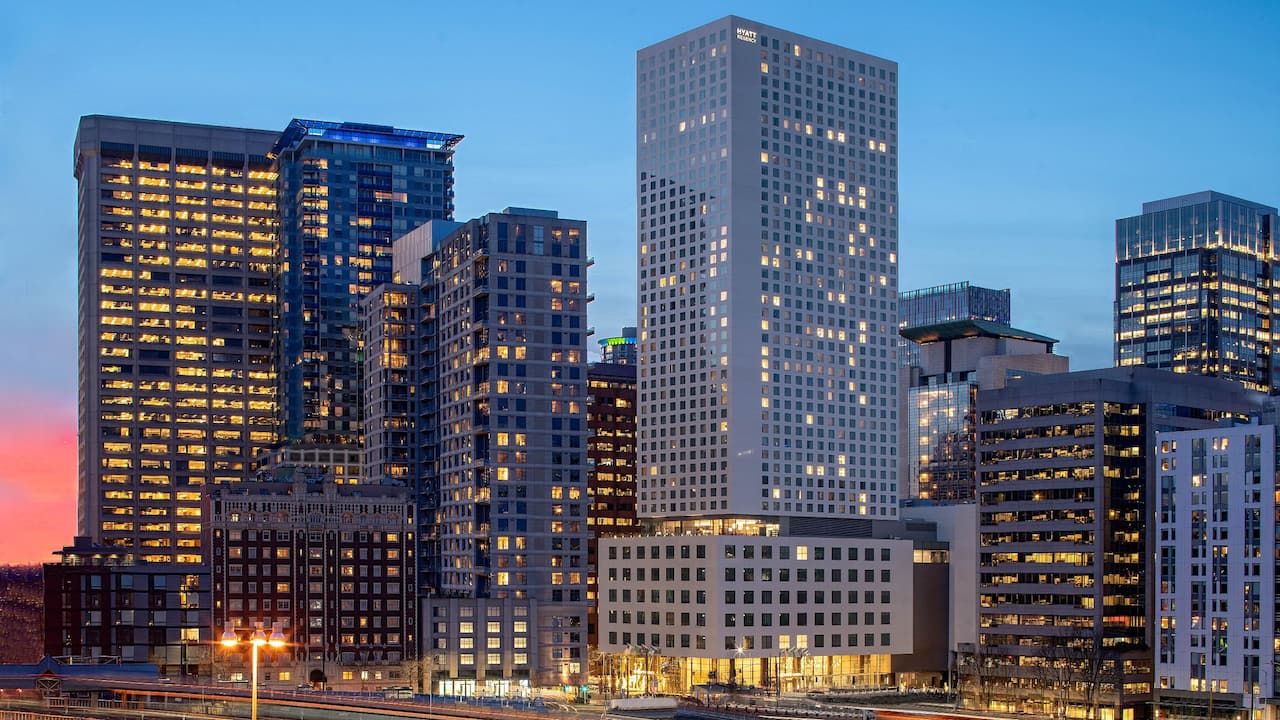 The Hyatt Regency Seattle exclusive hotel is set in the center of the Emerald City, next to Elliot Bay and Lake Union. It boasts 1,260 rooms, including 30 suites.
Each room/suite contains two comfortable queen beds or one king bed, a private bathroom, and a coffee/tea maker, among other accessories.
If you are lucky to secure a view room/suite, you get an opportunity to enjoy the breathtaking view of Elliot Bay, Lake Union, and other incredible attractions in the heart of Seattle.
The rooms aside, the hotel offers a 24-hour Fitness Center where you can work your muscles after spending your day watching a plethora of thrilling activities in the Climate Pledge Arena. 
After the workout, you can re-energize with your favorite meal/drink from one of the Hyatt Regency's two restaurants.
The hotel is pet friendly, though only one pet is allowed per room. Need a room for a corporate meeting? The hotel's 103,000 square feet of indoor meeting space have you sorted.
If you have a personal vehicle, you qualify for a chance to enjoy the hotel's free parking and full-time security for your car. Besides the parking, the hotel features designated free charging ports for electric vehicles.
Love public transport? This property is a 4-minute walk from the Westlake Ave hub and a 5-minute walk from the Westlake 7th St Stations, where you can access public means of transport.
Enjoy a comfortable stay and get a glimpse of Seattle's rich heritage by interacting with the multilingual staff of the Executive Hotel Pacific. You can find this timeless style hotel in the heart of Downtown Seattle, a one-minute walk from the financial district of Washington.
The hotel offers up to 156 European-style guest rooms. Each room is customized with state-of-art amenities like a private toilet/bathroom, Pharmacopia bath products, an upgraded bedding package, 26-inch HD LCD Flat-screen television, and air conditioning, among others, to give you the comfort of your home.
The hotel is pet friendly, with only two pets allowed per room.
Looking for a meeting space? The Executive Hotel Pacific offers rainier and cascade board rooms that accommodate up to 10 and 25 occupants, respectively. In addition, the hotel provides faxing, photocopying, and other office services in these board rooms upon request.
While at the hotel, you can enjoy fresh meals and craft beer at the Lodge Sports Grille or go to Vovito for a single-origin espresso and some fresh pastry.
The other property amenities that are on offer include self-parking, fitness center, lobby fireplace, business center, coffee shop, and computer station, among others.
Want to enjoy something in the outdoors? Set out to the Climate Pledge Arena to check what is on offer. Alternatively, you can visit Pike Place, take a voyage to Bainbridge Island, or visit any other attraction in Seattle.
The Mediterranean Inn is perched in the entertainment district, close to the Metro Station in downtown Seattle. It boasts 180 guest rooms, with modern amenities like fully-equipped kitchenettes, HVAC systems, high-quality bath accessories, deluxe linens, and large windows that open to let in the energizing Seattle breeze.
Need a broader view than the one in your private space? Climb to the hotel's world-class rooftop terrace, where you'll enjoy a breeze of the northwest air blended with the panoramic view of Seattle and its attractions.
The inn lends loaner bikes to interested guests. You can hire one to explore the various attractions within Seattle when your exploration spirit kicks in.
After cycling, you can head to the property's fitness center for a full-body workout using their full equipment.
The other property amenities which are on offer include:
Self-parking
A 24-hour business center where you can shop the local goods
Daily housekeeping
coffee/tea shop
And limo/car town service, among others.
Enjoy breathtaking views and fresh northwest air of Seattle from an open window in one of the Belltown Inn's private rooms. Apart from the windows, the other in-house amenities that you can find in the Belltown Inn rooms include:
Entertainment amenities like premium cable channels and a 43-inch flatscreen TV
Comfort amenities like HVAC systems, iron/ ironing board, and coffee/teamaker
Sleeping amenities such as blackout curtains, a high-end mattress, and bed sheets
Bathing amenities like private bathrooms, free toiletries, towels, and hair dryers
Kitchen amenities include a microwave, kitchenette, a fridge, and more
Don't feel like staying indoors? Head to the hotel's rooftop terrace to enjoy the scenic aerial view of the hotel courtyard, Climate Pledge Arena, and other attractive sites in Seattle.
Alternatively, you can set out for a hiking exploration with Seattle and numerous trails.
Another advantage of this hotel is its proximity to public transport. For instance, the Westlake Denny Wy station is an 8-minute walk from Belltown Inn.
The hotel offers unlimited free parking for wheelchairs and limited parking for personal vehicles. If you don't manage to secure the onsite parking, you can keep your car at the nearby offsite parking near the Climate Pledge Arena (charges $30 per night).
Service animals and pets are welcome to Belltown. However, the management doesn't indicate the number of pets per room. You must get clarity from the management before you carry all your pets with you.
The Sheraton Grand Seattle is your perfect home away from home if you are looking for a hotel with modern amenities and amusements for everyone. It boasts 1,236 rooms and suites of different designs to allow you to choose your perfect home.
Each room offers modernized amenities like air conditioners, a mini-fridge, a kitchenette, flatscreen TV, premium TV channels, and free Wi-Fi, among others.
The rooms feature no cots for children. However, the hotel allows you to stay with one kid-free when sharing the same bed.
The hotel is pet friendly. However, only one pet, not exceeding 80 lbs, is allowed per room.
If you want to engage in more active play, you can swim in the featured indoor pool. After swimming, go for a snack and a hot espresso at the coffee shop.
Need something uplifting? Set out to the Climate Pledge Arena to check what is on offer. Alternatively, you can go for entertainment and drinks at the featured bar/lounge.
The other property amenities you can enjoy in Sheraton Grand Seattle include:
24-hour Fitness Center where you can go for partial or full-body workouts
A valet parking where you can keep your car
A conference center where you can hold corporate meetings
You can find this exclusive hotel in downtown Seattle, a 10-minute walk from Pike Place and the Washington State Convention Center.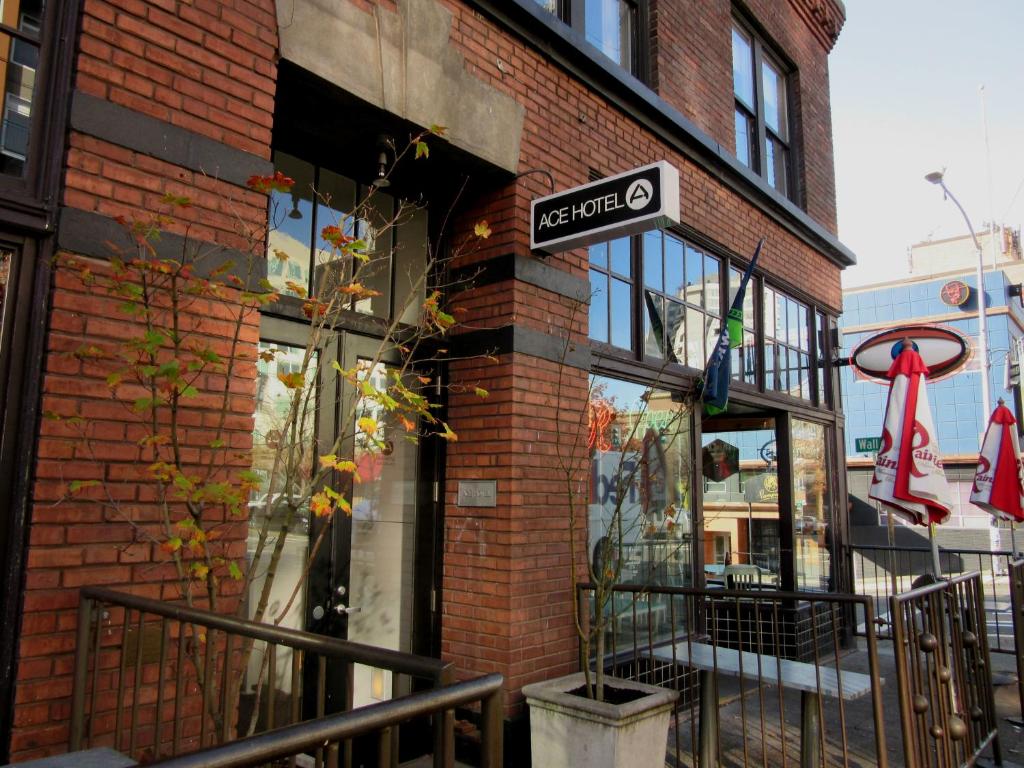 Located in downtown Seattle, along 2423 1st Avenue, is the Ace Hotel Seattle. It is located 0.4 miles from the Climate Pledge Arena.
The Ace Hotel Seattle boasts contemporary rooms with free Wi-Fi, a private bathroom, coffee/tea maker, fire extinguishers, smoke alarms, high-end bathing accessories, HVAC systems, etc., to give you home-like comfort.
The hotel offers a 24-hour front desk with multilingual officers to ensure all your issues are catered for.
The other property amenities on offer include free breakfast, baggage storage, paid public parking, express check-in, and check-out, among others.
The hotel is surrounded by numerous museums like the National Nordic Museum, the Museum of Art and History, and the Museum of Computers and Labs, each with something worth your attention. You can visit one of these museums and learn about their rich heritage.
Not a xenophile? Set out to the sky view observatory, 1.1 miles from the hotel, to enjoy the scenic view of sweeping Seattle city & mountain views.
Close your day with your favorite meal and drink from one of the Mediterranean restaurants, including Petra Mediterranean Bistro, Lola, and Andaluca, which are proximate to the Ace Hotel.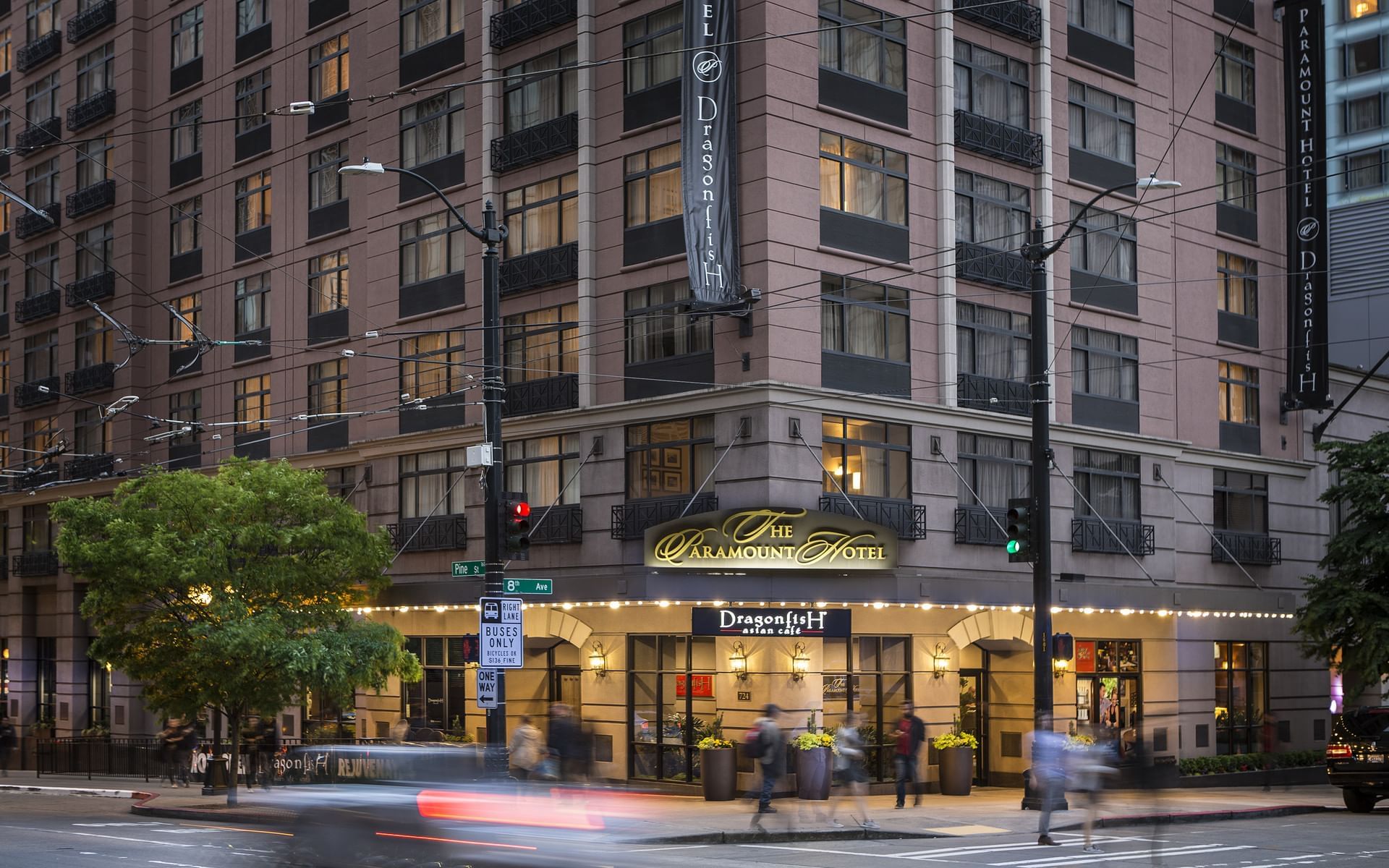 The Paramount Hotel is the perfect destination if you are looking for a cozy and luxurious residence to amp up your vacation experience. The charming design of this hotel will amaze you at a glance, from comfy seating areas, quality wood finishes, and fireplaces to well-furnished rooms and suites. It features a total of 146 rooms and suites.
Each of these rooms features:
Entertainment amenities like 55-inch led TV, iPod docking station, and premium cable channels
Comfort amenities such as climate-controlled HVAC systems, bathrobes, tea/coffee makers, hypo-allergic bedding, premium bedding, iron and ironing boards, blackout curtains,
Bathing amenities include a private bathroom, complimentary toiletries, shower/bath combination, and hairdryers
Kitchen amenities like a fridge and a kitchenette
The other property highlights include:
Free parking where you can keep your vehicle
A 24-hour health club, which you can join to achieve your health and workout goals
A 24-hour front desk with friendly staff to ensure visitor needs are efficiently met
A business center where you can shop for your supplies
Computer station, where you can perform your remote tasks or attend corporate meetings virtually
Limo/town car service, to take you anywhere you wish at a fee
A valet parking for car owners who need specialized care for their vehicle
The Paramount Hotel is surrounded by various attractions, including the Westlake Park, the Gum Wall, and the Seattle Art Museum, which offer a great outdoor experience.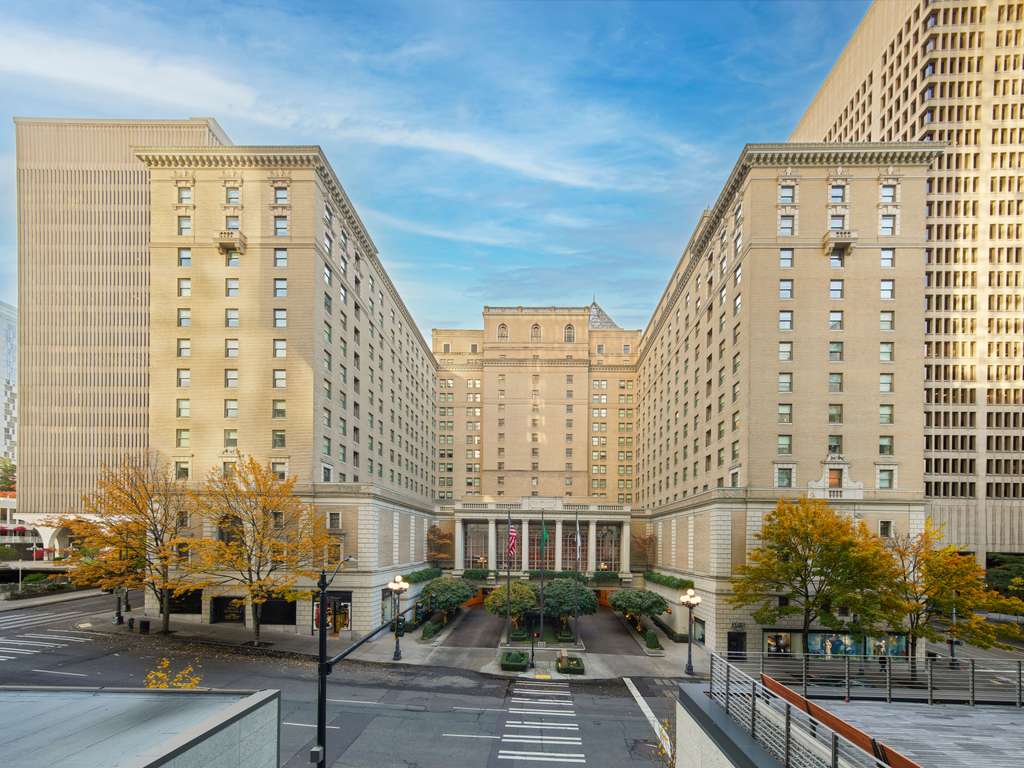 The Fairmont Olympic Hotel is perched along 411 University Street, a 5-minute walk from Westlake station and a 16-minute walk from King Street station.
The hotel boasts 450 lavish guestrooms with contemporary amenities, including:
Comfort amenities like hypo allergic bedding, blackout curtains, air conditioning, bathrobes, premium bedding, down duvet, iron and ironing board, coffee/tea maker, minibar, free cot, etc.
Entertainment amenities such as television and premium cable channels
Bathing/toilet amenities like private bathroom, hair dryer, designer toiletries, and shower/ bath combination
Communication devices like phones and desktop
During your stay, you also qualify to utilize other amenities, which are featured in this luxurious hotel, including:
An indoor pool where you can relax your body after a long day
A health club with professionals to help you reach your health and workout goals
An indoor full-service spa, where you can go for body treatment and massages
Multiple parking where you can keep your car
4th Avenue Espresso Bar, where you can taste the American cuisines
Limo/town car service to take you to your favorite destinations within Seattle at a fee
Want to get outdoorsy? Take a walk or a limo ride (whatever you prefer) to the Climate Pledge Arena to see what it offers. Alternatively, you can tour the Seattle Aquarium, Westlake Park, and other attractive sites within Seattle to see what they offer.
Close your day with your favorite drink from featured clubs and restaurants, including the Founders Club, Olympic Bar, Shockers Restaurant, and Espresso Bar.
Best Hotels Near Climate Pledge Arena: Final Remarks
The best hotel is the one that offers the perfect blend of both indoor and outdoor comfort for visitors. During our research, we ensured that the hotels on our list meet the above criteria. So, it depends on you to choose the one that appeals to you most.
We recommend the Hyatt Regency Seattle and the Executive Hotel Pacific if you want a larger space for your corporate meeting. On the other hand, the Mediterranean Inn and the Belltown Inn are great options if you want to capture panoramic views of the Seattle and the Climate Pledge Arena from a rooftop terrace.
All the hotels on our list can give an immersive vacation experience near the Climate Pledge Arena, Seattle. So, don't hesitate to pick any of them.
James is a big time NBA Golden State follower, who makes sure to catch games when he's in the area. He likes to follow International Soccer, with an interest in small town soccer club, Blackburn Rovers located in the North on the UK.