Finding good and super close hotels near Lumen Field might be challenging, especially during event days.
So, we decided to help you out by sharing the best nearby options. In continuation, we will list five hotels within a maximum of 12 minutes of walking distance from the arena. Also, we will mention their best amenities, nearby attractions, and restaurants where you can try the incredible cuisine of Seattle.
Let's have a look.
About Lumen Field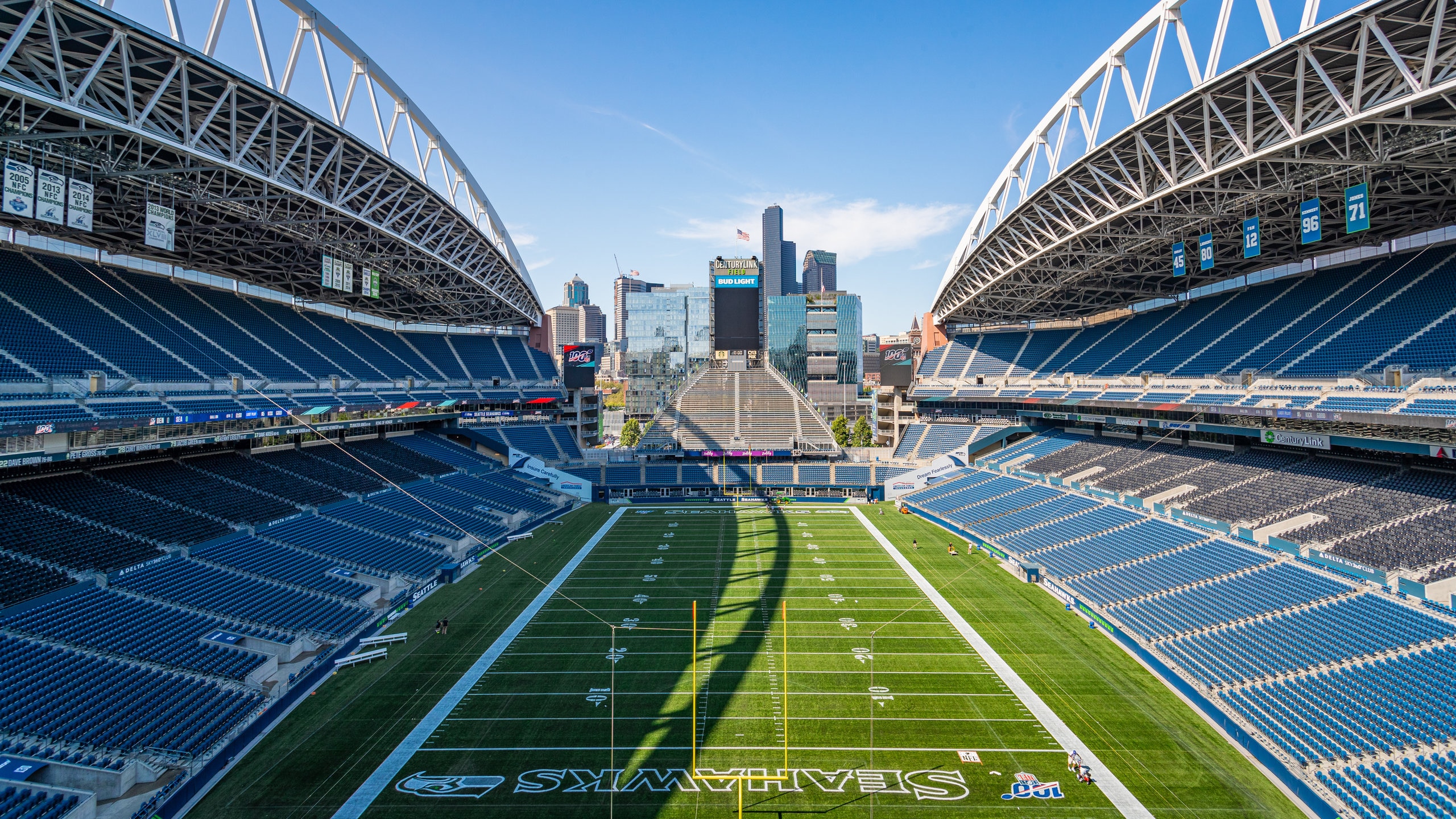 Lumen Field is located within a minute's walk from Pioneer Square and Seattle Downtown. So, of the excellent location, you can easily find a hotel in the city center and reach the Lumen Field on foot, without the need to find transportation.
The excellent arena location allows all guests to explore the downtown, visit some of its popular museums, the aquarium, bars, and restaurants, and enjoy the urban beauty of Seattle.
The Lumen Field has had many different names since its official opening. Initially, the arena was known as Seahawks Stadium (2002), and shortly after that, renamed Qwest Field (2004). After seven seasons (2011), the stadium got a new name, CenturyLink Field, while the last and current name, Lumen Field, was given in 2020.
The modern open-air stadium design has 70% roof-covering seat protection. The total seating capacity is 68,740 seats, including standard seats, 7,000 club seats, 1,578 seats for guests with disabilities, and an incredible 126 suites.
If you are interested in joining a game in Lumen Field, don't forget to reserve your tickets. You can do it on the official Lumen Field website or via TicketMaster.
Silver Cloud Hotel is located between Lumen Field and T-Mobile Park. The hotel has private valet parking on-site, so you can feel safe leaving your vehicle at the hotel while exploring the nearby attractions.
Amenities
Paid valet parking on site with private parking spaces
Fast and free Wi-Fi internet, children's TV network channels
Free access to the outdoor rooftop pool and hot tub, beach towels provided by the hotel
Available breakfast, kid's meals, special diet menus, restaurant on-site, happy hour, champagne, and special selection wines upon request
Rooftop terrace with outdoor furniture, sunbeds, and sun umbrellas
Room type and equipment
The standard guest rooms are available in mountain view, landmark view, and city view. Also, the hotel has suites and family room options.
The room equipment includes an air conditioner, a cable/satellite TV, a wardrobe/closet, a safe, a microwave, a refrigerator, a coffee maker, an iPod docking station, an iron, a hair dryer, clothes racks, and a desk.
All rooms have private bathrooms with bathtubs or showers and include towels and toiletries. Suites have a larger dining area and a separate seating area.
Dining options
The hotel prepares a fresh breakfast buffet every day. The restaurant within the hotel is available and open for lunch and dinner. All dining options are optional and additionally paid. You can also choose to dine outside the hotel since there are numerous available restaurants nearby.
Hatchback Bar & Grille is an incredible place with diverse food options and is right across the street from Silver Cloud Hotel. Tony T's Sports Lounge, Vinason Pho Kitchen, and Sluggers are also excellent dining options nearby.
Additional information
Embassy Suites by Hilton is the closest and best of all hotels near Lumen Field. It is located right next to the arena's North Lot Parking and arena itself and is only within three minutes' walking distance. The hotel faces the King Street train station and the railways.
Amenities
Paid on-site private parking with electric vehicle charging stations
Free American breakfast with kid-friendly buffet options
An on-site restaurant, bar, and snack bar
Free access to the heated indoor pool and hot tub
Laundry and self-laundry service, dry cleaning
Room type and equipment
The hotel has mainly suites, but you can also find standard guest rooms and family rooms. Almost all room options come with a landmark view. The hotel is a glass building, meaning the external walls are actually big windows that give you a panoramic city view.
Because the rooms are pretty light, the hotel has equipped them with blackout curtains. An air conditioner, a flatscreen TV, a refrigerator, a microwave, a kitchenette, an iron, and a hair dryer are also part of the necessary room equipment.
All rooms have private bathrooms with complimentary toiletries and towels.
Dining options
The breakfast buffet is free for all hotel guests. The buffet includes numerous pastries, cheese, eggs, fruits, cereals, and meats. Also, there are foods suitable for children and numerous vegetarian options. Lunch and dinner are available at the hotel's restaurant for additional pay.
The hotel is located in Pioneer Square, which means there are numerous dining options nearby. The Burbs Burgers, Matsu Seattle, King Street Bar & Oven, and Taylor Shellfish and Oyster are excellent options within steps from the hotel.
Additional information
This hotel is located right between the Seattle Downtown and the Lumen Field. The popular Smith Tower and Pioneer Square are just a couple of minutes' walk from the hotel, as well as the Beneath the Streets, an underground history tour center.
Amenities
Paid nearby public parking, parking garage
Free continental breakfast buffet, vending machines
Free Wi-Fi internet
Dry cleaning and laundry service
Room type and equipment
The hotel has only standard non-smoking guest rooms. Each room is air-conditioned, has a central heating system with an individual in-room temperature regulator, and is daily cleaned. Among the room equipment, there is a telephone, a flat-screen TV, a safe, a desk, complimentary toiletries, towels, an iron, and a hairdryer.
All rooms have private bathrooms with a bathtub or walk-in shower. Moreover, the rooms and bathrooms are super clean, which many people love and mention about this hotel.
Dining options
The hotel offers free continental breakfast to all hotel guests. The buffet includes numerous pastries, waffles, sandwiches, cereals, fruit, coffee, juices, and numerous sweet and savory toppings and sides.
For lunch and dinner, you have to choose a restaurant nearby because this hotel has no restaurant within its facilities. Our warm recommendations for restaurants near Best Western Hotel are 84 Yesler, a seafood restaurant right across the street; Señor Carbón Peruvian Cuisine, another close restaurant with excellent ambiance; and Damn the Weather, an excellent grill and burgers restaurant.
Additional information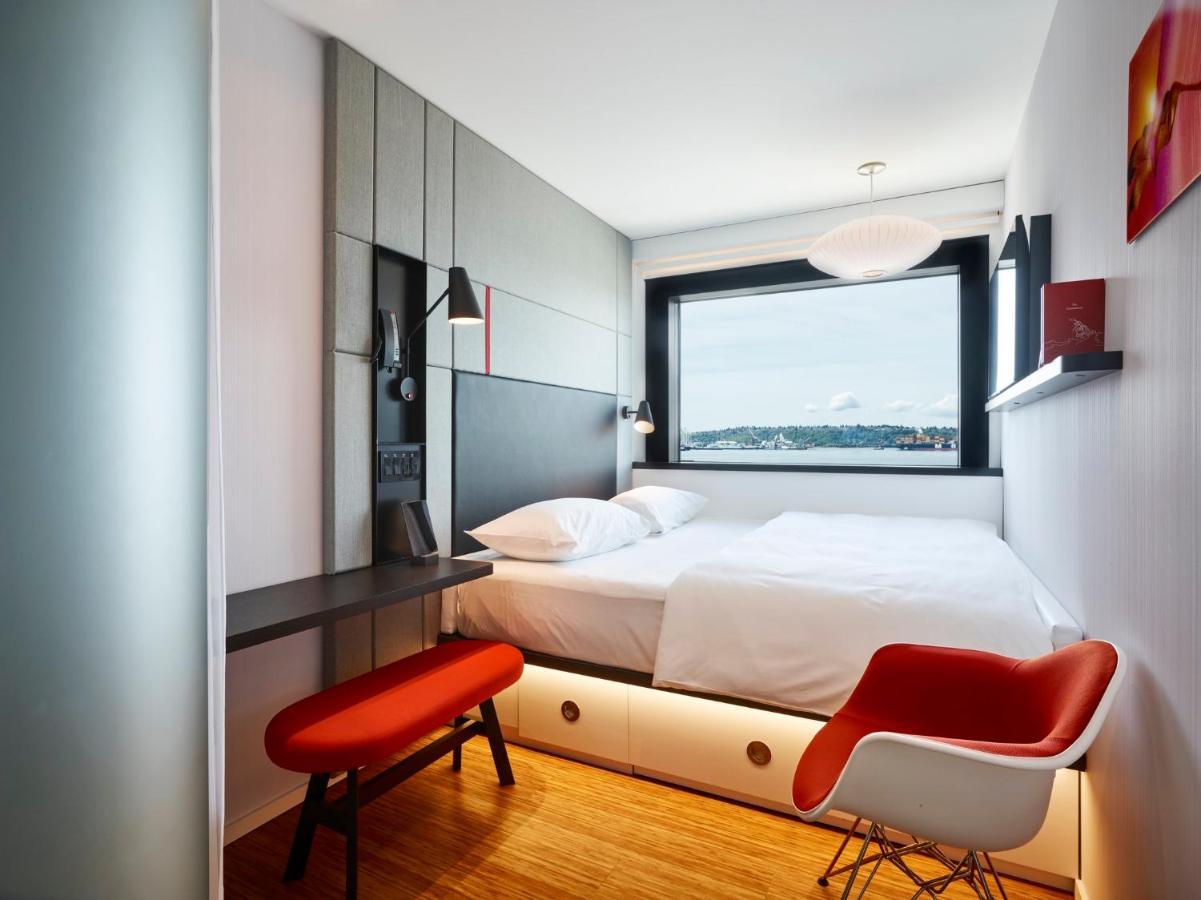 Pioneer Square Hotel is another excellent hotel, located right across the street from Best Western Hotel and within 12 minute walk from Lumen Field. It is impossible to mess up this hotel with another one since its external look is unique and catches everyone's attention.
Amenities
Instead of reception, the hotel has self-check-in kiosks that guarantee express check-in/out
The lobby is actually a cozy living room with a 24/7 CanteenM kitchen & bar
The canteen serves a breakfast buffet, coffee, cocktails, lunches, and dinner at an additional cost
Superfast 24/7 Wi-Fi in all hotel corners, ideal for working and sharing pictures
Children stay for free
Room type and equipment
Pioneer Square Hotel has only standard city-view guest rooms. The rooms are small, compact, modern-furnished, and unique – we bet you have not seen a hotel room like this before!
All rooms are super-clean and allergy-free, equipped with an air-conditioner, a TV, a refrigerator, a telephone, a hair dryer, an iPod docking station, complimentary toiletries, extra-long beds, and bottled water.
Dining options
The hotel cantina works 24/7, allowing everyone to have breakfast, lunch, dinner, and late-night meals. The food and ambiance are the two most complimented things about the hotel, after its incredible and unique style and rooms.
However, you can still try something different in the local restaurants. For example, 84 Yesler is right across the street and serves excellent seafood. Ferry Noodle House is another extraordinary restaurant for Thai food. Another great option is Nirmal's, a unique Indian restaurant near the hotel.
Additional information
| | |
| --- | --- |
| Location | citizenM Seattle Pioneer Square |
| Distance from Lumen Field | 12 minutes walking distance |
| Phone number | (206) 886-0560 |
| Hotel class | 3-star hotel |
| Guest rating | 4.3 (very good) |
Courtyard by Marriott is another incredible hotel located on 2nd Avenue, right across the street from the El Salvador Consulate. You can book your stay on the official hotel website and check if your dates match the discount packages.
Amenities
Private valet parking, and public parking nearby (both paid options)
Free access to the heated indoor pool, free beach towels, free fitness center
Bar, restaurant, breakfast, coffee shop, wines, and champagne
Free Wi-Fi, express check-in/out, laundry service
Meeting rooms, banquet room, shared lounge with TV area
Elevator access and facilities for guests with disabilities
Room type and equipment
Courtyard Hotel has standard guest rooms, suites, and ocean-view rooms. All rooms are super-clean, well-equipped, and luxury-furnished.
All rooms have an air-conditioner, a telephone, room services (upon request), a TV, wake-up services, a sofa, a desk, an iron, and a hairdryer. All rooms have private bathrooms, except the few interconnected family rooms, which share one bathroom. Towels and toiletries are provided by the hotel.
Suites have a small kitchen with kitchen appliances, while other rooms have only bottled water, a coffee maker, and cups.
Dining options
The hotel serves breakfast, lunch, and dinner in its restaurant. You can also enjoy the bar and the incredible cocktails and alcoholic and non-alcoholic drinks. However, all meals and drinks come at an additional cost and are optional. You can freely choose to eat outside the hotel.
Nearby, you can find numerous bars and restaurants with different cuisines. Collins Pub is the nearest option for a grill. Homegrown is an incredible place for organic food and offers numerous vegetarian and non-vegetarian options. Lastly, you have The Stop, an excellent place with an outdoor seating area and excellent meals and drinks.
Additional information