If you're planning to attend an event at the Capital One Arena, it's essential to know your way around the arena's entrances and gates. Located in the heart of Washington, D.C.'s bustling Penn Quarter, this multi-purpose indoor arena serves as the primary entertainment venue in the city. As a frequent visitor, I've gained knowledge about the various gates and entrance points, which will make it easier for you to navigate your way once you arrive.
The main entrance to the Capital One Arena is a great starting point for this guide, as it's where most guests begin their experience. However, there are other gates and entrances throughout the arena that cater to specific needs, such as the Capital One Cardholder Entrance, located on the corner of 6th and F Street. Knowing which gate to use can not only save you time but also enhance your overall experience at the venue.
In the following paragraphs, I will share everything you need to know about the gates and entrances at Capital One Arena. This information will come in handy when you're preparing for your next event, whether you're attending a Washington Wizards game, a Georgetown Hoyas basketball match, or even a concert. So, let's dive into the details to ensure you have a seamless and enjoyable experience at this fantastic venue.
Overview of Capital One Arena
I recently visited the Capital One Arena, a multi-purpose indoor arena situated in the bustling Penn Quarter of Washington, D.C. This 20,000-seat venue serves as the primary entertainment spot in the city, hosting a wide variety of events throughout the year such as concerts, family entertainment, and athletic games.
A bit of history: The arena was formerly known as the Verizon Center but underwent a name change in 2008, becoming the Capital One Arena. Despite the name change, it maintains its reputation as one of the best places in D.C. to catch a game or a show.
In terms of sports, Capital One Arena is home to several teams, including:
The AFL's Washington Valor
NBA's Washington Wizards
NHL's Washington Capitals
WNBA's Washington Mystics
NCAA's Georgetown Hoyas men's basketball team.
When I arrived at the Capital One Arena, I found multiple entrances and gates at my disposal. Specifically, the main entrance is often the most popular, but there's also a Capital One Cardholder Entrance located on the corner of 6th and F Street. This entrance is convenient for Capital One cardholders like myself, looking for a dedicated entry point.
Finally, in order to maximize my experience at Capital One Arena, I took note of various amenities and services, such as the availability of alcohol with responsible consumption policies, and convenient access with the arena being located at 601 F Street, NW Washington, D.C.Overall, my time at the Capital One Arena was enjoyable, with an array of events to choose from, easy-to-find entrances, and a welcoming atmosphere perfect for a friendly outing.
Location and Transportation
Public Transportation
As a local, I strongly recommend taking public transportation to get to the Capital One Arena. It's located near major highways, including Interstate 395 and Interstate 295, but navigating downtown D.C. traffic and finding parking can be challenging. The arena has a convenient location at 601 F Street, NW Washington, D.C., and is easily accessible via the Metro. Just take the red, yellow, or green lines and exit at the Gallery Place – Chinatown station, which is right next to the arena.
Parking Facilities
If you prefer to drive to the arena, it's essential to plan your parking in advance. You can reserve your parking spot through a service like SpotHero or research a nearby parking garage before heading to the event. By doing this, you'll avoid the parking hassle and ensure a 100% guaranteed entry to your selected location.
Bike Racks
For those who prefer to get to the arena using an eco-friendly mode of transportation, there are bike racks available. Make sure to bring a sturdy lock to secure your bicycle before entering the event and then enjoy your time at the Capital One Arena without any worry!
Stadium Map
As you plan your trip to the Capital One Arena, I'd like to give you some helpful information about its layout. The arena is located in Washington, D.C.'s bustling Penn Quarter district. I find the arena easy to navigate, but it's essential to know a few key features to make your visit more enjoyable.
First things first, the Capital One Arena Main Entrance is the primary access point for most guests. This entrance will give you immediate access to the arena's concourse, where you'll find various concession stands, restrooms, and seating options.
Capital One Arena has multiple seating levels, each offering a unique view of the action. Here's a breakdown of the seating options:
100 Level: This is the lower bowl closest to the action. These seats provide a close-up, immersive experience for any event.
200 Level: The middle section of the arena, offering a great balance of proximity and elevation to enjoy the event.
300 and 400 Level: These upper-level sections provide a bird's-eye view of the event. These seats are often more affordable, while still delivering an enjoyable experience.
Now, let's talk about amenities. Capital One Arena boasts a variety of food and beverage options, as well as retail stores, to enhance your visit. Some popular options include:
Main Concourse Concessions: Here you'll find classic game-day fare such as hot dogs, pretzels, and nachos, along with local favorites like Ben's Chili Bowl and District Donuts.
Club Level: If you have club-level tickets, you can enjoy an expanded selection of food and drink options in a more exclusive setting.
Team Stores: The arena offers several stores where you can purchase team merchandise, including jerseys, hats, and souvenirs for the Capitals or the Wizards.
I hope this brief Stadium Map section helped you familiarize yourself with Capital One Arena. Have a fantastic time at your event!
Gate Information
Gate Locations
As a frequent visitor of the Capital One Arena in Washington D.C., I can tell you that knowing the gate locations is essential for a smooth entry. The Main Entrance is the most common entry point for a majority of events. Additionally, there's a Capital One cardholder entrance on 6th Street that allows early entrance for cardholders.
Gate Opening Times
Now, let's talk about when you should arrive at the arena. Typically, the normal gate opens around 6:00 PM or an hour before the scheduled event starting time. For those of you who have a Capital One card, you'll get the advantage of entering at 5:45 PM via the Capital One entrance on 6th Street.
Keep these gate locations and opening times in mind when you plan to attend an event at Capital One Arena, and enjoy your time there!
Entrance Best Practices
Bag Policy
It's essential to know the bag policy when visiting Capital One Arena. To ensure a smooth entry experience, follow these guidelines:
Bags that are smaller than 14″ x 14″ x 6″ are allowed.
Backpacks, regardless of size, are prohibited.
It's best to bring a clear bag to make the security process faster.
For a worry-free experience, consider not bringing a bag at all.
Prohibited Items
To keep everyone safe and ensure a pleasant experience for all attendees, there is a list of prohibited items. Here are some of those items (not an exhaustive list):
Outside food and beverages
Weapons of any kind
Smoking and vaping devices
Large banners or flags
Fireworks or any type of explosive device
Professional cameras or video recording equipment
I recommend checking Capital One Arena's official website for a complete list of prohibited items before attending an event.
Accessibility Entrance
For guests with disabilities or special needs, the arena has a dedicated accessible entrance. The Accessibility Entrance is located on the 6th Street side of the building, just north of F Street. This entrance provides a more convenient option for guests who need assistance, ensuring a comfortable and enjoyable experience at the venue.
Food and Beverage Options
I found that Capital One Arena offers a variety of food and beverage options to satisfy my hunger and quench my thirst while enjoying the events. There are numerous concession stands located throughout the venue, ensuring I never had to travel too far to grab a bite to eat or a refreshing drink.
In terms of classic sports food, they had it all: pretzels, chicken tenders, cheeseburgers, hot dogs, fries, quesadillas, cheesesteaks, and more. Of course, I couldn't forget about the beverages—there were plenty of options for soda, water, and beer as well.
For fans of pizza, there was no need to worry as they had us covered too. Papa Johns was available, serving up delicious cheese, pepperoni, and other mouthwatering pizzas for everyone to enjoy.
As a special perk for Capital One cardholders like myself, I discovered I can receive a 10% discount on my food and beverage purchases when I present and use my Capital One credit or debit card at checkout. Just remember, the discount is only applicable at the time of sale.
Overall, my experience with the food and beverage options at Capital One Arena was nothing short of satisfying. From classic sports fare to tasty pizzas, I had no trouble finding something to eat or drink that suited my taste buds, and I appreciated the 10% discount offered to Capital One cardholders.
Seating Area Information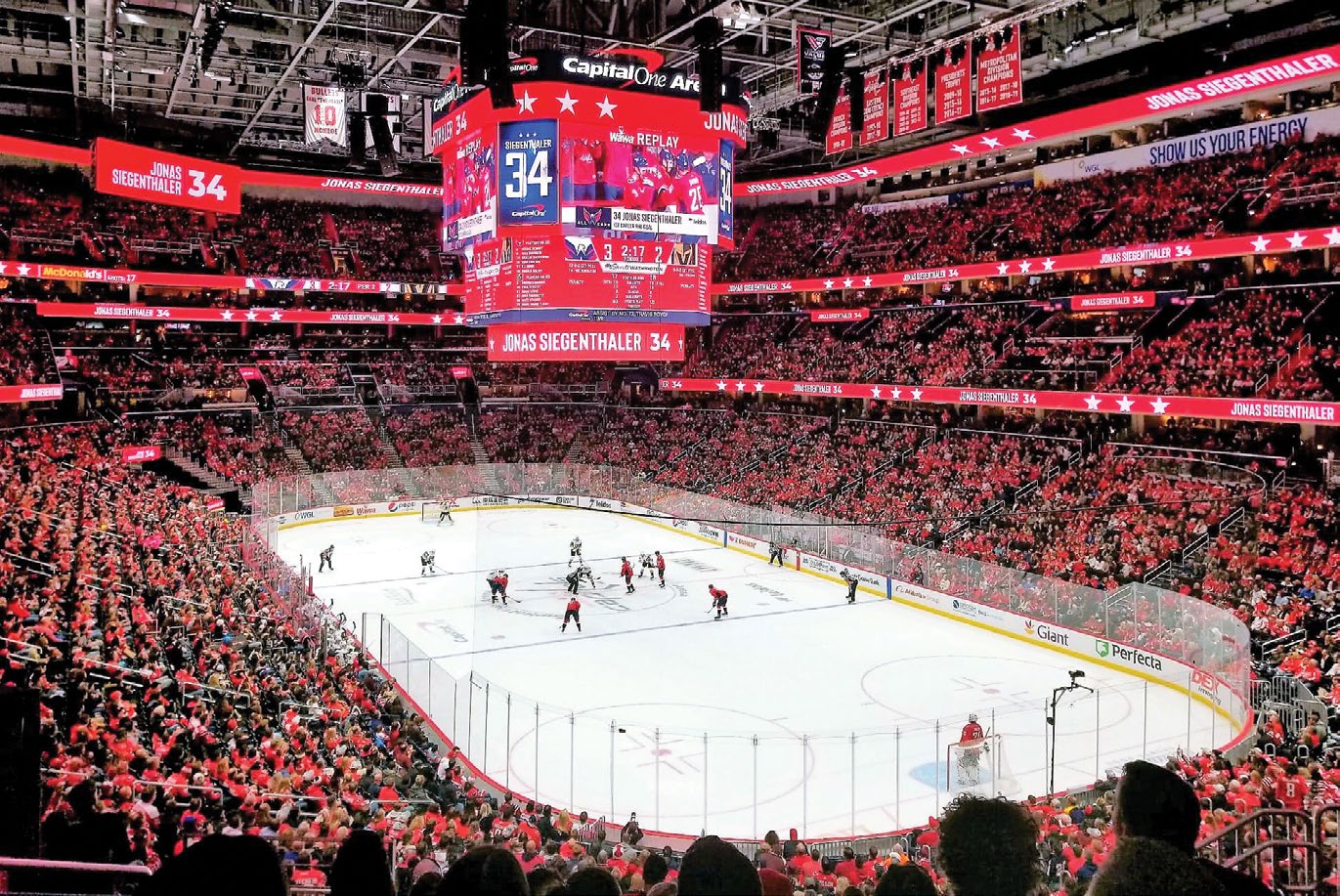 As I've visited Capital One Arena for various events, let me share some seating area information with you. The arena hosts numerous events such as concerts, basketball, and hockey games, and different seating layouts are used based on the event type.
For most concerts, the stage is typically set up close to sections 115, 116, and 117. The seating layout can have slight variations like general admission seats, fan pit areas, and B-stage sections. If you're looking for a premium concert experience, floor seats like those in Floor 4 are a great choice.
Now, when it comes to attending a Washington Capitals hockey game or a Washington Wizards basketball game, the seating is quite different. One important tip I found useful is to refer to the seating chart specific to the event on the Capital One Arena website. This way, you'll know exactly where you'll be sitting and the amenities near your section.
Accessibility is also a priority at Capital One Arena. They offer wheelchair accessible and companion seating throughout the venue, which can be found at various price points.
Lastly, don't forget to explore premium experiences such as club level seats, suites, and loge boxes. These exclusive seating areas not only provide upscale amenities but also grant you access to premium entrances, thus making your event experience more enjoyable.
I hope this information helps you to better prepare for your visit to Capital One Arena. Remember that each event may have unique seating arrangements, so always double-check the specific seating chart for the best experience. Enjoy your time at the arena!
Conclusion
As a frequent visitor to the Capital One Arena, I can confidently share some essential information that will make your visit seamless and enjoyable. The arena serves as the home for various sports teams, such as the NBA's Washington Wizards, the NHL's Washington Capitals, the WNBA's Washington Mystics, and the Georgetown Hoyas basketball team. With such a diverse range of events happening from fall to spring, it's a bustling venue that you'll want to navigate with ease.
The main ticket office is located on the southeast side of the arena, on F Street just west of the intersection with 6th street. This will be your starting point if you plan to buy tickets in person. If you're a Capital One cardholder, you'll benefit from a designated entrance on 6th Street, which opens 15 minutes earlier than the normal entrance at the hour mark before a scheduled game.
When driving to the game, be aware that the garages at the Capital One Arena are closed, but you can find alternative parking through services like Spot Hero. Another convenient option for reaching the game is taking the Metro, which is highly encouraged by event organizers.
Lastly, be prepared for health and safety measures upon entering the arena. You may be required to answer some questions about any recent fevers or COVID-19 symptoms. Keeping these helpful tips in mind will make your experience at the Capital One Arena as smooth and enjoyable as possible, and I wish you a fantastic time attending your chosen event.