Climate Pledge Arena, located in Seattle, is not only an iconic venue for sports and entertainment events but also the world's first zero-carbon arena. As a visitor, I know that navigating such a large arena can feel overwhelming, especially when it comes to finding gates and entrances. With this guide, I'm delighted to provide key information to simplify this experience and maximize your enjoyment when attending events at Climate Pledge Arena.
Before diving into the details of the gates and entrances, it's worth mentioning some of the unique aspects of Climate Pledge Arena. This groundbreaking venue features sustainable design, climate-friendly innovations, and excellent on-site amenities to ensure maximum comfort and convenience. Located near downtown, it's also close to some fantastic dining neighborhoods like Capitol Hill, where you can explore Seattle's incredible food scene before or after an event.
In the next sections of this article, I'll cover the various gates and entrances, as well as additional information like restroom locations and accessibility details. Let's get started and make your visit to Climate Pledge Arena a smooth and memorable experience!
History of the Climate Pledge Arena
Let me tell you the story of the Climate Pledge Arena. The arena has been around for quite a long time, having first opened in 1962 as the Washington State Pavilion for the Century 21 Exposition. This impressive structure was designed by architect Paul Thiry.
Over the years, the arena has evolved and undergone several renovations to keep up with the changing times. In 2020, a massive renovation project commenced to transform this historic building into a modern marvel called the Climate Pledge Arena.
Why the name Climate Pledge Arena, you may wonder? Well, it's because the arena aims to be a shining example of sustainability and environmental stewardship. With a goal of becoming the most sustainable arena in the world, the Climate Pledge Arena is determined to operate on 100% renewable electricity and minimize its impact on our planet. It even includes features like rainwater collection systems and solar panels on its roof.
Not only is the arena a symbol of environmental awareness, but it's also a hub for entertainment in Seattle. The Climate Pledge Arena is home to the Seattle Kraken, the city's NHL team, and it hosts a wide range of concerts, events, and shows throughout the year.
So there you have it: a brief history of the Climate Pledge Arena and its journey from a World's Fair pavilion to an environmentally friendly entertainment destination. If you ever find yourself in Seattle, be sure to stop by and see this remarkable venue for yourself!
Getting There
By Car
Driving to the Climate Pledge Arena is an option, but you should be prepared for limited parking availability. It's a good idea to check the arena app before heading out to see if any spots are left. Keep in mind that parking fees could be around $50, so plan your budget accordingly.
By Public Transportation
One of the most eco-friendly and convenient ways to get to Climate Pledge Arena is by public transportation. Seattle has a great transit system, including buses, light rail, and the Monorail. I recommend checking the Seattle metro trip planner to find the best route and schedule for your needs.
By Bicycle
If you're a bike enthusiast like me, cycling to the arena is a great option. Seattle is known for its bike-friendly infrastructure, and with several bike lanes and routes around the city, you can easily reach the venue. Don't forget to check if there are bike racks available for parking and securing your bike.
On Foot
For those who live nearby or simply enjoy a good walk, getting to Climate Pledge Arena on foot is a healthy and enjoyable option. The arena is located within the Seattle Center, a lively entertainment hub with plenty of pedestrian-friendly pathways. Just make sure to wear comfortable shoes and remember to follow any safety guidelines for pedestrian traffic in the area.
Parking Information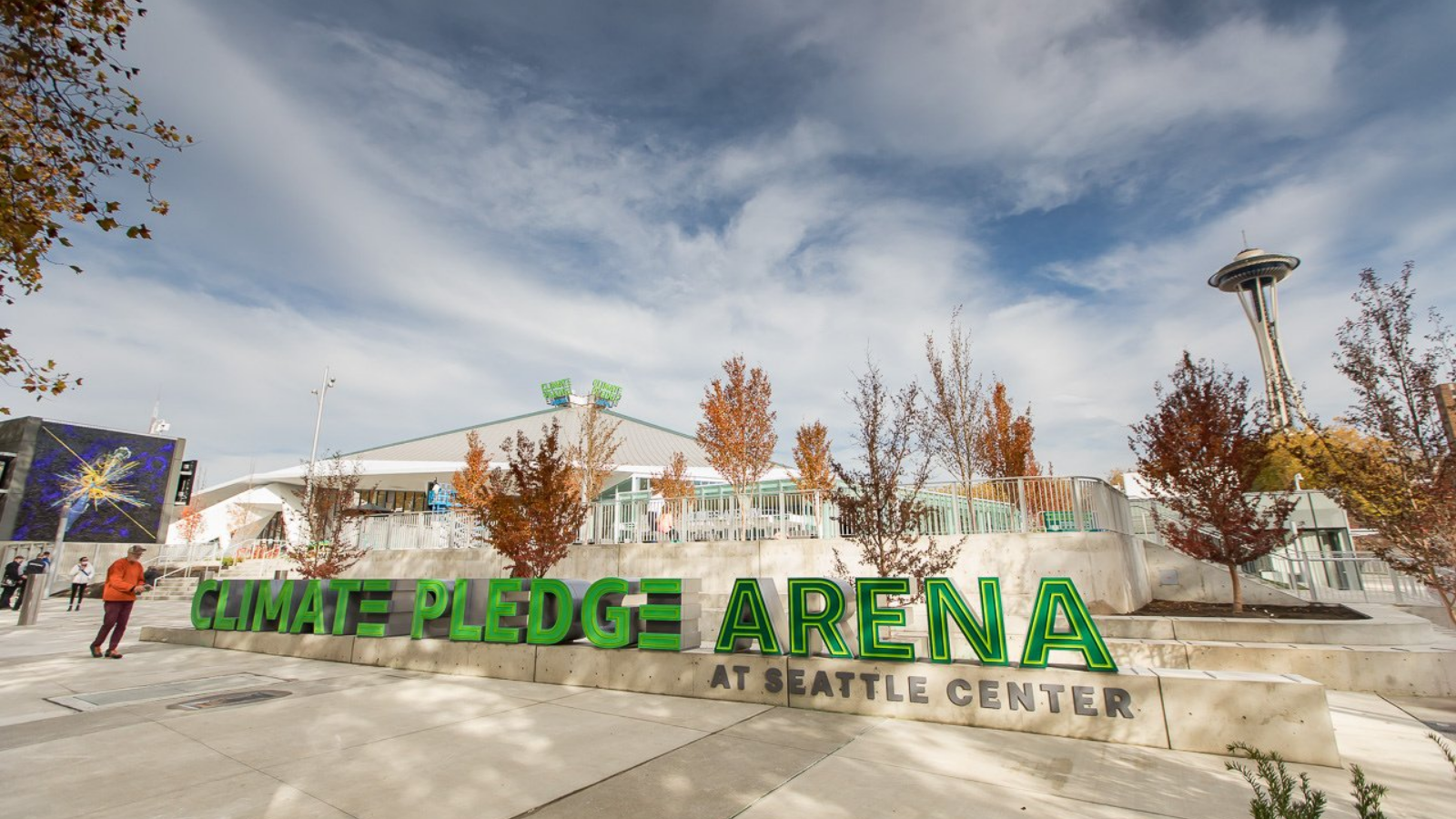 Paid Parking
I found that there are parking options available near Climate Pledge Arena for events, including paid parking garages. Some garages offer spots such as the Arena Garage, which also has EV stations available. You can also check the Kraken+Climate Pledge Arena app to reserve and pre-purchase parking ahead of time. This can save you some time and stress when attending an event.
Street Parking
For those who prefer street parking, there might be some limited options available around the arena. However, keep in mind that finding street parking can be challenging, especially during popular events. It's a good idea to arrive early if you want to try your luck with street parking options.
Special Needs Parking
Climate Pledge Arena is mindful of guests with special needs and provides ADA accessible parking options. You can find these spots in parking garages such as the Arena Garage and the 1st Ave Garage. This ensures that everyone can have a comfortable and enjoyable experience at the arena, regardless of their accessibility needs.
Entrance Details
Main Entrance
I found that the main entrance to the Climate Pledge Arena is the Entry 7 gate. This gate is located on the same side of the arena as the Seattle Center, just off the pedestrian walkway that stretches along the east side of the arena. Do keep in mind that when entering Climate Pledge Arena, each customer is allowed one clear bag that is 14″ x 14″ x 6″ or smaller and a small clutch bag or purse, 4.5″x 6.5″ or smaller. Unfortunately, the arena doesn't offer any onsite bag storage, so plan accordingly.
VIP Entrance
The VIP entrance to the Climate Pledge Arena might not be mentioned directly in the search results I provided earlier. But, rest assured, most arenas have a separate VIP entrance for premium ticket holders, suite owners, and other VIP guests. These entrances usually offer a swifter check-in process and direct access to VIP amenities. I recommend checking the official Climate Pledge Arena website or contacting their customer service for specific VIP entrance details.
Accessible Entrances
In my search results, I didn't find any direct mention of the accessible entrances in Climate Pledge Arena. However, modern arenas like this one are generally constructed with accessibility in mind. You can expect that there will be designated entrances and facilities for individuals with disabilities, making the experience more comfortable and enjoyable. Like the VIP Entrance, I recommend checking the official Climate Pledge Arena website for specific details related to accessible entrances or directly contacting their customer service.
Security Procedures
Safety Checkpoints
At Climate Pledge Arena, the safety of all guests is a top priority. For that reason, security checkpoints are set up at all entry points into the arena. As a guest, I can expect to go through a screening process, which may involve metal detectors, bag checks, and other safety measures. By cooperating with the security staff and following the guidelines, I can help ensure that everyone has a safe and enjoyable experience.
Prohibited Items
In order to maintain a safe environment, there are some items that are not allowed inside Climate Pledge Arena. Below are the key prohibited items that I should be aware of before attending an event:
Bags larger than 14″ x 14″ x 6″
Clutch bags or purses larger than 4.5″ x 6.5″
Weapons of any kind
Professional cameras or recording devices
Alcoholic beverages or illegal substances
Any other items that the security staff deem potentially harmful or disruptive
It's essential for me to leave these items at home or make alternative arrangements before arriving at the arena, as there is no on-site bag storage for items of any size. By being mindful of the prohibited items list and following the specified security procedures, I can have an enjoyable, worry-free visit to Climate Pledge Arena.
Arena Amenities
Food and Beverage Options
At Climate Pledge Arena, there is a wide variety of food options to satisfy your cravings. Some of the food options available include Hot Chix, Ave Nachos, and Din Tai Fung. But if you're not in the mood for arena food, worry not. The arena is situated near downtown Seattle, which boasts an incredible food scene and excellent dining neighborhoods like Capitol Hill.
Restroom Locations
Like any modern arena, Climate Pledge Arena ensures the comfort of its visitors by having restrooms located throughout the arena. It's easy to find a restroom near your seat, and the facilities are clean and well-maintained.
ATM and Information Booths
In case you need to withdraw cash or get some handy information about the event or arena, Climate Pledge Arena has you covered. ATMs and information booths are strategically located throughout the arena for your convenience.
Gift Shop Information
Don't forget to visit the gift shop to pick up a souvenir or merchandise to remember your visit to Climate Pledge Arena. The gift shop offers various products, from clothing and accessories to collectibles and memorabilia, all related to the events and teams playing at the arena.
Special Assistance
Wheelchair Accessibility
At Climate Pledge Arena, the needs of guests with disabilities are taken care of. I noticed that there is wheelchair and low mobility seating available on all levels. To purchase accessible seating, I suggest using Ticketmaster.com and filtering seating options to select "Show accessible tickets". You'll find both "wheelchair accessible" and "semi-ambulatory seats" when selecting this option.
Lost and Found
In case you lose any of your belongings during an event at Climate Pledge Arena, don't worry. They have a dedicated service to help you locate your lost items. To report concerns, ask for information, or assistance, just text (206) CPA-HELP or (206) 272-4357 with your location and message.
First Aid
The safety and well-being of guests at Climate Pledge Arena are a top priority. If you require any medical assistance during your visit, friendly and professional staff are available to help. Just reach out by texting (206) CPA-HELP or (206) 272-4357, and someone will be there to assist you promptly.
Event Planning
Ticketing Information
When I plan my visit to Climate Pledge Arena, the first thing I do is secure my tickets. Ticket prices can vary depending on the event, but they are usually available for purchase online on the official Climate Pledge Arena website or other trusted ticketing platforms. It is also good to note that the arena is committed to full compliance with the Americans with Disabilities Act (ADA), ensuring equal access to an enjoyable experience for everyone.
Seating Guide
Once I have my tickets, I like to review the seating guide for Climate Pledge Arena. The seating options differ depending on the event, but the arena typically offers a variety of sections, including floor seats, lower and upper bowl seats, and suites. For guests with disabilities, ADA accessible seating is available in select locations throughout the arena. Fans are encouraged to review the arena's Accessibility Guide for more information on accessing these services and areas.
Event Calendar
To ensure the best possible experience, it's important to keep an eye on the Climate Pledge Arena event calendar. This can be found on their official website and is regularly updated with the latest concerts, sporting events, and other entertainment happenings. By planning ahead and staying informed on the event calendar, I can make sure I won't miss out on any must-see events while visiting the arena.
Conclusion
As a visitor to the Climate Pledge Arena, I can say that it's an impressive, eco-friendly venue worth experiencing. With its commitment to being the world's first zero-carbon arena, it sets a high standard for sustainability in sports and entertainment. Before heading to the arena, I make sure to familiarize myself with the gate and entrance process to ensure a smooth and enjoyable experience.
One convenient feature I appreciate is the use of Amazon One, which allows for a contactless way to enter, identify, and pay using a unique palm signature. This technology streamlines the process and makes it easier for everyone to access events quickly and efficiently.
In addition, I always plan my visit in accordance with the COVID-19 vaccination requirement for those ages 12 and up. Wearing a mask is also important to ensure the safety of myself and fellow attendees. With these policies in place, Climate Pledge Arena demonstrates its commitment to providing a healthy and secure environment for its guests.
The arena's location at the Seattle Center makes it a bustling hub of entertainment. So, I like to plan my visit to take advantage of the nearby attractions and restaurants as well. The 932,000 square feet of space within the Climate Pledge Arena makes it a prime spot for hosting some of the city's biggest concerts and sporting events, which I look forward to attending.
In short, when I visit Climate Pledge Arena, I always brace myself for a unique and memorable experience marked by sustainability, state-of-the-art technology, and a diverse array of events and entertainment.