Located in the Pacific Northwest, Lumen Field is the NFL home of the Seattle Seahawks football team. This stadium also serves as the home of the Major League Soccer franchise Seattle Sounders.
Lumen Field holds numerous concerts and other events all year round, in addition to football and soccer games.
Since the stadium is always filled with visitors, Lumen Field has the best food arrangements. You will find many options for food at Lumen Field, many of which take inspiration from Northwest cuisine.
From traditional food to modern offerings, their menu is worth trying. Discover the options that suit your gameday tastes by exploring.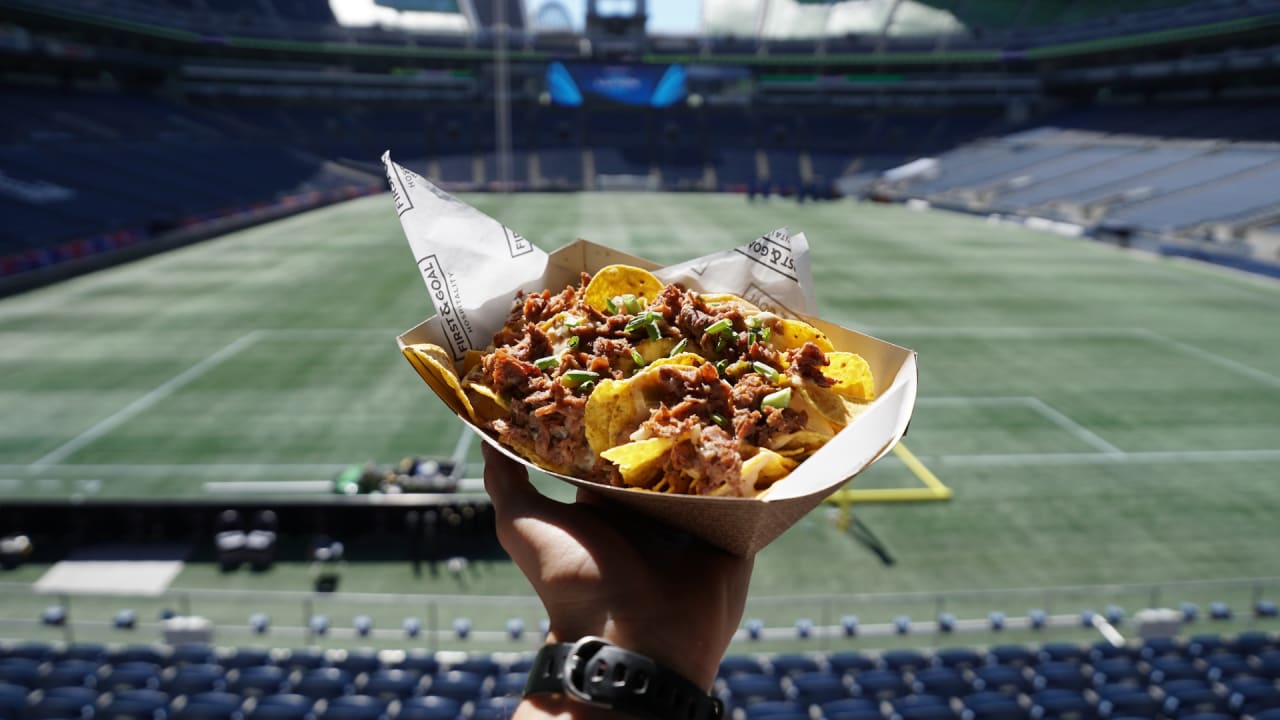 Foods That You Can Enjoy at Lumen Field
Here is the 2022-2023 season's list of food concessions from where you can enjoy different dishes at Lumen Field while enjoying Seattle Sounders/Seattle Seahawks matches.
Pizza Hut and Ballard Pizza: You can get hand-stretched cheese (VG) or pepperoni pizza from Pizza Hut's stand in sections 107, 137, 307, and 333. From Ballard Pizza, in sections 210 and 234, you can have three cheese (VG), pepperoni, and Ballard Bridge pizzas.

Din Tai Fung: Here, you can get chocolate buns, pork buns, chicken wontons with spicy sauce, wonton soup, boba milk tea, and more items. You will find this concession in sections 116, 208, and 236.

Emma's Bbq: You can eat bbq chicken sandwiches, mac & cheese, or pulled pork sandwiches from Emma's Bbq in sections 120 and 131.

Totally Nutz: If you want to have some light snacks while watching a match, you can eat assorted roasted and candied nuts from the Totally Nutz concession. It is available in section 102.

Gourmet Noodle Bowl: If you are thinking of trying something new while watching the next match, you can try the Taiwanese pork belly pinch bun trio. You will find this dish in sections 313 and 337.

Jones Bbq: This concession serves delicious pork sandwiches, chicken sausage on buns, and baked beans. You will find Jones Bbq in sections 305 and 335.

Great State Burger: Burger and milkshake lovers can eat at Great State Burger. This concession is available in section 122.

Manu's Tacos: Hello, taco Lovers! You will find different types of tacos and nachos here. You can find them in sections 303 and 339.

PNW Grille: Go to section 113 to have some delicious cheesesteak nachos, cheesesteak sandwiches, tofu banh mi, chicken banh mi, and more.

Noodz: Here, you will find hearty noodle meals like chicken or tofu noodle bowls. To try their noodle bowls, go to section 308.

Smokehouse Bbq: For delicious chicken tenders, pulled pork sandwiches, and loaded brisket jojos, you can go to Smokehouse Bbq, which is available in sections 214 and 230.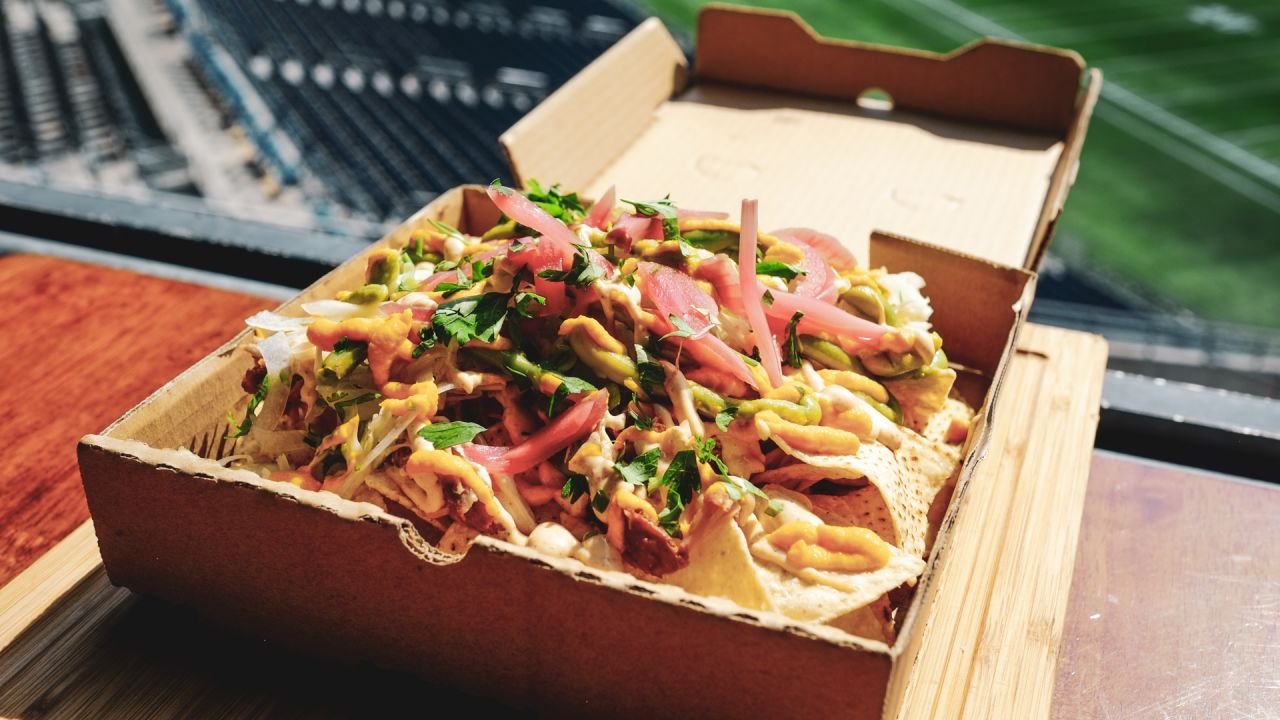 Vegan Items at Lumen Field
Those practicing veganism can try the following vegan food at Lumen field.
At Cooka T's stand in section 114, you will find many vegan dishes like vegan nachos, vegan mac & cheese, and vegan curry.

If you want to try some vegan hot dogs, you can go to the Local Dogs And Links stand, which is available in sections 109, 124, 135, 149, 313, 324, and 331.

You can also have some salads from the Grab & Go stand available in sections 111, 123, 133, 204, 240, 315, and 330.

Vegan Vegetarian Buns are available at Din Tai Fung in sections 116, 208, and 236.
What Are the Gluten-Free Food Options at Lumen Field?
If you want to have gluten-free foods while watching a game at Lumen Field, you can go to the following food stands:
Grab & Go (sections 111, 123, 133, 204, 240, 315, and 330): They offer items like wraps, sandwiches, salads, craft beers, assorted soda-water-energy drinks, and wines.

Din Tai Fung (sections 116, 208, and 236): This concession serves gluten-free chicken fried rice.

John Howie Restaurants (sections 204 and 240): You will find prime cheeseburgers, pretzel bites, ultimate bacon burgers, poke bowls, and tempura bacon in this food stand.

Ivar's (sections 118, 133, and 337): Here, you can have fish 'n chips, Ivars clam chowder, chicken tenders, and garlic fries.

Ezell's Chicken & Biscuits (sections 126 and 321): They serve french fries, chicken tenders, and biscuits.

Kidd Valley (sections 111, 147, 311): They serve gluten-free regular and garlic french fries.
Available Desserts at Lumen Field
At Lumen Field, you will find different types of sweet items, such as dippin' dots churros, cotton candy, and more in Observ in sections 102, 106, 113, 133, 134, 306, 324, and 337.
Available Drinks and Beverages at Lumen Field
When it comes to drinks and beverages, Lumen Field has never-ending options for you.
You will find Batch Cocktails at CITYSIDE bars in section 147.

For craft beers and wines, you can go to Craft House in sections 116, 130, 141, 300, and 344.

Are you looking for local craft beers and local wines? Go to ELYSIAN in section 309.

In Muckleshoot Sports Lounge at section 128, you can get craft draft beer and wine by the carafe.

For more cocktails, domestic beer, canned wine, and ready-to-drink cocktails, you can go to Spirits on Main in sections 100 and 143.

For lovers of espresso, tea, hot cocoa, and other coffee beverages, Lumen Field has Starbucks in sections 105, 137, 204, 240, 313, and 333.
Conclusion
In conclusion, any NFL fan should put seeing a game at Lumen Field on their bucket list. You will have a blast watching a game in Lumen Field, as it is one of the noisiest stadiums in the league.
Food at Lumen Field changes every season, so whenever you go back, there's always something new to taste!
At Lumen Field, you will find many restaurants and chefs all across the stadium. So, choose a hearty meal and enjoy your favorite match.
Also, don't forget to grab a batch cocktail and bring it back to your seat while enjoying matches.
FAQs
Can I Bring Outside Food to Lumen Field?
Fans are permitted to bring outside food into the stadium. However, fans must bring their food in a clear bag, and it must be one serving only.
Is Smoking Allowed at Lumen Field?
The Lumen Field and Event Center do not allow smoking of any type anywhere on the property. Cigarettes, e-cigarettes, vape pens, and smokeless tobacco are examples, but they're not the only ones.
What Are the Favorite Matches Against the Seattle Seahawks?
When the Seattle Seahawks play against the Green Dallas Cowboys, Bay Packers, and New York Giants, Seattle Seahawks' supporters become more engaged and enthusiastic fans. And during these matches, the stadium is always filled with supporters and their cheers.