As a frequent visitor to Lumen Field, I can't help but admire its central location in the SODO neighborhood of Seattle. Attending events at this iconic stadium is always a memorable experience, whether it be a Seattle Seahawks game or a mesmerizing concert performance. Before diving into the stadium's gate and entrance guide, it's essential to familiarize yourself with some must-know information to make your visit as smooth and enjoyable as possible.
Lumen Field's gate and entrance strategy is designed to provide maximum convenience for the attendees. With numerous gates and entrances spread around the stadium, you'll find it hassle-free to enter, regardless of where your seat or parking spot is located. Just imagine the excitement building up as you approach the gates, ready to attend a vibrant match or event.
To ensure your visit to Lumen Field is an unforgettable experience, I'm here to provide you with a comprehensive gate and entrance guide that will cover everything you need to know. From the clear bag policy to the various accessibility services offered, you'll be well-prepared to navigate Lumen Field like a pro!
Historical Background
As a fan of the Seattle Seahawks, I've always been fascinated by Lumen Field and its history. Located in Seattle's SoDo neighborhood, this multi-purpose stadium is not only home to the NFL's Seattle Seahawks but also to the Seattle Sounders FC of Major League Soccer, the Seattle Sea Dragons of the XFL, and OL Reign of the National Women's Soccer League (NWSL) [source: Lumen Field – Wikipedia].
I remember when Lumen Field was originally called Seahawks Stadium. It underwent several name changes over the years, including Qwest Field and CenturyLink Field, before finally becoming Lumen Field in 2020 to honor its sponsor, Lumen Technologies.
One of the key features of Lumen Field that I find impressive is its architecture, which directs noise towards the field of play. This design has contributed to Lumen Field being considered by many as the loudest stadium in the NFL. This, along with the enthusiastic fans of Seattle, provides a unique and electric atmosphere during games.
When I first visited Lumen Field, I noticed that the seating is divided into four tiers – the Upper Level, Loge Level, Club Level, and Lower Level. The stadium boasts a capacity of over 65,000 fans, making it an exciting and unforgettable experience for everyone in attendance.
Together, the history, architecture, and passionate fan base all contribute to the amazing experience that is Lumen Field. As a fan, I am proud to call this fantastic stadium our home, and I look forward to the memories we'll continue to create there in the years to come.
General Information
Field Capacity
Lumen Field, home of the Seattle Seahawks and Seattle Sounders FC, has a seating capacity of around 68,740 spectators. This versatile stadium welcomes fans with an energetic atmosphere for various events, including football games, soccer matches, and concerts.
Field Surface
At Lumen Field, they use FieldTurf Revolution 360 as the playing surface. This state-of-the-art artificial turf provides optimal performance and safety for athletes while delivering a visually appealing experience for the spectators. It's designed to mimic natural grass, and it's been installed in many top-tier stadiums across the nation.
Location
Lumen Field is conveniently situated in Seattle's SODO neighborhood, just south of downtown. The area offers a wide range of dining and entertainment options for fans to explore before or after an event, making it an ideal spot for the complete game day experience. Getting to Lumen Field is easy, as there's access to public transportation such as buses and light rail, as well as ample parking space for those who choose to drive.
Gate Overview
Gate Locations
As someone visiting Lumen Field for an event, I find it important to know the different entrance gates available for me. From the information I gathered, various gates are spread around the stadium that cater to fans' entry needs. Here are some of the popular entrance gates I've discovered for your reference:
North Gate
East Gate
South Gate
West Gate
These gates are well-marked and easily accessible for both first-time and regular visitors.
Gate Opening Times
One of my foremost concerns when attending an event at Lumen Field is arriving on time and having ample opportunity to grab some snacks and settle into my seat. It seems gate opening times vary based on the event, but for typical Seattle Sounders' match days, stadium gates usually open 90 minutes prior to kickoff. This allows me enough time to find my seat, explore the stadium, and immerse myself in the matchday atmosphere.
Remember to always check specific event details for gate opening times, as they may differ.
Entrance Guidelines
Security Measures
At Lumen Field, ensuring the safety and security of all visitors is a top priority. To create a safe environment, Lumen Field has implemented various security policies, such as a clear bag policy and prohibited items list. It's important for everyone to follow these guidelines to ensure a smooth and pleasant experience for all.
Prohibited Items
To ensure the safety and enjoyment of everyone at Lumen Field, certain items are strictly prohibited from entering the stadium. Some of these items include:
Weapons of any kind
Explosives or fireworks
Alcoholic beverages
Glass bottles or containers
Drones or other remote-controlled devices
For a complete list of prohibited items, it's best to check Lumen Field's official guidelines before attending any event.
Accessibilities
Lumen Field is dedicated to providing an inclusive and accessible experience for all of its guests. They offer a variety of accessibility services, such as:
Accessible seating and viewing areas
Elevators and ramps for easy navigation
Assistance from accessibility guides
Services for fans with sensory needs, such as Ben's Sensory Room
By following these entrance guidelines and being aware of the security measures in place at Lumen Field, I believe we can all have an enjoyable and unforgettable experience at the stadium.
Facilities and Amenities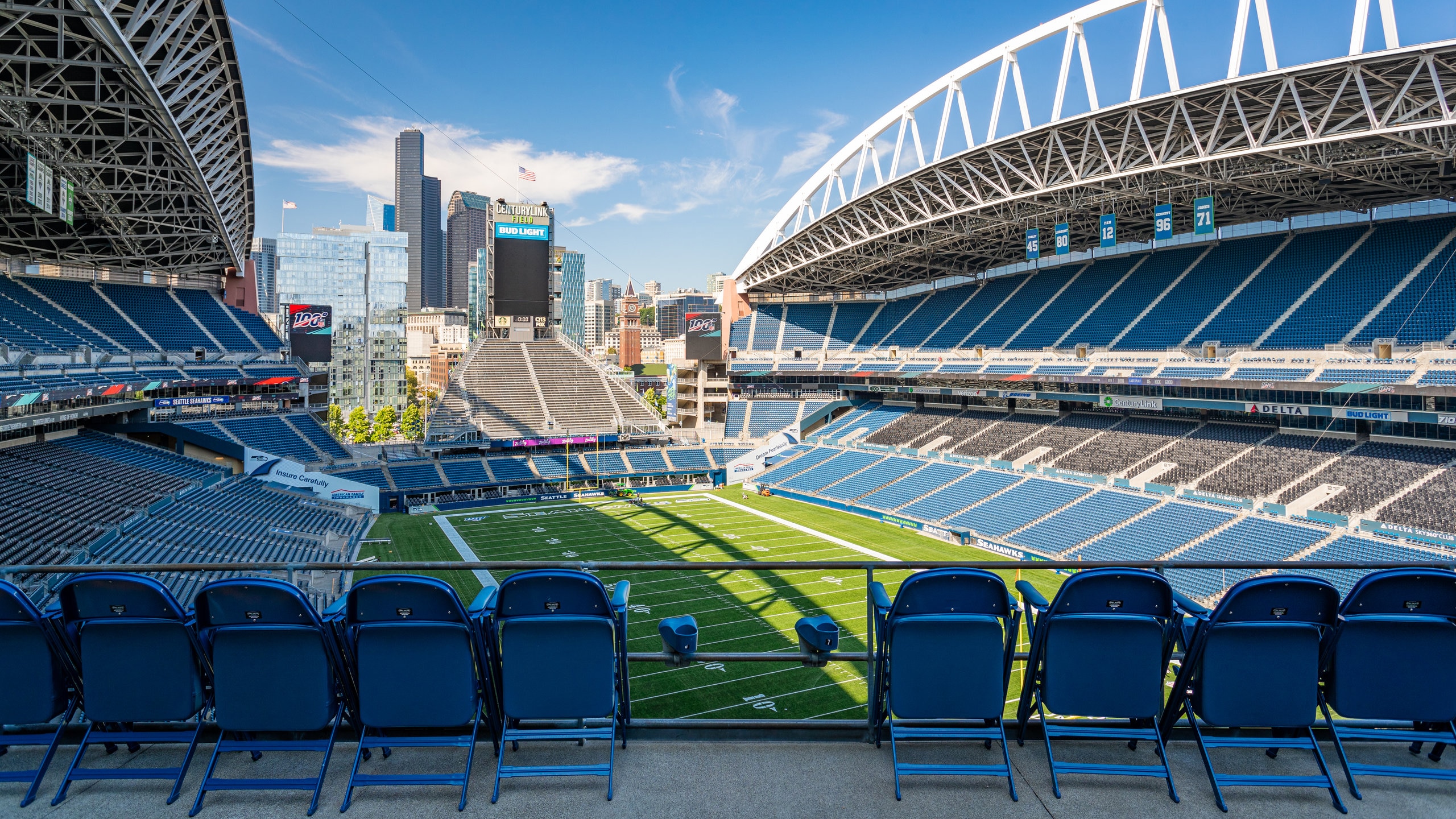 Food and Beverages
At Lumen Field, I found a variety of delicious food and beverages to keep me satisfied throughout the game. The concession stands offer a vast array of options, from classic stadium fare like hot dogs and nachos to local favorites like seafood and craft beer. There are also plenty of vegetarian and gluten-free choices, so everyone can find something to enjoy.
Restrooms
I noticed that restrooms are conveniently located throughout Lumen Field, making it easy to find one when I needed it. They are well-maintained and clean, with baby-changing stations and accessible stalls for those with mobility challenges.
ATMs
In case I was low on cash, I found several ATMs dispersed throughout the stadium. This made it simple for me to grab some extra cash when needed for those cash-only transactions, such as purchasing souvenirs or tipping the helpful stadium staff.
First Aid Stations
Lastly, for my safety and well-being, Lumen Field has well-marked First Aid Stations staffed with trained medical professionals. If I needed medical assistance, I knew I was in good hands with the attentive and caring staff who are always ready to help. These stations are located around the stadium, ensuring prompt response in case of an emergency.
Parking and Transportation
As a visitor to Lumen Field, you'd be interested to know about the parking facilities and transportation options available for events. I'd like to share details to make your visit as smooth as possible.
Parking Information
Lumen Field offers on-site parking in two lots connected to the stadium: the Lumen Field Parking Garage and the North Lot. These parking lots are open daily and rates may vary depending on the event. Please keep in mind that parking spots tend to fill up quickly on game days, so it's best to arrive early if you plan to park on-site. You can also find alternative parking options at nearby garages or metered street parking:
Union Station Garage: Located at 820 4th Ave. S and is a convenient choice for parking near the stadium.
T-Mobile Park Parking Garage: A little further away, but may have additional availability.
Public Transport Directions
If you prefer taking public transportation to Lumen Field, you have numerous options available. Seattle Seahawks games and other major events are highly accessible through public transit. Some options you can consider are:
Link Light Rail: The Stadium Station is just a short walk from Lumen Field.
Sounder Train: Offers special services on event days and arrives at nearby King Street Station.
King County Metro Bus: Multiple bus routes serve the stadium area, making it easy to reach from various parts of the city.
By being prepared and knowing your parking and transportation options, I hope you have a great time at your Lumen Field event.
Special Events and Tours
I recently learned that Lumen Field offers a variety of special events and tours that give fans an unforgettable experience. From thrilling football games to exciting concerts, there's always something happening at the stadium. What I found most interesting was the opportunity to take a behind-the-scenes tour of Lumen Field.
During these tours, guests can explore the stadium and see areas that are usually closed to the public. I found out that tickets for the tours can be purchased online, with prices at $25 for adults (12+), $18 for children (3-11), seniors (62+), and military personnel, while children 2 and under can attend for free. It's a great way to learn more about the history of the stadium and experience what it's like to be on the field where the Seattle Seahawks and Seattle Sounders FC play.
In addition to tours, Lumen Field hosts special events such as concerts by world-renowned artists. For these events, VIP ticket holders can enjoy early entry and additional perks, making the experience even more memorable. As a reminder, children aged 2 and under do not need a ticket to attend a Lumen Field event but must share a seat with an accompanying, ticketed adult.
Overall, the special events and tours at Lumen Field provide the perfect opportunity for fans to create lasting memories, regardless of their interests or age.
Conclusion
As a frequent visitor to Lumen Field, I can truly say that it's a fantastic stadium for both sports lovers and event attendees alike. The variety of entrance gates, accessibility services, and helpful stadium staff make it a breeze to navigate and enjoy.
I recommend arriving early to find your designated entrance, as listed on your ticket. Remember that the stadium is cashless, so bring a debit or credit card for any purchases. Be sure to follow the clear bag policy for security reasons.
If you have any further questions or need assistance, please contact the Lumen Field staff at 206-381-7848. Wishing you a great time at the stadium!