As a frequent visitor to Nationals Park, the home of the Washington Nationals MLB team, I've learned a thing or two about navigating the gates and entrances. Located in the Navy Yard area of Washington, D.C., this state-of-the-art stadium is not only a fantastic place to catch a baseball game, but it also serves as a catalyst for a vibrant mixed-use Capitol Riverfront neighborhood.
Before heading to a game or event at Nationals Park, it's important to know about the different entrances and parking options. This helps make the experience more enjoyable and less stressful. Whether you're a first-time visitor or a seasoned fan, I will share some useful tips to help you get the most out of your trip to this amazing sports venue.
From the various stadium entrances and gates to the available parking options, I'm here to provide you with an easy-to-understand guide for your visit to Nationals Park. So, without further ado, let's dive into the essentials you need to know before you arrive at this popular destination.
Location and How to Get There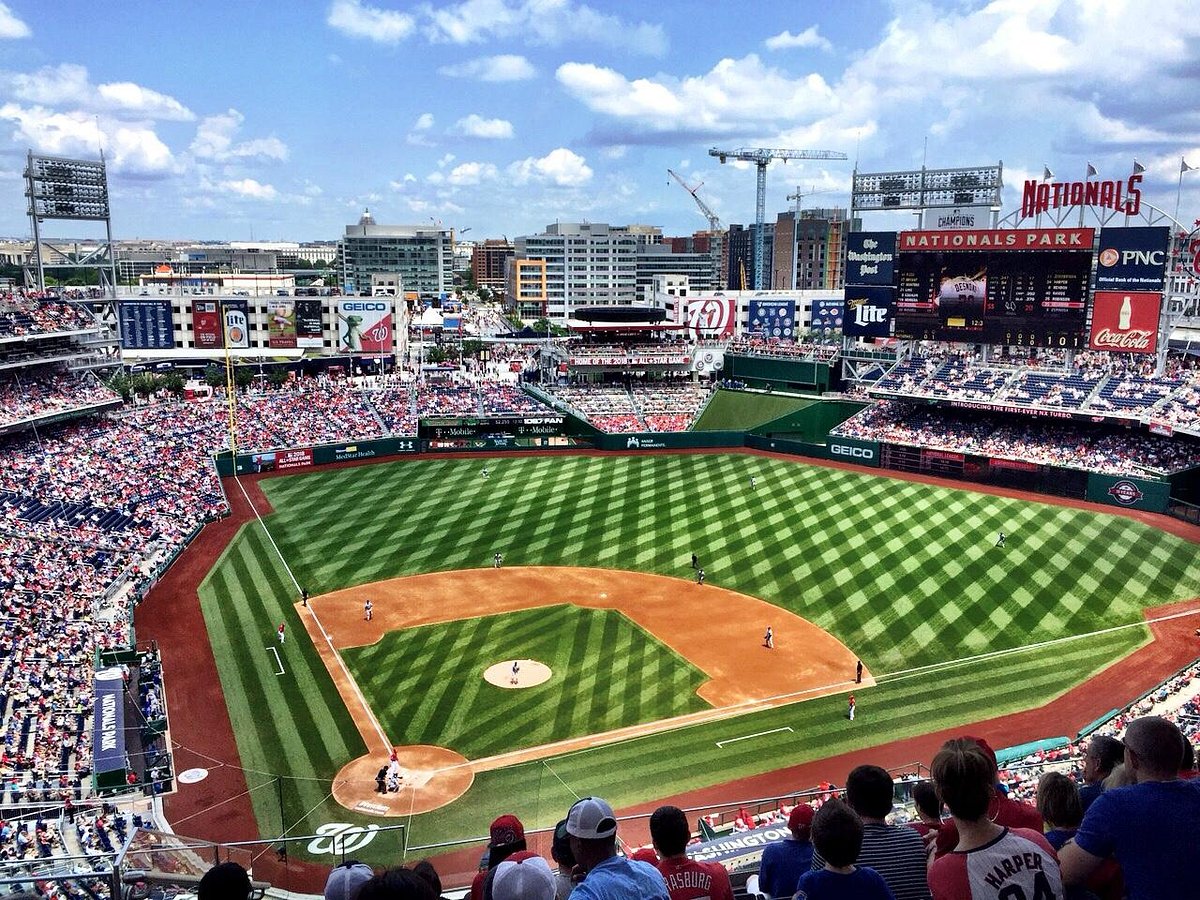 Nationals Park is situated in Southeast Washington, south of the Capitol, along the fast-developing Capitol Riverfront next to the Navy Yard. As a fan, I always appreciate the modern sports facility architecture and how it serves as a central point of the new mixed-use Capitol Riverfront in the nation's capital. The park's address is 1500 South Capitol Street, SE, Washington, DC 20003-1507.
Public Transport Options
When I choose to use public transportation to get to Nationals Park, I find the following options convenient:
Metrorail: The Navy Yard-Ballpark Metro station on the Green Line is located just a few blocks from the stadium. It's an easy walk, and I usually arrive at the ballpark within 15 minutes.
Bus: There are several Metrobus routes servicing the area around Nationals Park. Some popular routes include the V1, V4, 74, A9, and P6. I find it helpful to use the WMATA website or app to plan my bus trip to and from the game.
DC Circulator: The Eastern Market-L'Enfant Plaza route of the DC Circulator also stops near Nationals Park. It's a convenient and affordable option with a fare of only $1.
Driving and Parking
If I decide to drive to Nationals Park, I follow these directions:
From the north: Take I-395 South across the Frederick Douglass Memorial Bridge (South Capitol Street) and take the Potomac Avenue exit.
From the south: Take I-395 North to the South Capitol Street exit. Turn right onto South Capitol Street and continue straight until reaching the park.
Parking at Nationals Park can be challenging but here are some tips I usually consider:
Pre-purchase parking: I always try to pre-purchase a parking pass online before the game. This guarantees me a spot in one of the official Nationals parking lots and saves me time.
Off-site parking: There are numerous off-site parking garages and lots within a short walking distance to the ballpark. I usually compare their rates using a parking app, like ParkWhiz or SpotHero, to find the best option.
Street parking: While street parking may be available in the surrounding neighborhoods, I keep in mind the time restrictions and zone permits required by the District of Columbia.
General Information
Opening Hours
As a frequent visitor to Nationals Park, I always make sure to check the game schedule or event timings before planning my visit. Typically, the gates at Nationals Park open 1.5 to 2 hours before the event or game time. It's essential to double-check the gate opening time for your specific event to ensure you arrive with enough time to enter the park.
Accessibility
I know how important it is for everyone to have equal access to enjoy events at Nationals Park. They offer accessible seating which you can purchase online at nationals.com/tickets or in person at the Nationals Park box office on game days. If you already have a ticket and need to change your seats for accessible seating, you can visit the Ticket Services windows on game days.
Security Checkpoints
When I visit Nationals Park, I make sure to keep in mind the security measures in place to ensure a safe and enjoyable experience for everyone. As you approach the entrances, you will have to go through security checkpoints with metal detectors. Remember that bags brought into the park must adhere to the bag policy, and outside food and drink rules apply as well. Being prepared for these checkpoints can help make the process quick and smooth for everyone involved.
Ticketing and Entrance
As a regular visitor to Nationals Park, I'd like to share some important information about ticketing and entrance procedures to make your experience smooth and enjoyable.
Ticket Purchase and Collection
Purchasing tickets for a game at Nationals Park has never been easier. You can buy tickets online through the official Washington Nationals website or via trustworthy ticketing platforms like StubHub, Ticketmaster, and Vivid Seats. Additionally, you can visit the Nationals Park box office in person; just make sure you check their hours of operation before heading over.
To collect your tickets, you have several options:
Mobile tickets: You can use your smartphone to access your tickets by downloading the MLB Ballpark app or logging in through your ticket supplier's website.
Print-at-home: If you prefer to have a physical copy of your ticket, you can print them at home before the game.
Will Call: If you'd like to pick up your tickets at the stadium, head to the Nationals Park box office with a valid photo ID and the credit card used for purchase.
Gate Entry Details
It's important to know about the gates at Nationals Park to ensure a smooth entry. Here's a quick rundown of the different gates:
Center Field Gate: Located on N Street SE, this is the main entrance and opens 2.5 hours before the game begins for Season Plan members and 2 hours before for all other guests.
Home Plate Gate: Situated on Potomac Avenue SE, this gate is for premium ticket holders and opens 2 hours before the game starts.
1st and 3rd Base Gates: These gates are on South Capitol Street SE and open 1.5 hours prior to the game.
Remember to have your ticket and a valid photo ID handy when entering the stadium. There will be a bag check, so empty your pockets and be prepared to go through metal detectors.
I hope this information helps you to navigate the ticketing and entrance process at Nationals Park. Enjoy the game!
Amenities and Services
Food and Drink Options
At Nationals Park, I found a plethora of food and drink options catering to different tastes and preferences. Some of my favorites include the classic ballpark options like hot dogs, popcorn, and peanuts. There are also more gourmet options for those looking to try something different, including local DC favorites like Ben's Chili Bowl. If you are in the mood for something sweet, there are a variety of dessert options, such as ice cream, available.
When it comes to beverages, there's something for everyone. Soft drinks and water are readily available, as well as a wide variety of beer and alcoholic beverages for those who prefer to enjoy a drink during the game.
Restrooms
I found that Nationals Park has ample restrooms located throughout the ballpark. They are clean, well-maintained, and easily accessible from any seating section. Additionally, there are family restrooms and accessible restrooms for those who need them, ensuring a comfortable experience for all visitors.
First Aid Stations
In case of any emergencies or health concerns, Nationals Park has first aid stations located throughout the stadium. These stations are staffed by trained professionals who can assist with any health-related issues that may arise during your visit. To locate the nearest first aid station, I recommend consulting the stadium map or asking a nearby staff member for directions.
Tips and Recommendations
As a frequent visitor to Nationals Park, I have gathered some helpful tips and recommendations that can make your visit to the stadium even more enjoyable.
First of all, I would suggest getting to the stadium at least an hour before the game starts. This way, you'll have ample time to find parking, enter the stadium, and explore the various facilities before the crowds arrive. There are several parking options near the stadium, including official Nationals lots and private garages. Make sure to check the Washington Nationals website for information on rates and availability.
When it comes to seating, I have found that different areas of the stadium offer unique perspectives on the game. For instance, if you want to be close to the action, the Lower Level seats behind home plate and along the baselines provide excellent views. Alternatively, if you're on a budget and don't mind being farther away, the Upper Level seats still offer a decent view of the field.
Additionally, Nationals Park offers a wide variety of food and beverage options to satisfy any craving. Some of my personal favorites include the hearty chili from Ben's Chili Bowl, the gourmet burgers at Throwin' Cheese, and the delectable cupcakes from Fluffy Thoughts Cakery. Don't forget to grab a refreshing drink from one of the many beer stands located throughout the park.
Lastly, I highly recommend taking advantage of the many activities and attractions within Nationals Park. For families, the kids' play area in the outfield is a must-visit, while those looking for some entertainment between innings might enjoy the interactive games and virtual experiences in the Racing Presidents Club.
By following these tips and recommendations, I am confident that you can have a fantastic experience during your visit to Nationals Park. Enjoy the game!
Conclusion
I've shared all the essential information you need to know about Nationals Park gates and entrances in this guide. With several gate locations and accommodations for guests with disabilities, you'll find that navigating around the park is convenient and accessible.
I hope this guide helps you have a smooth and enjoyable experience at Nationals Park, whether you're cheering on the Washington Nationals or attending any other event in the beautiful Navy Yard area of Washington, D.C. Have a great time, and feel free to come back to this guide anytime you need a refresher!