Going to a Milwaukee Brewers game at American Family Field is an exciting experience, and knowing where the different entrance gates and parking lots are located can make things a lot smoother for fans. As a frequent visitor to this beautiful stadium, I've learned a few tips and tricks to help you navigate the area more efficiently.
American Family Field, formerly known as Miller Park, is conveniently located just minutes from Downtown Milwaukee, General Mitchell International Airport, and the surrounding Milwaukee suburbs. This makes it one of the Midwest's most unique venues. To make the most of your visit, it's important to be aware of the various parking options and entry points available to you.
By familiarizing yourself with the stadium's gate and entrance guide, you'll be ready to enjoy your time at American Family Field without any unnecessary stress. No matter which gate you choose, I'm confident that you'll have a fantastic experience at the ballpark.
Overview of American Family Field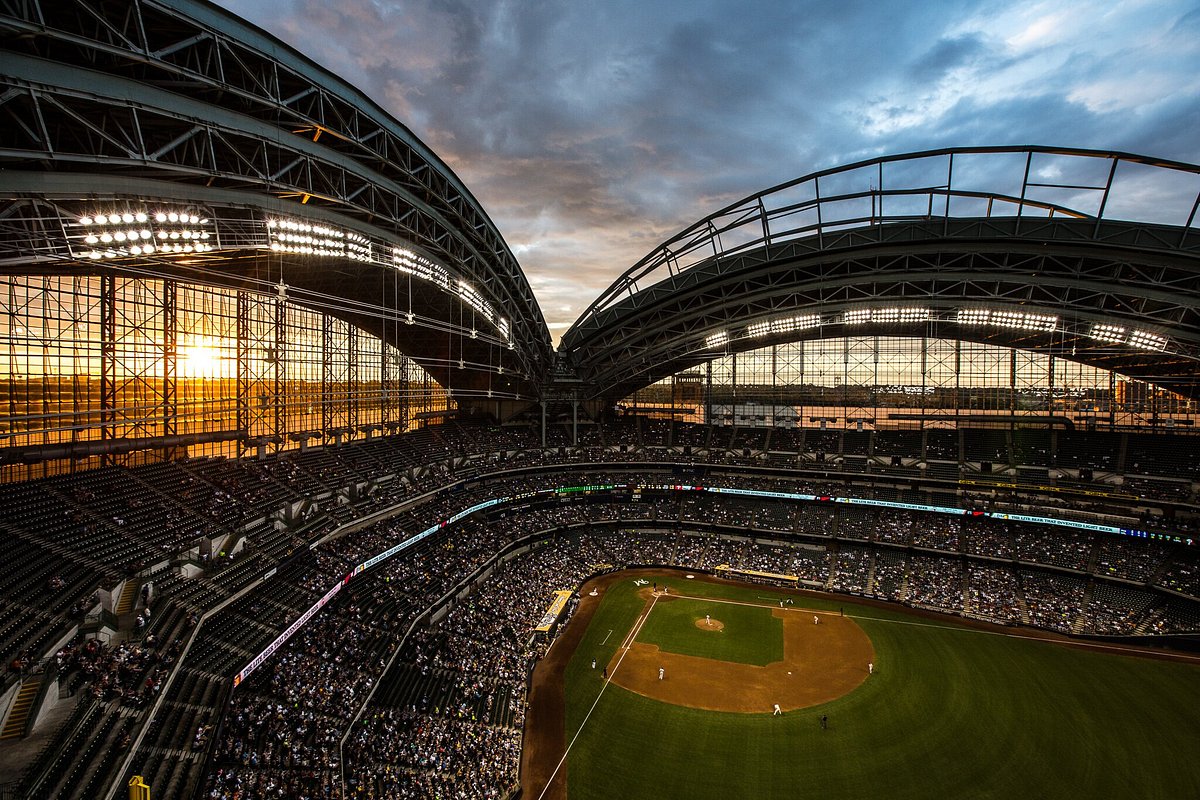 As a fan of baseball, I have to say that American Family Field is truly an amazing place to watch the sport. The moment I encountered the brick facade and structural elegance at American Family Field, I couldn't help but feel the reincarnation of baseball's romantic past. One of the most striking features of this ballpark is its intimate proximity to the players, allowing fans to really feel like they're a part of the action.
The field itself has natural grass, giving the game that classic, timeless feel, while the unique configuration of the stadium offers a one-of-a-kind experience for those attending Brewers games. There are several stadium entrance gates and parking lots located around American Family Field to accommodate a variety of transportation options for fans.
To make every visit memorable, American Family Field also features a variety of attractions and amenities to keep your family, friends, or clients engaged and entertained. From unique dining options to interactive games and exhibits, there's something for everyone at the ballpark.
I hope you find this information helpful as you prepare for your next visit to American Family Field. Enjoy the game!
The Main Entrances
Main Plaza Gate
My favorite part of entering American Family Field is the Main Plaza Gate. It's a fan-friendly entrance located near the Home Plate. When I go there, I often find a lot of great pre-game activities and attractions, as well as having easy access to most parking lots. The Main Plaza Gate is definitely a must-visit for any Brewers fan.
Clock Tower Gate
Another entrance to American Family Field that I like using is the Clock Tower Gate. Situated on the east side of the ballpark, this entrance is near the Klement's Sausage Haus and features the iconic clock tower as its focal point. This is a convenient entry point if you are coming from the nearby parking lots and offers quick access to the upper levels and the Terrace Level.
Hot Corner Entrance
I also love visiting the Hot Corner Entrance when I go to American Family Field. It is located on the north side of the stadium, near the famous racing sausages display and the Brewers Team Store. This entrance gives me a unique experience as it also has a variety of food and drink options, as well as a great view of pre-game warm-ups from an up-close and personal perspective.
Friday's Front Row Gate
Finally, there's the Friday's Front Row Gate, which is connected to the popular Friday's Front Row Sports Grill on the south side of the ballpark. I sometimes use this entrance when I plan on grabbing a meal before the game or if I want an exclusive experience during the game. Just keep in mind that this entrance requires a Friday's Front Row reservation or special-event access. So, make sure to check if you are eligible to use this entrance before you go.
In summary, each entrance at American Family Field offers a unique experience and different access points to the ballpark. Depending on your preferences and plans, you can choose the one that suits you best.
Handicapped Accessibility
I recently visited American Family Field, and I found their handicapped accessibility features to be accommodating and well-thought-out. If you're planning to visit the stadium, here's a quick overview of what to expect for guests with disabilities.
First, the stadium has made a sincere effort to ensure that at least 60% of its public entrances are accessible. This means that wheelchair users and individuals with mobility impairments should have an easier time entering the stadium and locating accessible routes.
The folks at American Family Field have also been thoughtful about providing a range of assistive listening devices. These devices are available for guests who may require auditory assistance during their visit. It's a nice touch that helps make the experience more enjoyable for everyone.
At the concession stands, I noticed that the staff was aware of dietary restrictions and ready to provide alternative food options. This might not be a direct accessibility concern, but it's still an essential aspect for guests with food allergies or other dietary needs.
Finally, I wanted to mention the American Family Field Access Guide, which was explicitly designed to provide guests with disabilities all the necessary information on accommodations and services they can expect. It's a great resource if you're planning your trip to the stadium, and you can find it on their official website.
Overall, American Family Field has taken the necessary steps to ensure that guests with disabilities can enjoy a world-class experience at their stadium. The combination of accessible entrances, assistive devices, and thoughtful services all contribute to a welcoming environment. With a bit of planning and the helpful Access Guide, I'm confident that your visit will be enjoyable.
Available Amenities
Food and Beverage Stalls
I discovered that American Family Field offers a wide variety of food and beverage options. While I couldn't find an exact list of stalls and their locations, there is undoubtedly something for every taste – from classic ballpark fare like hot dogs and nachos to more unique offerings such as specialty sausages and local craft beers. The concession stands tend to be easily accessible from all seating areas, making it a breeze to grab a bite or a drink while enjoying the game.
Restroom Locations
Restrooms at American Family Field are plentiful and conveniently located throughout the stadium, ensuring that you're never too far from one when nature calls. I noticed that they are generally well-maintained and clean, which is always a plus. To make things even easier for fans, family restrooms are also available, providing a comfortable space for parents with young children or those who may need a little extra assistance.
First Aid Centers
The safety of fans is always a priority, and American Family Field has first aid centers available for anyone who may need medical assistance during a game or event. I found these centers to be staffed with knowledgeable, friendly professionals who are ready to help whenever necessary. Don't hesitate to seek them out if you need any medical attention while at the stadium – they're there to help ensure you have an enjoyable and worry-free experience.
Safety Regulations
As a frequent visitor to American Family Field, I always make sure to follow their safety regulations to ensure a smooth experience for me and my fellow fans. In this section, I will share some key safety measures enforced at the stadium.
When it comes to bags, there is a clear bag policy in place. The maximum size allowed for a clear bag is 16″ x 16″ x 8″. Remember that non-clear bags larger than 9″ x 5″ x 2″ are prohibited, as well as multi-compartment bags. Some examples of bags not allowed include:
Backpacks
Drawstring bags
Non-clear tote bags
Laptop bags
Hard- or soft-sided cooler bags
Purses
Duffle bags
Banners
It's important to me that everyone follows this policy to ensure a more efficient security process and to keep all attendees safe during events at American Family Field.
I've also noticed that the stadium has put in place strict security measures with various access points, each with metal detectors and security personnel. Make sure to give yourself enough time to pass through these checkpoints before the event starts.
Lastly, I'd like to suggest staying informed about the latest safety regulations by checking the Milwaukee Brewers' official website or the American Family Field information sources. The safety rules may change from time to time, and staying updated will help you avoid any surprises on your next visit.
Following these safety regulations will make your experience at American Family Field more enjoyable and allow all fans to have a great time cheering on their team.
Frequently Asked Questions
I know that visiting American Family Field for the first time can be a bit overwhelming, so I've put together some frequently asked questions to help you prepare. Let's get started!
Q: When do the gates open at American Family Field?
A: On game days, gates usually open 90 minutes before the first pitch. Make sure you arrive early enough to enjoy your time before the game starts.
Q: What are the main gate entrances at American Family Field?
A: American Family Field has several gate entrances, including the Home Plate Gate and Club Express Gate. These entrances are conveniently located around the stadium to make it easier for you to get to your seats.
Q: Is there parking available at American Family Field?
A: Yes, there's parking available. The American Family Field Thomas Lot is on the north side of the stadium just off Frederick Miller Way. Please note that Thomas Lot is for Gold Preferred parking only, so you'll need a Gold pass to park there. It's also important to mention that parking may come with a cost.
Q: How can I get to American Family Field?
A: American Family Field is strategically situated with easy access from Downtown Milwaukee, General Mitchell International Airport, and the surrounding Milwaukee suburbs. To ensure you have the best experience, plan ahead and consider all the transportation options available to you, such as driving, public transportation, or even ride-sharing services.
I hope these FAQs help make your visit to American Family Field more enjoyable. Don't hesitate to reach out to the Milwaukee Brewers or stadium staff if you have any further questions. Have a great time at the game!
Conclusion
As I've explored American Family Field, it's clear that there's a lot to know about this fantastic stadium, from its gates and entrances to the various policies and procedures in place. I hope that this guide has provided you with the essential information you need to enjoy your visit to the home of the Milwaukee Brewers.
Visiting American Family Field is a unique experience, and by being aware of the stadium's layout and ticket office hours, you can make your visit smooth and hassle-free. Remember to plan ahead, as knowing the locations of the stadium gates and parking lots will make your entrance to the ballpark a breeze.
In the end, the friendly atmosphere at American Family Field, combined with the thrill of watching a Milwaukee Brewers game, is sure to create lasting memories. Enjoy your time at the stadium, and go Brewers!