American Family Field, situated in Milwaukee, Wisconsin, serves as the home stadium for Major League Baseball's Milwaukee Brewers.
This retractable roof stadium, which opened in 2001, is located just southwest of the intersection of Interstate 94 and Brewers Boulevard, replacing Milwaukee County Stadium.
The ballpark offers not only a state-of-the-art playing field but numerous amenities that create a unique and enjoyable experience for fans of all ages.
Gates at American Family Field open 90 minutes prior to the start of each game, allowing fans ample time to take in the atmosphere and explore the various attractions within the stadium.
The Brewers Team Store is one such venue, allowing patrons to shop for team merchandise and memorabilia. Beyond the gates, Brewers fans are well-known for their enthusiastic pre-game tailgating tradition in the parking lots, turning every game day into an all-day celebration.
A notable event at American Family Field was when the legendary George Strait set a new attendance record in June 2023.
The stadium hosts not only baseball games but also major events such as concerts, showcasing the park's versatility and appeal beyond sports enthusiasts.
As the home of the Milwaukee Brewers, American Family Field stands as a symbol of the city's dedication to its beloved team and an emblem for Milwaukee's vibrant sporting culture.
American Family Field: Key Facts
American Family Field, located in Milwaukee, Wisconsin, is a 1.2 million square foot retractable roof stadium used primarily for baseball.
Originally opened in 2001 as a replacement for Milwaukee County Stadium, it is home to the Major League Baseball team, the Milwaukee Brewers.
Situated on a vast 265-acre site, the stadium has a formidable structure, weighing around 500,000 tons.
This is equivalent to the weight of 62,500,000 16-pound bowling balls. With the capacity to hold 42,200 spectators, the field's dimensions are as follows: 342 feet in left field, 400 feet in center field, and 374 feet in right field.
Some interesting features include American Family Field's retractable roof and the massive 392 sports light fixtures that consume 527,280 watts of power, ensuring clarity during evening and nighttime games.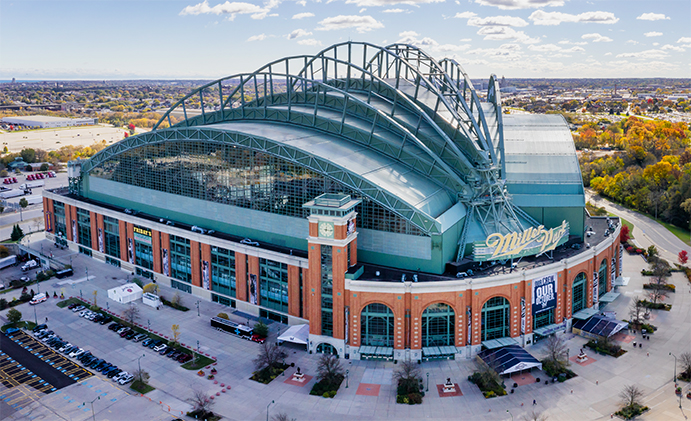 Within the stadium, there is an 8,000 square foot interactive Kids Zone that provides entertainment for younger fans. The play area includes a replica of the iconic mascot, Bernie the Brewer's slide. Visitors can also shop for team merchandise at the Brewers Team Store.
During the 2021 season, the average attendance at American Family Field was 22,522 (54% capacity), while the highest recorded attendance was 43,430 during a game against the New York Mets on September 26th.
The lowest attendance was 10,226 for a game against the St. Louis Cardinals on May 12th.
Where Is American Family Field Located?
American Family Field, formerly known as Miller Park, is located in Milwaukee, Wisconsin. It serves as the home stadium for the city's Major League Baseball franchise, the Milwaukee Brewers.
This modern ballpark is situated at 1 Brewers Way, Milwaukee, WI 53214.
The stadium can be easily accessed via multiple transportation options. For those driving to the venue, American Family Field is conveniently positioned near the intersection of Interstate 94 and State Highway 41. Parking is available on-site, with lots offering ample spaces to accommodate both cars and oversized vehicles.
For fans who prefer to use public transportation, the Milwaukee County Transit System (MCTS) offers bus routes connecting the downtown area to the ballpark. Additionally, the Brewers Line Shuttle service runs between various locations throughout the city, providing a hassle-free way for fans to reach the stadium on game days.

In the vicinity of American Family Field, visitors can also find Helfaer Field, a $3.1 million Little League ballpark. Located next door, it replaces the space previously occupied by the historic County Stadium. This youth baseball facility offers a great opportunity for family fun and a connection to Milwaukee's baseball legacy.
In summary, American Family Field is centrally located in Milwaukee, Wisconsin, serving as home to the city's beloved Milwaukee Brewers. With its easy access to highways, public transportation, and adjacent Little League ballpark, it is an ideal destination for baseball fans of all ages.
The Best Way to Get to American Family Field
American Family Field, home of the Milwaukee Brewers, is conveniently located just minutes from downtown Milwaukee and is easily accessible from I-94. To ensure a smooth experience, it's a good idea to plan ahead and consider all the transportation options available.
One option is driving to the stadium. Before setting out, it's advised to check road conditions and construction updates to help plan the best route. Parking is available at the venue, with various options and pricing to accommodate your needs.
For those who prefer public transportation, the Milwaukee County Transit System (MCTS) operates two bus routes within walking distance of American Family Field. The GoldLine on Wisconsin Avenue and Route 18 on National Avenue offer easy access to the ballpark. To plan, track, and pay for your bus ride, use the Umo App™, which makes the process more convenient.
In addition to these options, some local businesses offer shuttle services to and from the stadium. This can be a more comfortable and hassle-free alternative, especially for larger groups or those who don't want to worry about parking.
When planning a visit to American Family Field, take into consideration the various transportation methods available, ensuring a seamless and enjoyable experience at the home of the Milwaukee Brewers.
Parking Near American Family Field
American Family Field, home of the Milwaukee Brewers, offers various parking options for fans attending games and events.
There are designated parking lots around the stadium to accommodate the needs of guests. Additionally, street parking, parking meters, and private garages are available in the surrounding area for those who prefer off-site parking options.
Accessible parking is a priority at American Family Field. Guests with disabilities can find designated spaces closer to the stadium entrances, ensuring a convenient and comfortable experience.
It is essential to display a valid disability parking placard or license plate to access these spaces.
Parking rates at American Family Field may vary depending on the event or game. It is a good idea to check the official Brewers website or reliable parking platforms such as Parkopedia for the most up-to-date information on parking costs.
Keep in mind that timing is essential, as some parking areas may fill up quickly during popular events or games.
For fans arriving in oversized vehicles, specific parking spaces are available to accommodate them. Be sure to check the dimensions of your vehicle and the corresponding parking requirements beforehand to ensure a hassle-free experience.
Tailgating is a popular tradition among Milwaukee Brewers fans. The stadium facilities cater to this culture by allowing tailgating activities in designated parking lots. However, tailgating must conclude 30 minutes after the start of the game to maintain a safe and enjoyable atmosphere for all guests.
In addition to the on-site parking options, several hotel and bar shuttles provide transportation from various locations throughout Milwaukee. These shuttles can be a convenient alternative to driving and parking near the stadium. Be sure to check with your hotel or local bars for information on shuttle schedules and availability.
The Best Restaurants Near American Family Field
Visitors to American Family Field, home of the Milwaukee Brewers, have several excellent dining options nearby.
One popular choice is Mad Rooster Cafe, which ranks as the number one restaurant in West Milwaukee. Located just 0.9 miles from the stadium, it boasts rave reviews for its fun atmosphere and excellent brunch options. The cafe offers a range of American dishes, making it a perfect spot to grab a meal before or after a game.
Another great option is Blue's Egg, situated 1.8 miles from the field. It ranks as the ninth best restaurant in Milwaukee and has garnered over 1,000 reviews from satisfied diners. This restaurant is known for its delicious American cuisine, making it worth a visit when in the area.
For those who prefer Latin-inspired cuisine, Antigua Latin Inspired Kitchen is a fantastic choice. Ranking 99th among Milwaukee's restaurants, Antigua is located 2.3 km (1.4 miles) from American Family Field. They serve a wide variety of dishes, including Mexican, Latin, Central American, Southwestern, and Spanish cuisine. With great reviews for its wonderful food and service, it is a must-try dining option near the stadium.
While inside the stadium itself, fans can enjoy AJ Bombers Burgers, which offers a selection of burgers, sausages, brats, cheese curds, and custards. The stand is available in multiple sections, including 107, 117, 125, 210, and 228. Additionally, fans can try Smoke Shack, which features a BBQ chicken sandwich, complete with a delicious chipotle sauce.
In summary, there are various excellent dining options near American Family Field, from American fare to Latin-inspired cuisine. Visitors can easily grab a bite to eat before or after attending a Milwaukee Brewers game, ensuring a memorable and enjoyable experience.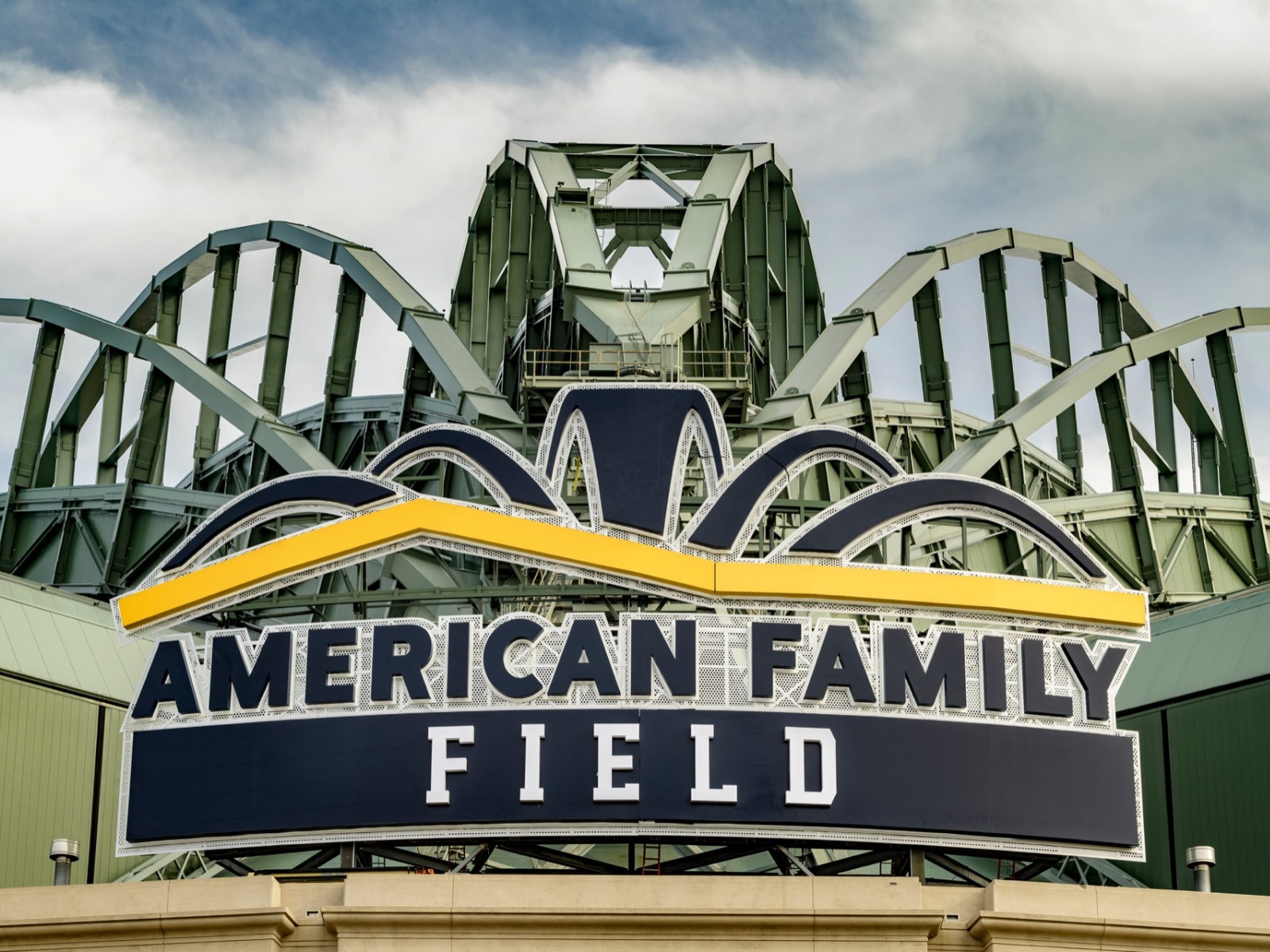 The Best Bars Near American Family Field
As the home of the Milwaukee Brewers, American Family Field attracts fans from far and wide. Whether you're attending a game or just looking to enjoy the atmosphere with fellow Brewers enthusiasts, there are plenty of great bars in the area to choose from.
Fin 'n Feather, located at 4060 W. Loomis Road, provides a great atmosphere for enjoying a drink and a bite to eat. With friendly service and an extensive drink menu, Fin 'n Feather is a popular destination for both pre and post-game fun.
A few blocks away at 1323 E. Brady St, you'll find Jack's American Pub, a great spot for catching a game on one of their many big screen TVs. They also offer a tasty selection of pub fare that pairs perfectly with their extensive beer list.
J&B's Sports Bar & Blue Ribbon Taproom, at 5230 W. Blue Mound Road, offers a relaxed environment filled with Brewers memorabilia and multiple TVs for watching the game. The taproom includes a diverse range of beers on tap, making this a great stop for beer enthusiasts.
Nearby, Kelly's Bleachers at 5218 W. Blue Mound Road is another fantastic option for Brewers fans. This large sports bar is known for its lively atmosphere, drink specials, and delicious food, making it an ideal spot to soak in the excitement of a Brewers game.
Magoo's on the Mound, located at 824 S 2nd St, is another popular bar near American Family Field. Known for their specialty cocktails and friendly staff, Magoo's is a great place to enjoy drinks and snacks while watching the game or celebrating a Brewers win.
Remember, when planning your visit to these bars, it is always a good idea to check their websites or social media pages for the latest information on promotions, hours, or special events related to the Brewers and American Family Field.
The Best Hotels Near American Family Field
If you're planning a trip to see a Milwaukee Brewers game at American Family Field, there are several great hotel options nearby for you to consider. Here are a few of the best hotels located close to the ballpark:
Potawatomi Hotel & Casino is situated just 1.9 miles (3 km) from American Family Field. This 4-star hotel provides its guests with free WiFi, three on-site restaurants, and two bars. Its central location makes it an ideal choice for visitors looking to explore other nearby attractions as well.
Best Western Plus Milwaukee West is a convenient option, located only 0.8 miles (1.4 km) from the stadium. This 4-star hotel offers its guests free WiFi, two on-site restaurants, and three bars. The central location of this hotel also makes it easy for guests to explore the surrounding area.
Ambassador Hotel is a historical landmark and underwent a major renovation a few years ago. This hotel offers an exceptional experience, including an excellent on-site restaurant and an art deco-inspired bar. It is located at 1230 N. Old World 3rd St., making it a great option for those looking to experience the charm of Milwaukee while staying near American Family Field.
These hotels provide excellent amenities and are conveniently located within close proximity to the American Family Field, making them the perfect choices for visitors attending Milwaukee Brewers games or other events held at the ballpark.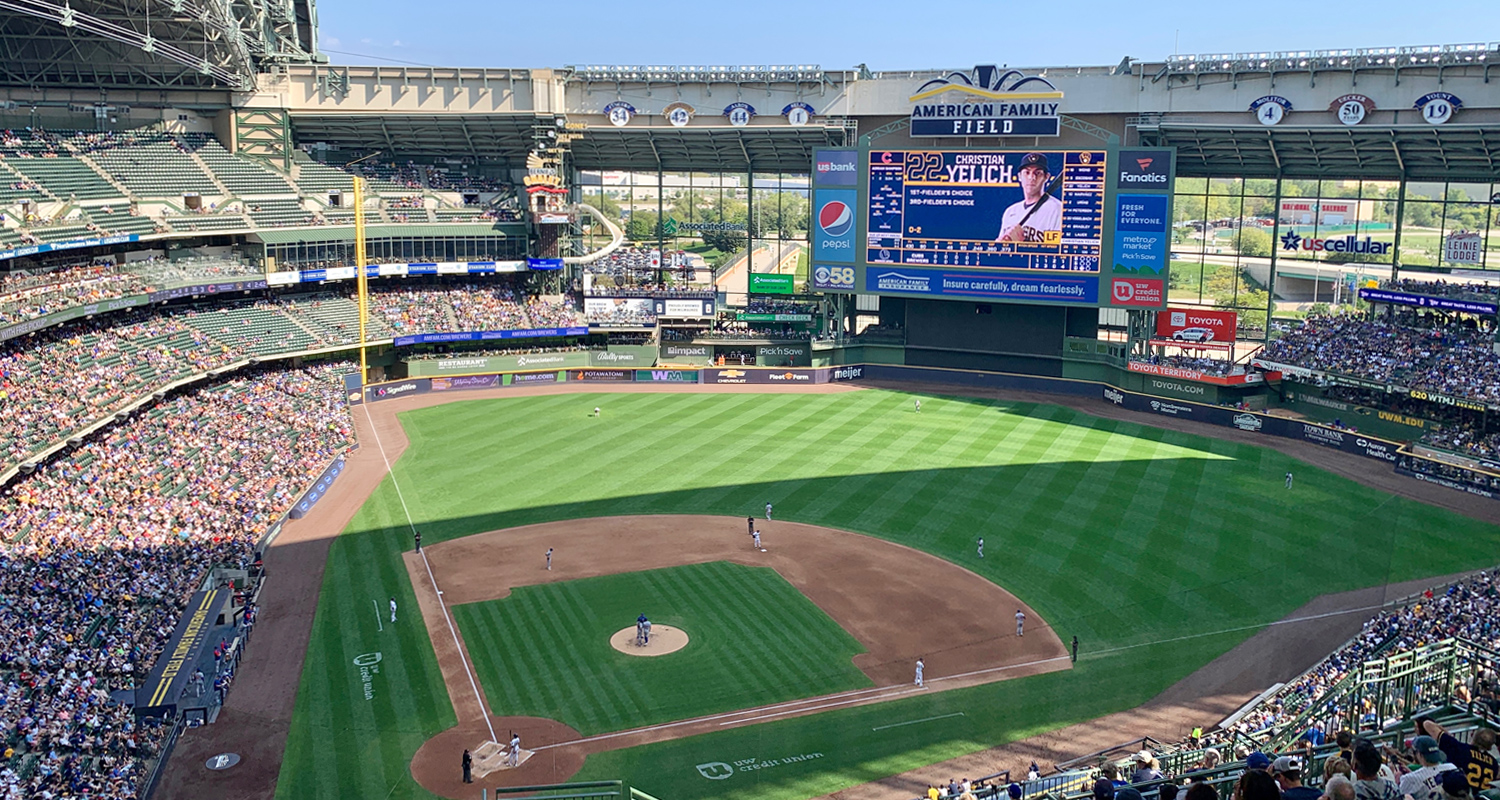 The History of American Family Field
American Family Field, located in Milwaukee, Wisconsin, is the home of Major League Baseball's Milwaukee Brewers. Opening its doors in 2001, it replaced the old Milwaukee County Stadium where the Brewers had played before. The stadium is known for its unique brick facade, structural elegance, and intimate proximity to the players, which helps to evoke nostalgia for baseball's past.
The ballpark was initially named Miller Park, after the Miller Brewing Company, which held the naming rights until the end of the 2020 season. In 2021, American Family Insurance took over the naming rights, and the stadium was renamed American Family Field.
With a retractable roof, the stadium is well-suited for various weather conditions. This feature not only ensures the comfort of fans and players during games but also allows the stadium to remain usable throughout the year for different events. To make the experience even more enjoyable, natural grass has been used to create an authentic playing field.
The stadium also boasts a smaller companion facility called Helfaer Field, situated right outside the main ballpark. Helfaer Field offers an ideal setting for softball, youth baseball, kickball, and other events like employee outings, corporate gatherings, and birthday parties.
Over the years, American Family Field has become a cherished destination for baseball fans visiting from all corners of the country, due to its distinctive design and commitment to preserving the essence of baseball's romantic past.
Where to Get Tickets for American Family Field
Purchasing tickets for a game or event at American Family Field, home of the Milwaukee Brewers, is quite simple. Tickets can be acquired through various platforms, ensuring convenience and accessibility for eager fans.
One of the most common ways to purchase tickets is through the official Milwaukee Brewers website. By visiting brewers.com, fans can view the game schedules, ticket prices, and seating options available. This platform also provides information on promotions, special events, and group ticket packages.
Another popular source for tickets is ticket resale platforms such as StubHub, SeatGeek, and Vivid Seats. These platforms offer a secure marketplace for fans to buy or sell their tickets. They often have a wide range of seating options and might have last-minute available tickets for events at American Family Field.
Lastly, tickets can be purchased in-person at the Brewers Team Store located within American Family Field. However, it's recommended to check for store hours and ticket availability before visiting this location.
When heading to American Family Field, be sure to check event-specific information like gate opening times and any special entry requirements that may be in place. With a range of ticket sources available, watching a Milwaukee Brewers game or other exciting events at the venue is easy and hassle-free.
Does the American Family Field Offer Tours?
Yes, the American Family Field offers exclusive behind-the-scenes tours for visitors. These tours provide a unique opportunity to explore some of the most restricted and non-public areas of the stadium. Home to the Milwaukee Brewers, this state-of-the-art facility hosts 81 regular season home games between March and September.
The behind-the-scenes tour allows guests to visit a variety of locations throughout the stadium, such as:
The Selig Experience, an interactive exhibit dedicated to former MLB Commissioner and Brewers' Founder, Bud Selig
The playing field, where the Milwaukee Brewers compete
The Visitors' Clubhouse, where opposing teams prepare for games
The Visitors' dugout and the Brewers bullpen, where players strategize and warm-up
The luxury suite level, offering an elevated view of the ballpark
The Press Box, where media professionals cover the games
The Bob Uecker's broadcast booth, a legendary spot for radio commentary
In addition to the tour, there is the Brewers Team Store at the American Family Field, where fans can shop for official Milwaukee Brewers merchandise.
These tours offer an immersive experience for fans and visitors, as they get to witness firsthand the incredible engineering and design that went into creating the American Family Field. The stadium itself features a fan-shaped convertible roof and various seating options for optimal viewing of games.
To plan your visit and experience the magnificence of American Family Field's behind-the-scenes tour, visit the Milwaukee Brewers' official website.
James is a big time NBA Golden State follower, who makes sure to catch games when he's in the area. He likes to follow International Soccer, with an interest in small town soccer club, Blackburn Rovers located in the North on the UK.