Fiserv Forum is a multipurpose arena and the home of the Milwaukee Bucks of the National Basketball Association and the Marquette Golden Eagles of Marquette University.
The arena regularly hosts up to 200 events a year, including sporting matches, family shows, concerts, and other entertainment events and if you're attending one of these, it helps to take the time to learn more about the venue.
Here's everything you need to know about Fiserv Forum, home of the Milwaukee Bucks.
Key Facts 
Where is Fiserv Forum Located?
Address: 1111 Vel R. Phillips Ave, Milwaukee, WI 53203, United States
The multipurpose arena is located in Downtown Milwaukee, Wisconsin. It is situated nearby popular tourist attractions like the fountain at Deer District and the Al Hurvis/PEAK Transportation Center.
Near the entertainment venue is the Froedtert & MCW Sports Science Center, and the Turner Hall Ballroom live music venue. 
The Best Way to Get to Fiserv Forum
There are multiple ways to get to the Fiserv Forum, depending on the type of transportation that you use. If you are using public transportation, one way to get to the Fiserv Forum is by bus.
There are several bus stations near the arena, including Wisconsin & Vel Phillips, Wells N6, N6 & Wells, Wisconsin & N5, and N6 & Highland. The transit lines that pass near the entertainment arena are the following: 15/19/31/80.
If you opt for private transportation with your car, you can get to the Fiserv Forum by driving through several routes. One option is to arrive from the west on I-94, while the second option is to arrive east from the south on I-43. You can also get to the entertainment arena by arriving from the south on I-44.
Parking Near Fiserv Forum
You can find many affordable parking options near the entertainment arena. Moreover, you can save money by reserving a parking space before heading to the venue, as it can get very crowded during event days.
The Best Restaurants Near Fiserv Forum
Buckley's Restaurant & Bar is a family-owned business dedicated to providing guests with a pleasant dining experience. The restaurant has a modern and cozy atmosphere and features an authentic and dynamic menu with a variety of tasty options.
Menu
The guests at Buckley's can enjoy flavorful and refined American comfort food. Their menu includes cheese, grazing, and charcuterie boards and appetizing starters, including truffle-fried artichokes, roasted brussels, and stuffed poblano pepper.
For an enjoyable dining experience, the guests can choose between a variety of main meals, including carbonara, Faroe Islands salmon, steak, and pork schnitzel.
In Buckley's Restaurant & Bar, you can try tasty salads and desserts as well as their refreshing cocktails, delightful wines, and other types of beverages.
Additional information
This German restaurant is located only two minutes walking distance from the Fiserv Forum. It's a family-owned and operated business offering a cozy and relaxing ambiance. The restaurant features classic Bavarian decor and offers dishes from German cuisine.
Menu
When dining at the Mader's Restaurant, you can indulge in delicious German specialties such as pork shank, Bavarian weisswurst and pretzel, wiener schnitzel and beer cheese spread with pretzel crostinis.
Mader's provides a variety of tasty soups, salads, and scrumptious desserts. Additionally, they have seafood and kids menu options and meals that can be prepared gluten-free and vegetarian.
Additional information
If you're up for barbecue before or after a game at the Fiserv Forum, then the Carson's Prime restaurant might be what you're looking for.
This is a modern barbecue restaurant created with the goal of offering large proportions of flavorful food for reasonable prices. The restaurant has excellent decor and ambiance and has organized service.
Menu
Carson's Prime Steaks offers a variety of starters and salads. Here you can try their signature sandwiches, such as the chargrilled chicken breast sandwich and the fresh salmon sandwich.
This restaurant provides authentic and slow-cooked barbecue as well as steaks made out of the finest beef. Here you can taste the restaurant's famous favorites, including fresh salmon filet, chargrilled Mediterranean shrimp, and half-roasted Greek chicken.
For a great dining experience, you can enjoy their refreshing cocktails, cold beer, wine, and other beverages.
Additional information
Benihana is a Japanese restaurant located near the Fiserv Forum. The restaurant serves enchanting Japanese dishes prepared by theatrical chefs.
Benihana offers a unique dining experience, as the guests in the restaurant are seated at communal hibachi grill tables where professional chefs perform the popular ancient art of teppanyaki.
Menu
The restaurant combines fun and enjoyable dining as Benihana's well-trained personal chefs entertain you while preparing sushi, steaks, chicken, seafood, and other types of meals in a traditional Japanese style.
Benihana offers a variety of appetizing options, including spicy hibachi chicken, yakisoba, filet mignon, hibachi shrimp and scallops, and more.
The restaurant has tasty hot and cold appetizers, specialty sushi rolls, desserts, alcohol-free drinks, frozen specialties, and a gluten-sensitive menu.
Additional information
Oak Barrel Public House is an American restaurant located in a historic district building. The restaurant has a classic brick and wood interior, cozy and friendly atmosphere, and offers quality American dishes.
Menu
The extensive menu of the Oak Barrel Public House restaurant features salads, soups, tacos and bowls, wraps, and burgers. Here, you can indulge in their artisan thin-crust pizza or build your own.
The restaurant offers craft cocktails and beers, and a large variety of other alcoholic beverages. Oak Barrel has gluten-free brunch and dinner options as well as vegan and kid-friendly menus.
Additional information
The Best Bars Near Fiserv Forum
Drink Wisconsinbly Pub offers a relaxing atmosphere located right across the Fiserv Forum. The pub has the capacity to host between 25 and 150 guests, and it's an excellent place to visit for a drink with your family or friends.
As the name suggests, the bar provides drinks from Wisconsin-based breweries, wineries, and distilleries.
Additional information
The Mecca Sports Bar and Grill is located near the Fiserv Forum in the heart of the Deer District. The spacious and modern sports bar features ultra-high-definition screens that will make you feel as if you are at the game.
The bar has an extensive menu of beverages, including canned cocktails, cans and bottles of beer, non-alcoholic beer, wine, and many others. Aside from drinks, you will find a variety of tasty meal options.
Additional information
Major Goolsby's is a sports bar featuring photographs of sports events and celebrities who have been there. The bar has large screen HDTVs on which the visitors can watch various sports matches.
The bar has a friendly atmosphere and offers a variety of drink options, including beers, martinis, and nonalcoholic beverages. The guests here can order burgers, sandwiches and pre-game warm-ups for an excellent game-watching experience.
Additional information
Visit Mo's Irish Pub near the Fiserv Forum if you are looking for a friendly vibe, local live music and an extensive domestic and imported beer selection.
If you want to grab a bite before a game, you can order appetizers, soups, salads, sandwiches and burgers.
Aside from bottled and draft beer, Mo's Irish Pub offers a variety of mules as well as cocktails like a raspberry spritzer, lemon drop, Irish peach, apple pie martini, and more.
Additional information
Who's On Third is a sports bar where you can watch a variety of major sports events. Large TVs are spread throughout the venue, including a 120 inch projection screen so every seat has an excellent view.
Who's On Third offers a variety of specialty cocktails, including Cooler Than Cool, Golden Bulleit, and Brewers espresso martini. The guests here can order tap beer, bottle and can beers, wine, and other beverages or make a selection from the food menu.
Additional information
The Best Hotels Near Fiserv Forum
The Brewhouse Inn and Suites is a historic boutique hotel with over 90 spacious guest suites that offer an authentic hotel experience.
The hotel has a location in the proximity of the city's most vibrant neighborhood, and it's only a 15-minute walk to the Fiserv Forum arena.
Features and amenities
The accommodations in the Brewhouse Inn & Suites include materials from the industrial revolution and combine them with modern touches for an authentic experience. Each suite has an in-room kitchen and a coffee maker.
Additionally, the guests get access to high-speed WiFi, a complimentary Continental buffet breakfast, and all the necessities needed for a comfortable stay. Brewhouse Inn & Suites feature a fitness center with a gym, outdoor terrace, exercise room, business center, gift shop, and many other amenities.
Additional information
The Aloft Milwaukee Downtown hotel is conveniently located close to world-class entertainment and steps away from the Fiserv Forum. The pet-friendly hotel features suites and non-smoking rooms, with gorgeous city views and several food and drink options for the guests.
Features and amenities
The spacious Aloft Milwaukee Downtown suites and rooms are equipped with cozy beds, LCD TVs, air conditioning and free Wi-Fi. Furthermore, the guests here have walk-in showers and a well-equipped kitchen which includes a refrigerator and a coffee/tea maker.
The hotel has a fitness center for guests that would like to keep up with their exercise routines and an indoor pool for relaxation. The convenience store and the meeting rooms for business meetings are also among the amenities provided by the hotel.
Additional information
Cambria Hotel Milwaukee Downtown is a modern hotel for business and pleasure located near the best shopping and dining spots, and many tourist attractions in the city. The hotel offers friendly guest service and stylish rooms with many amenities for all guests.
Features and amenities
The modern and aesthetically pleasing rooms in the hotel are equipped with premium bedding, Wi-Fi, and HDTV with streaming capabilities, a mini-fridge, a microwave, and many other necessities for a comfortable and worry-free stay.
Additionally, Cambria Hotel boasts a modern fitness center, meeting rooms, and conference facilities, along with a pool and a spa for relaxing. Among the amenities of the stylish hotel are laundry and dry-cleaning services, a convenience store, and a 24-hour front desk.
Additional information
Hilton Milwaukee City Center is an Art Deco hotel situated within a mile from the Fiserv Forum, the Milwaukee Art Museum, and the Deer District. This modern hotel features non-smoking, interconnected, and pet-friendly rooms, as well as an on-site restaurant offering an excellent fine dining experience.
Features and amenities
The stylish hotel features a well-equipped fitness center, a business center with internet access, and spacious meeting rooms. The rooms at the Hilton Milwaukee City Center also have a digital key and are equipped with all necessary features, including a flatscreen TV, air conditioning, private bathrooms, and complimentary toiletries.
Additional information
Located in downtown Milwaukee, the DoubleTree by Hilton Hotel is an excellent place to stay when visiting the city. The restaurant provides many amenities for the guests and features an all-day restaurant where the guests can enjoy dishes from American cuisine with a local Milwaukee twist.
Features and amenities
The hotel offers non-smoking rooms and suites with beautiful city views and cozy and comfortable bedding. Each room has air conditioning, a satellite TV, a microwave, a refrigerator, and a walk-in shower.
Aside from stylish rooms and an on-site restaurant, DoubleTree by Hilton features fitness and business centers and provides many amenities for the guests, including a digital key, room service, a sun deck, a convenience store, a gift shop, and more.
Additional information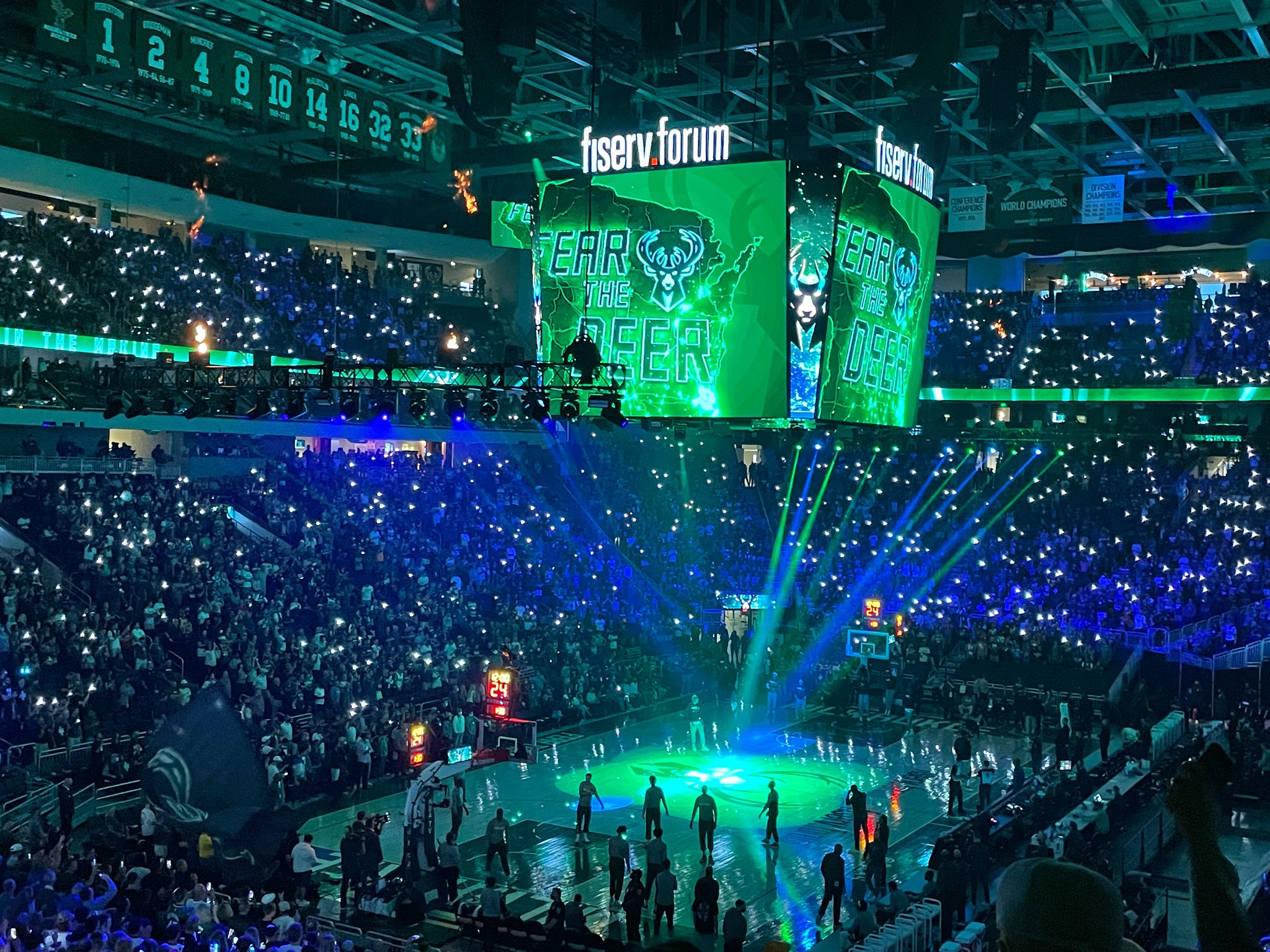 The History of Fiserv Forum
While the Milwaukee Bucks made overtures to build a new arena in 2009, the construction of the Fiserv Forum wasn't considered until 2013 when NBA commissioner Adam Silver endorsed it.
The construction of the Fiserv Forum began on June 18, 2016. The $524 million arena opened on August 26, 2018 in Milwaukee, Wisconsin. The financial service company known as Fiserv, Inc. purchased 25-year naming rights for the 714,000 square foot entertainment arena.
The state-of-the-art venue replaces the BMO Harris Bradley Center, which served the city of Milwaukee for three decades as the city's sports hub and host to plenty of notable sports events and concerts.
Where to Get Tickets for Fiserv Forum
You can purchase tickets for any event in the entertainment arena at the Ticket Office, located on the northeast corner of the venue, close to the intersection of 4th Street and Juneau Avenue.
The office is open on event days from 12 PM to one hour into the event but is closed on non-event days.
Verified event tickets can be purchased directly from the Milwaukee Bucks Sales Office and the Marquette Golden Eagles Ticket Office.
Does Fiserv Forum Offer Tours?
If you would like to get the opportunity to see behind the scenes of the venue, you can sign up for a tour of the Fiserv Forum. There are both public and private tours, providing an exciting 90-minute experience for visitors.
Fiserv Forum – public tours
Group size: up to 25 guests
Time: approximately 90 minutes
Starting point: atrium doors to the right of the Bucks Pro Shop
Price: adults $15 / youth $12 / seniors and military $12 / children under two (free)
Fiserv Forum – private tours
Private group tours (contact email [email protected] to arrange the date and time of the tour)
Price: 15 or fewer people – $375, $20 for each additional guest/ additional fee for groups larger than 25
Private group tours + arena show
Private group tours + Bucks gameday